Wondering what to serve with crab soup? I'm excited to share lots of great ideas with you!
Crab soup is a creamy, savory dish that is delicious and easy to make. I grew up near the ocean, and we used to make homemade she crab soup with crabs we caught ourselves. It's rich and creamy and seasoned with old bay seasoning and white wine. It is a great option for lunch or dinner and can be served with a variety of sides to make a complete meal.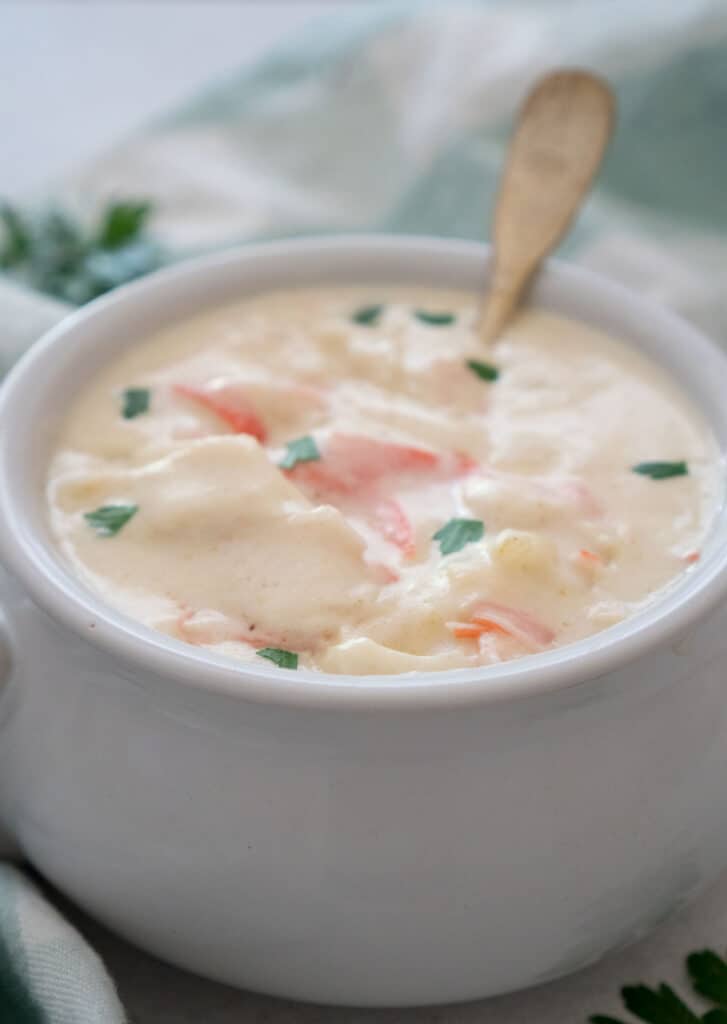 What to Serve With Crab Soup
Whether you're looking for something light or something more indulgent, there are plenty of sides to go with crab soup that will make it even more enjoyable. Here are some of my favorite things to serve with crab soup:
She crab soup is most definitely a Southern staple, so why not pair it with another Southern favorite: Fried Green Tomatoes! These two appetizers pair together perfectly to create a light but filling Low Country meal!
Roasted Vegetables
Roasted fresh veggies make a refreshing side dish for any meal, and they're great to keep a meal like this extra creamy soup on the lighter side. Roast fresh vegetables like zucchini, carrots, cauliflower, and green beans on a sheet pan together for a really easy side dish. Roasted green beans with parmesan cheese would also be a delicious pair with Chesapeake or a Maryland crab soup recipe.
Crab Cakes
If you and your family are big-time seafood lovers, pair your bowl of soup with even more seafood, like a crab cakes with remoulade sauce or even crab legs on the side. I don't know about you, but I can never get enough fresh crab meat!
Potato Salad
Whether you like a light and healthy recipe like this pesto potato salad or something classic like deviled egg potato salad, this dish is an excellent side for crab soup. It's filling and adds to the rich flavor of the crab soup. This pair will make a very satisfying meal!
Crackers
Crackers are a good addition to any soup, but especially cream-based soups. Oyster crackers and saltine crackers would both be so tasty with any cream of crab soup recipe!
Bread
Just like crackers, you can't go wrong serving bread with soup. Garlic bread, Texas toast, drop biscuits, sourdough bread, or any kind of crusty bread you want to make or buy would work well!
Sweet Potatoes
Sweet potatoes have a unique flavor that pairs so well with a crap soup recipe. Try slow cooker sweet potatoes with bacon or easy roasted sweet potatoes with your crab soup. Either way, sweet potatoes are one of the best side dishes for a simple and satisfying addition to your meal.
The sweet flavor of corn just somehow belongs with a creamy crab soup. The wonderful recipe for cheesy corn casserole will be a huge hit, with or without the soup. But together, these two make a decadent meal!
Crab soup is such a delicious treat of a dish! Any time I put crab soup on the dinner table, it's gone in no time! It can be served with such a variety of sides to create a complete meal, it's easy to find something that makes everyone happy.
Vegetables, starchy sides, and seafood are all great options for serving with your soup, and they can all be quickly cooked to create a tasty and satisfying meal. Try out a couple of these sides the next time you make a batch of crab soup or other seafood soups!