This simple Roasted Sweet Potato recipe is an easy, healthy side dish that takes just minutes to prep. With options to roast soft or crispy, everyone will love this recipe! These roasted sweet potatoes are delicious in these vegetarian taquitos, with a steakhouse steak, or alongside baked chicken breast!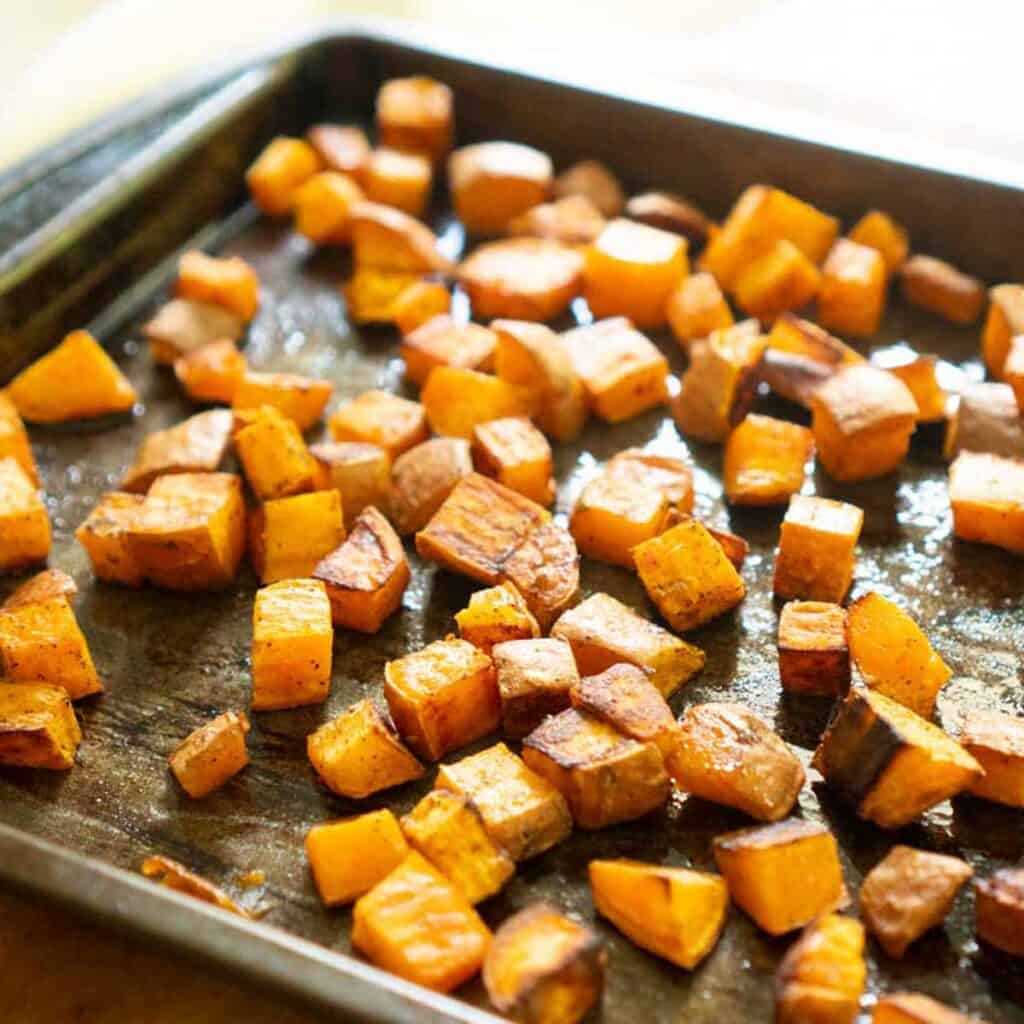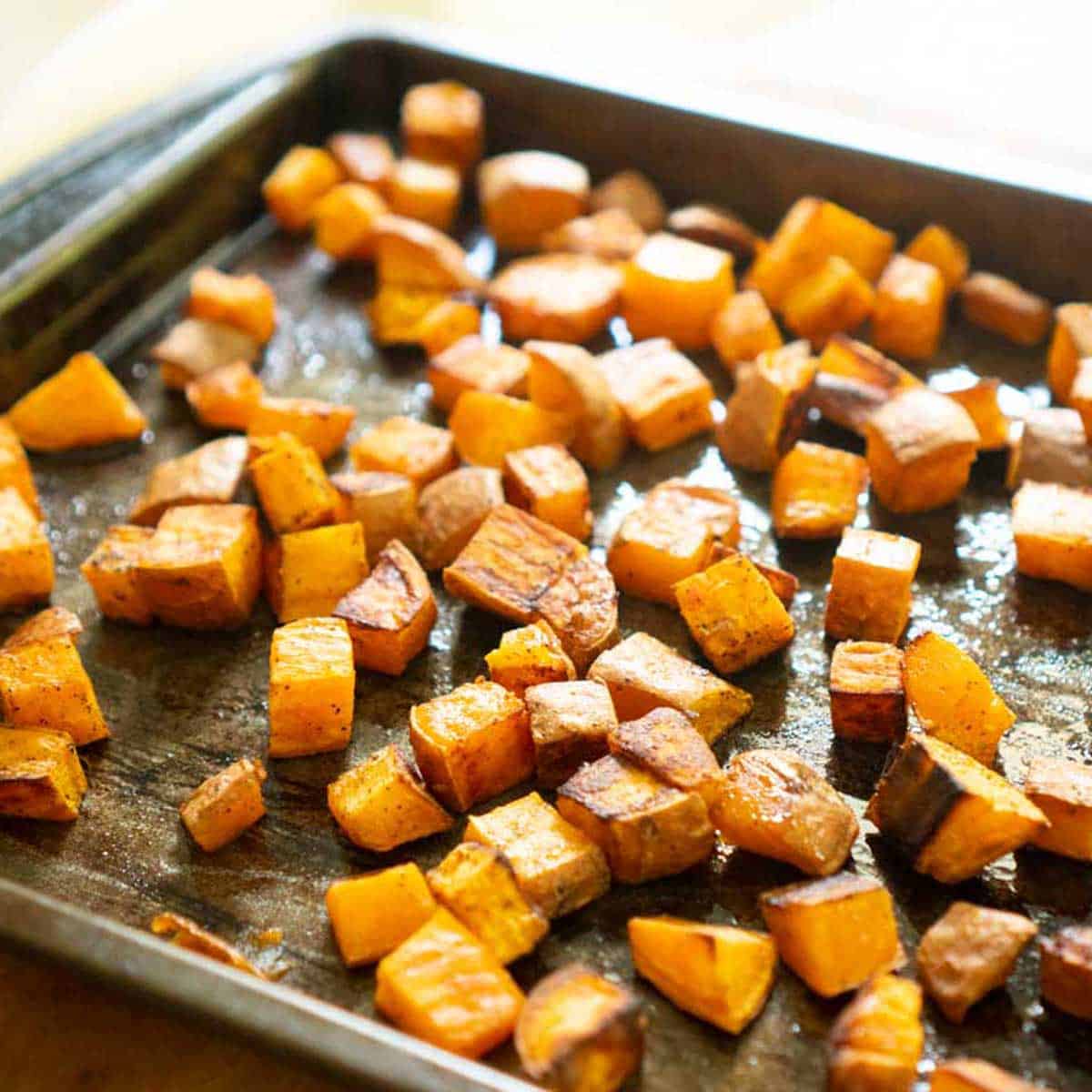 As I get older I realize that a lot of life is about moderation....for every Peanut Butter Cup Cupcake one chooses to enjoy, there needs to be plenty of healthy, whole food meals to balance it out.
But I've also realized that healthy, whole foods don't have to be boring (iceberg salad anyone?) or complicated (chia quinoa smoothie bowls with acia berries-is that even real food?)
My current favorite side dish for dinner is Roasted Sweet Potatoes.
Why I love this recipe
fast to prep
lower in calories and carbs than regular potatoes
high in vitamins A, B6, and C along with potassium and magnesium
they have a ton of health benefits
can be served many ways
the entire family just loves them!
Because, really, what's not to love?
Sweet potatoes have a natural sweetness-hence the name-and are packed with beta-carotene.
As an added bonus, roasting them with olive oil as in this recipe helps your body absorb even more of the goodness-recent research has shown that adding a little healthy fat helps your body absorb more of the beta-carotene in the potatoes
Want more sweet potato recipes? Try these this Slow Cooker variation with Bacon, make them into a Pie, Mashed Sweet Potatoes, as Candied Yams, or into a Casserole.
Ingredients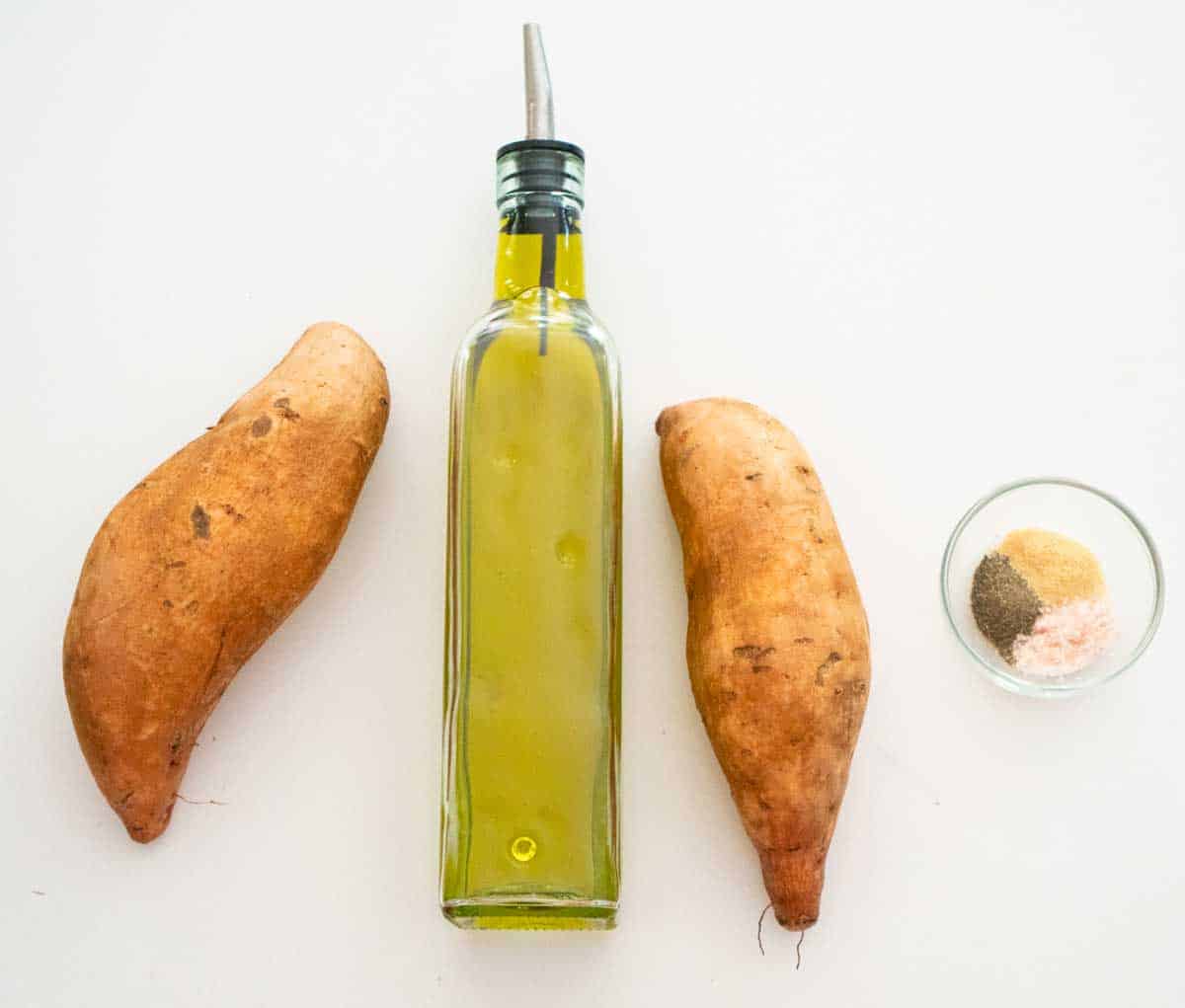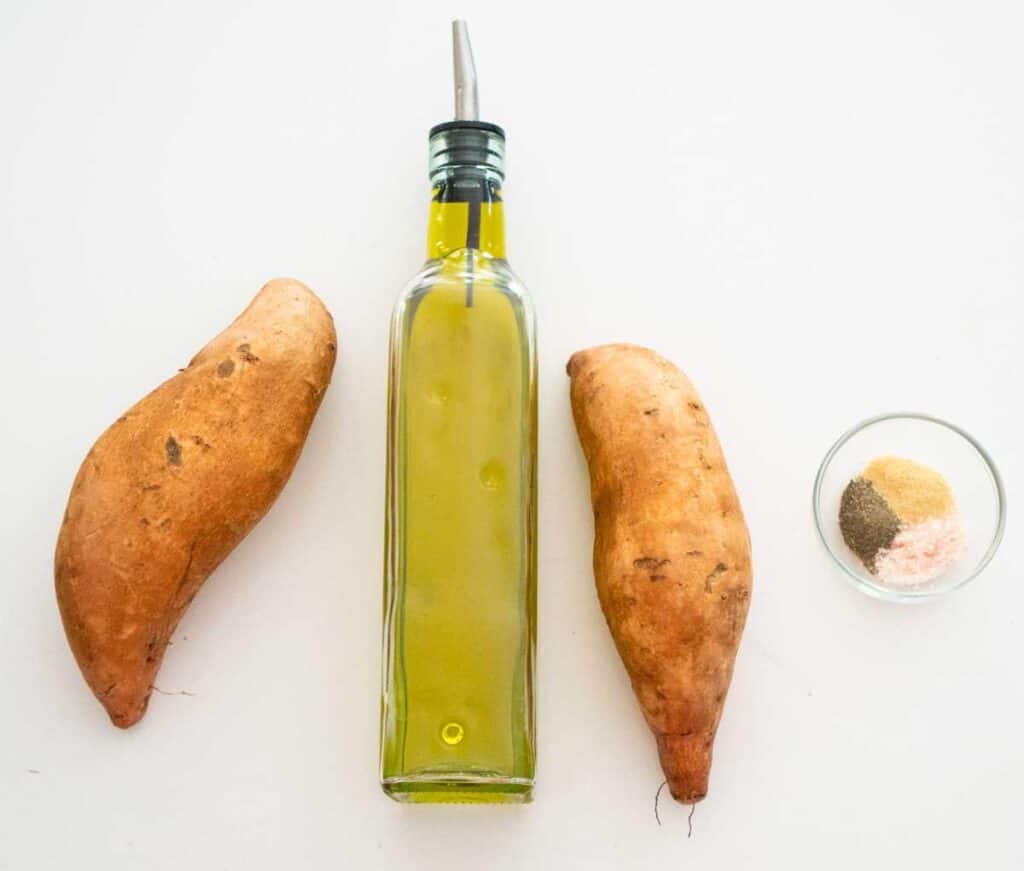 How to pick a sweet potato
American grocery stores often label sweet potatoes as yams, they are not true yams
there are many different varieties of sweet potatoes, this article describes them in full
I prefer orange skinned sweet potatoes as they have a sweet, creamy texture
pick a firm potato without sprouts or discoloration, stay away from soggy or soft potatoes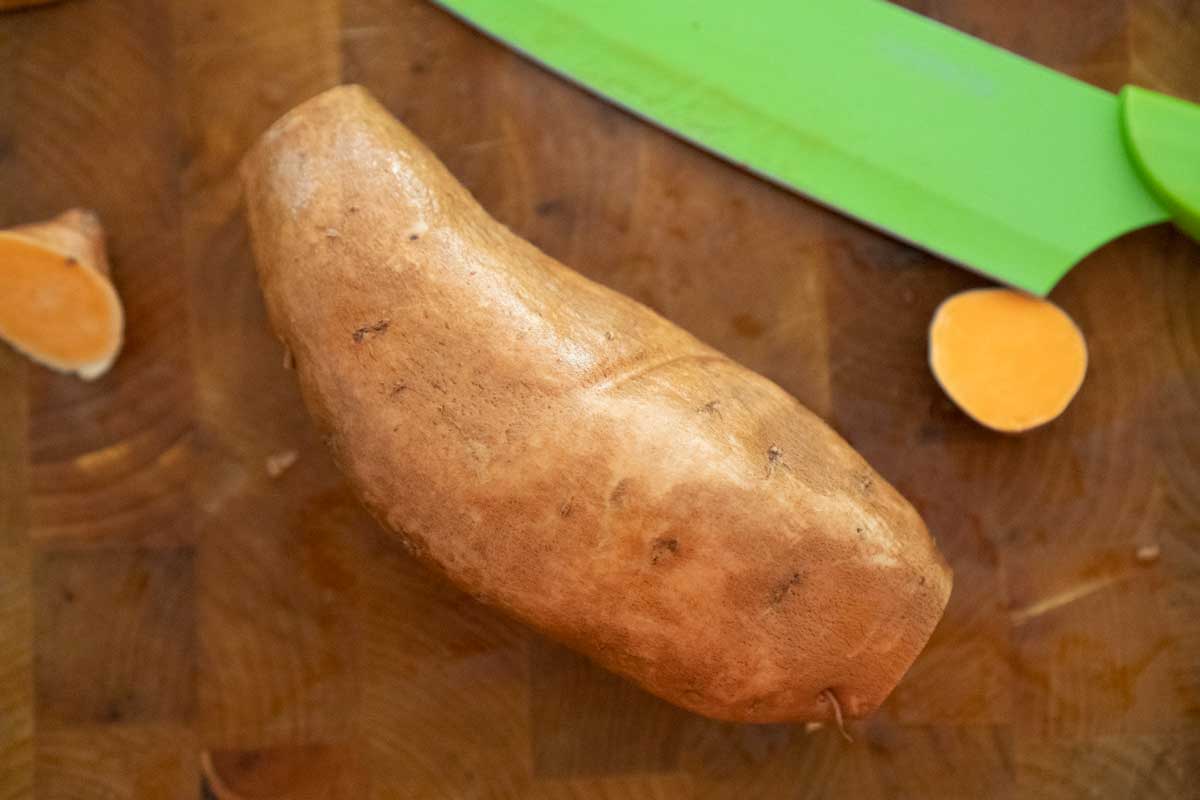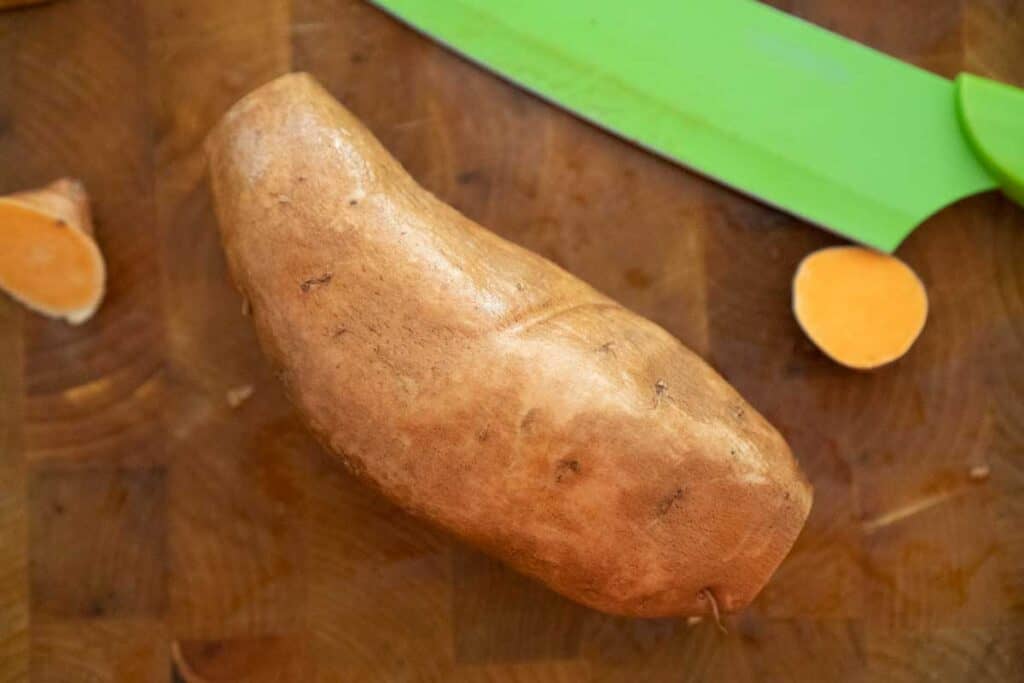 How to dice a sweet potato
Slice the ends off, then cut into ½ inch slices. Chop the slices into half inch cubes.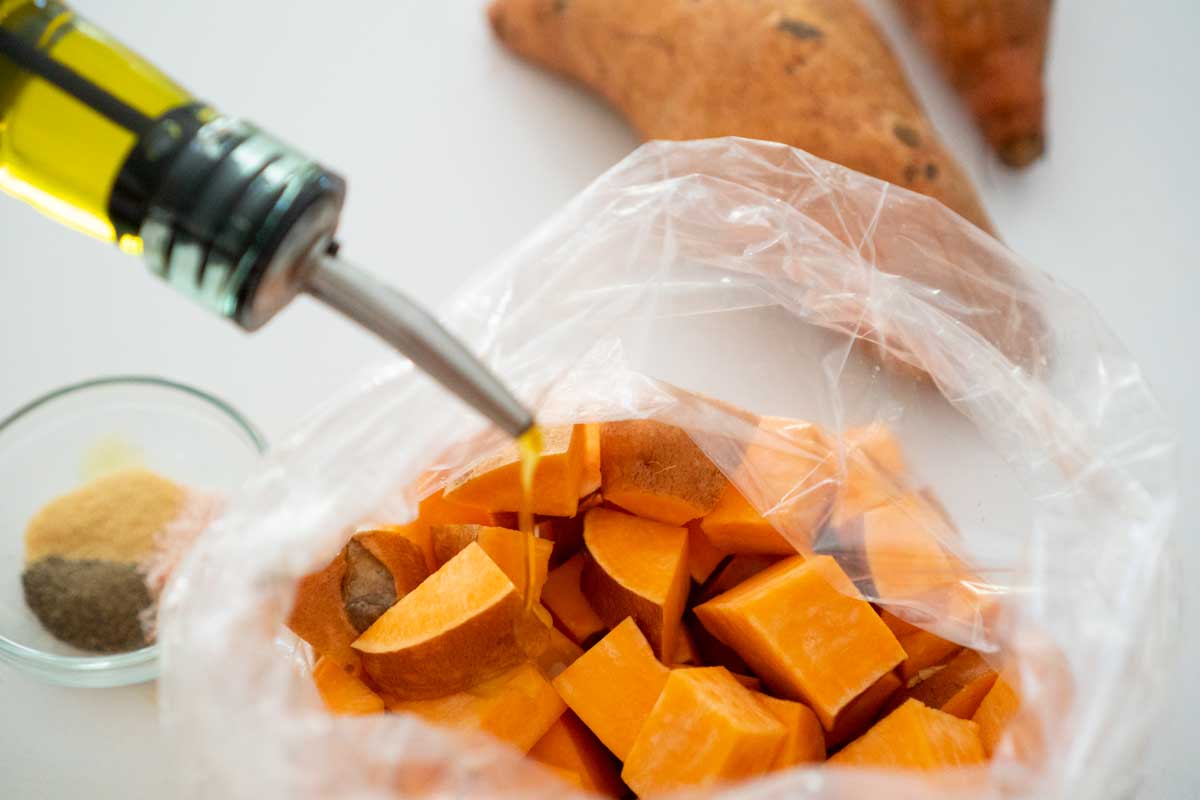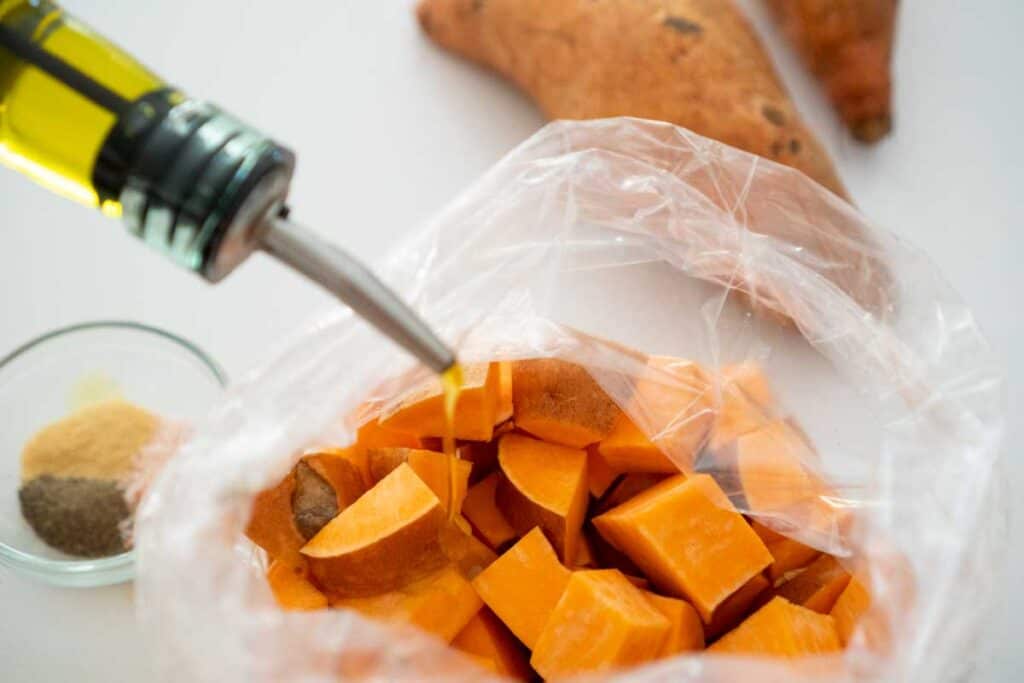 Step by Step
Preheat the oven and spray a baking sheet with nonstick spray or line with parchment paper. Wash the sweet potatoes well. Dice as instructed above.
Add potatoes, oil, salt, pepper, and garlic powder in a gallon plastic bag. Hold tightly to close it and shake the bag vigorously to coat. You can also use a large bowl in this step and stir to coat, just make sure they are thoroughly coated with the olive oil to prevent drying them out.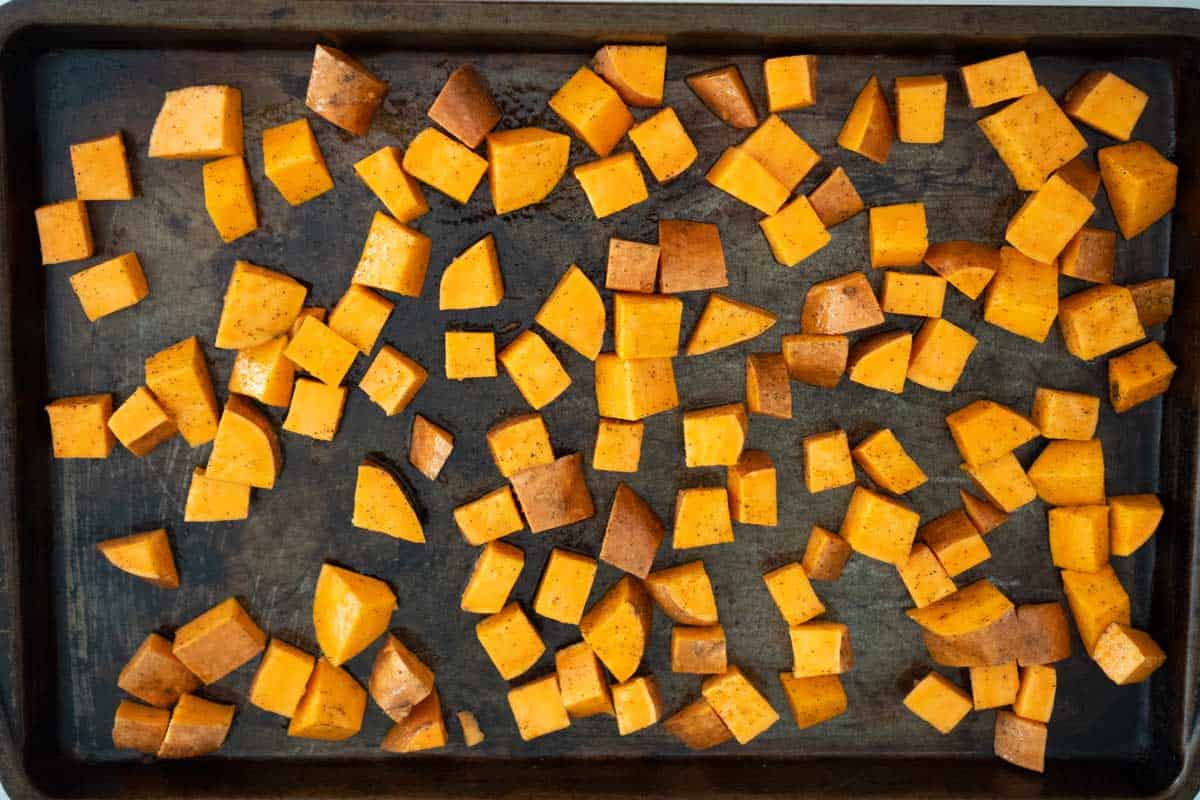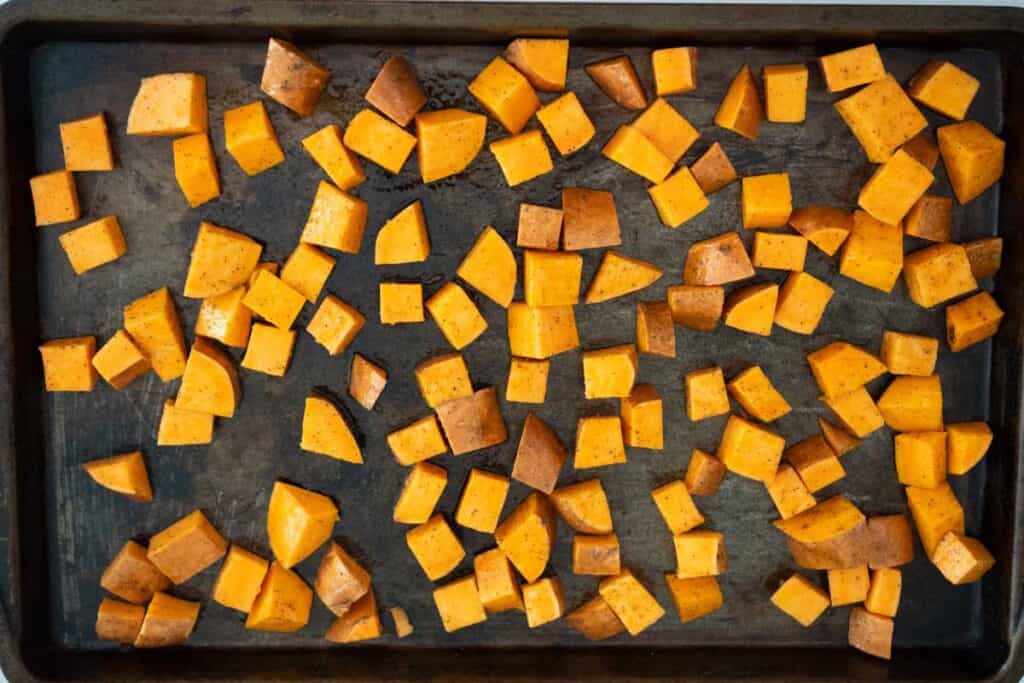 Spread the potatoes on the baking sheet in a single layer making sure they are spaced out so they cook on all sides.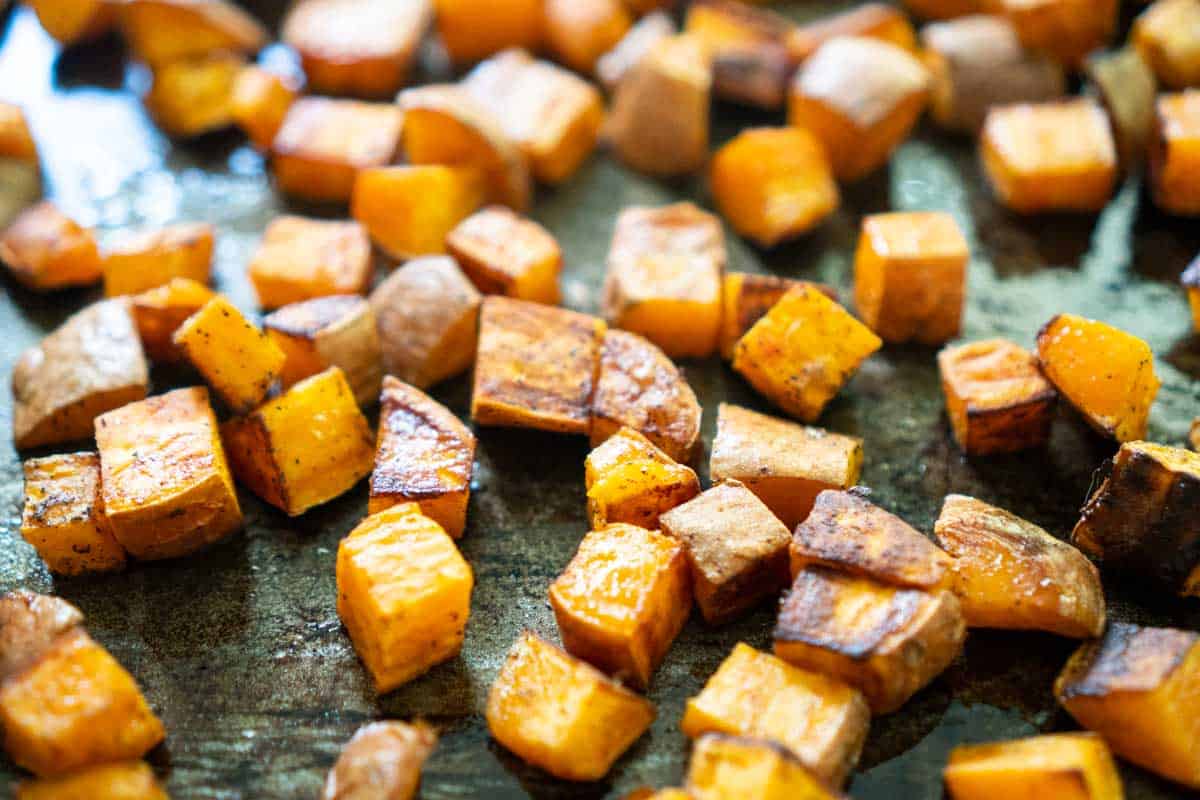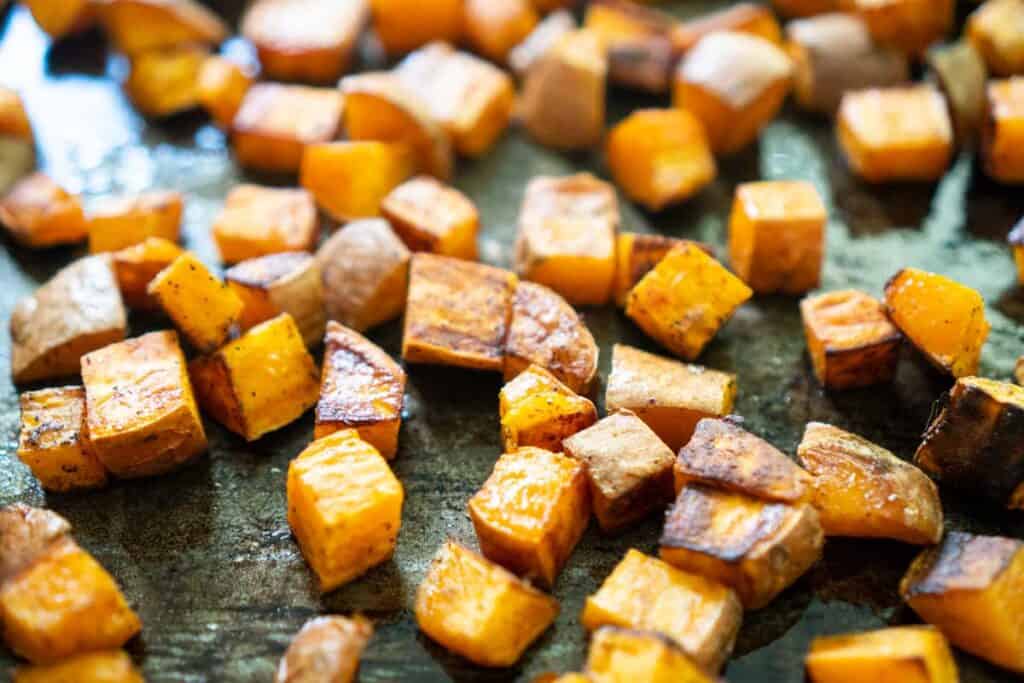 Roast for 30 minutes or until potatoes are soft, turning once halfway. For crispy potatoes, roast an additional 10 minutes.
Tips for best results
ensure potatoes are in a single layer, not touching...use two cookie sheet or a large sheet pan if necessary
turn them over halfway so they cook evenly
as cooking time can differ on variety and size of cubes, check for doneness before removing from oven
for a crispier end result cook an extra 10 minutes
FAQs
Do I need to peel before roasting?
Peeling is entirely optional. I choose to leave mine unpeeled because it increases the amount of fiber and antioxidants. You can peel the potato entirely or partially peel it to reduce the amount of peel, whatever you prefer.
Can I omit the garlic powder?
I like the garlic powder because it makes for a savory sweet potato side but you certainly can leave it out if you want a sweeter end result. You can also experiment with other seasonings like cinnamon, chili powder, etc.
Can I roast sweet and russet potatoes together?
Russet potatoes tend to take a little longer to cook so if you'd like to make this a medley with both regular potatoes and sweet, cut the russet potatoes smaller so they cook faster.
How do I reheat this recipe?
For the best taste and texture, reheat in a skillet on the stove or in the oven. If you need to microwave them, do so on half power.
Should I boil the sweet potatoes before roasting?
No, there is no need to boil them first and it will affect the texture negatively, with mushy end result
Serving suggestions
If you try this recipe, please comment and rate it below, I love hearing from you!
Print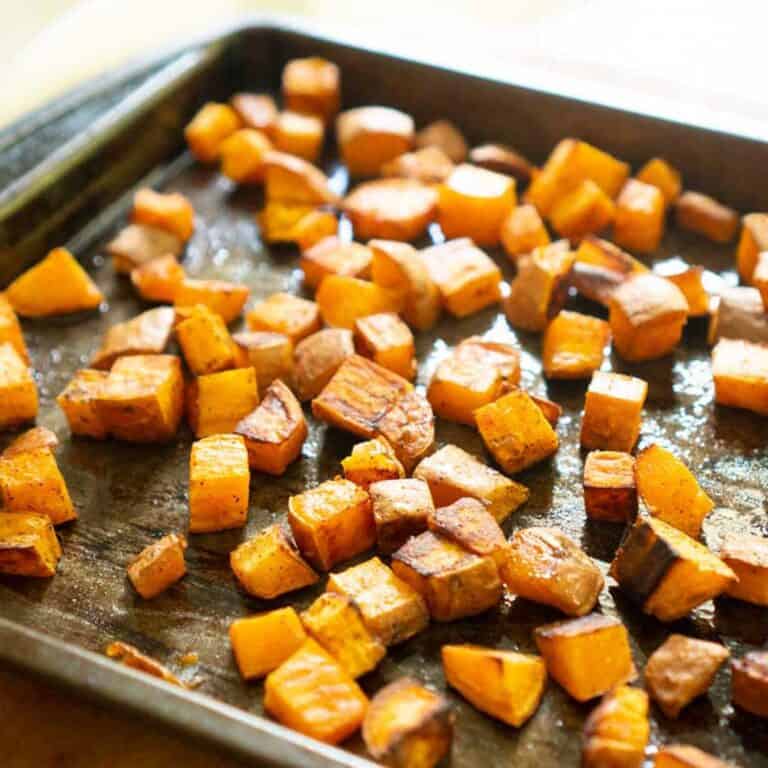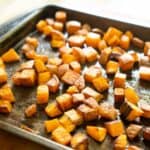 Simple Roasted Sweet Potatoes
Author:

Melissa Riker

Prep Time:

5 minutes

Cook Time:

30 minutes

Total Time:

35 minutes

Yield:

4

1

x

Category:

side

Method:

roasting

Cuisine:

American
---
Description
This simple Roasted Sweet Potato recipe is an easy, healthy side dish that takes just minutes to prep. With options to roast soft or crispy, everyone will love this recipe!
---
3

medium sweet potatoes

3 tablespoons

extra virgin olive oil

1 teaspoon

each salt, pepper, and garlic powder, or to taste
---
Instructions
Preheat oven to 400 degrees Fahrenheit. Spray a baking sheet with nonstick spray or line with parchment paper.
Wash sweet potatoes thoroughly. Peel if desired (I leave the skin on for added fiber.)
Chop the sweet potatoes into half inch cubes.
Add sweet potatoes, oil, and spices to a gallon bag, seal and shake to coat. (or use a large bowl and stir until potatoes are evenly coated in the oil.)
Spread the potatoes in a single layer on the baking sheet.
Roast for 15 minutes, then turn potatoes and roast an additional 15 minutes. For crispy potatoes flip after 20 minutes and increase total baking time to 40 minutes.
---
Notes
Roast with or without skin
For softer roasted sweet potatoes, roast for a total of 30 minutes. For crisp potatoes, roast for 40 minutes.
Nutritional information is for sweet potatoes about 5" long, unpeeled.
Keywords: roasted sweet potatoes