Wondering what to serve with quiche? I have some great ideas below! If you're looking for a quick and easy meal that's sure to please everyone, quiche is a great option. Quiche is one of the best dishes because it usually has simple ingredients, it's super easy to make, and it's versatile since you can eat it for breakfast, lunch, or dinner. My favorite quiche recipe is my bacon cheddar quiche but there are tons of different quiche recipe options.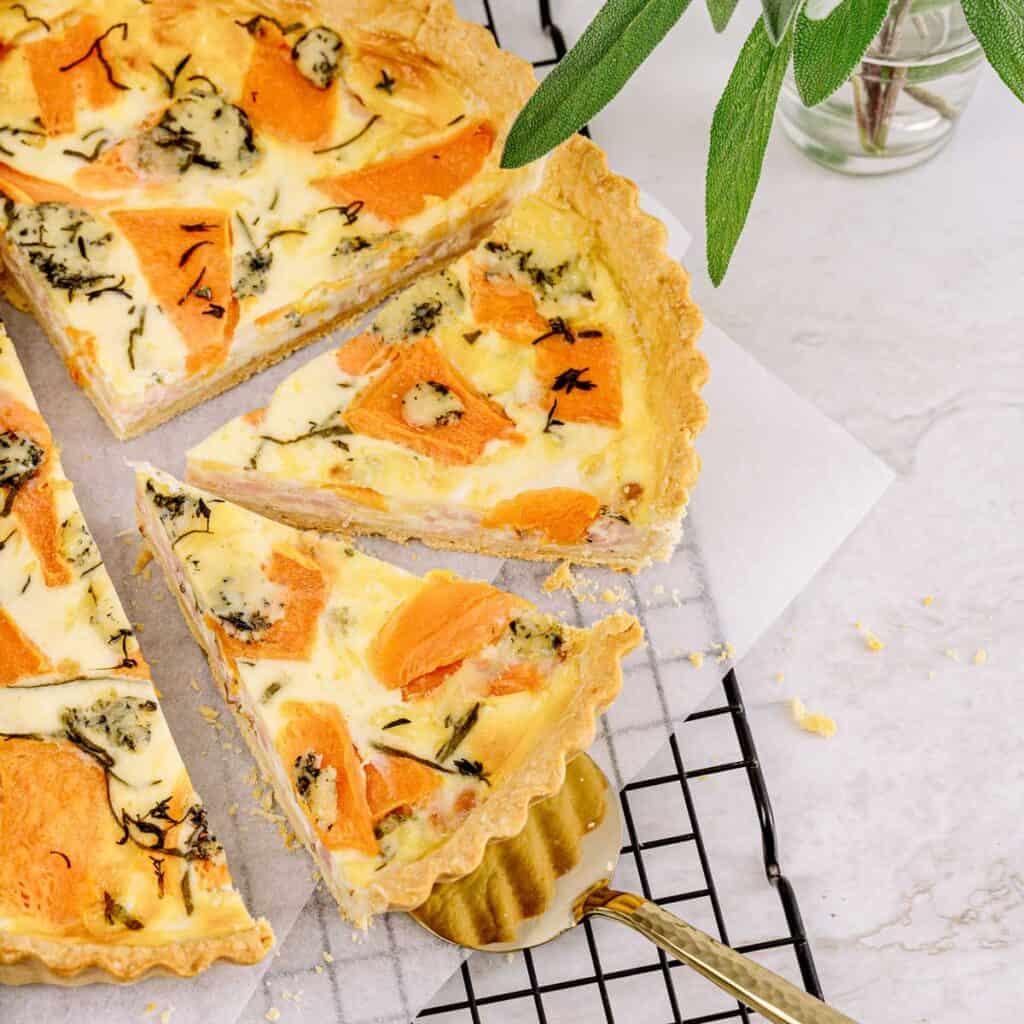 Even though a well-loaded quiche could stand alone and make a hearty meal as a main dish with no sides, I'm going to help you find the perfect side dish to pair with your quiche. From light and fresh salads to savory sides, you'll find something to suit every taste.
What to Serve With Quiche: 12 Great Options
1. Salad
A simple salad is a great idea to pair with quiche. Whether you opt for a side salad or something a little more substantial like a homemade caesar salad, it's a great way to add more greens to your meal. If you choose a simple side salad, try my creamy poppy seed dressing.
2. Potato Salad
Potato salad is a go-to side in my opinion. Traditional potato salad is great, but I like to dress up my potato salad in different ways too. This deviled egg potato salad is so delicious and much easier than making deviled eggs.
3. Roasted Vegetables
You can roast all kinds of different vegetables as sides for literally any meal. Parmesan roasted green beans, maples oven roasted carrots, oven roasted vegetable mix, and balsamic roasted veggies would all make a great side for quiche. If you or your kids aren't a fan of veggies, try topping them with this dijon garlic sauce.
4. Mac & Cheese
Mac and cheese is one of those great side dishes that is a great addition to any meal because everyone enjoys it and can make quiche into a hearty and filling dinner. Try slow cooker mac and cheese, slow cooker bacon mac and cheese, or almost homemade baked mac and cheese to add some cheddar cheese goodness to your meal.
5. Bread
Some nice crispy, crusty bread is one of the best side dishes. Bread makes any meal more filling and satisfying, which makes it a great thing to serve alongside a slice of quiche. Try homemade garlic bread, Guinness beer bread, homemade Amish bread, or Texas Toast.
6. Soup
Soup is the perfect dish to serve with any kind of quiche. I love soup because it's such a versatile dish, it's usually really easy, and it can be made in big batches ahead of time to make dinner time easy. Try instant pot chicken and spinach soup, broccoli cheese soup, or this Olive Garden copycat chicken gnocchi soup with your quiche.
7. Sweet Potatoes
Sweet potatoes are an underutilized side dish in my opinion. This makes them a perfect choice because we all tend to stick to rotating through the same foods over and over. Make these into easy side dishes with this simple recipe of slow cooker sweet potatoes with bacon recipe or these easy sheet pan roasted sweet potatoes.
8. Fresh Fruit Salad
A classic fruit salad is an easy and super light side that requires no recipe and very little effort. All you have to do is choose your favorite fruits or use whatever you already have on hand. Chop it all up and combine it in a bowl. When you want to keep your quiche side dish healthy and low-calorie, fresh fruit is the way to go. Especially if you're having a breakfast quiche.
9. Hash Browns
Golden brown hash browns are a great choice if you're having a breakfast quiche. You can even take those hash browns up a notch with cheesy bacon hash brown casserole.
10. Potatoes
I'm pretty sure regular white potatoes have to be the most-eaten side dish and for good reason. They can be made in so many different ways, their neutral flavor makes them taste great with any meal, they're cheap, and they're even healthy if you don't load them down with unhealthy ingredients. Try parmesan roasted potatoes, roasted russet potatoes, cheddar chive mashed potatoes, or crispy smashed baby potatoes complete your quiche meal.
Fried green tomatoes are a classic Southern brunch appetizer or side dish, making it perfect for serving alongside your quiche. Green, unripe tomatoes are breaded in a cornmeal mixture and fried up to crispy perfection and served alongside a remoulade sauce for dipping.
12. Add toppings
In lieu of a side dish, you could always add extra toppings to your quiche. Toppings like sour cream, feta cheese, fresh cherry tomatoes, pico de gallo, and fresh herbs can give your quiche extra flavor and make it more filling.
Quiche can be a great addition to any meal, whether it's breakfast, brunch, lunch, or dinner. With its savory flavor, it can be served with a variety of sides. From the classic salads and roasted vegetables to fruit and a light vinaigrette dressing, there are plenty of options to choose from when it comes to what to serve with quiche. With a little bit of creativity and imagination, you can create the perfect meal that everyone will enjoy.