Streamline your cleaning routine with a printable cleaning flow chart!
I'm the first one to admit that I'm a highly distractable person. I'll intend to clean my living room but end up watering plants instead. I'm like the ball in the pinball machine-just bouncing all over the place unless I have a distinct plan.
That, my friends, is why I made this free printable cleaning flow chart for you. This little chart helps keep me on track and saves me TONS of time cleaning my house-I hope it helps you as well!
This chart is also highlighted in my comprehensive Ultimate Home Cleaning Guide, along with everything you need to know to get started keeping a clean & tidy home!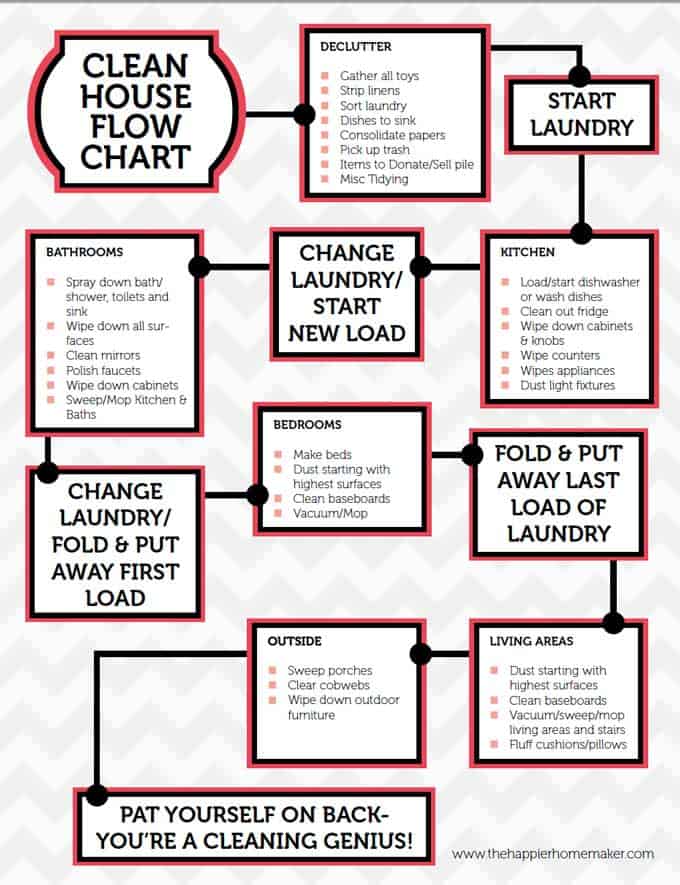 To download the Cleaning Flow Chart, simply click on the button below and we'll send it right to your inbox!
How to Use This Cleaning Chart
Let this cleaning chart guide you to completely clean your home zone by zone.
Declutter and start laundry
Clean the kitchen
Switch out laundry
Clean the bedrooms
More laundry!
Clean living areas
Tidy up the exterior of your home
Tips
Make sure the washer and dryer have the sound on so you can hear when a load finishes and move/fold it immediately.
Always clean top to bottom so dirt and dust doesn't fall onto already cleaned surfaces.
Batch the floors, vacuuming all carpets and rugs in the house in one sitting and sweeping and mopping all hard surfaces in another.
If you're short on time, try this guide to Clean Your House in an Hour, How to Fake a Clean House FAST, and also see this printable Weekly Cleaning Schedule as well!
Need more motivation? Try the
Declutter Challenge
You might also like these cleaning posts: