Looking for inspiration for what to eat with sweet potatoes? You have come to the right place! Whether you're looking for a main course like a classic casserole or a unique vegetable dish, I have plenty of tasty ideas that are sure to complement your sweet potatoes and make everyone at the dinner table happy.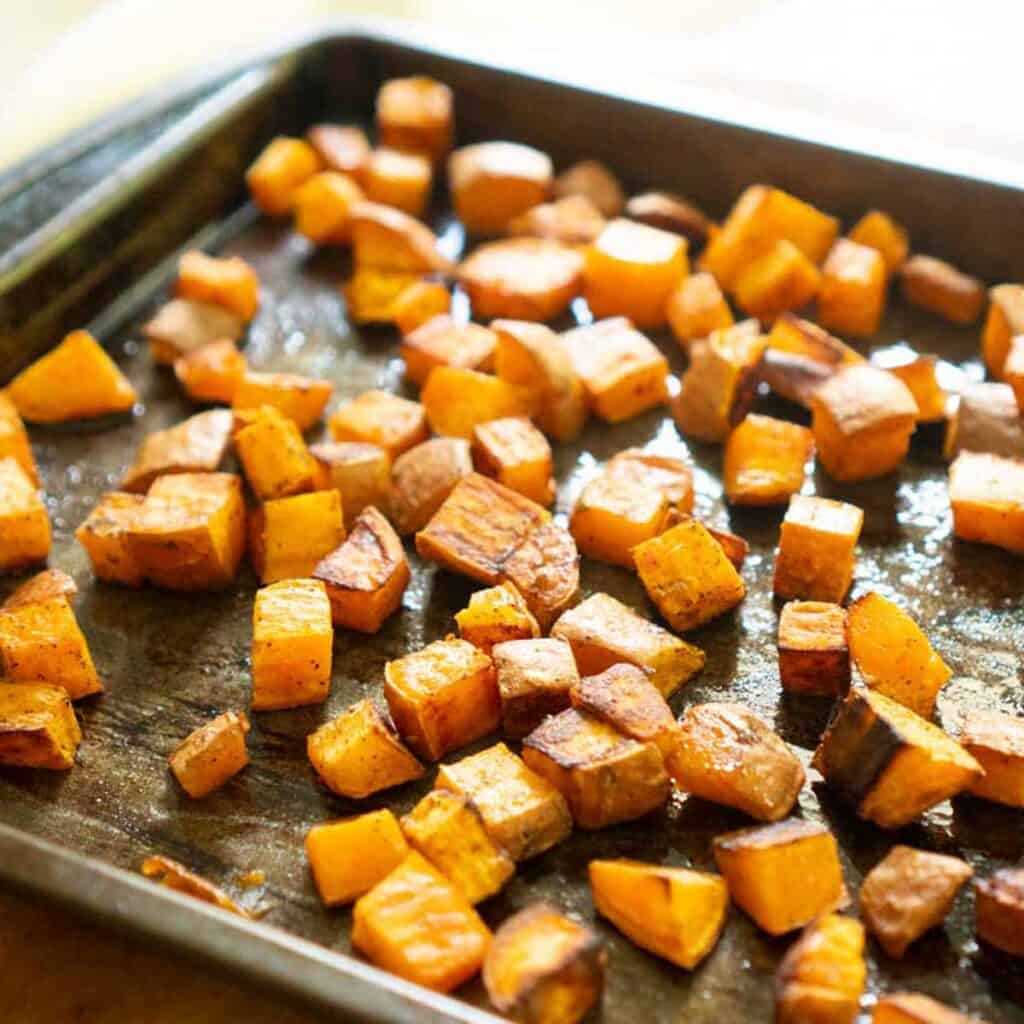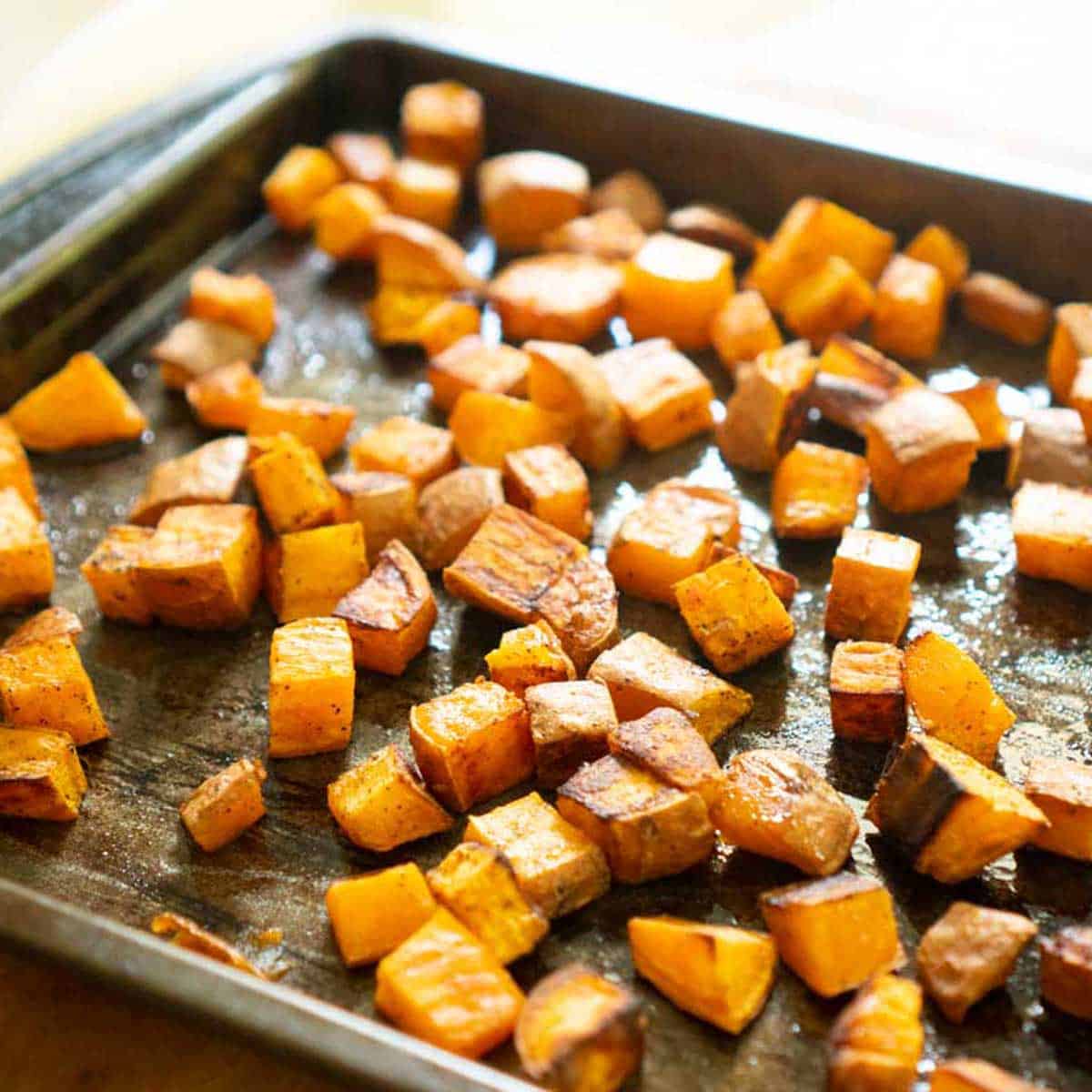 When it comes to side dishes, sweet potatoes offer a wealth of possibilities. Not only do they have a unique flavor, but there are also so many delicious ways you can make them, which is one of the best things about them! Not to mention the health benefits!
You can mash them, grill them, fry them, bake them, make sweet potato fries, roast cubes of sweet potatoes, make sweet potato soup, and more! There really is no limit to what you can do with them! 
There are so many amazing dishes that complement sweet potatoes. Whether you are planning a special dinner or just cooking up a simple meal, these main dishes will help you take your sweet potatoes to a whole new level. So, grab your favorite sweet potato recipes, and let's get started exploring ideas for what to serve with sweet potatoes!
What to Serve With Sweet Potatoes
1. Baked Chicken
An easy and flavorful main dish, this simple baked chicken is sure to be a hit with the whole family. Marinate chicken breasts in a mix of olive oil, lemon juice, Worcestershire, garlic, soy sauce, and dijon mustard and then bake or grill until cooked through. Serve with a side of sweet potatoes, steamed or mashed, for a complete meal. 
2. Roasted Pork Loin
This versatile cut of pork can be roasted and served with sweet potatoes for an elegant and flavorful meal. Marinate the pork loin in a combination of garlic, olive oil, paprika, parsley, and oregano, and then roast in the oven.
Serve with steamed or mashed sweet potatoes or make it easy with slow cooker roasted sweet potatoes with bacon. 
3. Salmon and Broccoli
This is a healthy and delicious option for a weeknight dinner. Start by seasoning a salmon fillet with lemon juice, garlic, and salt. Then cook it on the stovetop in a pan with a little olive oil.
Add some steamed broccoli to the pan for the last few minutes of cooking. Serve with buttery mashed sweet potatoes, and you can add a dollop of sour cream for even more creaminess for the perfect side dish. 
4. Steak and Vegetable Kebabs
Kebabs make a hearty and satisfying meal. Skewer together cubed steak, bell peppers, and red onions and then marinate them in a mixture of olive oil, lemon juice, and fresh herbs. Grill or bake until the steak is cooked to your desired doneness. Serve with roasted sweet potato cubes for a delicious dinner.
5. Beef Stir Fry
This classic Asian dish is a great way to use up any leftover beef you might have. Start by stir-frying some beef with vegetables like bell peppers, mushrooms, and bok choy. Next, add in a savory sauce and serve with steamed white or orange sweet potatoes.
This hearty and comforting dish is a great choice for a soothing family dinner. Start by braising chicken with mushrooms, onions, and a mix of herbs. Simmer until the chicken is cooked through and serve with savory sweet potatoes, mashed or steamed, or put together a sweet potato casserole. This is a nice healthy dinner, and the nutritious sweet potatoes make it even healthier!
7. Roast Beef with Roasted Root Vegetables
This is a flavorful and filling meal. Start by roasting a beef roast with carrots, onions, parsnips, and potatoes. Simmer the vegetables until tender and serve with mashed sweet potatoes for a complete meal.
An elegant and easy-to-make meal, this dish is sure to impress. Sear scallops in a pan with butter and garlic until golden brown and then add in asparagus and cook until tender. Serve with roasted sweet potatoes or other healthy sweet potato recipes for a complete meal.
For a flavor-packed vegan dinner, prepare some quinoa bowls. Cook quinoa and then stir in a mix of chickpeas, Kalamata olives, red peppers, and feta cheese. Serve with roasted sweet potatoes for a complete meal.
When you roast sweet potatoes, it enhances the sweet taste of this delicious root vegetable which really compliments the other flavors in this bowl. 
An easy but impressive dinner, this dish is sure to become a family favorite. Start by preparing a sauce of fresh lemon juice, dill, garlic, and olive oil. Brush the sauce over some halibut fillets and bake in the oven until cooked through. Serve with mashed sweet potatoes and sauteed green beans.
This light and delicious dish is a great option for summer. Start by combining zucchini and summer squash with bread crumbs, garlic, and parmesan cheese. Bake in the oven until golden brown and serve with a side of mashed sweet potatoes.
13. Fajitas with Grilled Vegetables
A great option for a summer picnic, fajitas are always a crowd pleaser and a really easy recipe. Start by marinating some steak or chicken with a mix of spices, salt and black pepper, and then grill. Serve with grilled vegetables, warm tortillas, and a side of roasted sweet potatoes. 
You can also make a vegetarian options with these black bean and sweet potato taquitos!
12. Shepherd's Pie
This classic dish satisfies even the heartiest of appetites! Adding sweet potatoes instead of white potatoes is the perfect way to update this meal with minimal effort. Start by sautéing a mix of ground beef, carrots, onions, and peas. Then top with mashed sweet potatoes and bake in the oven until golden brown. This recipe is also great leftover for an easy lunch the next day!
A creamy and delicious flavor risotto is a great option for a cozy dinner. Start by sautéing mixed mushrooms until golden and then add in some arborio rice and simmer until cooked. Serve with a side of roasted sweet potatoes, or make them in any of the different ways you can make sweet potatoes for a complete meal.
14. Fried Chicken
This classic dish is a favorite for a reason. It has amazing flavor, and it's a simple recipe! Start by marinating chicken pieces in a mix of spices and then coat with flour and fry in hot oil until golden brown.
Mashed or baked sweet potato would be a great addition to this meal, or even some sweet potato pancakes for a delicious side dish.
This spicy and flavorful dish can be prepared in just minutes. Start by sautéing shrimp in a mix of garlic, ginger, and chilis. Then add in a Thai-style red curry sauce and simmer until cooked through. Serve with steamed sweet potatoes or a sweet potato mash for a complete meal.