Looking for the perfect pairings for creamy pumpkin soup? Learn what to serve with pumpkin soup, from sides to garnishes and desserts.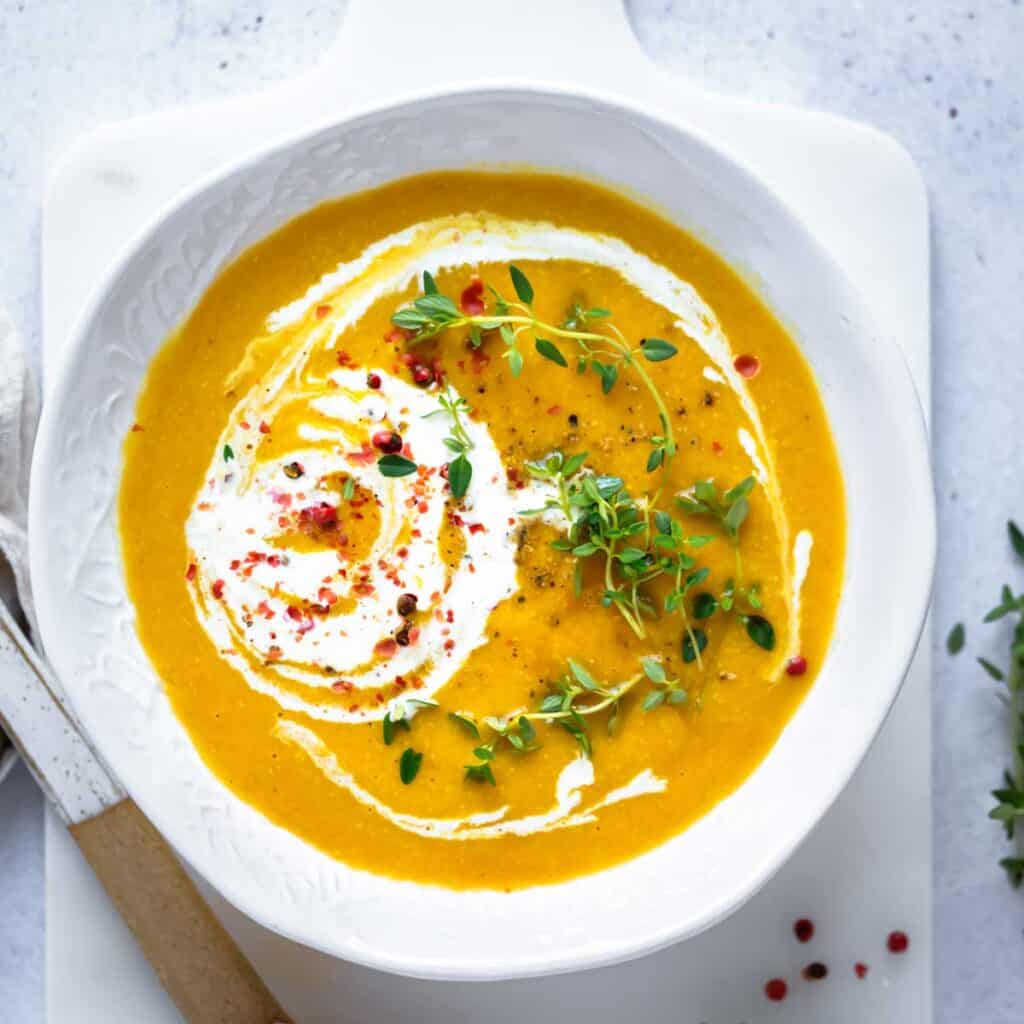 Pumpkin soup is a classic recipe that's easy to make and incredibly comforting any time of year. It is warm, delicious, and a perfect balance of savory and sweet. You can make it for a family weeknight dinner or even a dinner party and everyone will be happy!
The base of the soup is made up of roasted pumpkin, olive oil, onions, garlic, and vegetable stock. For additional flavor, spices such as nutmeg, cinnamon, and/or cumin are added.
Once cooked, the soup is blended with an immersion blender (affiliate link) until smooth and creamy, then a generous amount of heavy cream is added for extra creaminess. This gives the soup the perfect creamy texture and also adds a hint of sweetness. This dish is one of the best soups to capture the flavors of fall in one delicious bowl!
This fall favorite will pair well with a number of side dishes! I've got a list of some great ideas below that will spice up your Fall seasons nicely!
What to Serve with Pumpkin Soup
Sides and Garnishes
1. Grilled cheese sandwich
Classic grilled cheese sandwiches with melted cheese and buttery toast is a go-to soup side for me. Sandwiches are one of the best options for eating with soup and a perfect side dish to make the meal more filling. Elevate your grilled cheese by trying a more exotic flavor like fontina, havarti, or gouda.
2. Sourdough bread
A thick slice of sourdough bread to soak up the soup. If you want your delicious soup to remain the star of the show, some crusty bread makes a great side.
Crunchy crackers made with cheddar cheese and garlic seasoning crumbled on top of a bowl of pumpkin soup makes it even more savory and irresistible.
Roasted veggies are one of the best delicious ways to keep your meal healthy but still add some bulk. Try a medley of roasted vegetables like bell peppers, zucchini, onion, and carrots.
Buttery toasted bread sprinkled with garlic powder is an easy recipe to make a next level side to dip into pumpkin soup.
6. Garlic herb croutons
Drop croutons flavored with garlic and fresh herbs on top of your soup for more flavor and an added crunchy or chewy texture.
7. Crumbled bacon
Crispy bacon bits or thin slices add a salty, smoky flavor and are a great option for topping this hearty soup and adding some extra flavor.
A combination of salty bacon and tangy Brussels sprouts add a load of flavor to the meal and the flavors will compliment homemade pumpkin soup perfectly.
9. Pine nuts
Another option for crunchy toppings is pine nuts. It might sound strange, but it's a delicious way to add texture and the flavor works perfectly.
10. Parmesan crisps
Wafer-thin crisps of salty parmesan cheese. The slightly tangy flavor of the parmesan won't disappoint in pumpkin soup!
Like the garlic bread mentioned above, Texas toast is perfect for dipping in a creamy pumpkin soup. This thick sliced bread is buttery and crisp, theultimate comfort food!
Desserts
12. Oatmeal cookies
Soft, chewy oatmeal cookies are a perfect dessert for a fall meal like pumpkin soup. They are made with simple ingredients that are easy to throw together too, which is always a plus! Try these cinnamon apple oatmeal cookies for a taste of fall.
Spiced muffinss made with pumpkin puree and cream cheese frosting make a great follow up to a creamy pumpkin soup recipe. 
After a nice bowl of soup, a warm apple crisp (also called an apple crumble) made with tart Granny Smith apples and a crunchy oat topping is the best way to finish your meal.
Creamy bars of baked cheesecake spiced with pumpkin and cinnamon are the perfect way to use your leftover pumpkin purée.
If you don't want your whole meal to be all things pumpkin, a gooey, decadent bread pudding made with pumpkin and topped with whipped cream adds a little bit of a twist to finish off the meal.