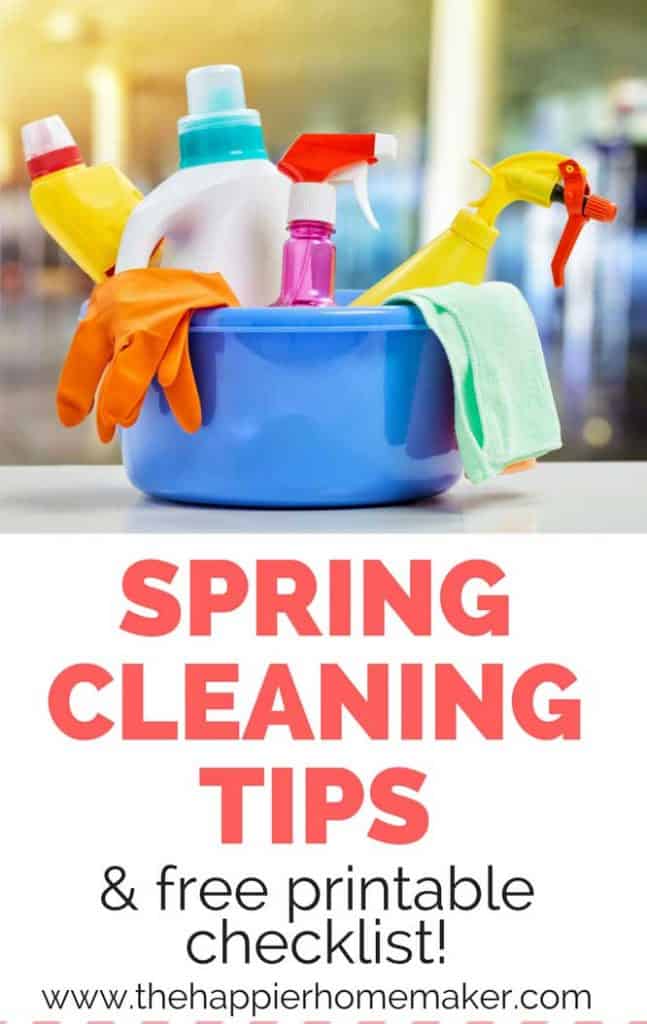 Ah, spring….warmer temperatures, spring bulbs blooming, birds chirping-and a whole lot of Spring Cleaning to get your house freshened up! Wait-you're not excited about Spring Cleaning?
I don't think any of us ever are about the actual cleaning part, but having a freshened up house after a long winter stuck inside is definitely something I can get behind. So what can you do to make spring cleaning easier and faster so you can get back to enjoying the weather?
Check out these spring cleaning tips and a free spring cleaning printable to help you get the cleaning done and back to the fun!
Spring Cleaning Tip #1: Play it by Zones
If you're unable to devote a big day to spring cleaning the entire house, work in zones. Start with the main living areas then move to the bedrooms and bathrooms as your schedule allows. Use this free printable spring cleaning checklist to help you keep track of your cleaning progress along the way. Click here to download the Spring Cleaning Checklist.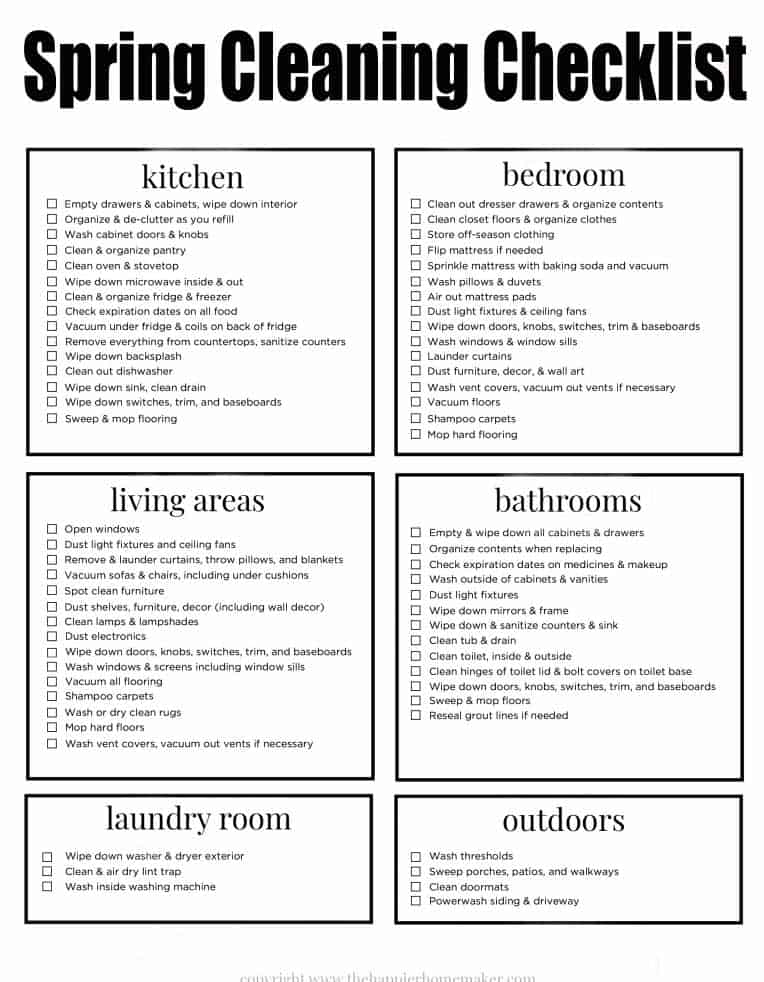 Click here to learn How to Clean Windows or How to Clean Your Oven to make Spring Cleaning easier!
Spring Cleaning Tip #2: Bring Out the Power Players
Spring cleaning is no time for experimenting with new cleaning supplies-go straight to the tried and true cleaning supplies so you're not wasting precious time re-cleaning the same things over and over.
I like to use Spot Shot Instant Carpet Stain Remover for my carpets as I've mentioned many times before because it's just hands down the best carpet and upholstery cleaner I've ever tried. You can see all of my preferred cleaning supplies in my shop here.
Spring Cleaning Tip #3: Start at the Top
No matter what room you are cleaning start at the top of the room and work your way down so that any dust or grime falls onto not-yet-cleaned surfaces below. No point in vacuuming then dusting your ceiling fan, do the reverse and save yourself time and energy!
Spring Cleaning Tip #4: Keep a Notepad Handy
Invariably when we do a deep cleaning we notice things that need to be repairs-such as chipped paint or loose doorknobs. Keep a notepad handy and make a running list of anything that needs to be readdressed once you're done. This keeps your cleaning on track and helps you to remember small repairs down the line.
Keep a list also for anything you realize you may need to restock on such as air filters or light bulbs that you might notice as you are cleaning as well.
Spring Cleaning Tip # 5: Take it Easy on Yourself
Spring cleaning is a big undertaking so make sure to give yourself the time and grace to get it finished. (Spread it over a week with my 7 Day Spring Cleaning Challenge!)
Free up your calendar for a week as you work through the home allowing for plenty of downtime along the way. Plan some crockpot meals to make meal prep easy and play your favorite music or podcasts as you clean to help keep you motivated!
What are your favorite spring cleaning tips?
Get Organized!
Sign up for my FREE 7 Day Organizing eCourse-exclusively for my subscribers!