Make spring cleaning manageable with this 7 day spring cleaning challenge!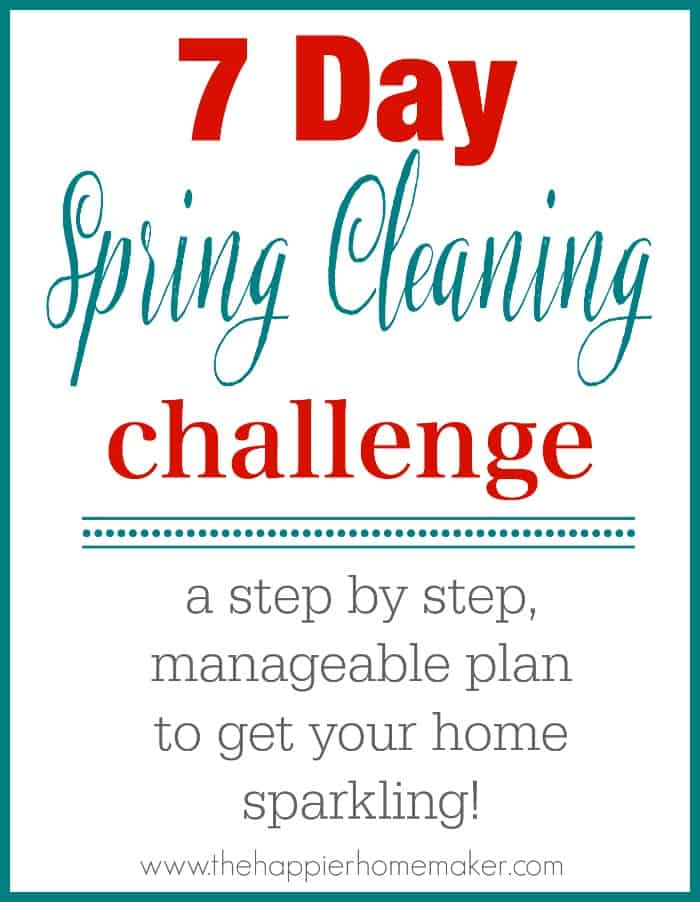 I don't know about you guys but I'm more than ready for spring! I'm already garden planning and getting ready to do my annual spring cleaning!
Some people like to go all-in and wipe out their spring cleaning in a couple of days, if you (like me!) don't necessarily have the time or energy to devote to hours to intense cleaning, fear not!
I've broken down everything you need to do to Spring Clean your home into a manageable 7 day schedule that you can complete in a week or spread over the course of the month-it won't overwhelm you and will have your house sparkling in no time!
Prefer to get each day mailed straight to your inbox? Fill out the form below!
Day 1-Kitchen
The kitchens and bathrooms are my least favorite places to clean in the house but when they are truly, deeply cleaned it makes a very big difference in your home.
For this first day (yes, there are two) of kitchen cleaning we're going to start by clearing the counters and filling up your sink with hot, soapy water. Use a sponge to wipe down all the counters, rinsing in the hot water.
Soak stove burners in the water while you wipe stove surface and wipe out microwave.
Clean the oven inside and out with this tutorial.
Wipe down the cabinets to remove greasy buildup.
Kitchen need a deeper clean? Check out our 8 Day Kitchen Cleanup!
Pat yourself on the back for a job well done. Tomorrow will be easier, I promise!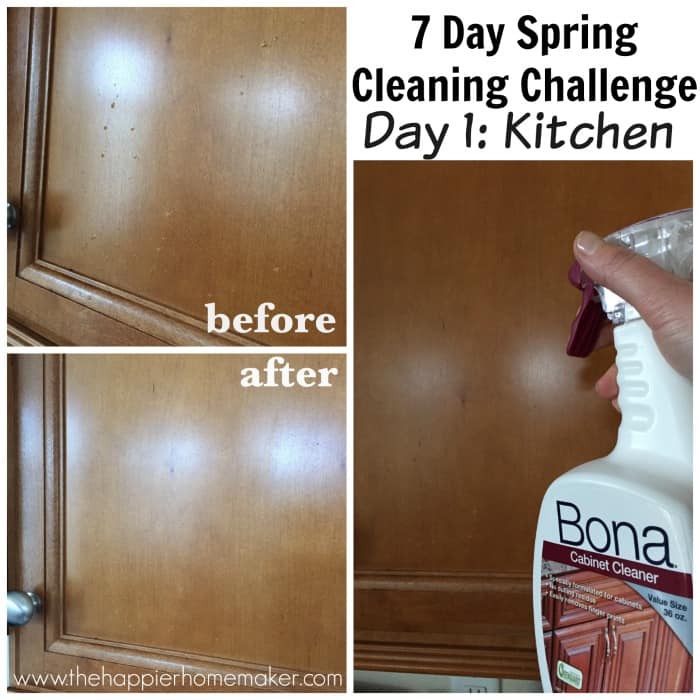 Day 2-Bedrooms
Because you did such a stand up job on the kitchen, day 2 is a little less back breaking.
Change your linens, washing the pillows and comforter.
Vacuum your mattress, flipping if necessary.
Wipe down baseboards and windowsills (including in the window tracks), clean blinds, ceiling fan, and wipe down mirrors. (Change direction of the fan if needed.)
Dust furniture and vacuum. 
I like to do all the bedrooms in my home at once doing the same task in each room then moving on but you could do each room separately or have each family member responsible for their own room-pick whichever works best for your home!
Day 3-Kitchen Round 2
It's back to the heavy hitter-finishing up the kitchen!
Today you need to tackle the pantry-remove everything from the pantry, throw out expired food, donate non-perishables that you know you're not going to eat and wipe down the interior of the pantry/cabinets before returning food. 
Organize the food as you return it to the pantry. 
Next, move on to the fridge, removing contents and wiping down the interior.
Organize and wipe out the cabinet under the sink and any other cabinets or drawers that need attention.
Day 4-Living Areas
Vacuum and spot clean upholstered furniture.
Clean rugs or carpets and any throw blankets.
Remove clutter and organize media (DVDs, etc.)
Wash curtains and wipe down baseboards and window sills and tracks.
Clean TV and any other electronics.
Set out any spring decor you like to display.
Clean all floors-vacuum carpet and clean hardwood surfaces (this is my favorite cleaner for wood floors)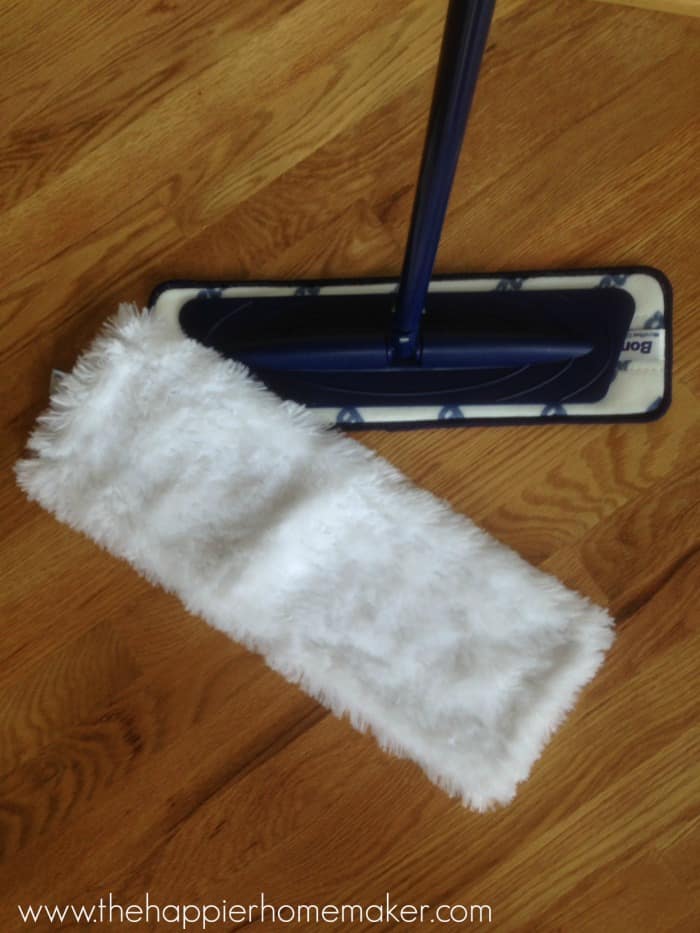 Day 5-Bathrooms
Organize contents of the medicine cabinet and toss expired medicines, wipe interior of cabinets.
Wipe down all surfaces with antibacterial cleaner.
Mop floors.
Clean mirrors.
Day 6-Laundry Room
Day 7-Household Maintenance
Clean door thresholds, sweep porches and outdoor walkways.
Pressure wash exterior of your home if needed.
Check air filters.
Store winter necessities and decor.
Switch seasonal clothing in closets. Donate unused items to charity.
That's it! Manageable right?
For a more detailed checklist print off my Spring Cleaning Checklist Printable to help you get all those nooks and crevices and see my Spring Cleaning Tips and Tricks for more secrets to making spring cleaning easier!