Learn how to clean a top loading washing machine with bleach and white vinegar in this easy step by step tutorial!
This post shows how to clean a top load wash, for a cleaning tutorial for front load washers, click here.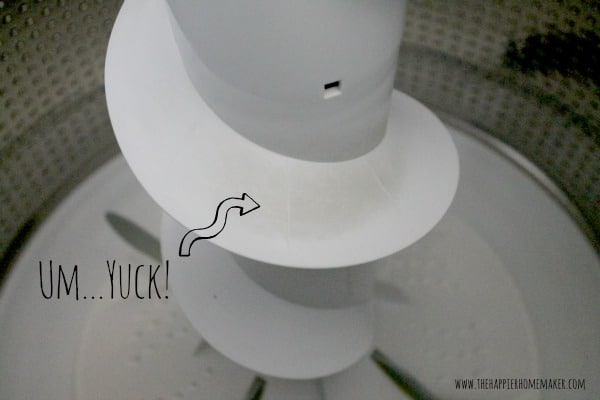 Do you need to clean a top load washer?
Short answer: yes!
I spend an enormous amount of time doing laundry. Between my husband and kids I do way more laundry than I ever thought a family of five could produce.
With all of that use, detergent residue, mold, and grime can build up fast, like in the photo below.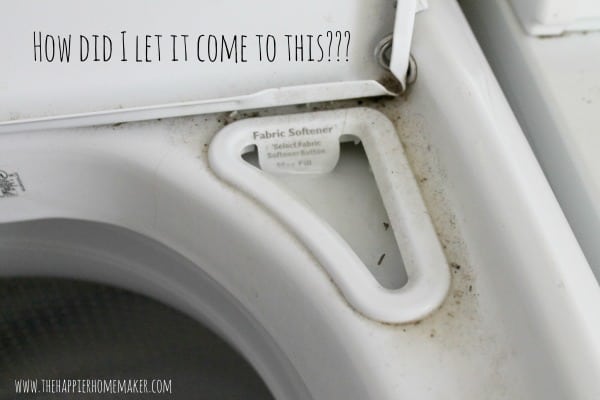 I would always make a mental note to do something about it but I obviously never quite got around to it. (Our poor neglected appliances!)
Until this week.
Determined to break this cycle of yuck I researched and researched the best way to clean a washing machine and here's what I came up with.
Step by step
MATERIALS
INSTRUCTIONS
Clean the Washing Machine with Bleach Fill washer tub all the way up with HOT water.  Not warm water, not cold, fill that baby with the hottest water setting as the setting will allow. 
Add one quart of bleach, set it on the longest cycle (for me this was the "whitest whites" cycle) and let the washer agitate for a few minutes, then let it sit one hour by pausing the cycle.  After the hour let it complete the wash cycle. ***If you prefer not to use bleach you may substitute a quart of hydrogen peroxide in its place***
Clean the Washing Machine with Vinegar Again fill the washer with HOT water but this time add one quart of white vinegar.  Same routine-set on the longest cycle and let it agitate a few minutes then sit for one hour.  After the hour complete the wash and rinse cycle.
Wipe out the washing machine and clean detergent trays: Wipe down the entire inside and outside of the machine with 1 cup hot water and 1 cup vinegar mixture using a microfiber cloth (affiliate link). 
Don't forget to wipe the blades of the agitator inside the washer drum. If your detergent and fabric softener dispenser have soap scum built up in the nooks and crannies like mine did and they are removable soak in hot water with vinegar for ten minutes then wipe down.  If they aren't removable pour a cup of white vinegar (warmed in microwave) in them and then wipe clean after a few moments. You can also scrub with an old toothbrush and a water and baking soda paste for any stubborn spots, just wipe with a clean damp cloth to remove the residue afterward.
NOTES
You can substitute hydrogen peroxide for the bleach
FAQs
How often should you clean your washing machine?
If your machine is not very dirty and doesn't need a deep clean, you can maintain it by running an empty load with 1 cup of vinegar once a month.
If your top load washing machine has a lot of build up I recommend cleaning it thoroughly as described below, then maintaining it with monthly vinegar cycles. I try to run my maintenance vinegar cycles on the first of the month so I don't forget to do it.
How to prevent mildew smell in your washing machine
Even if you regularly clean your washer, it can still sometimes get a mildew smell to it. The solution to this is too easy-after running the machine, keep the lid open to allow it to dry out. Closing the lid when it is wet is a sure-fire way to get a stinky washer!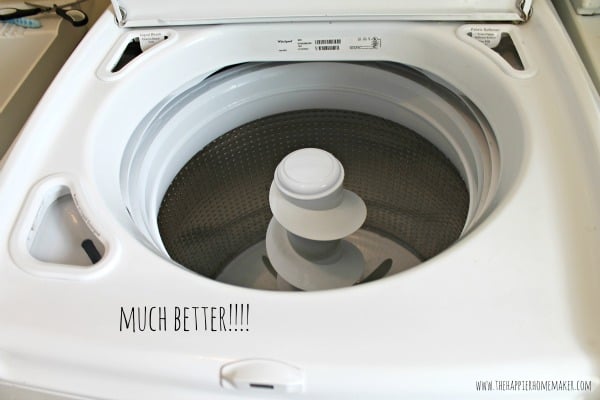 And there you have it-a sparkly, clean washing machine, free of build up and grime!
When you're finished don't forget to learn How to Clean a Dryer next!
So spill it-when is the last time you cleaned your washing machine? Did you know you're supposed to do this at least twice a year, more if you have hard water?? Learn something new every day!
You might also like these cleaning tips:
This post was originally published in May 2013 and updated with additional information in June 2020.