Wondering how to clean a stainless steel sink? Look no further! Follow this step by step tutorial to clean your stainless steel sink and deodorize and clean the sink drain as well!
How to Clean a Sink
Its been just over a year since we moved into our new construction home and to be quite honest I've had a bit of a struggle watching the house turn from brand spankin' new to, um, we'll just say "lived in". I promised myself when we moved in I would clean on a stringent schedule and keep it in the pristine condition it was in when we moved in.
And then life happened and, yeah, not so much.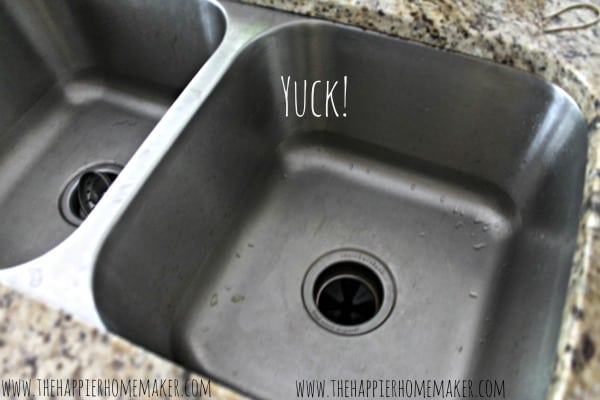 Meet my cruddy kitchen sink. Sink, meet my amazing readers.
Since I sort of neglected the sink and let it crudify itself I thought I'd share my shameful sink and how I got it back in shiny shape-WITHOUT using chemicals or smelly cleaners!
You might also like my tutorials for cleaning and preventing fingerprints on stainless steel and cleaning your dishwasher!
Supplies
Here's what you need:
1-2 Lemons
Vinegar
Baking Soda
Salt
Step by step
First, slice your lemon in two and sprinkle it heavily with salt. This is your scrubber-use it to scrub down the bottom and sides of your sink. When the lemon is juiced from the scrubbing move on to another section with more salt.
When you are finished rinse all areas of the sink thoroughly to remove any residual lemon juice and set aside the used lemons for later, we'll be back to them!
Kitchen need a deep clean? Check out our 8 Day Kitchen Cleanup!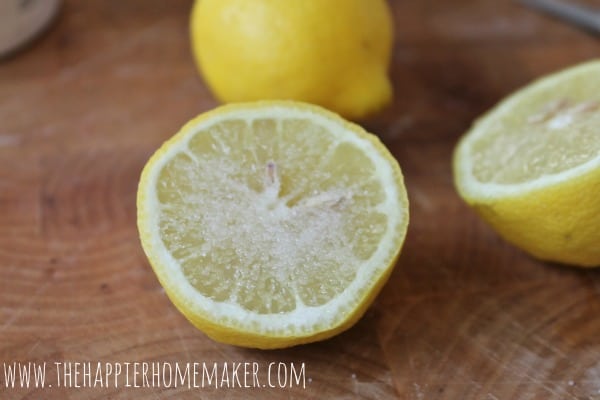 How to Clean a Sink Drain
To make sure your sink doesn't just look clean but actually smells clean too there are a few tricky places you have to get to where the nasty stuff hides.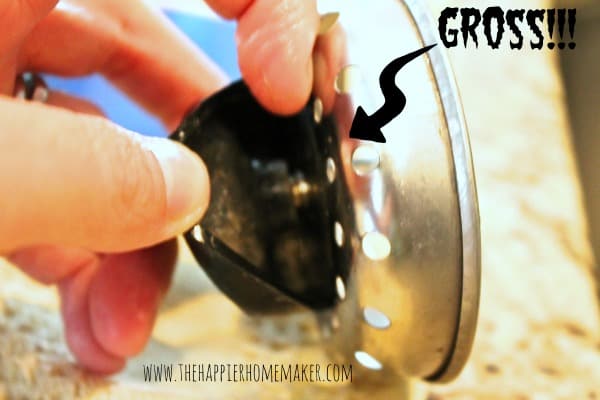 I dare you to go check this spot on your drain plug between the metal and the rubber stopper-gross stuff in there!
To clean the drain plug, heat a bowl of vinegar in the microwave for 90 seconds and soak the drain stopper in it for 5 minutes. After soaking, wipe it out with a damp sponge. SOOOOOO much better!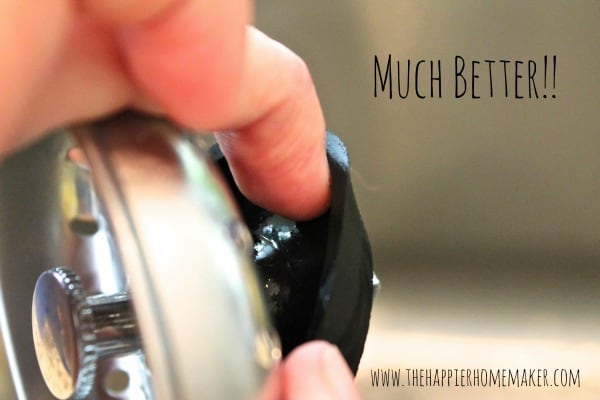 Another place to make sure you get is the underside of your rubber drain skirt if you have one. You can't soak this area, so instead wet your sponge in the warm vinegar that you are soaking the drain stop in and wipe the underneath portion of the rubber well. You may be grossed out by what is hiding under there-I was!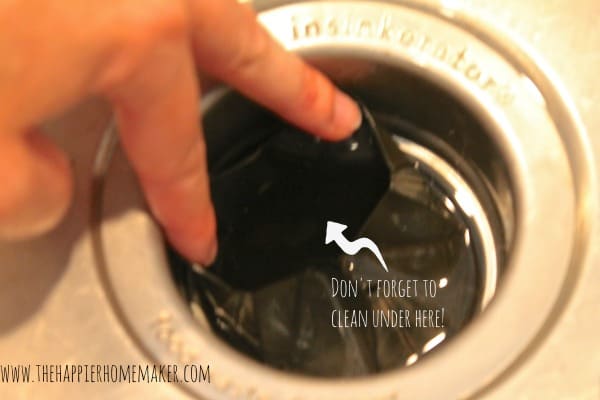 Deodorize a Smelly Sink Drain
Okay, now to clean and deodorize the sink drain!
Pour ½ cup of baking soda down your drain. If you have a garbage disposal, very quickly turn it on then off to help distribute the baking soda in the drain. Let it sit for five minutes then pour one cup of vinegar (you can use the hot vinegar leftover from cleaning the drain plugs!)
Watch that baby foam with stink-killing goodness!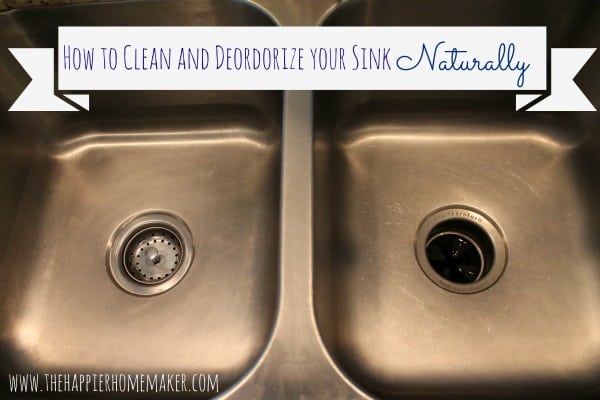 How to Clean and Deodorize a Garbage Disposal
As the last step, if you have a garbage disposal we can give it a fast clean finishing touch. Simply throw your leftover lemons that we scrubbed the sink with in the garbage disposal, turn on the hot water and run it until they are gone.
Congratulations, you have a sparkling, not-stinky sink and you didn't use any harsh chemicals!
Do you love cleaning with natural products? Be honest-is your sink feeling a little gunky lately, or am I the only one that forgets to do a deep clean?
How to Clean a Stainless Steel Sink and Sink Drain
Easily clean your stainless steel sink and sink drain naturally, no harsh chemicals, with this step by step tutorial.
Materials
1-2 Lemons
Vinegar
Baking Soda
Salt
Sponge
Instructions
Slice lemons in half. Sprinkle a half heavily with salt and use this to scrub the sink.
When the lemon half is juiced, continue with the next lemon half until the entire sink has been scrubbed. Set lemons aside for later.
Rinse the entire sink with water.
Remove the drain plug. Heat a bowl of vinegar for 90 seconds in the microwave. Allow drain plug to soak for 5 minutes, then wipe clean with a damp sponge.
Use the damp sponge dipped in warm vinegar from the bowl to wipe the drain skirt both on top and underneath.
Pour ½ cup baking soda down the drain. If you have a garbage disposal, turn it on and off quickly to help disperse the baking soda. Allow it to sit for 5 minutes.
Pour 1 cup of vinegar down the sink (you can use the vinegar you soaked the drain plug in!) Allow to foam, then rinse.
If you have a garbage disposal, put lemons from step 2 in the drain and run hot water while running the disposal to finish cleaning the drain.