It's easier than you think to learn how to clean your house quickly and efficiently! Follow this step by step tutorial to clean your house in just one hour!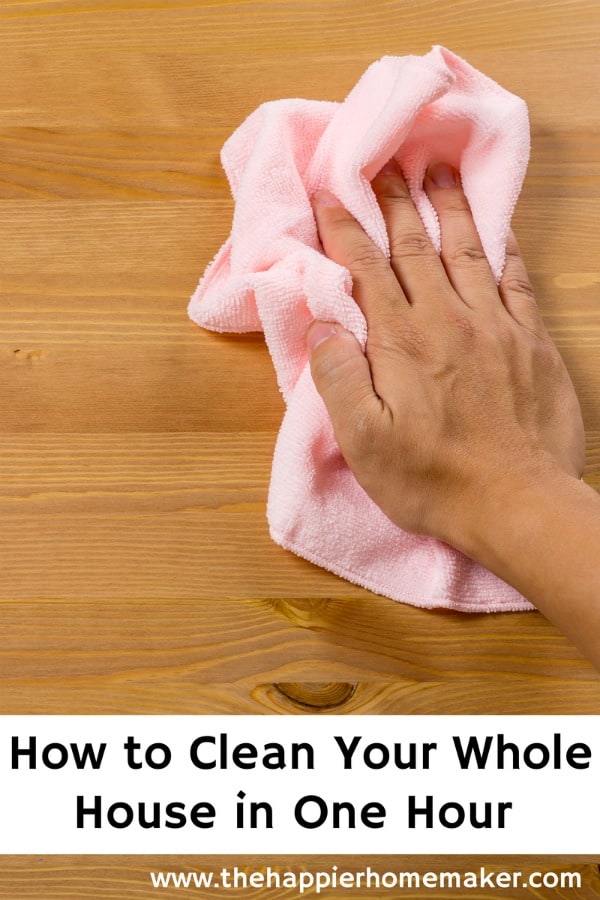 So you have company coming in an hour and the house is a mess? Or maybe you've just been putting off those chores and want to get it over with as quickly as possible. So, how do you clean your house fast?
Don't have a full hour? Use this guide to faking a clean house when you have unexpected guests!
Tricks from a former hotel maid & housekeeper
When I was in college I worked a couple of summers as a hotel maid and in residential house cleaning. I picked up a few tricks and I'm telling you that yes, you can clean an ENTIRE average size house in an hour but it takes hustle and focus!
No getting distracted while gathering up those old magazines, or checking your phone for the latest on Facebook. If you keep moving and follow this guide you'll have that house sparkling in no time!
Note: We aren't deep cleaning house right now, this is a surface clean with the most bang for your buck when you're short on time!
When you have more time be sure to check out my tutorial for cleaning a front load washer, top load washer, dryer, or how to clean a keurig with vinegar.
Tips to Clean a House Fast!
Start at the Top - No matter what room you're cleaning, clean from the top down so that dirt and dust from higher surfaces falls on lower surfaces that haven't yet been cleaned. Dust ceiling fans, then furniture wiping dirt directly on the floor. Clean all of the floors as your last step to remove the dirt and dust.
Batch Clean - Clean all bathrooms at once, save the floors of the entire house for the last step of cleaning your house.
If you try my guide, please click the star rating below to let me know that it helped!
How to Clean Your House Fast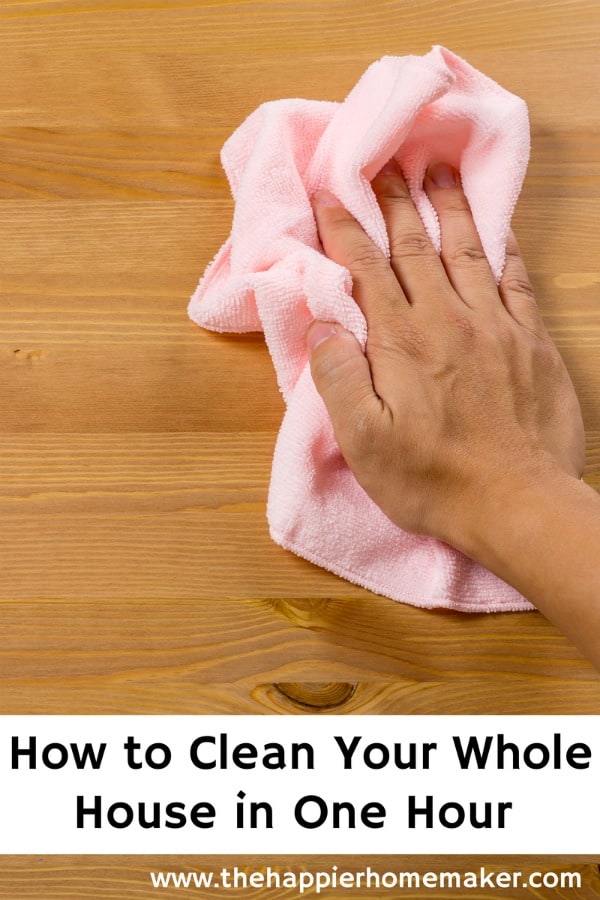 It's easier than you think to learn how to clean your house quickly and efficiently! Follow this step by step tutorial to clean your house in just one hour!
Materials
Bathroom Cleaner
Toilet Cleaner
Paper Towels
Toilet Brush
Glass Cleaner
Sponge
Dish Soap
Instructions
Bedroom-6 Minutes per Bedroom
Strip linens and remake beds. When making beds rather than hunch over tucking bottom sheets under the mattress use one hand to lift the corner while tucking the sheet with the other.
Clear all clutter, if you're in a hurry gather clutter in a spare basket or bin for later organization and tuck out of sight in a closet.
Wipe down furniture with a dusting spray and microfiber cloth, working top to bottom.
Bathrooms-7 Minutes per Bathroom
I like to clean all of my bathrooms at once-make a quick trip around all the bathrooms in the house to clear counters and spray counters and tubs with cleaner, allow to sit while you clean toilets and wipe down the outer toilet surface.
Go back and wipe down counters and rinse tub then clean mirrors.
Come back to clean the floors when cleaning the kitchen floor.
Living/Dining Room-7 Minutes
Clear all clutter.
Starting in one corner of the room and working around dust all surfaces top to bottom. (If you have blinds and/or ceiling fans, dust those first.)
Use an upholstery attachment and vacuum upholstered furniture.
Kitchen-12 Minutes
Load all dirty dishes in the dishwasher and fill sink with hot soapy water. If your stove top has removable burner pieces that need to be cleaned, place in water as well.
Clear counters.
Dunk sponge in hot water and squeeze out excess, wipe down cabinets, counters and other surfaces again working top to bottom. Rinse sponge in hot water as you clean.
Wipe down appliances.
Finish cleaning any stove pieces and replace.
Floors-15 Minutes Whole House
Vacuum carpeted rooms work your way backwards out of the room, moving quickly and without too much overlap to save time.
Vacuum, don't sweep hard floors-use an attachment to get corners where dust and pet hair can accumulate.
Steam mops or Hardwood Floor Cleaners also make cleaning hard surfaces much faster than traditional mops, so I highly recommend investing in one of those to keep your cleaning quick!
Notes
Always clean from top to bottom so dirt and dust falls on uncleaned areas.
Clean floors as the last step after all other cleaning is finished.
Vacuum all carpeted areas in one session, then vacuum hard surfaces. Finish by cleaning all hard surface floors in one session as well.
Tools such as a steam mop or hardwood floor cleaner can make cleaning faster.
Use tricks to make cleaning easier moving forward:
Do you have any additional tips? This is obviously not a deep cleaning your home tutorial but a general day to day surface clean. For deeper cleans check out my Spring Cleaning Checklist and Fall Cleaning Checklist, you can also see my Daily Cleaning Checklist if you prefer to work a little each day!
Want a printable flow chart version of this cleaning plan to help you clean your house fast? Become part of our community for a subscriber-only Printable One Hour Cleaning Flowchart!
Get Organized!
Sign up for my FREE 7 Day Organizing eCourse-exclusively for my subscribers!