Cleaning windows can be a tedious chore but these tips and tricks will ensure you get great, streak free results quickly and easily!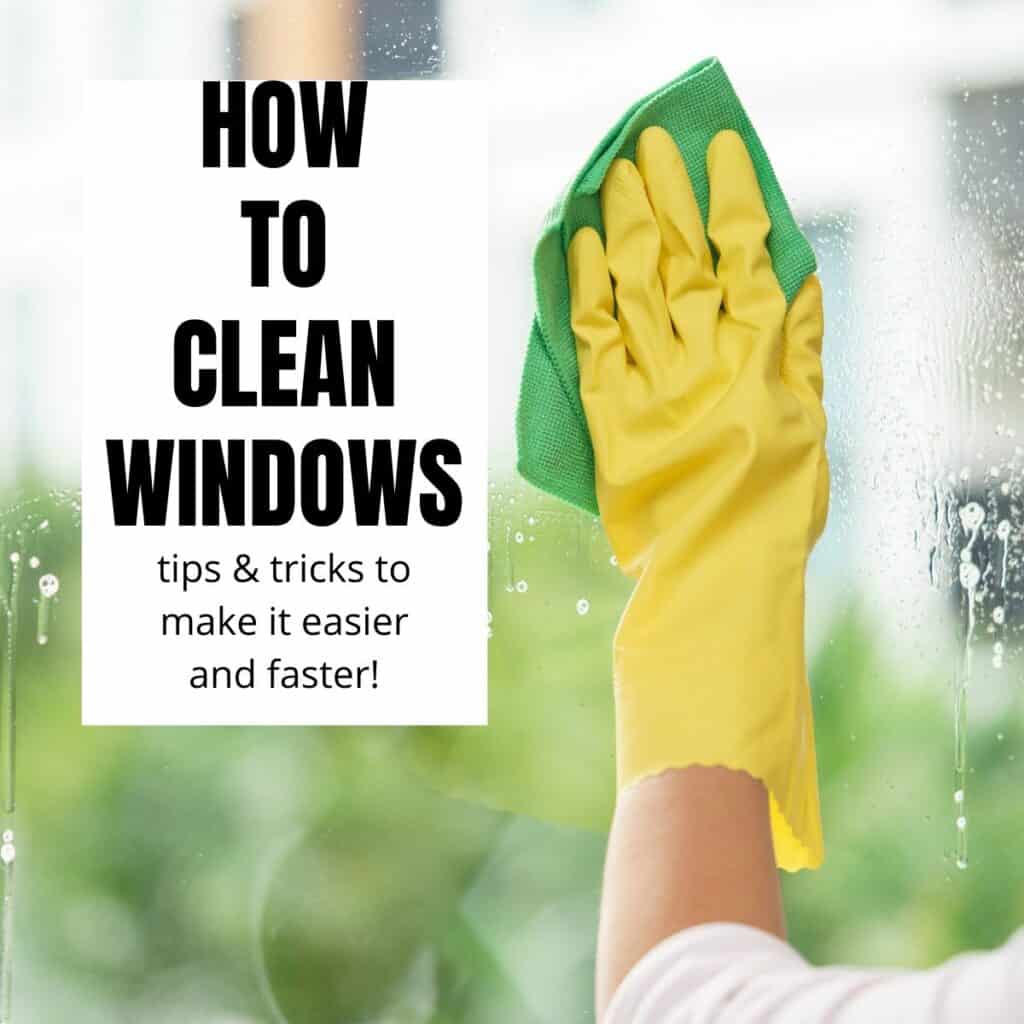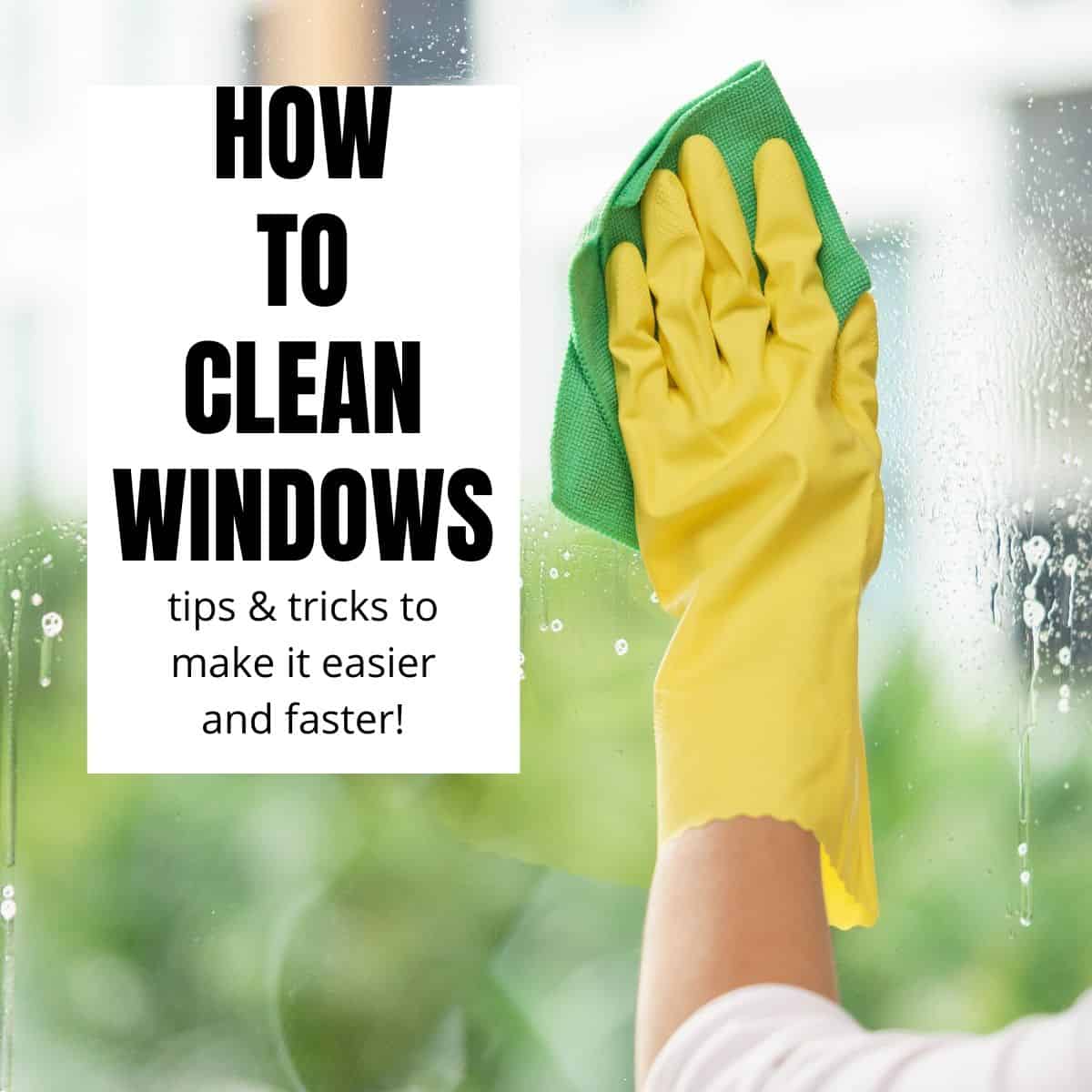 I recently started my 7 Day Spring Cleaning Challenge and when readers signed up I asked them to email me their biggest cleaning struggle. I was absolutely BLOWN AWAY by how many people responded simply "windows."
While there isn't too much fun about cleaning windows, there are some tips and tricks that can make it faster, easier, and ensure streak-free results every time.
Tips for best results
Don't Clean Hot Windows
Carolyn Forte, Director of the Good Housekeeping Institute Cleaning Lab suggests avoiding cleaning hot windows. Cleaning windows in direct sunlight on a warm day is a guarantee of streaky results. Heat will cause the cleaner to dry on the windows before being wiped off, leaving a mess. Choose a cool day to clean your windows or start on the shady side of the house and work quickly.
Remove Dirt Before Spraying with Cleaner
Sweep outdoor windows or use a vacuum with brush attachment on interior windows to remove the bulk of dust, dirt, and debris before spraying any cleaner onto the window.
If screens are dirty, remove them and soak in hot soapy water. Scrub gently with a soft brush before rinsing with clean water and replacing.
Need to clean your blinds too? See this post for the best methods!
Choose an Effective Cleaner
Windows are not a place to scrimp on cleaner. This window cleaner is the absolute best I have found to date and I highly recommend it. It has a fine mist that helps reduce drips. If you prefer a homemade version, see this homemade glass cleaner recipe for my favorite DIY version.
Spray the cleaner generously on the window and wipe with a microfiber cloth (affiliate link). I prefer these cloths that are specifically made for cleaning glass to ensure a streak-free and lint-free finish.
Helpful tip: To help you find streaks, I prefer to wipe inside windows vertically and outside horizontally. This helps you determine which side the streak is on if you see one!
Know When to Squeegee
Save the squeegee for large window surfaces like sliding glass doors or French doors. Be sure to have a rag or towel on hand to clean the water that collects at the bottom of the window if you are using a squeegee.
Maintain the Clean
Cleaning your windows once or twice a year helps keep them maintained and keep too much dirt from building up. Be sure to include this task on your spring cleaning and fall cleaning checklists for sparkling windows year round!
How to Clean Windows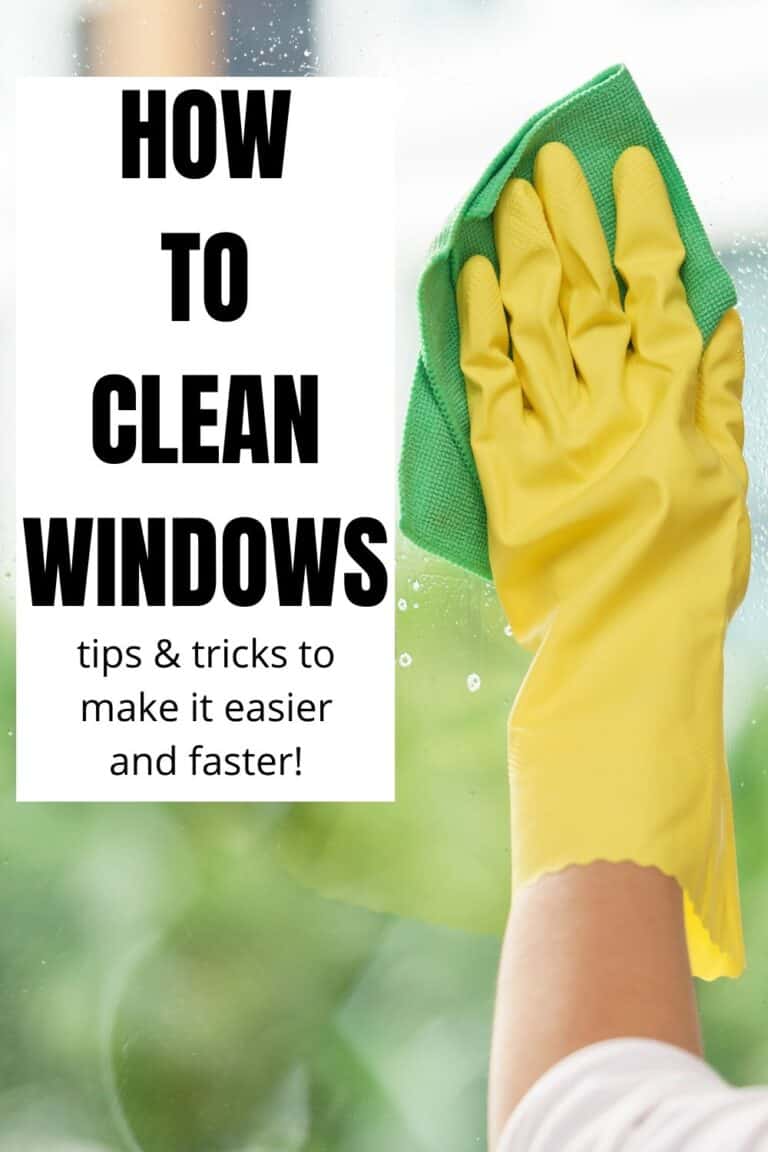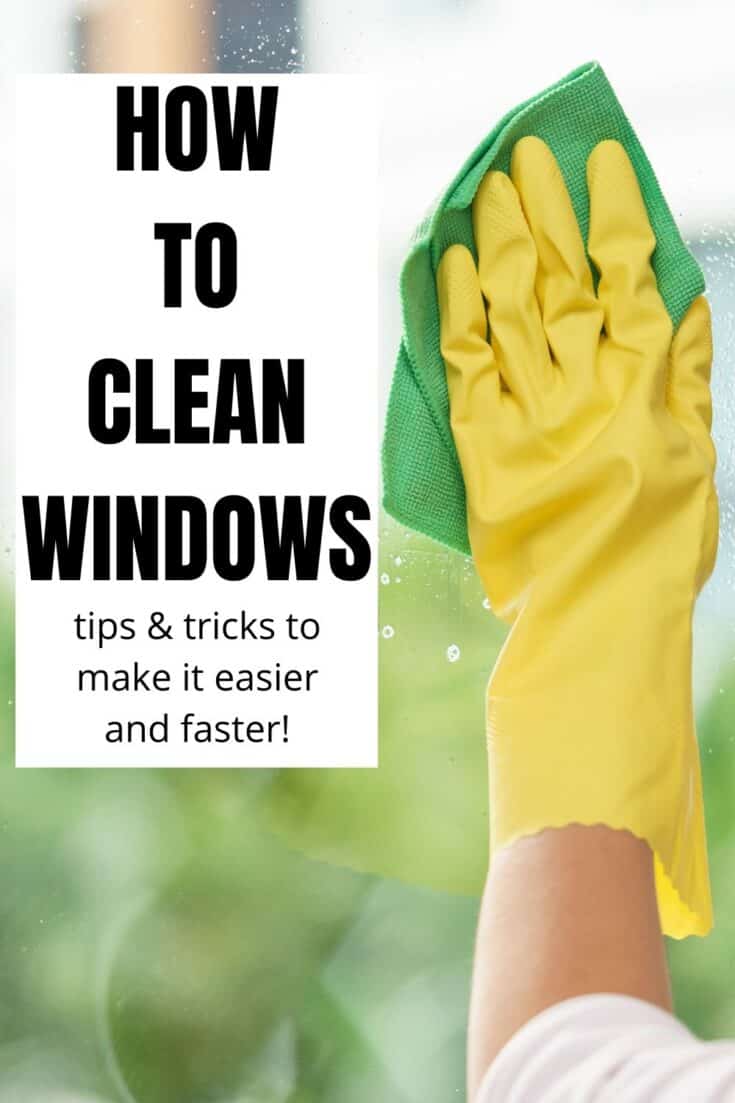 Cleaning windows can be a tedious chore but these tips and tricks will ensure you get great, streak free results quickly and easily!
Materials
microfiber cloths
glass cleaner or spray bottle with 2 parts water to 1 part white vinegar
dish soap (optional)
Tools
broom or vacuum
hose
bucket
squeegee
Instructions
Remove excess dirt from interior windows with a broom or vacuum with brush attachment.
If inside windows are very dirty fill a bucker with cold water with a few drops of dish soap. Wipe windows with soapy water and cloth, keeping a towel at the bottom to catch spills. Wipe window dry with a clean cloth.
Wipe windows with glass cleaner and microfiber cloth. Repeat if necessary.
Use a squeegee and window cleaner on large windows such a french doors or sliding glass doors. Have a microfiber cloth on hand to wipe excess from the bottom of the glass.
Remove screens from outside windows and spray with a hose.
Spray screens with window cleaner and rinse with the hose. Allow to air dry.
Start outside windows by spraying with a hose to remove remaining excess dirt then washing with the bucket of soapy water as above. Use a squeegee to remove excess cleaner.
Notes
Always clean windows on a cool day out of direct sunlight to avoid streaks
Is figuring out how to clean windows a struggle in your home? Let me know in the comments below!