Learn daily, weekly, monthly and quarterly habits you can build to help keep your home free of clutter. Plus a free printable decluttering checklist to help you keep track!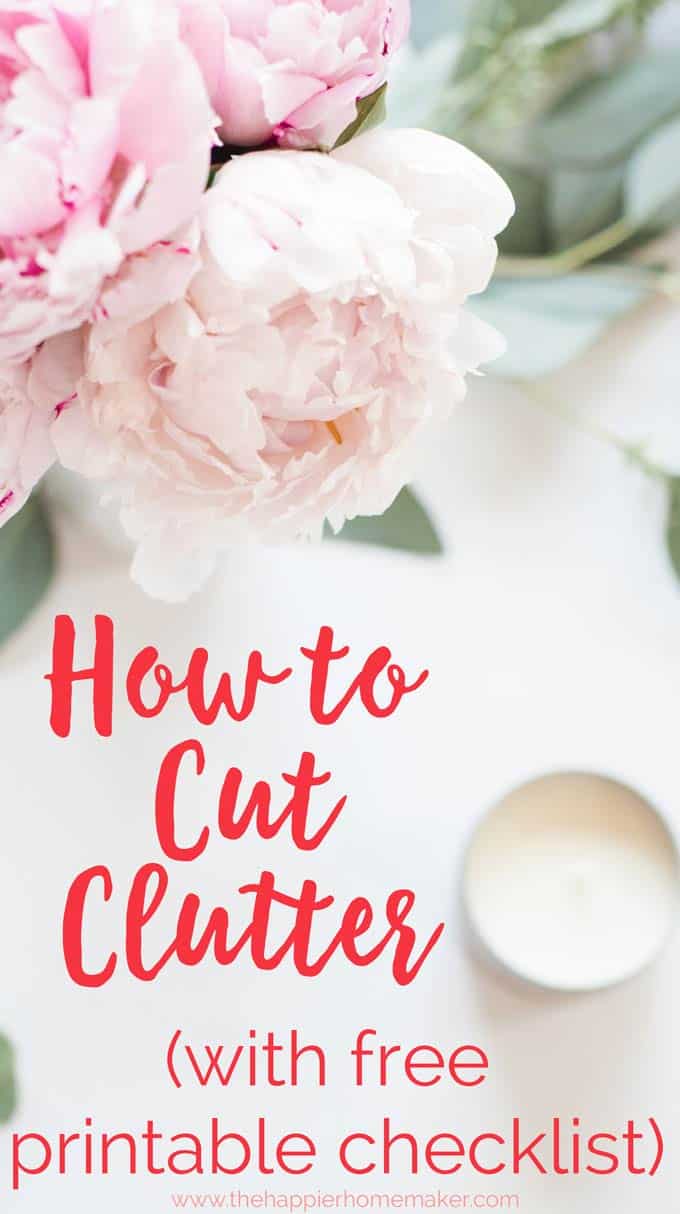 I'm the first person to admit that I'm not a "naturally" organized person. It's the hoarder in me-I always think I'll find a use for something eventually and I never want to get rid of anything! If left to my own devices I'd be a mess. Luckily I married the most organized man in the universe and over the past 11 years he's managed to help me gain control over my tendency towards clutter. Today I'm going to help you declutter too!
Like any change in behavior, learning to cut clutter in your home is a process you have to be intentional about until it becomes a set habit. For some of us it may never come 100% naturally but the good news is that by creating a routine you can keep control over the clutter in your house without a huge time investment.
I've created an easy printable checklist to help you to integrate good clutter busting habits into your daily, weekly and monthly routines-there's even tasks do do once a quarter! (Click here or on the image below to print your checklist.)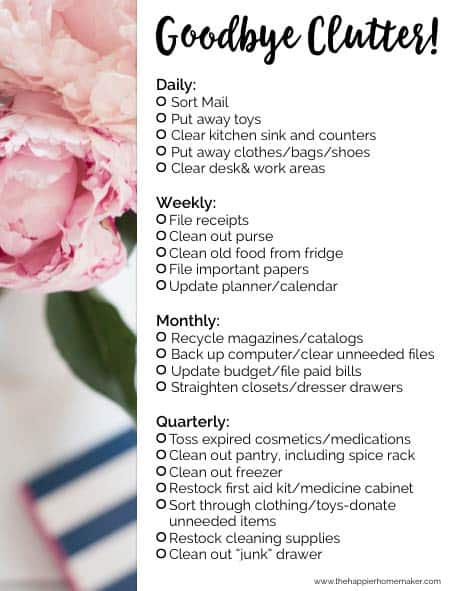 Habits for Keeping Your Home Clutter Free
Daily
sort mail
put away toys
clean kitchen sink and counters
put away clothes/bags/shoes
clear desks and work areas
Weekly
file receipts
clean out purse
clean old food from fridge
file important papers
update planner/calendar
Monthly
recycle magazines/catalogs
backup computer/delete unneeded files
update budget/file bills paid
straighten closets & dresser drawers
Quarterly
toss expired cosmetics/medications
clean out pantry including spice rack
clean out freezer
restock first aid kit & medicine cabinet
sort through clothes & toys, donate unused or unneeded items
restock cleaning supplies
clean out "junk" drawer
Tips for success

If you're starting out and your home is filled with a lot of clutter I want to say first off-give yourself grace and take your time.  It will take a while to get through many of these tasks and get to a "clean slate" starting place that will be easy to maintain.
If you're able, try to start with my Spring Cleaning Checklist or 7 Day Spring Cleaning Challenge-it will get your home in tip-top shape quickly.
If you can't start with a full cleaning, slowly work through all of the items on the list (even the monthly and quarterly ones) as your times allows.  Eventually you will get to a place where it will only take a a little bit of daily investment to maintain your clutter free home.
Don't get overwhelmed, most of these tasks take less than 15 minutes to finish-do what you can!
Are there any decluttering tasks that aren't on my list you'd recommend? How naturally organized are you? Let me know in the comments!