How to cook an artichoke. Once you try a steamed artichoke you'll be converted-this is one of my favorite vegetable recipes to make!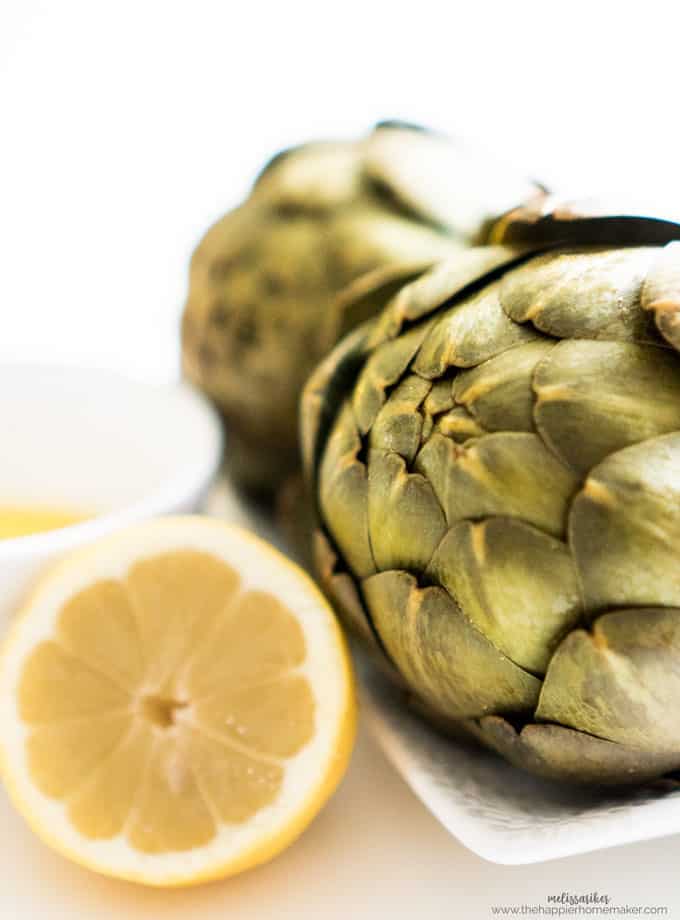 Recently at my supper club we were chatting about cooking artichokes and I was shocked when no one else at the table knew how to steam an artichoke!! They were really missing out!
Many people boil artichokes but I find it is way more flavorful to steam them. I use canned artichokes in recipes like this baked artichoke dip sometimes but nothing beats a freshly steamed artichoke-today I wanted to share with you just how easy it is!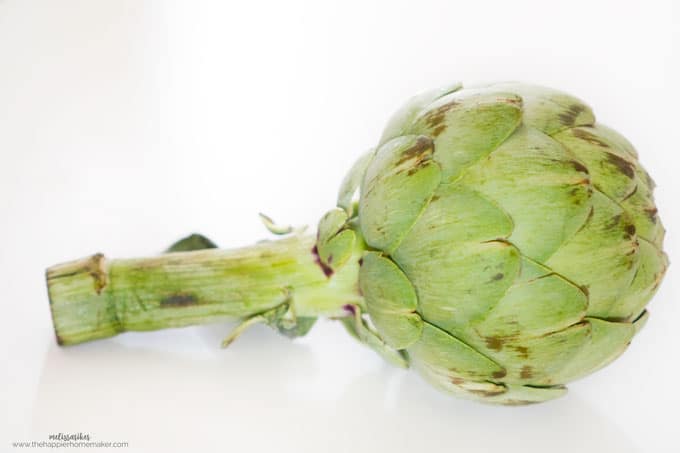 Picking Artichokes
First, to pick an artichoke, try to look for artichokes that are heavy and closed tightly-they will taste fresher.
In the winter months look for frost-bitten artichokes like above that have a bit of discoloration on the tips of the leaves-they are also more tender and flavorful. Now, on to the cooking!
How to Cook an Artichoke
I see so many tutorials of people clipping the outer leaves with scissors (actually bracts-an artichoke is a thistle flower protected by these outer coverings!) and chopping the top off the artichoke with a knife and I honestly don't think that's necessary.
I've never done anything but maybe trim the tough end of the stem a little if I needed to make more room in the pan!
What you'll need:
butter or other dipping sauce
lemon if desired
Rinse the artichoke in cold water.
Fill your pot with a few inches of water until it's just under your steamer basket.
Add the artichokes to the basket, trimming the stems if necessary to make them fit.
Cover the pot and put over high heat until boiling, then reduce heat to a simmer.
Steam for 25-45 minutes adding water as necessary if your steamer basket is very shallow.
You can experiment with adding salt or aromatics to the water to enhance the flavore, but I usually just opt for plain old water. You can add garlic, bay leaves, a slice of lemon, or really experiment
How Long to Steam Artichokes
For one medium artichoke 25 minutes should suffice, if you are cooking multiple artichokes or very large artichokes it will take longer.
To test for doneness pull a leaf off the artichoke-it should come off easily with little force.
Instant Pot or Pressure Cooker Instructions
To adapt this for the pressure cooker simply set the artichokes on the steam rack, add one cup of water and cook for 20 minutes on high pressure! Instant Pot lovers rejoice!
The only drawback of this method is a lack of control over the "doneness" of the artichoke. It can take some trial and error to adjust cooking time for different sized artichokes.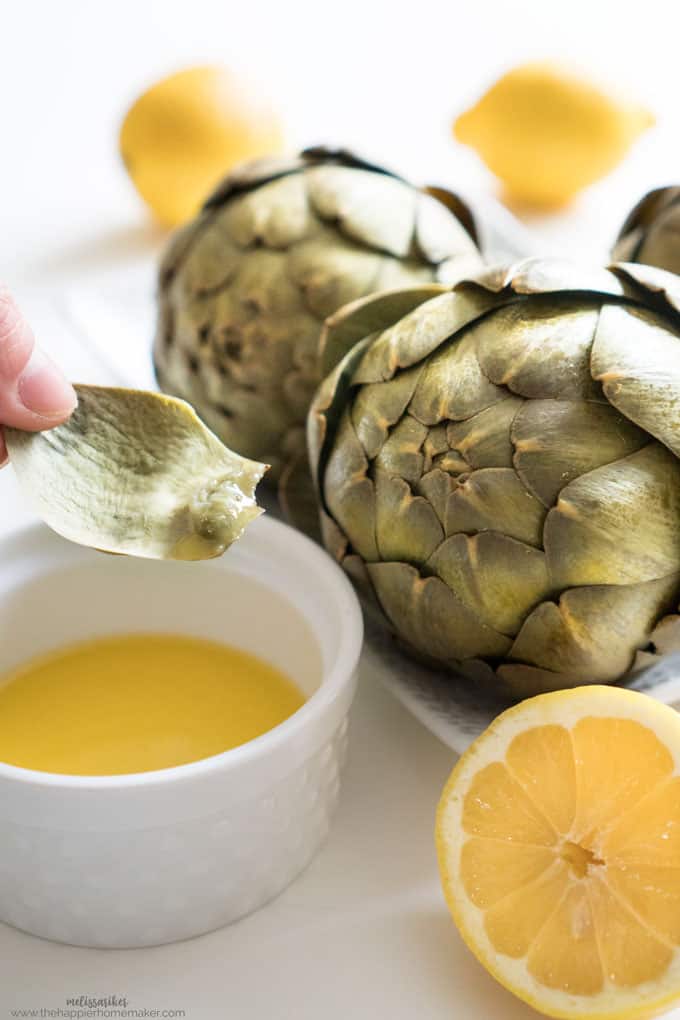 Serving suggestions
I like to serve my artichokes by dunking the bracts in some melted butter-you can squeeze lemon juice into the butter as well if you wish (my favorite!!) You can also serve them with a dipping sauce like mayonnaise aioli, mayonnaise with a little balsamic vinegar stirred in, or hollandaise sauce.
To eat the artichoke-if you haven't had them this way before-simply peel the leaves off and dip in the butter then use your teeth to scrape the white fleshy end-yum!!!
When you get to the interior of the artichoke you will find tender inner leaves. Pull these off in clumps and you can eat the ends just like the outer leaves.
Below the tender leaves is the fuzzy choke, or inner flower. (See this article about the anatomy of an artichoke to learn more about this awesome flower!)
Use a spoon to remove and discard the inedible fuzz and reveal the flesh of the artichoke heart. Trim off the stem with a pairing knife and enjoy!!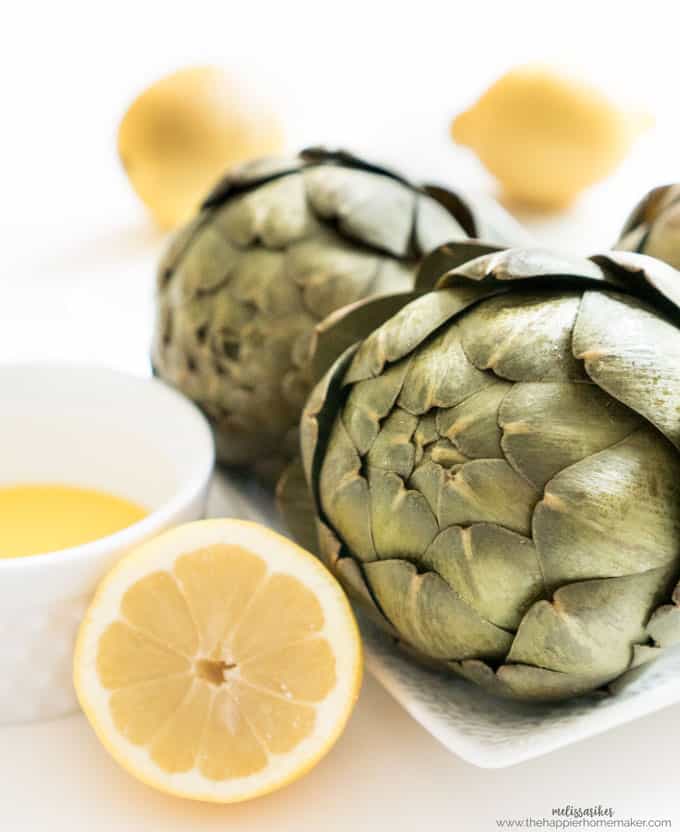 They are so delicious and good for you! What is your favorite way to eat an artichoke? Do you steam them as well?
You might also like these easy veggie dishes:
If you try this recipe please comment and rate it below, I love hearing from you!
Print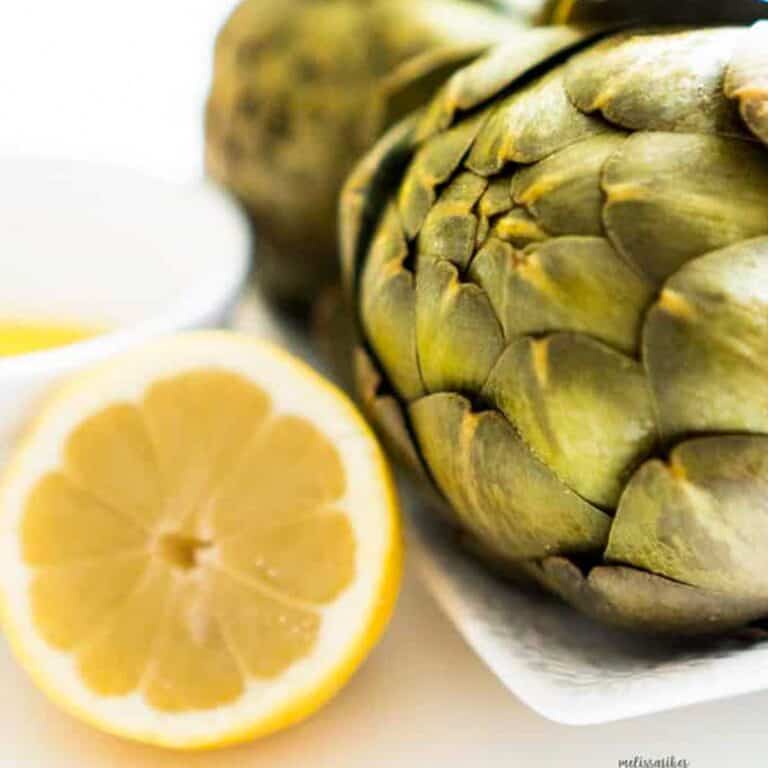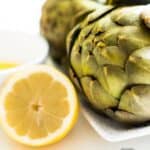 How to Steam Artichokes
Author:

Melissa Riker

Prep Time:

5 minutes

Cook Time:

25 minutes

Total Time:

30 minutes

Yield:

1

Category:

vegetable

Method:

steam

Cuisine:

American
---
Description
How to cook an artichoke. Once you try a steamed artichoke you'll be converted-this is one of my favorite vegetable recipes to make!
---
artichoke
water
lemon
butter
---
Instructions
Rinse the artichoke(s) in cold water.
Place a steamer basket in a large pot and fill with water until just under the basket level.
Add artichoke to the steamer basket and set to boil over medium high heat. Cover the pot.
Steam 25-45 minutes depending on the size and number of artichokes. Artichokes are ready when leaves pull off the stem easily.
Serve with melted butter and lemon or other dipping sauce of your preference.
---
Keywords: steamed artichoke
Want more great recipes?
Join our community of over 20,000 everyday cooks and I'll send you an eCookbook with 13 of my favorite desserts as a welcome gift!