Ham is a go-to special occasion main course that's a Christmas and Easter staple, but even if it's not a holiday this juicy and tender meat is a popular dinner.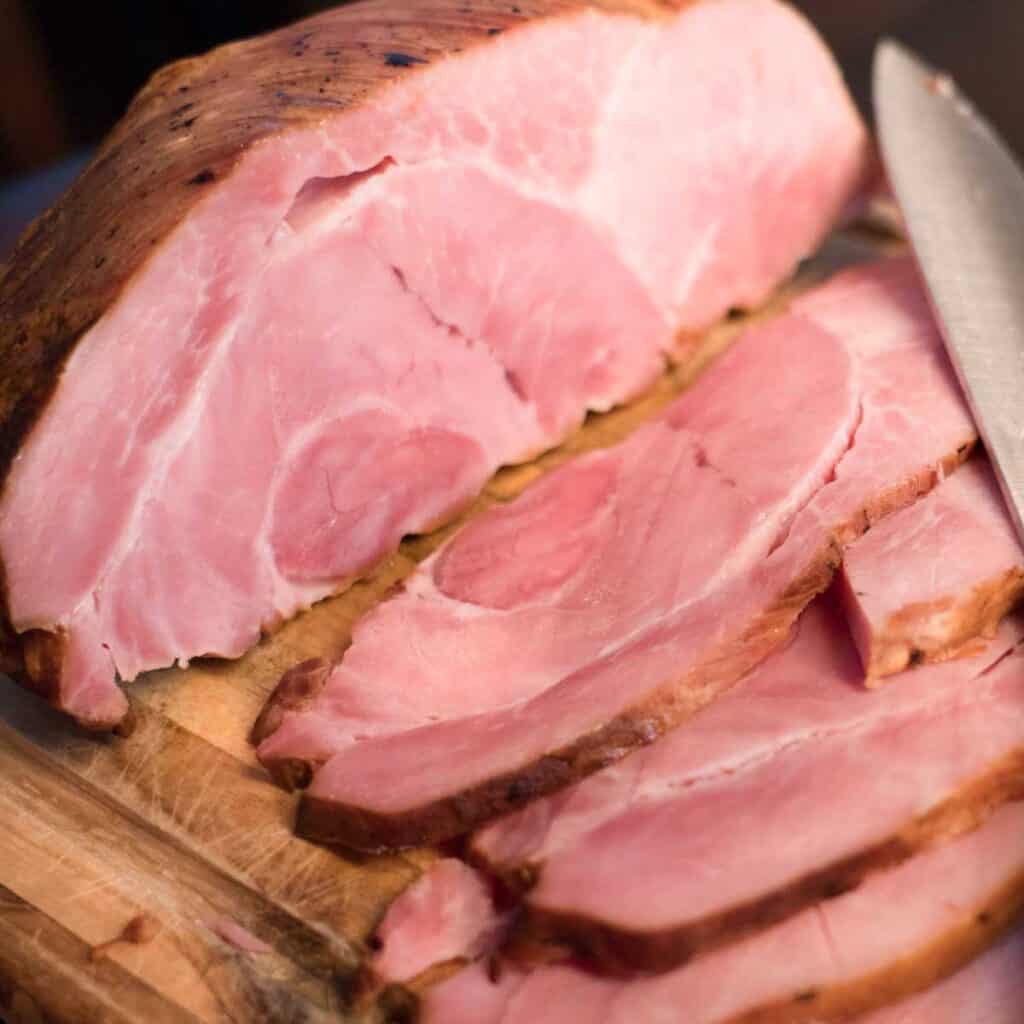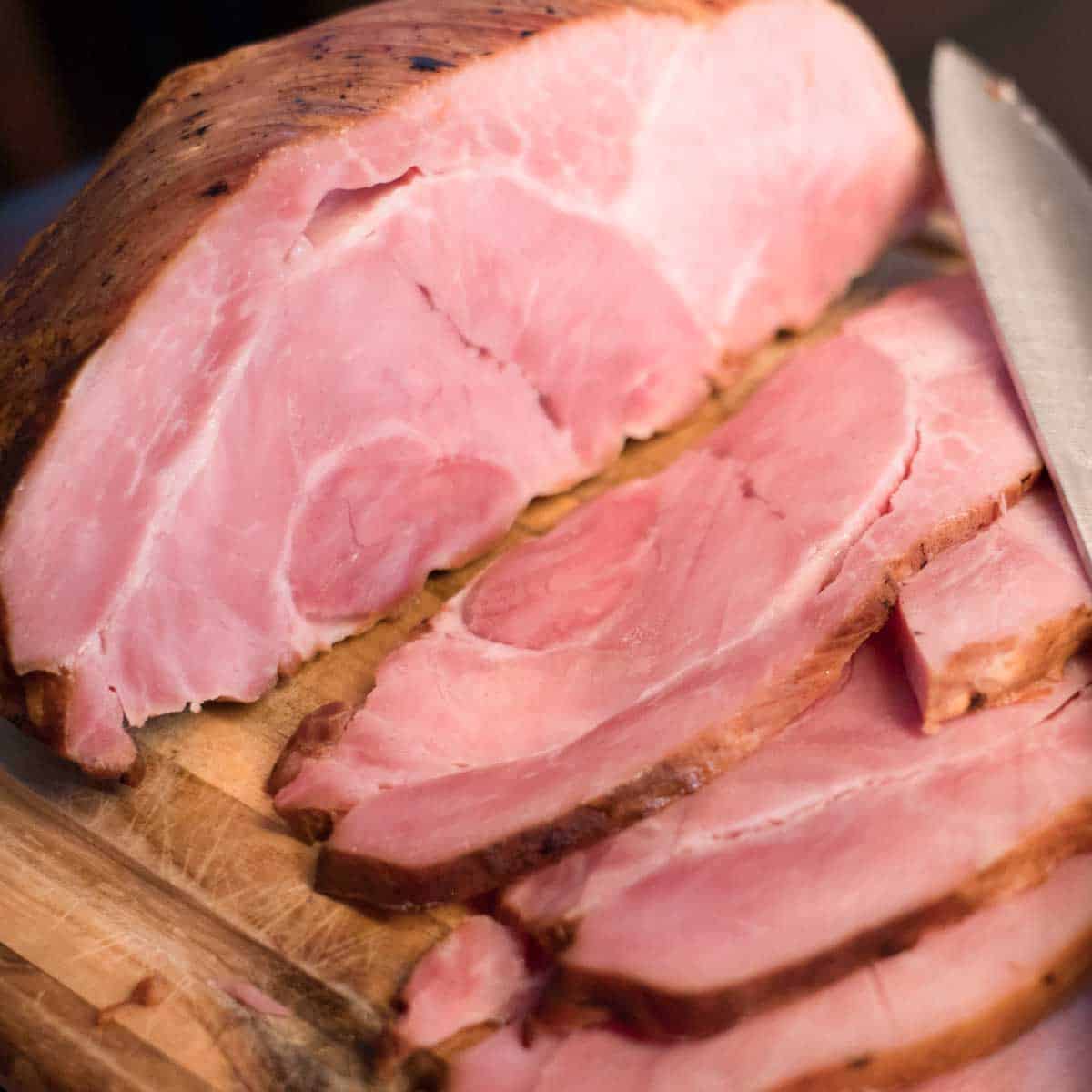 So if you're serving up ham sometime soon, what are the best side dishes to serve alongside it? Here are our favorite 21 side dish recipes to perfectly complement a ham dinner!
Need the perfect ham recipe? Try this slow cooker honey glazed ham recipe!
Sweet Potato Casserole
The flavor of ham goes perfectly with sweeter side dishes like sweet potato casserole. This recipe with a crumbly brown sugar and pecan topping is our #1 favorite ham side dish!
Mashed Potatoes
Mashed potatoes are a hearty, creamy side dish made with butter and sour cream that you can serve with gravy or customize with flavors like these cheddar cheese and chive mashed potatoes.
Green Bean Casserole
Green bean casserole is another holiday staple in our home. Green beans combine with cream of mushroom soup and topped with crunchy onions for a classic favorite. Want a from-scratch version without the cream of mushroom soup? Try this homemade from scratch green bean casserole recipe too!
Corn Pudding Casserole
Sweet corn pudding casserole complements the flavors in ham perfectly. Whip up this creamy, cheesy corn dish easily as you heat your ham in the oven.
Roasted Green Beans
Take a break from the casseroles by making this simple, savory parmesan roasted green bean recipe to serve on the side.
Au Gratin Potatoes
Cheesy, creamy potatoes au gratin or scalloped potatoes are comfort food at its best. Save yourself time in the kitchen and make them in your slow cooker to make dinner even easier!
Asparagus
Asparagus is super easy to make, simply toss with olive oil and blanch it in a sauté pan or roast it in the oven. We like to serve ours with a wedge of lemon to squeeze a little lemon juice for extra flavor but you can also season with salt and pepper or add parmesan cheese or hollandaise sauce.
Roasted Carrots
Maple roasted carrots are yet another side dish that plays upon the sweet flavors of ham. This easy recipe is simple enough for the kids to help make!
Slow Cooker Sweet Potatoes with Bacon
I love slow cooker side dishes that don't take up room in the oven when baking large cuts of meat like ham. This recipe combines savory bacon with sweet potatoes for a side dish that is sure to become a family favorite.
Cornbread
Cornbread is a versatile side for many meals but shines when served alongside ham. Try a traditional version or spice it up with bacon, cheese, and jalapeño pepper!
Drop biscuits
If cornbread isn't your favorite whip up a batch of these easy drop biscuits in less than 15 minutes! No rolling out the dough or waiting for it to rise, just mix and drop the dough on a baking sheet.
Macaroni and Cheese
When we think of comfort food sides perfect for serving with ham you can't leave out mac and cheese! A family-friendly favorite, make it easy by prepping it in the slow cooker.
Peas
Peas are one of our favorite veggies to serve with most any meal. They are simple to make and the entire family loves them.
Southern Collard Greens
Chances are if you're making an Easter or Christmas ham dinner, collard greens are in season, making them the perfect accompaniment. Cook them up on the stovetop southern style in less than an hour.
Squash Casserole
Alternatively, if you're making ham in the summer season whip up a batch of squash casserole, a southern favorite. Layers of creamy, cheesy squash is topped with buttery cracker topping in this family-friendly recipe.
Deviled Egg Potato Salad
Making an Easter ham is the perfect time to make this fun variation of traditional potato salad since you probably already have hard boiled eggs around the house! Deviled egg potato salad is a cross between regular potato salad and egg salad and I promise you'll love it once you give it a try!
Roasted Russet Potatoes
Keep dinner simple by serving your ham with easy side dish of roasted potatoes.
Roasted Sweet Potatoes
In contrast with the savory roasted russet potatoes, roasted sweet potatoes might seem more like dessert! This versatile recipe gives options for roasting them up soft or crispy plus you can opt to accent the sweet flavor with a sprinkle of cinnamon or brown sugar.
Baked Beans
For a savory side dish the smokey flavor of baked beans can't be beat. Take them to the next level by making Calico Beans, baked beans flavored with ground beef and bacon!
Roasted Vegetables
Roasted vegetables like brussels sprouts, broccoli, cauliflower, or butternut squash taste amazing along with a holiday meal. For extra flavor, drizzle the roasted veggies with balsamic vinegar or sprinkle with red pepper flakes after roasting.
Cranberry Relish
A different take then cranberry sauce, cranberry relish combines cranberries, orange juice, sugar, and Grand Marnier liqueur for a tart and sweet dish.
Leftovers?
With side dishes this delicious you might even end up with leftover ham...use it for ham sandwiches or chop it up for this tasty slow cooker Loaded Baked Potato soup with bacon, ham, and cheese!