How to keep cut hydrangeas from wilting-the simple florist's trick that can prevent and reverse wilting in hydrangea bouquets!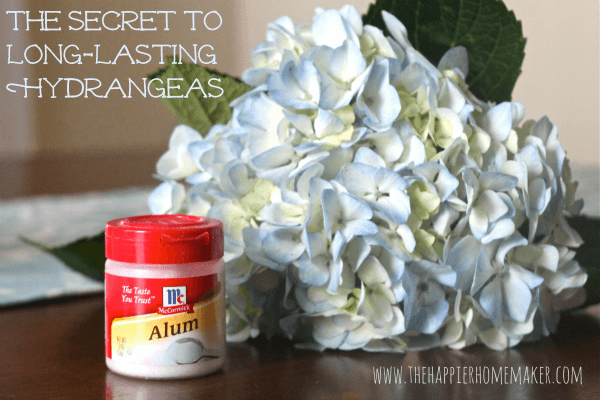 I love hydrangeas. Seriously, LOVE them. The first thing I did last year when we moved in our house was plant five hydrangea bushes so I could have my own. They haven't bloomed yet this year but I was super excited to see cut hydrangeas in my grocery store last week and snapped some up for my kitchen table.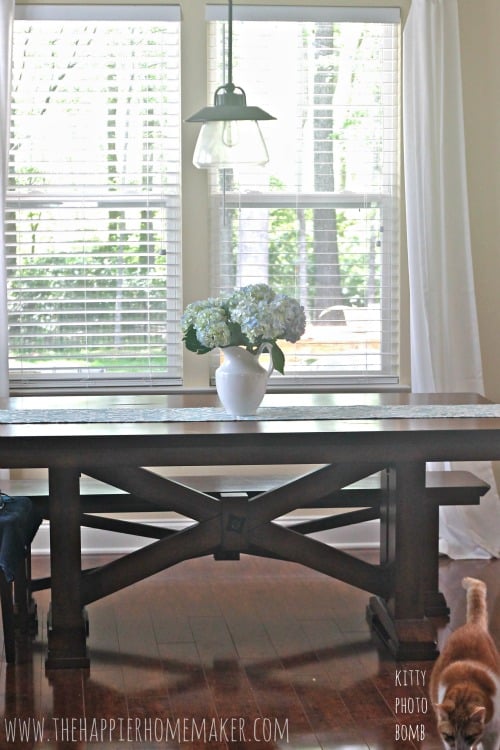 How to Keep Hydrangeas from Wilting
Keeping cut hydrangeas used to be hit or miss for me-they'd either do great or wilt almost immediately in the vase.  I didn't know what was causing it or how to prevent it until I was given a helpful tip from the flower vendor at our local farmer's market last year. 
She told me that sometimes when you cut hydrangeas they form a sticky substance over the cut that prevents the flower from sucking water up through the stem (that's scientific terminology by the way, "sticky stuff" and "sucking water up," can't tell I was a Bio major can you?)
To prevent that "sticky stuff" from forming you need the secret ingredient-alum! (A common ingredient used for pickling, find it in the spice aisle.) 
When you are arranging your hydrangeas re-cut the stem  about an inch above the previous cut and immediately stick the bottom ½" of the stem in the alum to coat it, then arrange as usual.  It's easy and works! No more wilted hydrangea blooms!
Repeat the process any time you see them beginning to wilt and you can keep the hydrangeas from wilting for weeks!
Do you love hydrangeas as much as I do? What are your favorite flowers?
Be sure to check out these other flower posts: