Wondering what the best paint for plastic toys is? Look no further! Learn how to paint on plastic outdoor toys easily with good results.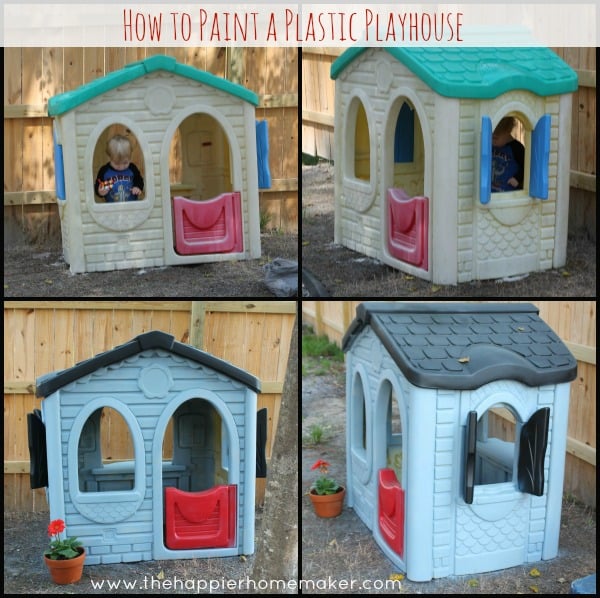 A few weeks ago a neighbor put up on Facebook that she was getting rid of a plastic playhouse that had seen better days.  My inner hoarder cannot turn down free things so I told her I would gladly take it.  I have to admit that my husband wasn't convinced this was a good idea but I knew it would provide some entertainment for all three boys in the backyard now that the weather is turning nice and I knew how to paint plastic if needed.
I also learned how to spray paint fabric if you are interested as well!
After we had it set up in the backyard I could tell my husband Randy still wasn't loving it-we've been putting a lot of work into the oudoor living areas lately so when he went back to work Monday I thought I'd surprise him by giving the playhouse a quick makeover to make it a little more aesthetically pleasing!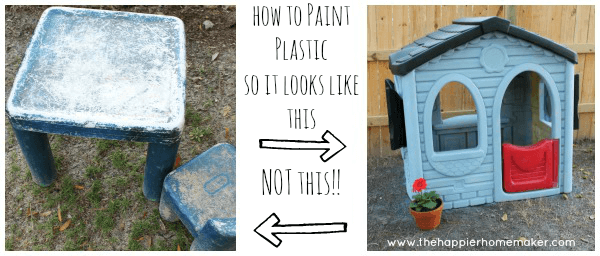 This wasn't the first time I've painted some Little Tikes plastic toys in our yard. Last summer I spray painted a chair and table set (another one my hubby wasn't loving due to it's faded appearance.) That didn't go so well for me. Although I used spray paint meant for plastic I didn't get a good result at all. I was determined this time would be different.
Yield: 1
How to Paint on Plastic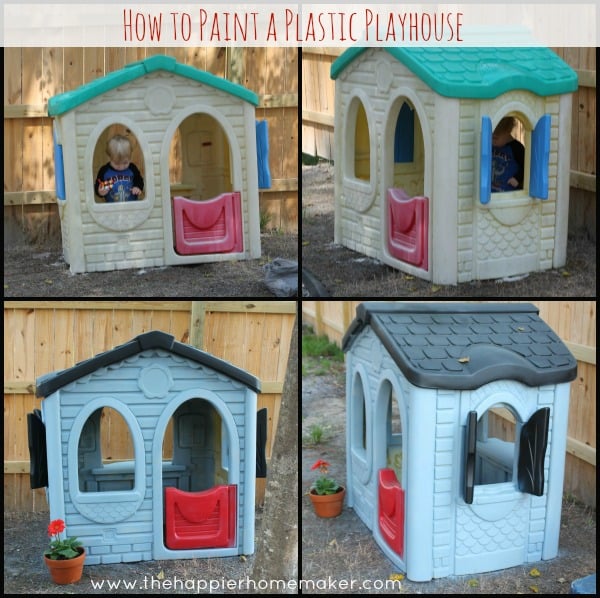 Wondering what the best paint for plastic toys is? Look no further! Learn how to paint on plastic outdoor toys easily with good results.
Materials
Plastic Paint Primer
Plastic Spray Paint
Instructions
Thoroughly clean the plastic item you wish to paint. Use a sponge with soap and water to clean all surfaces. Any kind of build up on the plastic can reduce the ability of the paint to adhere to the surface.
If you suspect any kind of build-up on the plastic use rubbing alcohol to wipe down the surface before painting.
Spray plastic with a plastic primer and allow to dry.
Spray the plastic with spray paint specially formulated for plastic. Use light even strokes when spraying. Allow to dry completely between coats. Repeat coats until the desired color and coverage is achieved.
Recommended Products
As an Amazon Associate and member of other affiliate programs, I earn from qualifying purchases.
When I was looking for paint at the hardware store I went in thinking I would buy Krylon Fusion plastic paint because that is what I read was best. It was also what I used on the ill-fated table and chairs though so I wasn't too disappointed when the store didn't have it. I found some Valspar Plastic Primer and threw that in the cart but I was not loving the color selection in the Valspar plastic specific spray paint. I wanted the playhouse to match our house colors and I was drawn to a pretty gray-blue in Valspar's new Color Radiance line. The can said it was good on metal, wood, and plastic so I decided to give it a shot!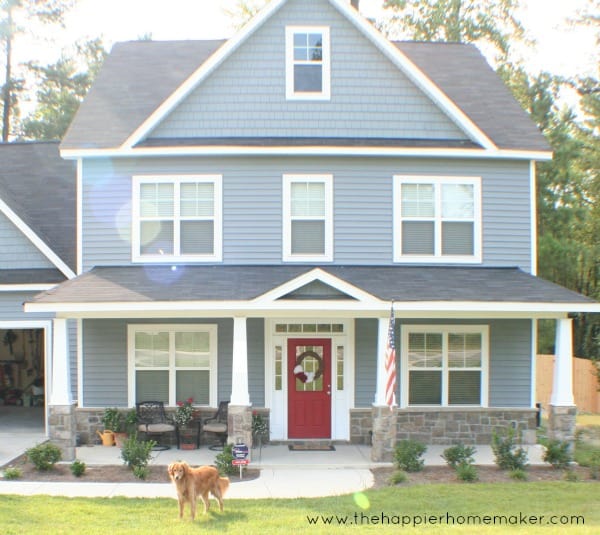 The first thing I did was wash down the house with warm soapy water. Then I rinsed it and let it dry. I started spraying the roof black and I could immediately tell the difference with the Valspar paint than the paint I used last year. It sprayed on perfectly-no drips, fantastic coverage...I was sold! I used the color radiance on the roof and house sides but for the door I used the plastic primer and regular red spray paint I already had on hand. Again, with the plastic primer the paint went on great. Oh and by the way, this is NOT a sponsored post, I'm just a spray paint lover and had to share with you guys when I find something that works so well.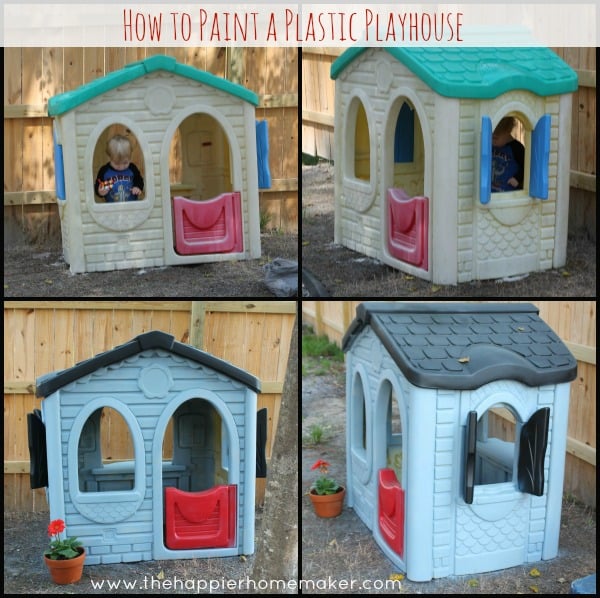 The entire playhouse took only one coat which ended up being one can of black, two of blue and that leftover red. (I only partially did the inside of the house-my kids don't care at all what it looks like, I was just trying to make it less of an eyesore for us!) The finish seems much more durable so far than the table I did with the Fusion spray paint-of course the area at the bottom of the door where it rubs when opening and closing is going to wear off almost immediately but I think that's to be expected. I'm so excited with how it turned out and I think it's new look has guaranteed it a bit longer stay in the backyard!
Have you painted plastic before? What are your tips for getting a good result?
If you get the spray paint on your skin, see this post showing how to remove spray paint from skin!
Update 2016 (3 years later): We no longer have this playhouse but passed it along to another family when our children outgrew it and last we heard it was still looking great with some minor touchups over the years!
You might also like these posts: