Creating an autumn simmer pot is an easy way to make your home smell like fall! With just a few ingredients from your kitchen you can scent your home in minutes, no chemicals required!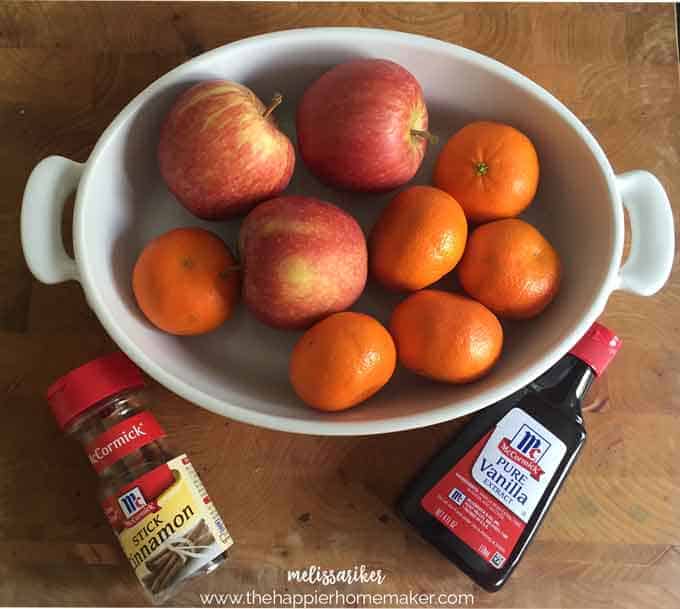 I am a huge fan of simmer pots. I have shared a citrus simmer pot, winter simmer pot, a slow cooker version, and even how to give them as a gift! They are truly my favorite way to make my home smell amazing without having to use artificial scents and air fresheners.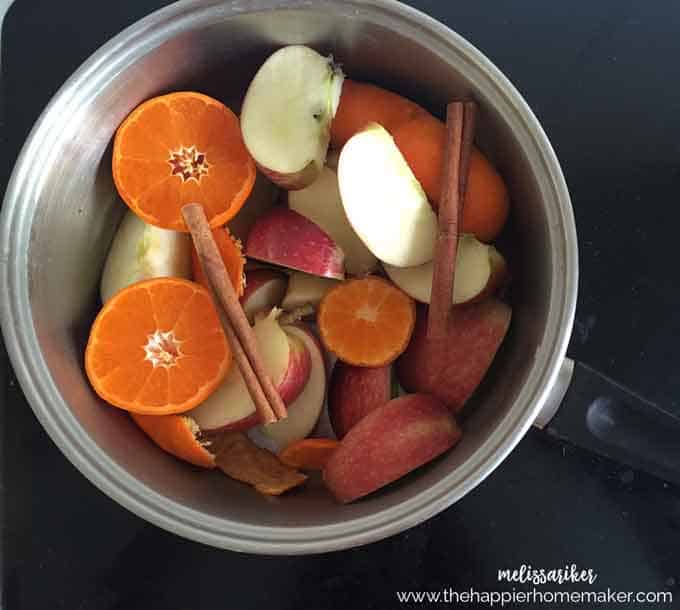 FAQs
What is a simmer pot?
A simmer pot can also be called stovetop potpourri and simply put it is just a combinations of items added to a pot of water. You bring the water to a boil, then reduce to a low simmer and the scented water evaporates and scents your home. Super easy right?
What can I simmer to make my house smell good?
There are so many options: cinnamon, vanilla, oranges, cloves, star anise, ginger, pine sprigs, cranberries, lemon slices, rosemary, lavender, bay leaves, nutmeg, there are so many choices!
How long does a simmer pot last?
A simmer pot can last up to 4 days depending on what you are simmering in it. If you are using cut fruit like this autumn version, I would only use it one day. Without fruit you can simple cover the simmer pot when not in use and reheat as needed up to 4 days, adding water as needed.
How much water do you put on the stove top potpourri?
There is no specific amount of water you need for a simmer pot, add enough to completely cover the items you are simmering and add more as needed due to evaporation.
How to Make a Fall Stovetop Potpourri
Cut up your fruit and add to a small pot-you can use the entire orange or just the rind, it won't matter. I used a combination of both so that my 5 year old could have oranges for a snack!
Add about a half tablespoon of the vanilla and a couple of cinnamon sticks.
Add water to cover the mixture and bring to a boil, then reduce the heat and just barely simmer it. It only took about 10 minutes of simmering for our entire home to smell amazing.
Add water every so often to replace the water that has evaporated.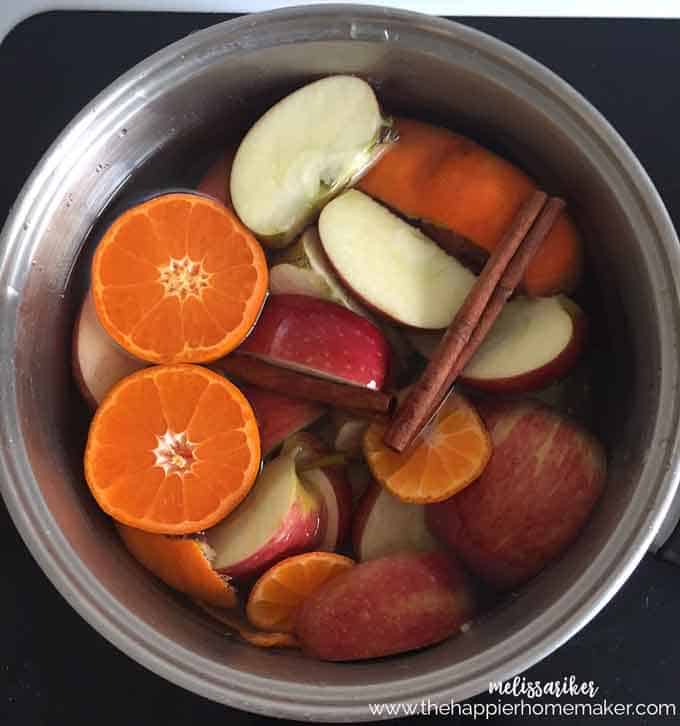 The fun things about simmer pots is that you can experiment and play with them. Add more of one thing or less of another. Have an idea for a scent combo you might like, try it out! The more you try new combinations, the more you'll fall in love with this easy way to make your home smell amazing!
My boys love this scent-they all came downstairs from playing Legos to see what smelled so good!
I hope you love it too! Is anyone else ready for fall?