The house we purchased last year has Corian countertops. It's been our first time having these types of counters and I'm coming to realize the special care they need. Corian countertops are softer than stone and while they are lower maintenance and less expensive, they scratch easily. Like crazy easily! With how many scratches can happen from everyday life, it was important for us to learn how to fix scratches on Corian countertops.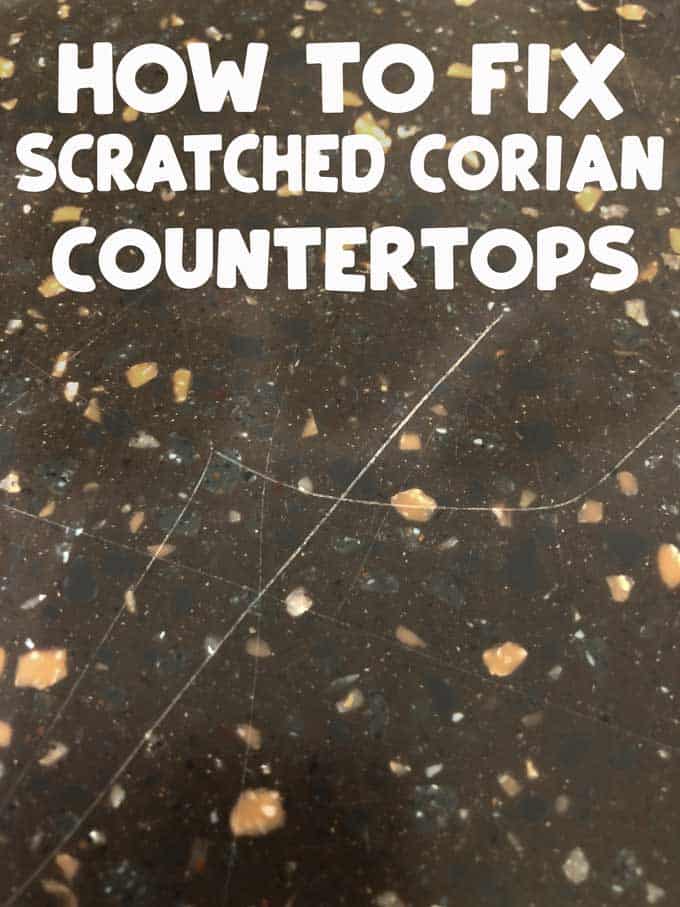 This was what I found my counters looking like this past weekend after a speck of sand or something abrasive apparently ended up under the lemonade pitcher my kids serve themselves from on our counter all day. I was shocked that they somehow managed to scratch it up so much in a day! But luckily, it gave me the opportunity to share with you all how to repair scratches on Corian.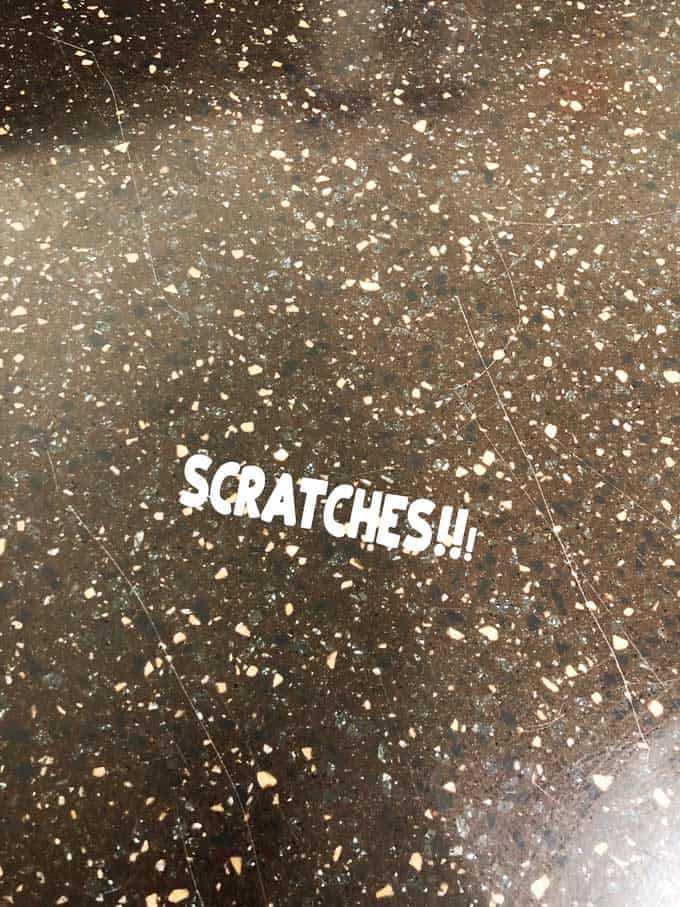 Let me first give a little disclaimer, if you have very deep scratches, this won't be the answer. BUT at our house we feel it's worth a shot before ordering a repair kit. If you try this method and it doesn't work, a Corian repair kit like this is under $20 and would be the next step. But first, let's DIY, shall we?
How to Fix Scratches on Corian Countertops
Supplies:
220 grit sandpaper
soft sponge, dampened
Instructions:
Clean your countertop thoroughly and dry. Use the sandpaper to lightly rub in circular motion over the scratched surface. Do not press too hard, it's better to go over the spot lightly more times rather than press too hard. This is one of the deeper scratched areas before I started to sand: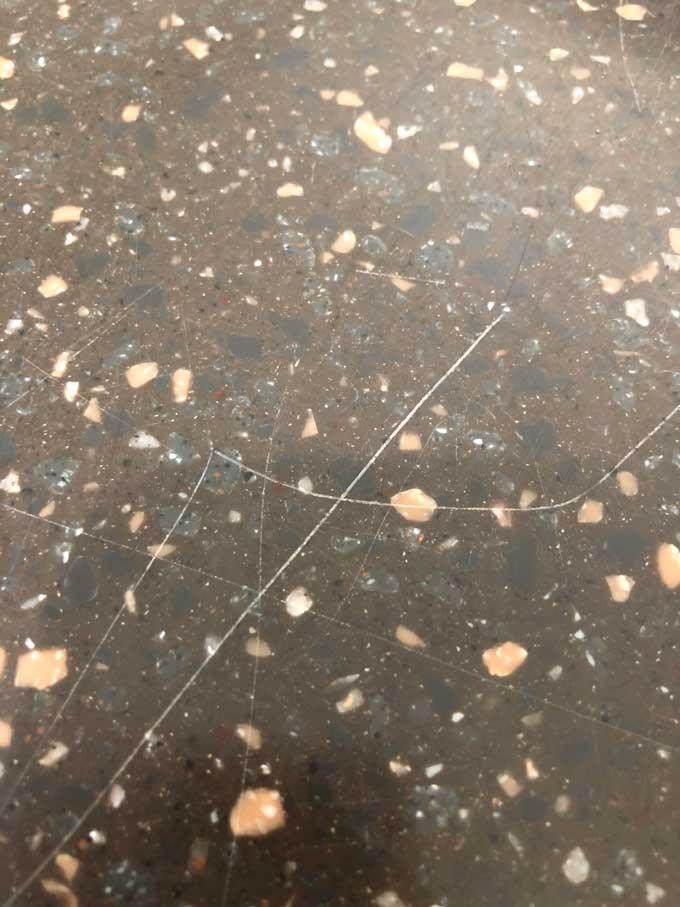 Wipe the surface periodically with the damp sponge to check the counter for progress. If you have dark counters like mine you may notice a lightness where you are sanding, so again it's better to use a light hand than risk sanding too hard. Repeat until the scratch is removed, alternating sanding and removing residue with the sponge. This is the same area as above after the first round of lightly sanding and wiping clean: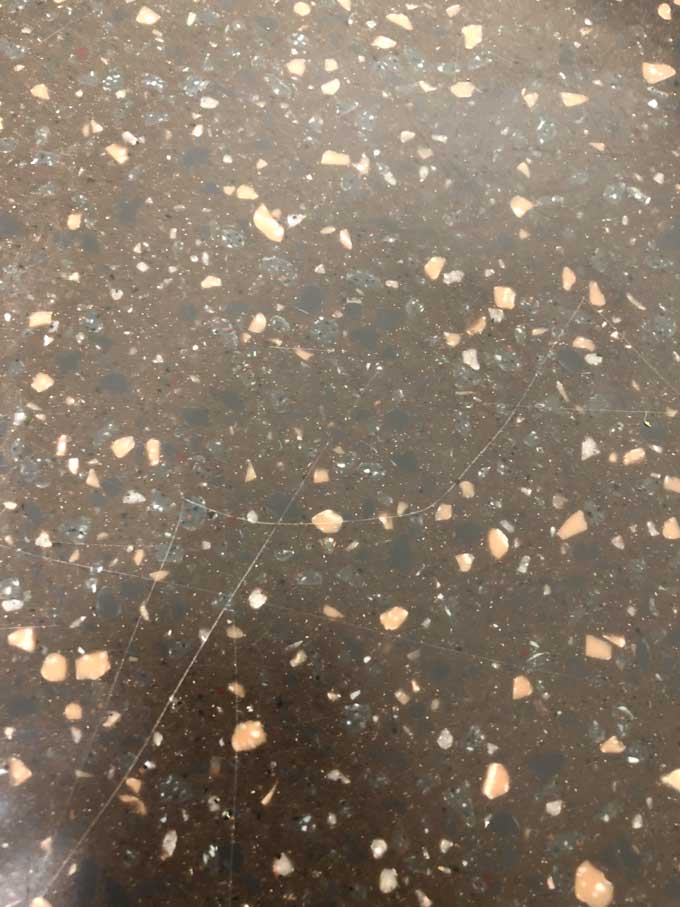 You can see the scratch is still there but much, much lighter. I was able to fully remove it by going over the area another three times. Here is another picture showing the difference in one of the scratches after lightly sanding just one area: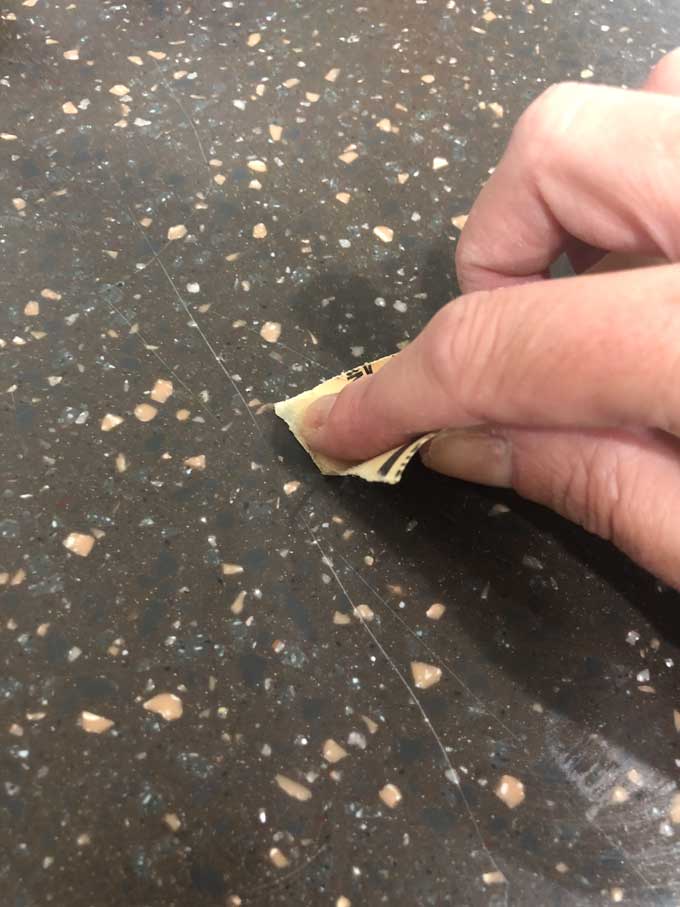 You can see how much the scratch is faded where I had been sanding. Pretty cool, right?! (And of course, the one day I have no nail polish on I take a super weird close picture of my hand!)
Again, this method can usually remove light scratches easily. If you have deeper scratches or cannot get the result you want the next step would be to get a Corian repair kit.
I hope this helps you all as much as it has helped us at our house!
You might also like these DIY tutorials: