Winter Simmering Pot Recipe, this stovetop potpourri pot is an easy way to scent your home without harmful chemicals! With oranges, Christmas tree clippings, and cloves, you'll love how this simmer pot makes your home smell like Christmas!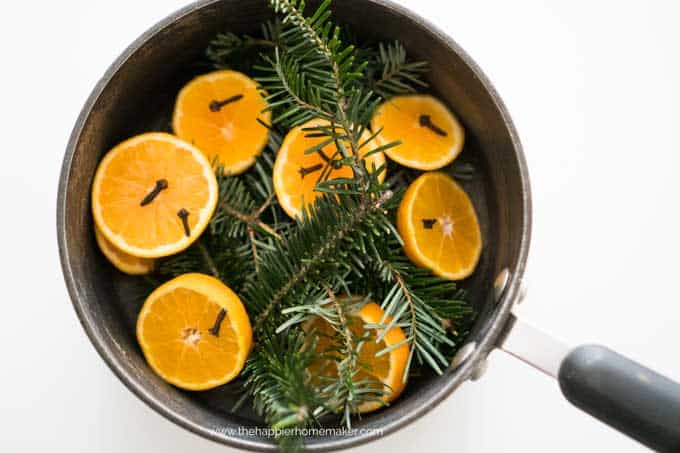 I was talking with my neighbor in her yard last week when I spotted some trimmings from their Christmas tree. We are traveling for the holidays this year so I reluctantly didn't get a live tree.
When I saw my neighbor's cuttings I asked her if I could snag a few branches to make a simmer pot. She kindly allowed me to take some and I ran right home to whip up this delicious smelling Winter Simmer Pot.
Trust me, you're going to want to try this recipe today!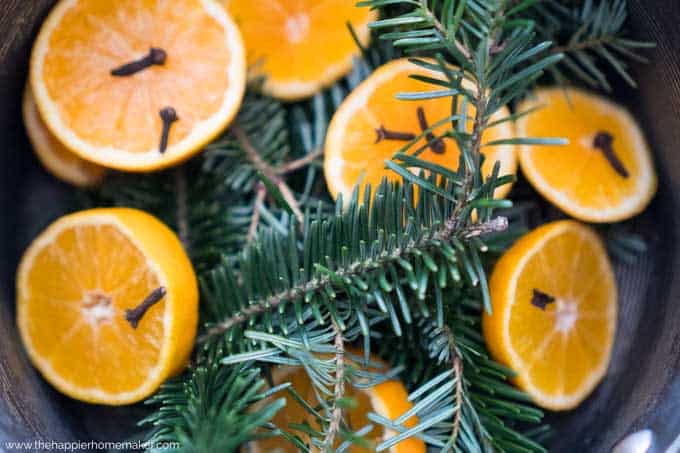 If you've been around this blog for a while you know I'm a HUGE fan of simmer pots. I love the way they make my entire house smell good and I'm not spraying yucky chemicals in the air.
I usually share one or two different combinations I've tried each year (I'll link to all my previous recipes at the bottom of this post!)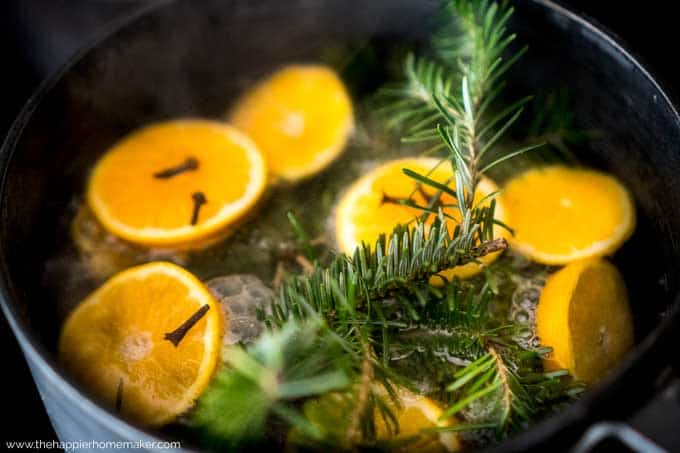 What is a simmer pot?
If you're not familiar with making simmer pots (also called simmering pots, stovetop potpourri, or potpourri pots) you're in luck because it's so easy.
You just fill a saucepan with water and add a combination of ingredients and then bring to a boil. Reduce the heat and allow to just barely simmer.
The evaporating water will fill the house with the scent of whatever you added to the pot! Then you can just add more water as needed.
Ingredients
For this winter simmer pot, I used one sliced orange, a few sprigs of Christmas tree cuttings (fir tree branches) and about 12 whole cloves. Seriously, the house just smelled like Christmas, it was amazing!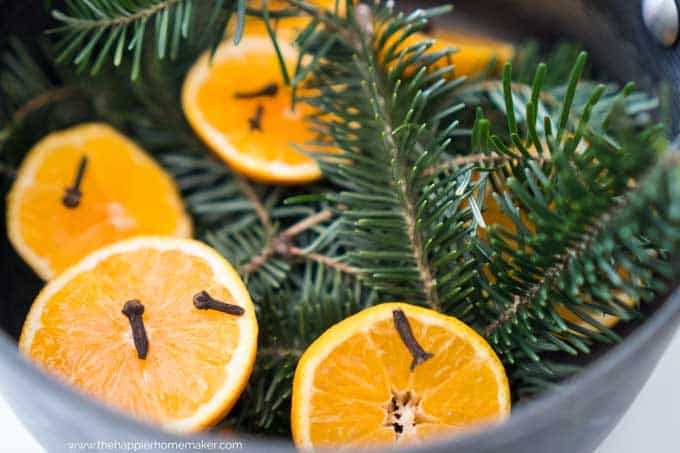 Variations
You can get so creative experimenting with simmer pots, here are some other scents that would be perfect for winter:
cranberries
cinnamon sticks
star anise
apples
vanilla
allspice
nutmeg
lemon
Tips
You can save the simmer pot ingredients to use the next day by draining them and storing in the fridge in an airtight container.
If you are entertaining or don't want to keep your eye on the stove you can make this in your slow cooker set to high with the lid off. It will take longer to start scenting the house but once it starts you won't be able to tell the difference!
As promised, here are the previous simmer pot recipes I've shared. If you have a new one for me to try please leave it in the comments!