Wondering what to put in pancakes to take your box mix to the next level? These pancake add-ins are perfect for hacking your box pancake mix!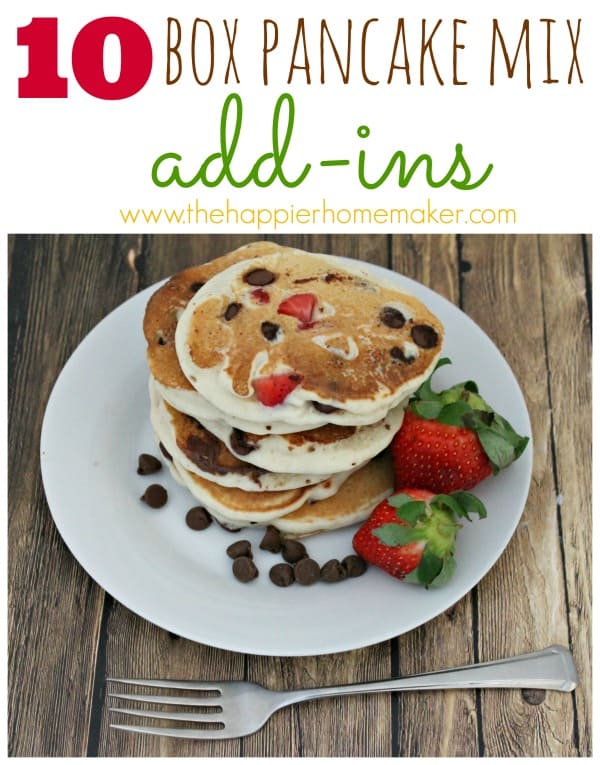 What to Put in Pancakes
If you have been around the blog for a while then you know that I fall solidly in the "semi-homemade" camp when it comes to cooking. I love to cook and bake but being a busy mom of three I also appreciate the ease of pre-made pancake mixes like Bisquick.
So on the weekends when I make pancakes I usually use a ready-made mix. Ready-made doesn't have to be boring though, today I'm sharing ten different awesome pancake add-ins to your regular box mix for a super special breakfast (or dinner!)
Chocolate Strawberry Pancakes
Stir in ½ cup diced strawberries and ½ cup chocolate chips before cooking. This one is a favorite kid's pancake idea!
Banana Pancakes
These are so delicious! Add sliced or diced banana to the top of partially cooked pancakes before flipping.
Bacon Pancakes
Oh yeah, you heard right, BACON PANCAKES! Add chopped bacon to pancake batter or pour batter over full slices for a surprising savory pancake treat!
Peanut Butter Pancakes
Somehow peanut butter seems to make everything better, right? Add ⅓ cup peanut butter (or any nut butter) to the Bisquick pancake batter prior to cooking.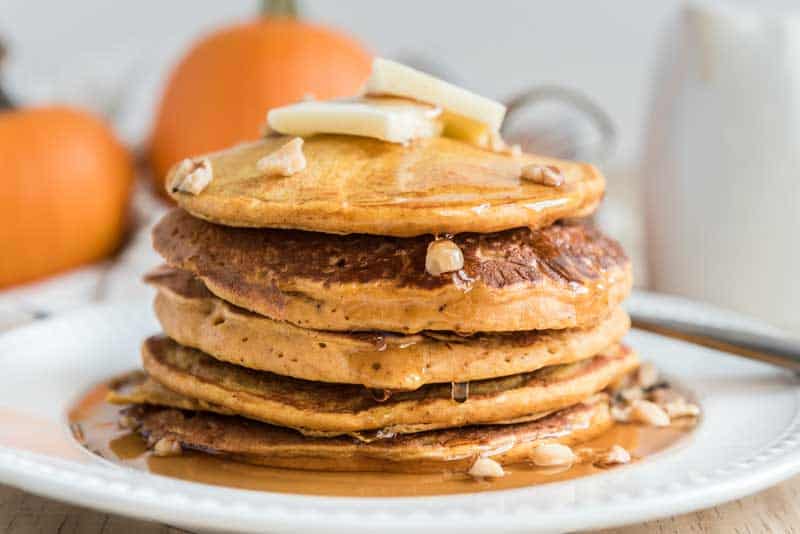 Pumpkin Pie Pancakes
Pumpkin pancakes are a fall favorite! Add ⅓ cup pumpkin puree and ½ teaspoon of pumpkin pie spice to batter before cooking.
Apple Cinnamon Pancakes
Another popular fall idea is making Apple Cinnamon Pancakes. Add ⅓ cup applesauce and 1 teaspoon of cinnamon to batter prior to cooking.
Apple Cinnamon Pancakes, Take 2
For another version of these, add 1 finely diced Granny Smith Apple and 1 teaspoon of cinnamon to the batter prior to cooking.
(You might also like to try this Cinnamon Apple Bread and Cinnamon Apple Cake!)
Triple Berry Vanilla Pancakes
These are an easy special occasion pancake idea. Add 1 teaspoon vanilla and fresh or thawed frozen blueberries, raspberries, and diced strawberries to batter prior to cooking.
Maple Nut Pancakes
Syrup isn't only for pouring on top of your pancakes, it can go in them as well! Add ⅓ cup chopped walnuts and 2 tablespoons maple syrup to batter prior to cooking.
Island Pancakes
Tropical pancakes? Wait until you try this yummy pancake add-in idea! Add ⅓ cup crushed pineapple (drained), 1 teaspoon of cinnamon, and 3 tablespoons shredded coconut to batter before cooking. You'll be amazed at the flavor!
I hope you all like these ten Bisquick pancake mix add-in ideas, I'd love to hear what you like to add too, leave it in a comment below to share with everyone!