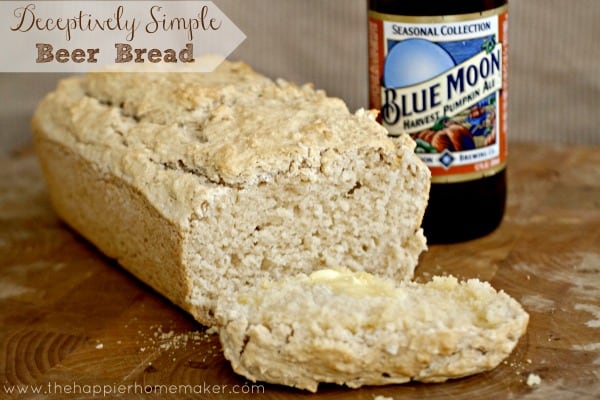 Have you had the pleasure of making beer bread before? Beer bread is the non-baker's bread recipe because it is amazingly easy and deceptively simple. What's more, you can really alter the taste of your bread depending on what kind of beer you use. Here is a no-fail recipe for making your own warm, crispy, crumbly beer bread:
Ingredients
3 cups SELF RISING flour (***this is important-if you don't have this see note below***)
3 tablespoons sugar
1 12oz. (room temp) bottle of beer (You can change the recipe dramatically by changing beers-my loaf today has Blue Moon Pumpkin Ale, yum! It tastes just as good with your run-of-the mill regular beer too though!)
Directions
1) Preheat oven to 350 degrees
2) Grease a 9-by-5-by-3 standard loaf pan
3) Whisk dry ingredients together
4) Pour in beer. With a big wooden spoon, quickly mix ingredients together until everything is incorporated. Don't over mix, you need to get it in the oven before the carbonation fades.
5) Drop into the pan and level it out.
6) Bake for 50 minutes. This is very forgiving. If it doesn't look done bake another 5 (max 10) minutes. Every time I have made it, it has been perfect at 50 minutes.
7) Remove from pan and enjoy. It cuts better when it cools but ohmygoodness is it tasty with butter when HOT !
8) Accept Congratulations from all and let them all think you are a wonderful baker, which of course, you are!
***If you don't have Self Rising Flour make your own! For every one cup of flour add 1 1/4 tsp of baking soda and 1/4 tsp of salt so for this recipe use-3 cups of all purpose flour, 3 3/4 tsp baking soda, and 3/4 tsp of salt***
Have you made beer bread before? Let me know if you try my recipe! You might also like this delicious Beer Bread with Garlic and Cheese from my friend Kim at Today's Creative Life!