Mellow Mushroom Copycat Mellowterranean Pizza is easy to make at home! With the signature crust and fun toppings, it's a copycat recipe you won't want to miss!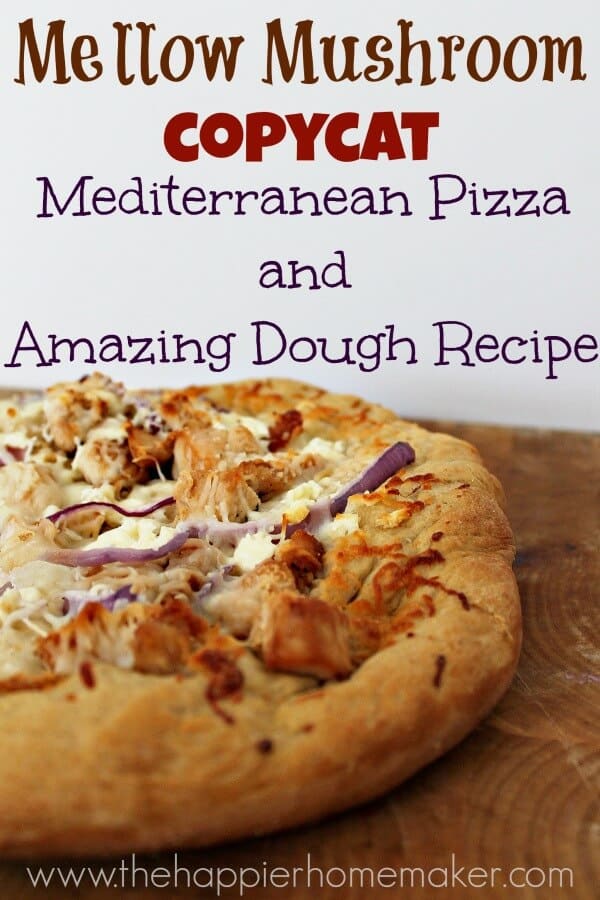 I love some Mellow Mushroom pizza! Over the warm months my husband and I would take lunch dates to sit on their patio while indulging in my favorite pizza-the "Mellowterranean." It's served on their famous crust (with a secret ingredient of molasses!) with an olive oil and garlic base, mozzarella, chicken, red onion, and feta. Delicious.
I recently perfected my own version of the pizza complete with a copycat of the Mellow Mushroom pizza dough recipe to make at home after a lot of internet research and trial and error and I'm excited to share it with you today!
A few things before the recipe itself I wanted to mention....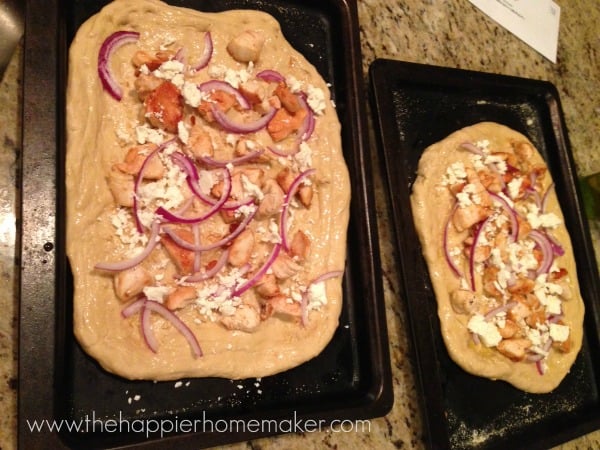 You DON'T have to have a pizza stone to make a great pizza. I'm sure it's nice but honestly in my research if I had believed all the hype about how I absolutely had to preheat my oven to 500 degrees for an hour beforehand, and how I simply must use a pizza stone, blah, blah, blah I probably would have never tried to make my own pizza and I would have really missed out. I don't have a pizza stone nor do I preheat my oven for an hour before making my pizza. (Ain't nobody got time for that, am I right?) I make mine on some ancient cookie pans in a minimally preheated oven and they turn out just fine thank you very much!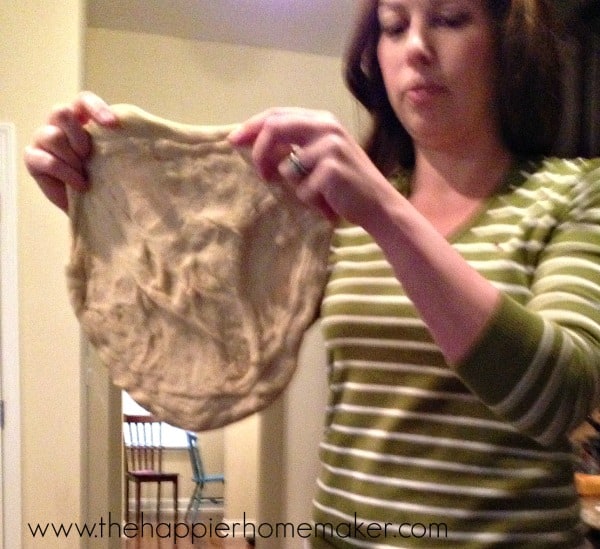 You DON'T have to do some fancy schmancy pizza toss in the air or crazy dough rolling technique to get a great tasting pizza...it might look a little prettier but it's not going to taste bad if you use simple techniques. (Forgive the crazy fuzzy picture, I had my 5 year old take it and it was night time!) I shape my dough by flatten it out then holding it in two hands and allowing gravity to stretch it downward...do this and slowly turn and rotate letting the dough stretch itself out.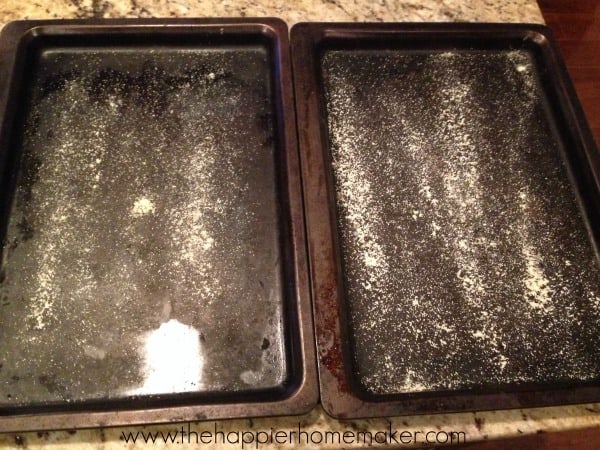 And lastly a little tip-for restaurant style pizza crust, try dusting your cooking surface with cornmeal before baking. If you're using a baking sheet like I do simply dust some across the sheet. If you form your crsut on parchment paper, add it before putting your dough down.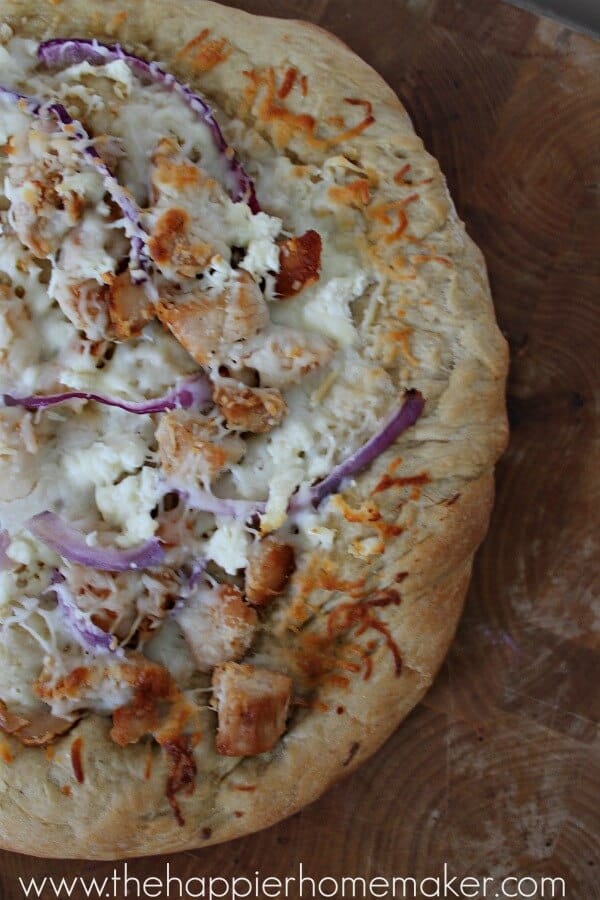 Okay, off my little pedestal now, I hope you LOVE this recipe as much as we do at my house!
Print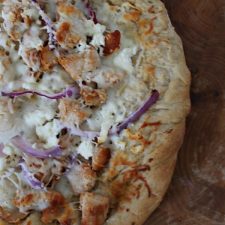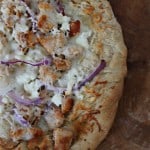 Homemade Mellow Mushroom Inspired Mediterranean Pizza
Author:

Melissa Riker

Prep Time:

3 hours

Cook Time:

9 mins

Total Time:

3 hours 9 mins

Yield:

8

1

x

Category:

Entree

Method:

baking

Cuisine:

American
---
Description
This Mellow Mushroom inspired pizza has a crust even crust-haters will eat up! The secret ingredient is molasses!
---
1 ½

cups

very warm water

1 tbsp

olive oil + extra for brushing crust

2 ½ tbsp

molasses

4 tsp

active yeast

3 ½

cups

flour

4 tsp

active wheat gluten

2 tsp

salt
cornmeal
minced garlic
mozzerella cheese
cooked, chopped chicken breast

1

red onion, chopped

¾

cup

crumbled feta cheese
garlic butter, melted (optional)
parmesan cheese (optional)
---
Instructions
In a small bowl combine water, olive oil and molasses.
In a stand mixer (affiliate link) combine flour, gluten, yeast, and salt.
Add water mixture to stand mixture and mix on low using dough hook for 30-60 second until combined.
Switch speed to medium for 12 minutes.
Form dough into ball and place in greased bowl.
Cover bowl with loose plastic wrap and let sit at room temperature for 2 hours.
Cut dough in two and roll each into a tight ball by folding the edges into the center. Allow dough to rest covered for 30 minutes.
Preheat oven to 450 degrees.
Form each ball into crust by stretching the dough in two hands while rotating it.
brush crust with olive oil and add minced garlic.
Top with chicken, onions, feta, and mozzerella cheese.
Bake 7-9 minutes until golden.
After removing from oven immediately brush crust with melted garlic butter and top with parmesan if desired.
---
Keywords: Mediterranean pizza, mellow mushroom pizza, mellow mushroom pizza crust