Wondering what to eat with pico de gallo? Pico de Gallo is a simple but delicious condiment staple in Mexican cuisine. Also called salsa fresca, pico de gallo is made with basic ingredients that include ripe red tomatoes, white onion, fresh cilantro, jalapeño or serraño pepper, and fresh lime juice, but what do you eat with pica de gallo?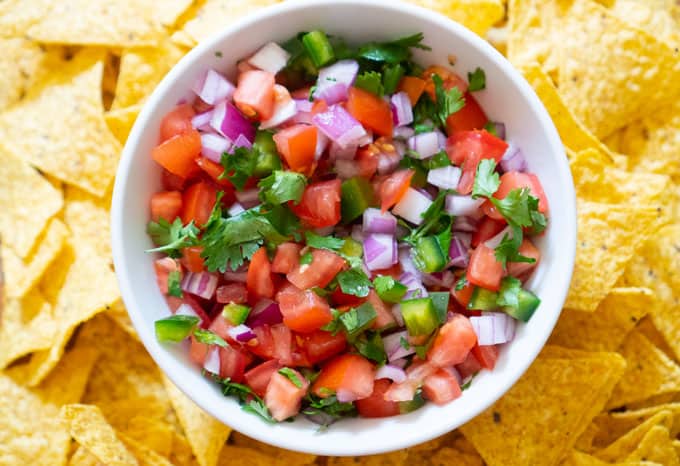 This versatile condiment is perfect for adding a kick to any meal. Whether you're looking for a new way to spruce up your tacos or want to add some zest to your quesadillas, pico de gallo is the perfect accompaniment. 
What to Eat With Pica De Gallo
A good pico de gallo is a healthy salsa alternative and will be packed with natural flavors. Pico makes a great topping or addition to a lot of foods. Here is a list of different ways you can use pico and some foods that pair perfectly with it, from traditional Mexican dishes to some other tasty options!
1. Tacos
Tacos are a classic Mexican dish that pairs perfectly with pico de gallo. The combination of fresh tomatoes and onions in the condiment adds a vibrant flavor and texture to any taco. When you visit a Mexican restaurant, pico is what you'll find accompanying most of their dishes. 
Try oven baked soft tacos or spicy chicken tacos as a variation for your nexxt Taco Tuesday!
2. Quesadillas
Quesadillas are a favorite Mexican dish that can be easily spiced up with pico de gallo. The fresh vegetables and herbs in the pico add a bright flavor that complements the melted cheese in the quesadilla. 
3. Rice and Beans
Rice and beans are a staple in Mexican cuisine and can be elevated with the addition of pico de gallo. The pico de gallo adds a kick of flavor that pairs perfectly with the hearty beans and rice. 
4. Chips and Salsa
Chips and salsa is a quintessential Mexican snack, and pico de gallo is the perfect accompaniment. The combination of crunchy chips and salsa fresca is a match made in heaven. 
5. Burritos or Burrito Bowls
Burritos are a popular Mexican dish, and pico de gallo is the perfect topping. Pico adds a zesty flavor that pairs perfectly with the savory ingredients in the burrito.
6. Nachos
Nachos are perfect topped with all sorts of fresh ingredients like green onion, black beans, corn, jalapeño pepper, and some fresh pico de gallo. The simple ingredients in this meal are easy to throw together and one of my favorite ways to enjoy Mexican cuisine on a busy weeknight.
7. Enchiladas
Enchiladas are easy to make at home, our favorite are white chicken enchiladas but any recipe you try is perfect for pairing with pico de gallo.
8. Grilled Chicken
Pico is the perfect way to top delicious cilantro lime marinated grilled chicken. The pop of fresh flavors add a ton of taste to this healthy dish without added calories.
9. Sheet Pan Fajitas
Fajitas are a tasty Mexican dinner that can be made even easier by cooking them up on a sheet pan! These sheet pan chicken fajitas would taste delicious with some homemade salsa fresca on top along with the cilantro lime sauce!
10. Cheesy Mexican Loaded Baked Potato
Top your baked potato with your favorite taco toppings for a fun twist on a classic side dish. Add cheesy queso sauce, pico de gallo, bacon, sour cream, cilantro, and any other kinds of toppings you love. 
Difference Between Pico De Gallo and Salsa
Salsa is a sauce that is made with cooked tomatoes, onions, peppers, and spices. It is usually blended or pureed and has a smooth texture and sometimes has sugar added.
Pico de gallo, on the other hand, is a chunky, uncooked sauce made from tomatoes, red onions, peppers, cilantro, and lime juice. It has a fresh, crunchy texture and is usually used as a condiment or topping. So the main difference is cooked versus fresh, but both authentic pico de gallo and traditional red salsa can usually be used interchangeably.
Raw salsa is uncooked, fresh ingredients that are still blended like traditional salsa instead of left chunky like pico. Pico de gallo is made with the freshest ingredients and is a more popular Mexican condiment, second to raw salsa, but you typically won't find cooked salsa used in traditional Mexican cuisine.