Tzatziki sauce is most popular for its use in Greek cuisine and it has become a well known sauce in America. I put together a list of what to eat with tzatziki because it is one of my favorite sauces that you can pair with so many different things. It can be used in recipes, as a dip, or as a topping for so many of your favorite foods. It also fits in easily with all kinds of different cuisines.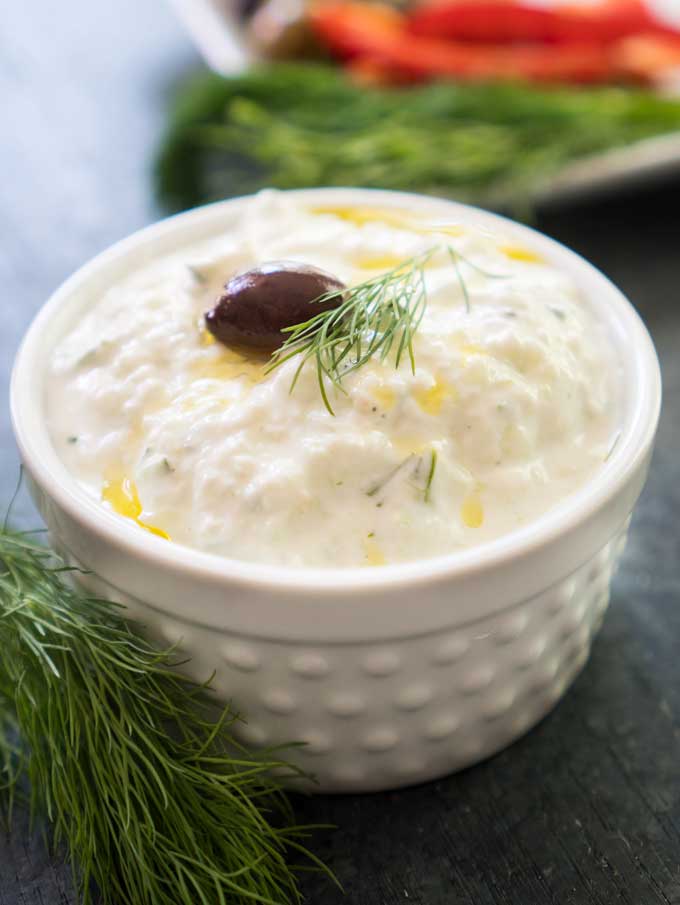 What is Tzatziki Sauce?
Although most people associate tzatziki with Greek food, tzatziki originates from Southern Europe as well as the Middle East. It is usually eaten as a dip, soup, or sauce, depending on the dish and the type of cuisine.
It's a yogurt based sauce that is traditionally made with cucumbers, garlic, olive oil, salt, and dill. Sometimes mint, parsley, or thyme are added, as well as vinegar or lemon juice. Tzatziki has a yogurt-like texture, but the flavor is closer to sour cream. It has a cool, refreshing flavor from the mixture of fresh dill and cucumbers.
There are many variations for making tzatziki sauce, but they all are very close and keep that same traditional fresh herbs tzatziki flavor. You can buy tzatziki at your local grocery store, or try making your own homemade tzatziki sauce. Authentic tzatziki sauce is very easy to make and use as an appetizer or part of your main course.
Check out the 15 various ideas for what to eat with tzatziki that I put together for you below.
What to Eat With Tzatziki Sauce as a Dip
Tzatziki makes a delicious dip and the possibilities here are really endless. I put together a good list of options for dipping in tzatziki sauce and these options are great for a snack or a party appetizer!
1. Fresh vegetables
Carrot sticks, bell peppers, cherry tomatoes, broccoli, celery, or any fresh veggies you can think up would be great in this dipping sauce. If your kids like tzatziki, this is a great combination for a healthy after school snack.
This oven baked french fry recipe from Amanda's Cookin' creates the most golden brown crispy fries that would be the perfect choice for dipping in an easy tzatziki sauce recipe. The best thing about this combo is, these oven baked fries are healthy!
This is a great dip to have on the side if you have fries with dinner or just a mid afternoon healthy eating snack. These are made with olive oil and seasonings and then baked to perfection, so they are guilt free fries!
Same concept as the fresh, raw veggies, but add a little extra flavor with seasoning and that oven-roasted touch. You can use any variety of veggies you want in this recipe, especially veggies that will be easy to dip like green beans and whole baby carrots.
These air fryer zucchini chips by JZ Eats are warm and crispy which makes them perfect to dip in a cool yogurt sauce. This great recipe is only five ingredients and just takes 20 minutes from start to finish. You can throw your creamy tzatziki sauce together while these cook in the air fryer.
These healthy pita chips from This Healthy Kitchen look amazing and they are the perfect greek food to pair with tzatziki dip. This easy recipe also takes less than. 10 minutes to make, so this one is a winner!
Of all the different ways you can enjoy this dip, using pita chips is one of the best ways. Pita bread is a main ingredient in recipes that this sauce was traditionally made for like gyros in Greek cuisine and Shawarma in Middle Eastern cuisine.
What to Eat With Tzatziki Sauce: Meals
Adding tzatziki can easily turn a boring meal into a delicious meal in seconds. It's fun to experiment with tzatziki sauce with foods we eat regularly to give them a little more flair.
Next time you're making a meal, consider the ways you could level it up with tzatziki sauce for something a little different than usual. Let's look at some meals that you can make that contain this healthy tzatziki sauce.
We can't have a list of foods to eat with tzatziki sauce without gyros! These gyros by Savory Experiments are made with lamb, which is the meat traditionally used in this recipe. These can also be made with chicken, steak, or falafel.
This is a twist on traditional shawarma by Two Sleevers. This beef and rice shawarma could be topped with tzatziki sauce or wrapped in warm pita bread and tzatziki sauce.
For a more American approach to using tzatziki sauce, try these oven cooked hamburgers. Tzatziki is delicious as a hamburger topping and mixes well with other traditional hamburger toppings like lettuce, tomato, onion, and even cheese.
Falafel is traditionally a deep fried ball or patty made from chickpeas and spices. This falafel recipe from Elephantastic Vegan is so easy and oven baked, which is a good thing because these are very healthy if they aren't deep fried! Yes, this is a vegan recipe, but don't worry, falafel is full of flavor and a great food to pair with tzatziki sauce! You can make a falafel sandwich topped with tzatziki, a falafel gyro, or just make your falafel into balls and dip them in tzatziki.
An omelet stuffed with fresh veggies and feta cheese makes the perfect dish to top with tzatziki! This omelet in a bad recipe from Love Bakes Good Cakes is a super simple technique for throwing together delicious omelets quickly.
This recipe for salmon patties from Adventures with Mel is the perfect pairing for tzatziki sauce! It might sound a little strange, but the flavors will complete each other, trust us! These salmon patties are easy to throw together and flavorful ingredients that will be enhanced by the tzatziki sauce.
What better food to put this cool cucumber sauce over than cucumbers? This is a great recipe from Amanda's Cookin' would be great in the summertime, but it's a nice side dish any time of year. It only takes 10 minutes to make this salad and it couldn't be easier! If you enjoy cucumber salad, you'll enjoy this cucumber greek salad too!
The recipe for this traditional Greek food comes from Twelve on Main and it's mouthwatering just to look at! You'll need a few hours for marinating, but the hands on work of making these only takes about 20 minutes.
These air fryer juicy steak bites from Swanky Recipes are perfect for dipping in homemade tzatziki sauce or throwing on warm pita bread with tzatziki, lettuce, tomato, and onion. These have full flavor seasonings plus she offers a lot of variations for seasonings, any of which would be delicious paired with tzatziki sauce!
These greek meatball pita sandwiches from Mom Foodie only take 10 minutes to make! That's right, ten minutes. The chicken meatballs are premade, frozen meatballs with are super convenient and full of spices that pair well with tzatziki. You can use any greek meatballs with this recipe. Dip the meatballs alone for a quick snack, or make this pita sandwich for a meal.