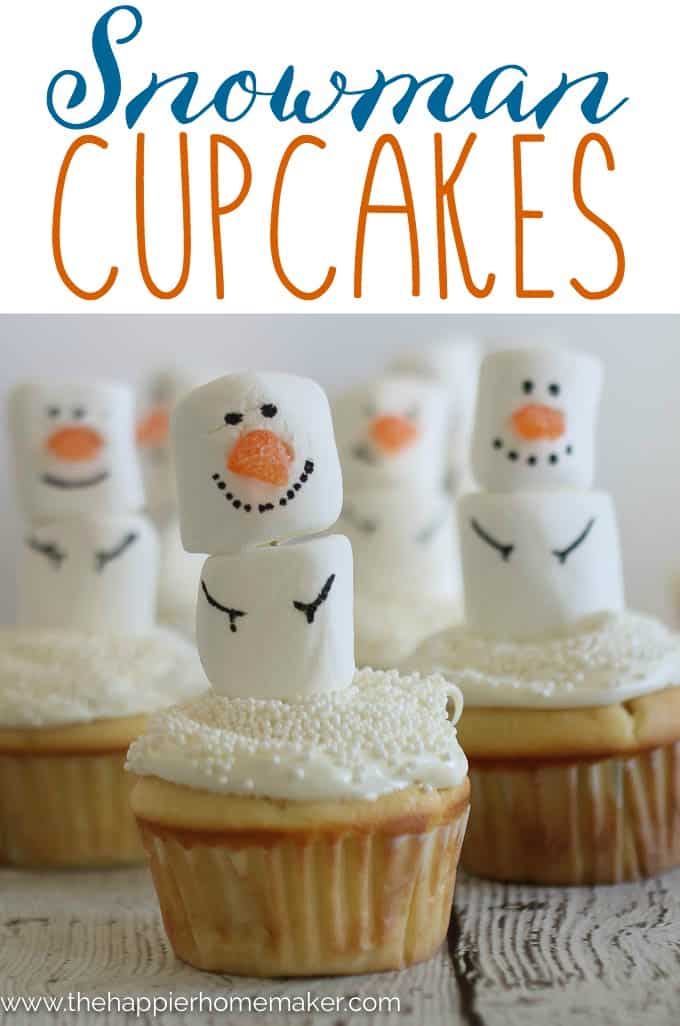 You guys.  I can't even explain to you how in love with these little Snowmen Cupcakes I am! It helps that they were beyond easy-I've seen my share of Pinterest fails of similar cupcakes so I was nervous getting started but these guys are almost fail proof!
I was asked to make some cupcakes to take to a holiday party recently on pretty short notice and I wanted something with a "wow" factor (I'm a blogger-people have expectations!) Honestly, I had about zero time to spare-this time of year always feels so busy, but I love baking so I couldn't turn them down.  I stopped in at a Giant store to pick up some cake mix and frosting and happened to notice the Pillsbury Purely Simple™ Cake Mix which I had never seen before. The box stated they contained no artificial colors, flavors or preservatives so I was curious to give it a try.  I picked up a box of the Pillsbury Purely Simple™ White Cake & Cupcake Mix and a Moist Supreme® Classic Yellow cake mix to compare it to as well as a container of Creamy Supreme® Vanilla Frosting.
When I got home I whipped up the cupcakes-I added a teaspoon of almond extract to the white cake mix, it was a suggested option on the back of the box so I figured I'd try it.  I was surprised because while regularly cake mixes ask for eggs and oil, the Purely Simple™ asked for eggs along with milk and butter.  I thought the batter consistency seemed more like my own homemade batter as well. I followed the box instructions but did fill the cupcake cups almost to the top-I wanted a nice big crown on my cupcakes! Each of my boxes made 18 instead of 24 cupcakes because of the overfilling.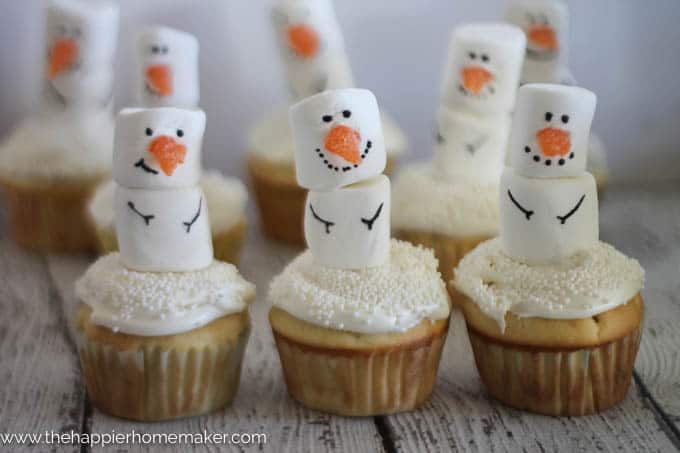 Once the cupcakes cooked and were fully cooled I whipped up the frosting in my stand mixer (affiliate link) for two minutes on medium speed to make it nice and fluffy.  Then I put it in a plastic sandwich bag, snipped a tip off a corner and piped the frosting on the cupcakes.  (This is the easiest way to get them all frosted quickly and looking fancy!) I sprinkled the frosting with white nonpareils for my snow and got to work on the snowmen.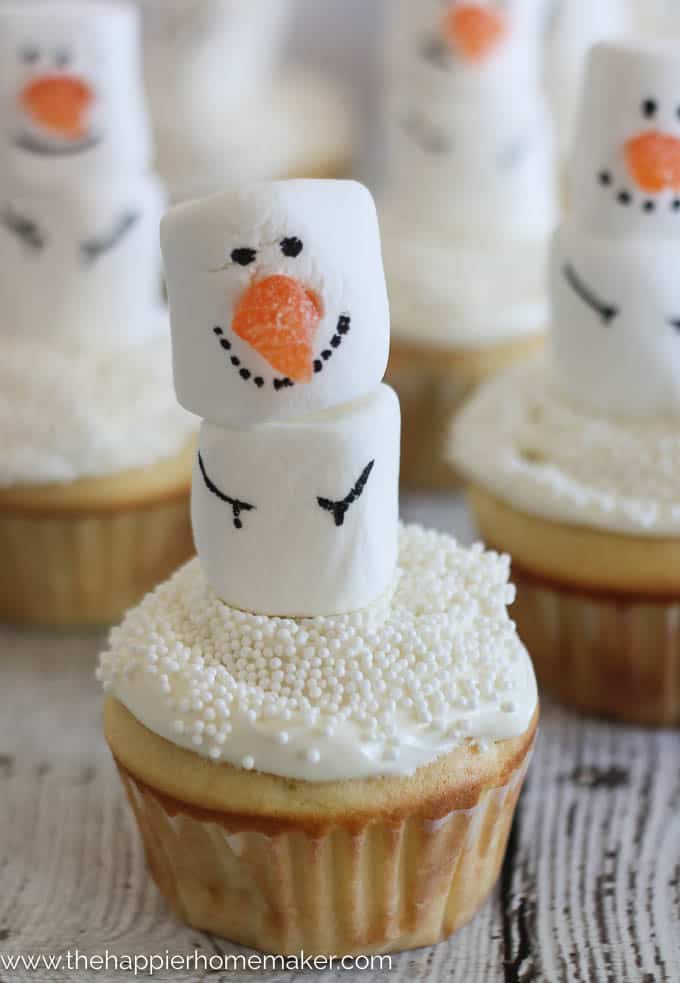 To make the snowmen you need large marshmallows, orange slice candies, toothpicks and an edible pen. I cut a wedge out of the side of the orange candy with a knife to make my nose and used the tip of my knife to make a little slot in the marshmallow to put it in.  After the nose was in place I simply drew in the eyes, mouth and arms with the pen.  I liked trying to make each little face look slightly different-it gives them personality!
These went over great at the party! My only word of caution is to be sure that people are aware that the toothpick is there.  If you weren't going to be handling them a bunch before they are served you could attach the snowmen with some thick frosting as well but mine had to travel so they needed a firm grip!
This is a sponsored conversation written by me on behalf of The J.M. Smucker Company. The opinions and text are all mine.