Snowman Cupcakes are a deceptively simple and remarkably cute Christmas cupcake perfect for parties! These cupcakes are made with a cake mix base and decorated with frosting, sprinkles, and marshmallows.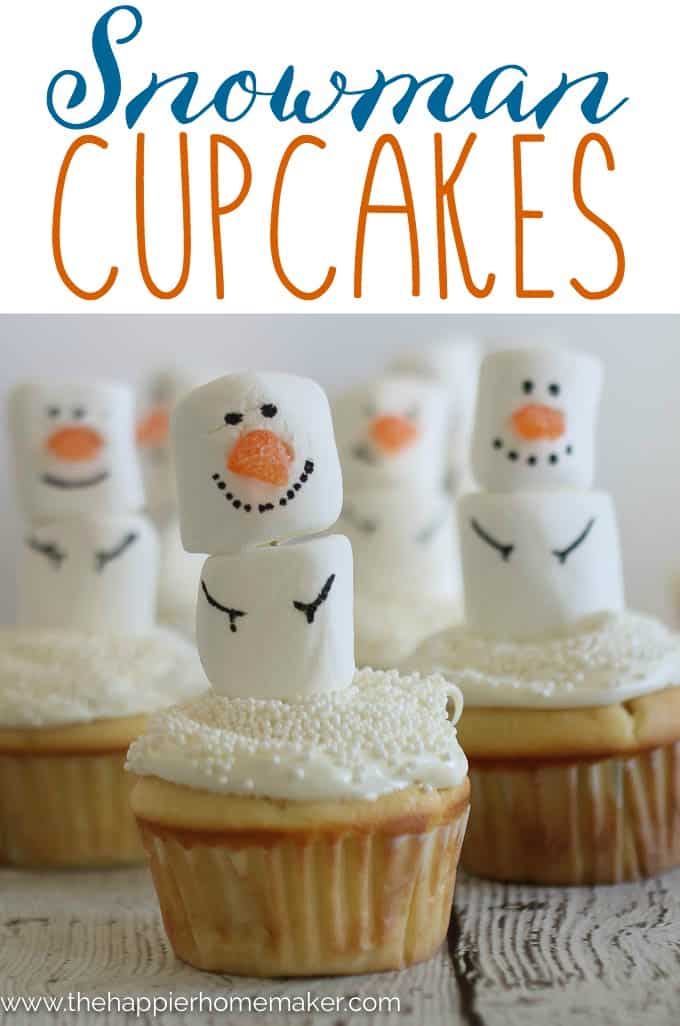 You guys. I can't even explain to you how in love with these little Snowmen Cupcakes I am! It helps that they were beyond easy-I've seen my share of Pinterest fails of similar cupcakes so I was nervous getting started but these guys are almost fail proof!
I was asked to make some cupcakes to take to a holiday party recently on pretty short notice and I wanted something with a "wow" factor (I'm a blogger-people have expectations!) Honestly, I had about zero time to spare-this time of year always feels so busy, but I love baking so I couldn't turn them down.
Easy Snowman Cupcakes with Marshmallows
I made some simple cupcakes from a mix to save time (you could also use this peanut butter cupcake recipe if you prefer from scratch, it's delicious!) You could also try these cake mix and frosting hacks to amp up the flavor. Then it was decorating time!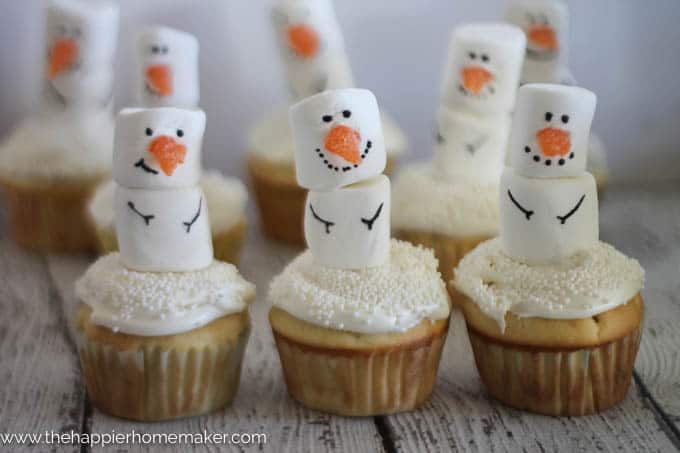 Once the cupcakes cooked and were fully cooled I whipped up the frosting in my stand mixer for two minutes on medium speed to make it nice and fluffy.
I put it in a plastic sandwich bag, snipped a tip off a corner and piped the frosting on the cupcakes. (This is the easiest way to get them all frosted quickly and looking fancy!)
How do you make frosting look like snow?
There are a few different options when it comes to making the snow for the cupcake. I used white nonpareils for my snow but you could also use white sparkling sugar or regular granulated sugar as well.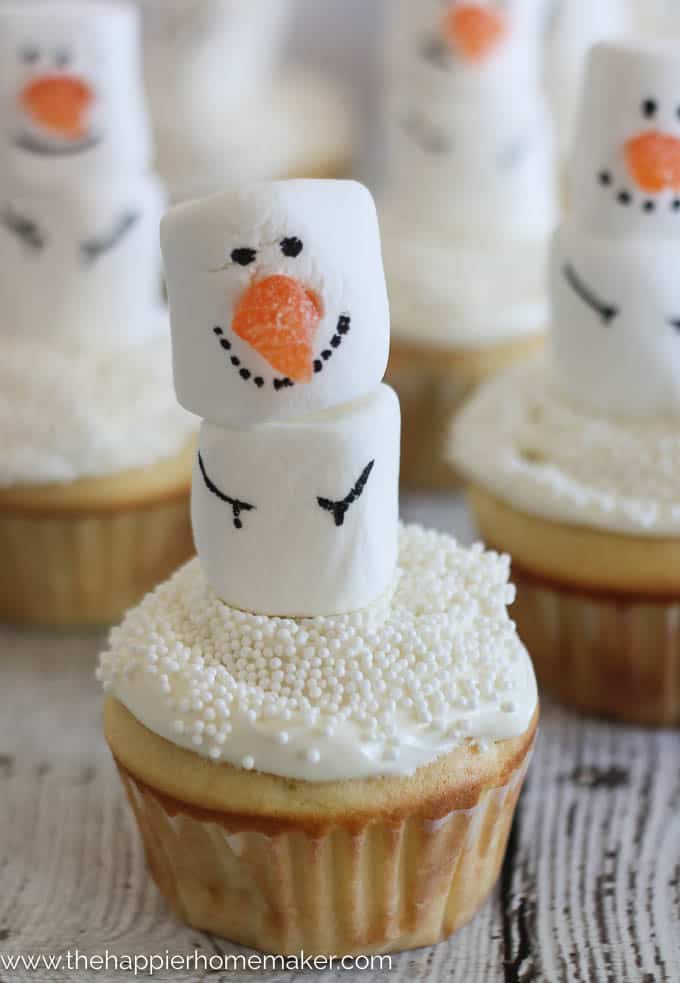 To make the snowmen you need large marshmallows, orange slice candies, toothpicks and an edible pen.
To make the nose for your marshmallow snowman, cut a wedge out of the side of the orange slice candy with a knife, then use the tip of the knife to make a little hole in the marshmallow to put it in. (See the video below to watch the step by step snowman cupcake assembly.)
After the nose was in place I simply drew in the eyes, mouth and arms with the edible pen. I liked trying to make each little face look slightly different-it gives them personality! My boys thought they looked like Olaf Cupcakes and I completely agree, too cute!
Video: How to Make a Snowman Cupcake with Marshmallows
Here is the video to show you the exact step by step.
These went over great at the party! My only word of caution is to be sure that people are aware that the toothpick is there. You can also fix this by using lollipop sticks with two caveats: make sure the sticks are short enough and you may want to use the pointed end of a a skewer to make the hole in the marshmallow first
If you weren't going to be handling them a bunch before they are served you could attach the snowmen with some thick frosting as well but mine had to travel so they needed a firm grip!
I hope you love these adorable little snowman cupcakes as much as I do!
Print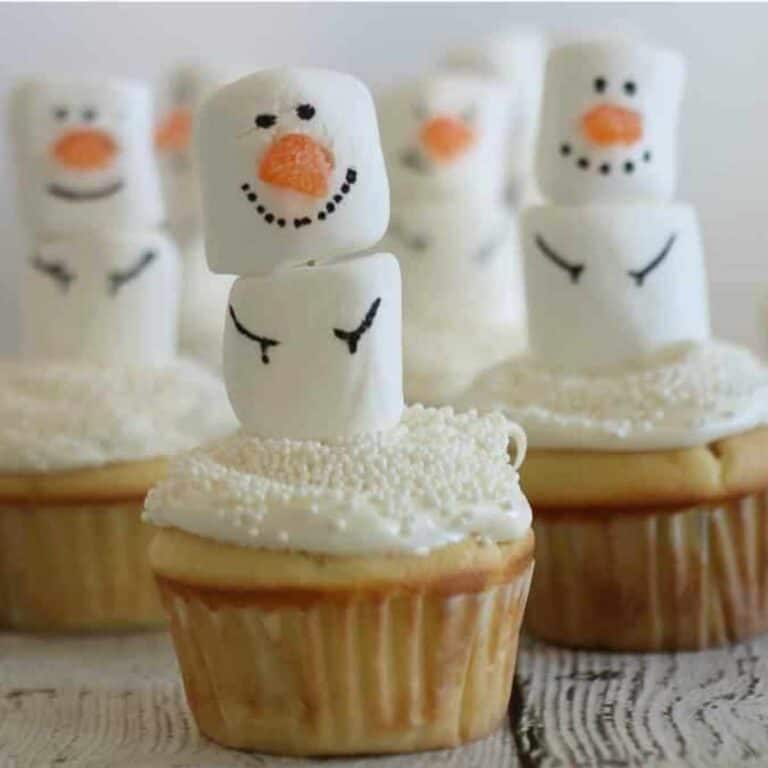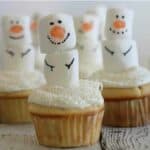 Easy Snowman Cupcakes (with VIDEO)
Author:

Melissa Riker

Prep Time:

1 hour

Cook Time:

20 minutes

Total Time:

1 hour 20 minutes

Yield:

24

Category:

dessert

Method:

baking

Cuisine:

American
---
Description
Snowman Cupcakes are a deceptively simple and remarkably cute Christmas cupcake perfect for parties! These cupcakes are made with a cake mix base and decorated with frosting, sprinkles, and marshmallows.
---
boxed cake mix and ingredients to prepare
pre-made frosting
white nonpareils or sprinkling sugar
jumbo marshmallows
orange candies
You will also need toothpicks and an edible pen
---
Instructions
Make the cupcakes according to the box instructions.
Allow to cool fully, then frost.
Sprinkle the frosting with nonpareils.
Stick a toothpick through two stacked jumbo marshmallows and stick end into cupcake to anchor.
Cut a triangle shaped wedge from the orange candy and use the tip of a knife to cut a small hole in the center of the top marshmallow and insert for the snowman's nose.
Use the edible pen to draw on the eyes, smile, and arms.
---
Notes
Be creative with the snowmen's faces and arm position, it's super cute when they are not all exactly the same!
You can use any homemade cupcake and frosting instead of box mix.
Be sure to alert people that the cupcake has a toothpick inside that needs to be removed!
Keywords: snowman cucpakes