It's easy to hack box cake mix and make it taste homemade! With just a few extra ingredients you'll have everyone asking for your cake recipe!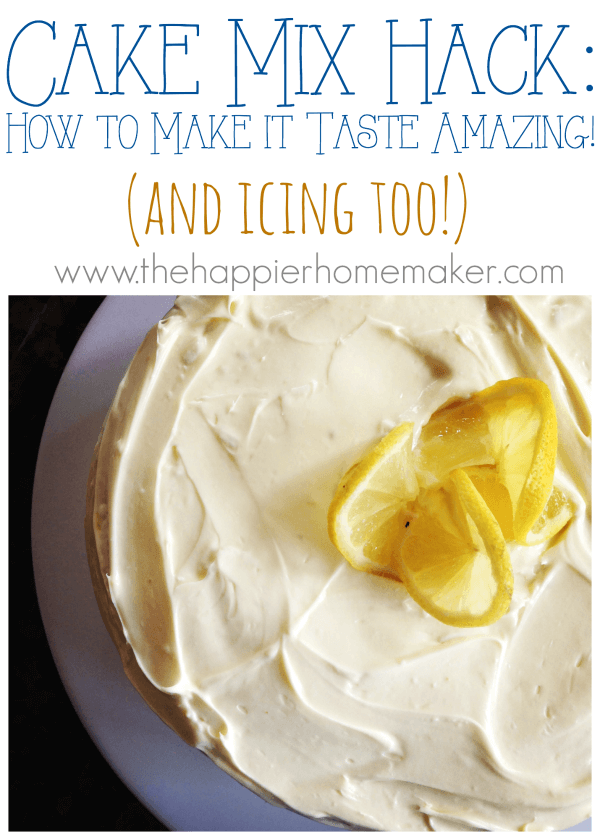 If you follow me on Instagram or Facebook you may have seen that we recently had two birthdays at my house. My husband and youngest son's birthdays are only 3 days apart and this year they fell on a Friday and Monday so we pretty much made it a weekend long birthday extravaganza!
This year my husband requested a lemon cake and my older boys very strongly suggested chocolate cupcakes for my three year old! Now, I love to bake but you know what I never do? I never make cakes from scratch! Occasionally I get a wild hair and make my icing from scratch but honestly over the years I have perfected how to make box cake mix and premade icing taste soooooo good that I don't see the point in doing it from scratch.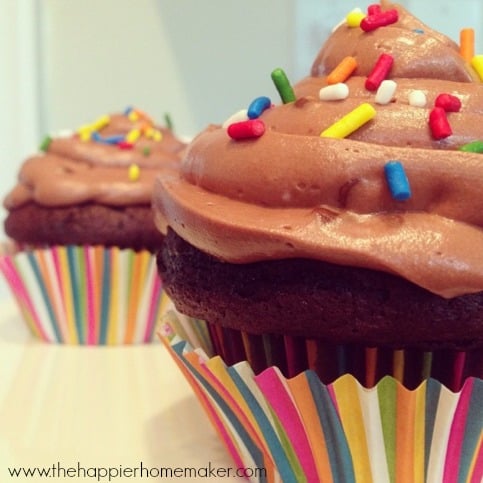 Now-I need you to promise that when you try this you're going to come back and let me know what you think okay? Alright, here we go:
How to Make Boxed Cake Mix to Taste Homemade
⅓ cup vegetable oil
1 extra large egg
3.4 oz box instant pudding in a similar flavor to cake mix
IN ADDITION TO LISTED INGREDIENTS ON CAKE MIX BOX, add the above ingredients. Mix in well and bake according to package instructions.
I promise this will make your store-bought box cake mix turn out so dense and moist you won't be able to stand it!!
Box Cake Mix Hacks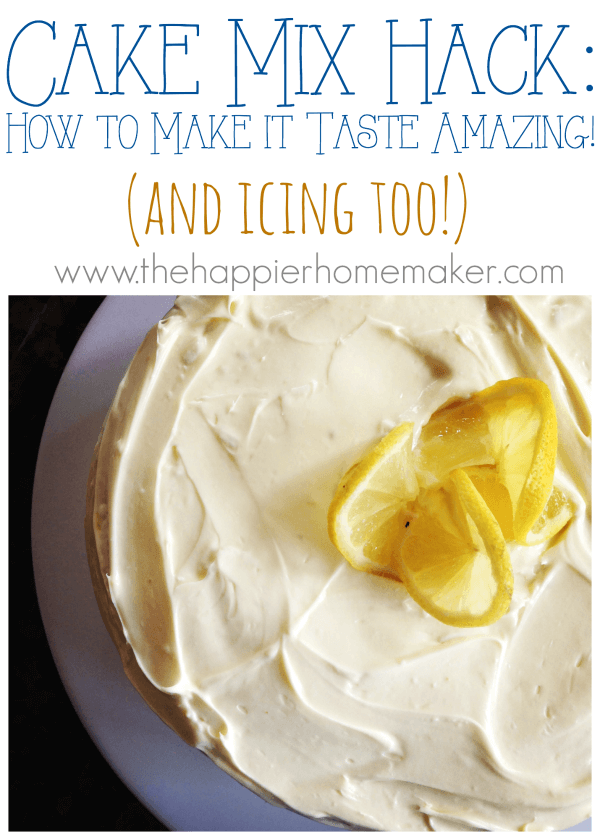 It's easy to make store bought box cake mix taste homemade with these simple hacks!
Materials
vegetable oil
large egg
instant pudding mix
Instructions
Pick out an instant pudding flavor similar to that of the box cake mix you are using.
When preparing the cake, follow package instructions but add an ADDITIONAL ⅓ cup vegetable oil, 1 extra large egg, and the instant pudding mix.
Bake according to package instructions.
Notes
Experiment with the pudding flavors to add extra dimension to the box cake mix
How to Make Store-Bought Icing to Taste Homemade
8 oz package of cream cheese OR 8 oz container whipped cream
Choose either cream cheese or whipped cream to add to the mix. I usually prefer the cream cheese, especially with lighter frostings but the cool whip is great too and lighter on the calories!
Tips for Store Bought Icing Hacks
With the cream cheese mix well in a stand mixer (affiliate link) or using an electric mixer until light and fluffy, then add in premade frosting and continue to mix until blended.
If you are adding the whipped cream I suggest mixing your premade icing in the mixer first until fluffy then add the whipped cream and mixing until blended.
Do you have any hacks for store-bought cake mix or premade icing? I'd love to hear your methods in the comments and PLEASE let me know how you like my versions if you try them!