Homemade Kool Aid Playdough is easy to make and nontoxic-hours of fun for the kids! You'll never go back to store-bought once you try this easy recipe!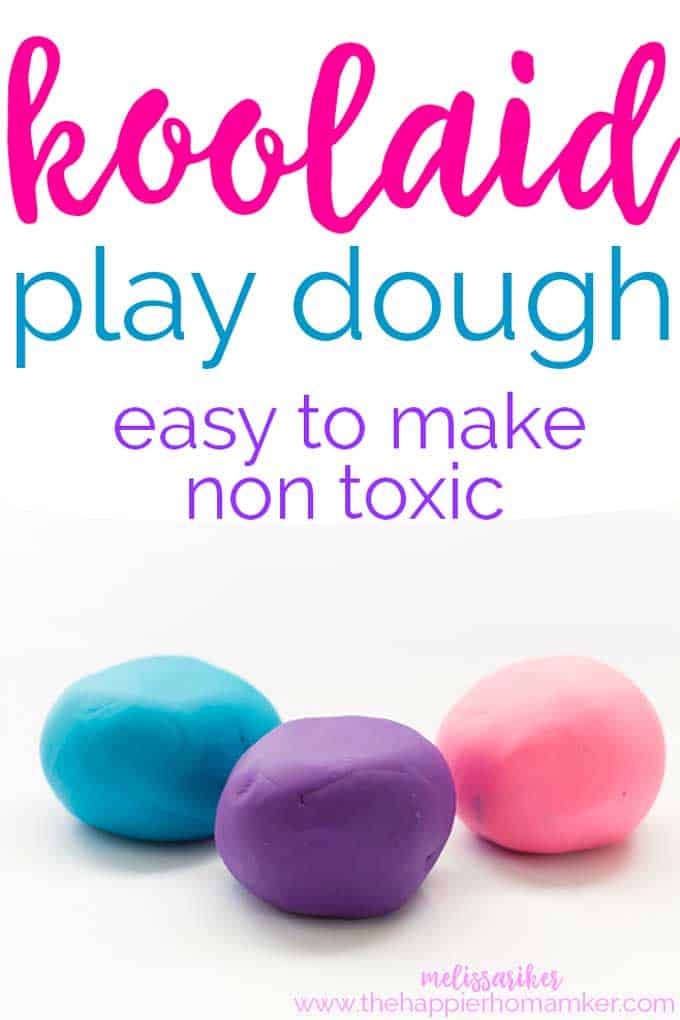 Pssst....I have a secret. Do you want to know how to occupy your kids for an hour without them looking at a screen.  Yes, it's possible. Simply ask them if they want to make this easy homemade Kool Aid playdough! That's what I did with my three boys last week when the rain wouldn't stop and it was a huge hit-it bought me tons of Mommy time while they joyfully made pizzas, snakes, etc and occupied themselves.  It was glorious!
Why I love homemade playdough
This Kool Aid playdough is very easy to make-the kids can help, just be careful of the heat and make sure they let it cool down a bit after you take it off the stove so no little hands get burned.
It's easy to switch the colors up by changing out Kool Aid flavors and you can get more intense coloring if you double up the Kool Aid as well.
It is nontoxic so no worrying if younger children eat a bit (not that my kids ever ate playdough!🙄😂)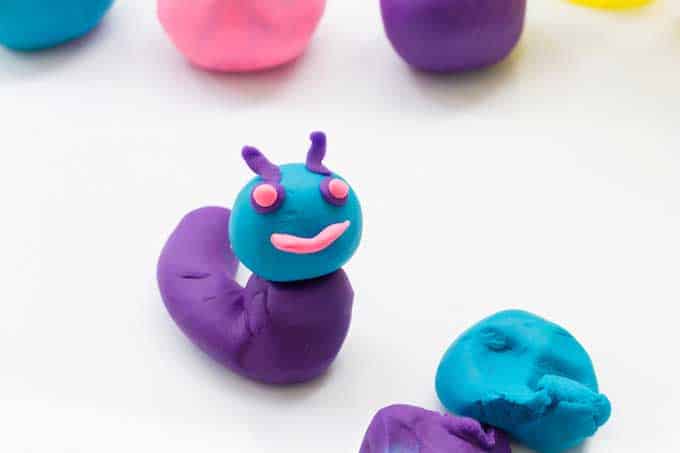 Ingredients
1 cup flour
¼ cup table salt
2 tablespoons cream of tartar-in the spice aisle
1 tablespoon vegetable oil
1 cup water
Kool Aid packet of your choice-use more than one packet for a more intense color
Instructions
Mix the all ingredients in a small pan. Heat over medium heat, stirring constantly.  When the playdough becomes a ball remove from heat and allow to cool.  Knead the dough until it's uniform. Store in an air tight container.
Tips
if you take your dough off the heat and realize it's too sticky simply pop it back in the pan for a few more minutes
the pan will be much easier to clean if you let it soak in water for about 10 minutes before cleaning-trust me on this one!
I have not found this to stain hands or surfaces (which was a big concern for me when I first tried it) but I can't say that I've tried all the different flavors of Kool Aid over the years so I recommend testing it first just to be on the safe side.
FAQs
How long does Kool Aid playdough last?
If stored in an airtight container in the refrigerator this playdough should last at least 2 months.
Can I make this without the cream of tartar?
In a pinch you can make this with baking soda but you will need to experiment to get the right texture. You can also try this no cook playdoh recipe without cream of tartar. (I have not personally used that recipe.)
If your kids like Kool Aid playdoh they might also really like this cool homemade slime (also called Non-Newtonian liquid-so you can get a bonus science lesson in!)