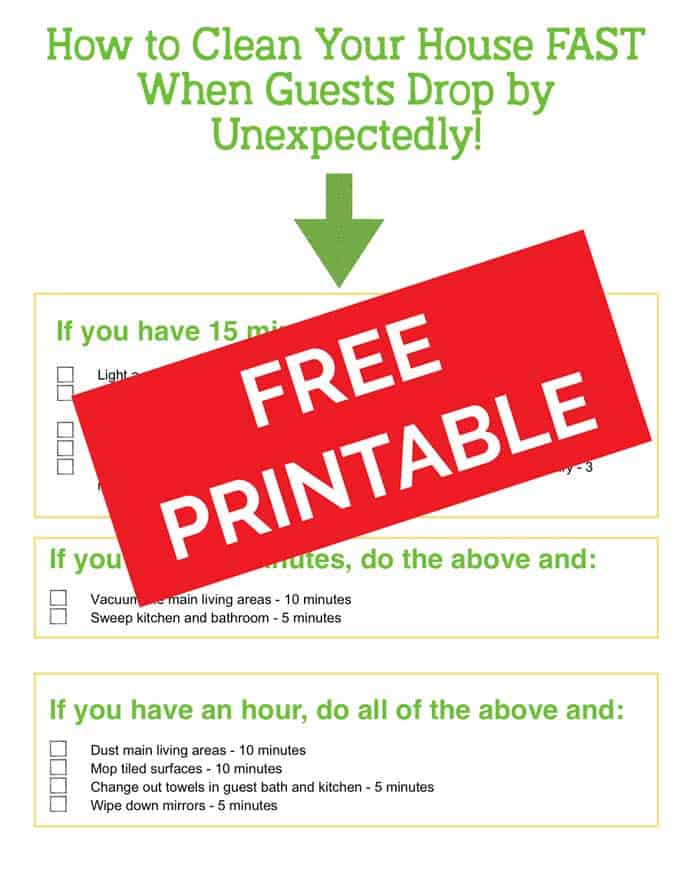 We've all been there-you get a text or a phone call from someone wanting to drop by with little notice. When you hear those words "I'll see you in 15 minutes" and you look around at the chaos your house is in it can be enough to make you break into a sweat. No worries-I have you covered-here's how to clean your house fast (or at least fake it) when you have guests drop by!
If you have 15 minutes:
Light a scented candle or turn on an oil diffuser – 1 minute
Grab a basket or bin and collect all clutter in the main living areas-stash it in a bedroom or closet – 5 minutes
Fluff living room pillows – 1 minute
Put dishes in dishwasher and give counters a quick wipe down – 5 minutes
Check guest bathroom for cleanliness, empty trash and wipe sink if necessary – 3 minutes
If you have 30 minutes, do the above and:
Vacuum the main living areas – 10 minutes
Sweep kitchen and bathroom – 5 minutes
If you have an hour, do all of the above and:
Dust main living areas – 10 minutes
Mop tiled surfaces – 10 minutes
Change out towels in guest bath and kitchen – 5 minutes
Wipe down mirrors – 5 minutes
If you have at least an hour you have time for a more thorough full house clean-check out my post on How to Clean Your House in an Hour here!
Click here to get a free printable version of this list!