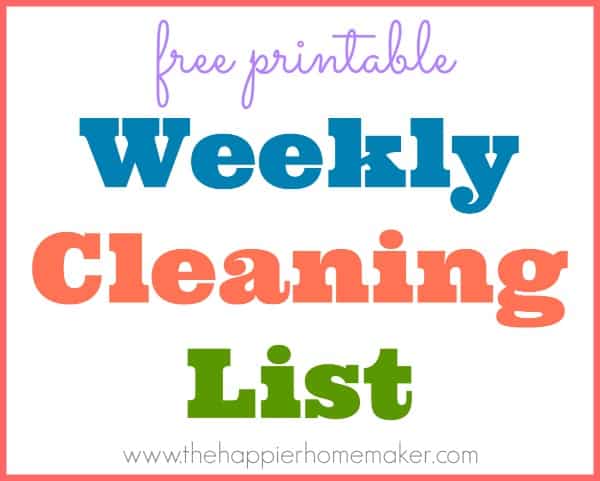 With three boys, three pets, and 3500 square feet to keep clean I absolutely could NOT survive without being organized when it comes to cleaning.  I tend to be easily distracted and I need a visual list to keep me on task and remind me what needs to get done (otherwise my bathrooms would never get cleaned!) I thought I'd share my routine with you all today after being asked about it a few times over on Facebook.
There are a few basic things that I do everyday:
Dishes
I cannot relax when there are dirty dishes on my counters.  Our sink is on a very large flat island in an open living area and I try my hardest to keep the island clear of clutter and dishes since it's such a prominent feature of the living space.  I try to rinse dishes throughout the day and load them in the dishwasher.  Then I run the dishwasher at bedtime and unload first thing in the morning as my tea is brewing.  It takes minimal time and prevents the build up of dirty dishes throughout the day.
Wiping Countertops
In the kitchen I wipe down the countertops at least once a day in the evening. This orange basil infused vinegar is great for this purpose!  In the bathrooms I keep Clorox wipes under each sink and give the counters and sinks a quick wipe down in the morning after my boys have gone to school.
Bedrooms
All beds get made first thing in the morning and clutter is put away in the evenings before bed. My boys are still young so they do their best to make their beds (with ample "reminding"-keeping it real here people!) and I straighten their beds a bit after they are off to school. They also have to tidy up the toys in their room before bedtime-this mama has stepped on a few too many Legos in the middle of the night so this is another must for our home!
Sweep/Vacuum Main Living Areas
I'm sure some people can get away with not having to do this everyday but the main living area of our home is all wood laminate-dark wood laminate.  It shows every speck of dust as well as the fact that our golden retriever sheds a chihuahua worth of hair every day.  I have to sweep the floors at least once a day or I will go insane!
After those basics get done everyday I have a few additional items to do each day of the week.
Monday
Monday morning I strip all the bed linens and put them in the wash first thing in the morning.  As soon as they are finished I remake the beds-it saves me the step of folding them! I am very adamant about cleaning the linens once a week-with skin shedding, mites, and other eebie-jeebie stuff it's one of my "things." I also do 1-2 loads of laundry to take care of the laundry that built up over the weekend.  It helps me to keep the buzzers on the washer and dryer on so I prompting switch out laundry and fold it as each load finishes throughout the day.
While laundry is the main effort of my Mondays I also take 15 minutes to do a thorough vacuum of the house including the bedrooms, hallways, and stairs.
Tuesday
Tuesdays are probably my least favorite days for cleaning-bathrooms! With 3 little boys you can imagine the horrors that await me in our bathrooms!  That being said, making sure it gets cleaned once a week does help keep things under control and therefore easier to clean and upkeep.  I already wipe down the counters daily so on Tuesdays I clean the toilets-including wiping down the exterior and around the bolts on the bottom, give the showers/bathtubs a quick scrub then sweep and mop the floors.  Our laundry room is tile so I include it when doing the floors of the bathrooms.
Wednesday
Wednesdays are an easy day on my schedule-I clean all the mirrors and glass in the house which usually takes only 15 minutes.  I also do one load of laundry if needed-my boys wear uniforms to school and my husband is in the Army so I usually need to refresh their uniform supply by mid-week!
Thursday
It's all about surfaces on Thursdays.  I dust all the wood furniture, picture frames, decor, and wipe down the cabinet fronts in the kitchen.  I also clean the interior of the microwave and wipe down the outside of the appliances in the kitchen-we have stainless steel so there are plenty of fingerprints to remove each week!
Friday
Finally Friday!  I prefer not to do a lot of cleaning on the weekend-just the daily maintenance tasks, so for me Friday is about preparing the house for the (hopefully fun and relaxing) weekend! I do 1-2 loads of laundry to start the weekend with all the clothes in the house clean.  I also do a full vacuuming just like I did on Monday.
I have read a ton of blogs with advice for cleaning and I really think it's a personal thing how you set up your cleaning schedule.  Many give the advice of doing one load of laundry per day and I know it works for some but for me it absolutely doesn't.  I hate folding laundry and could never motivate myself to do it each day-so I as you can see I consolidate mine into a few intensive laundry-focused days.  I've also had to adjust my schedule over the years as we've moved to different houses and our schedules change.  Make sure you do what works for you! If my schedule works for you then print your own printable list here.  If you'd prefer a blank list to fill in your own daily tasks, you can download one here.  Another helpful hint: I laminate my list so I can cross off tasks as I complete them and reuse the list week to week!
You can also find my printable Spring Cleaning List and Fall Cleaning List for more checklist goodness!!
Do you have trouble cleaning without a checklist like I do? What's your least favorite cleaning chore?