It is so easy to pan-fry shrimp on the stovetop! This step-by-step recipe and tutorial will show you exactly how to get perfectly cooked shrimp every time.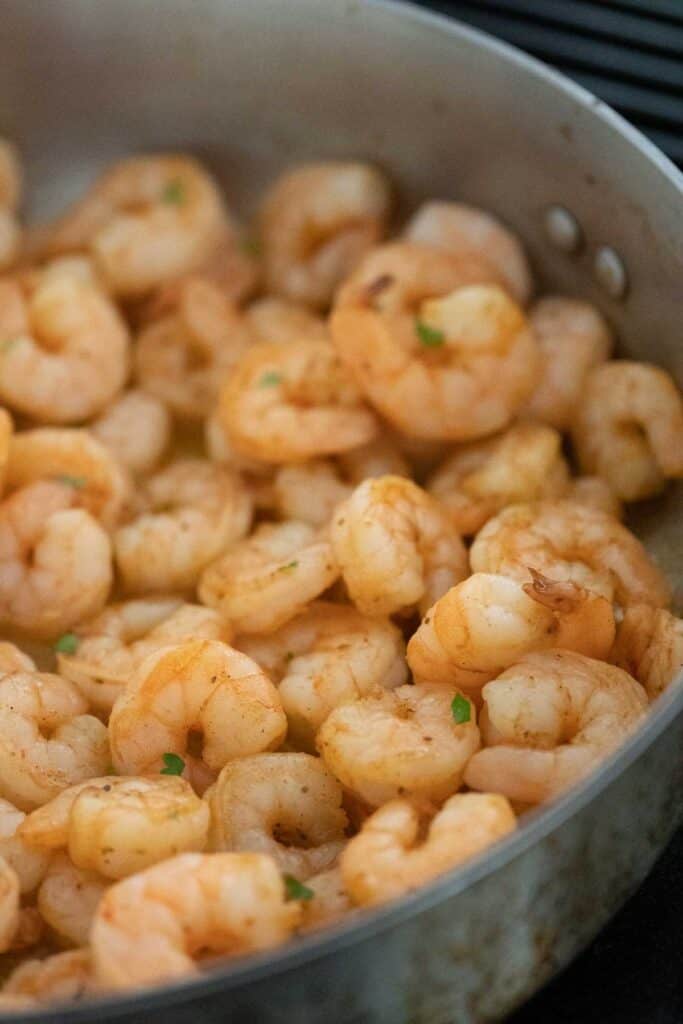 I love shrimp, they are plentiful where we live along the south Georgia coast so we generally enjoy them multiple times a month. While I usually tend to steam shrimp, it is easy to make them on the stove as well.
Are you hungry? Read on for all you need to know to make pan-fried shrimp on the stovetop!
How to choose shrimp
Unless you live literally within walking distance to the shrimp boat like we do, I highly recommend choosing frozen shrimp at the grocery store. Most shrimp is frozen right after it is caught so the seafood counter shrimp is highly likely to have been recently thawed.
If you are planning on cooking the shrimp the same day you are purchasing it, thawed is fine. Otherwise, buy frozen and thaw just before cooking.
How to thaw shrimp
While package instructions may say to thaw shrimp overnight in the refrigerator I generally like to thaw them using the cold water method. Place your frozen shrimp in a colander in the sink and run cold water over them for about 5 minutes.
When the shrimp are soft and flexible, they are thawed. It takes just a few minutes. (Be sure to use cold water, not hot, or you risk "cooking" them with the water.)
Step by step
Season the shrimp - I like Old Bay but you can use cajun seasoning, salt and pepper, Italian seasoning, or whatever you like to fit how you will be serving the shrimp.
Heat butter or olive oil over medium-high heat in a large skillet. Tilt the pan to thoroughly coat the bottom and make sure it's hot before adding the shrimp.
Add the shrimp to the pan and cook for 2-3 minutes per side. Shrimp are cooked through when they are firm and bright pink.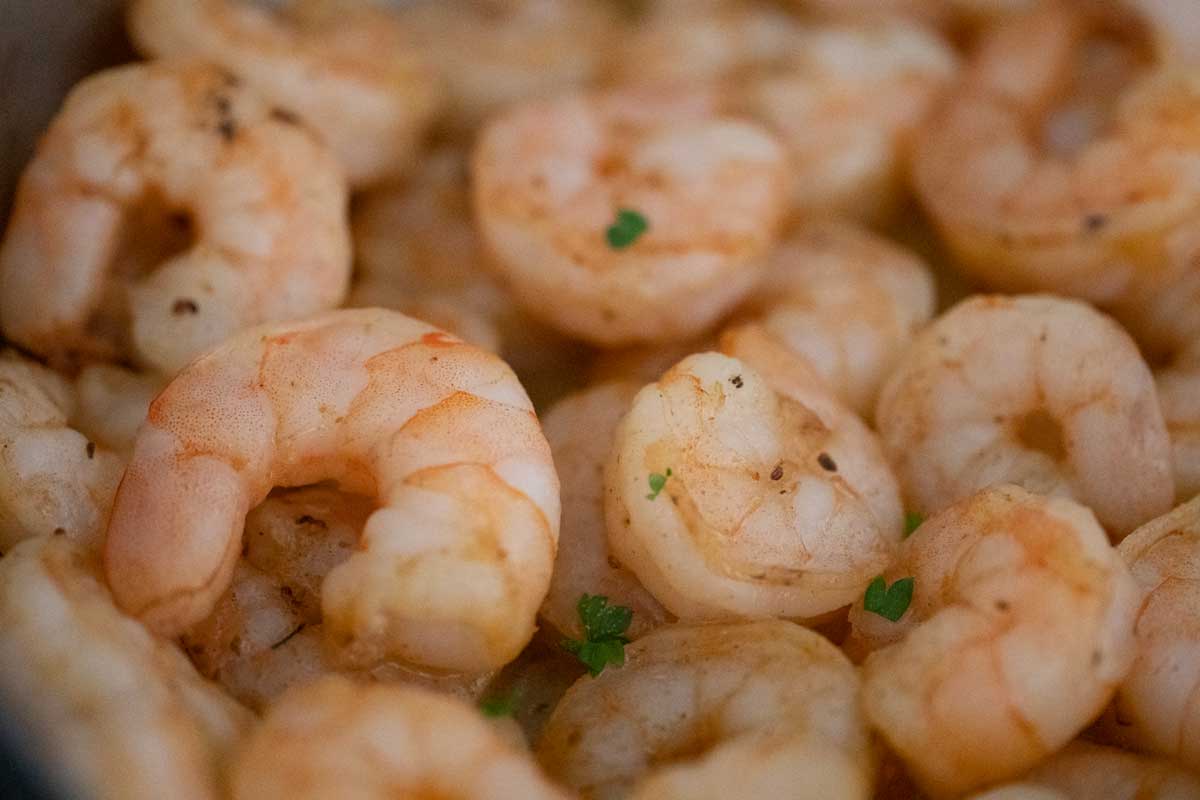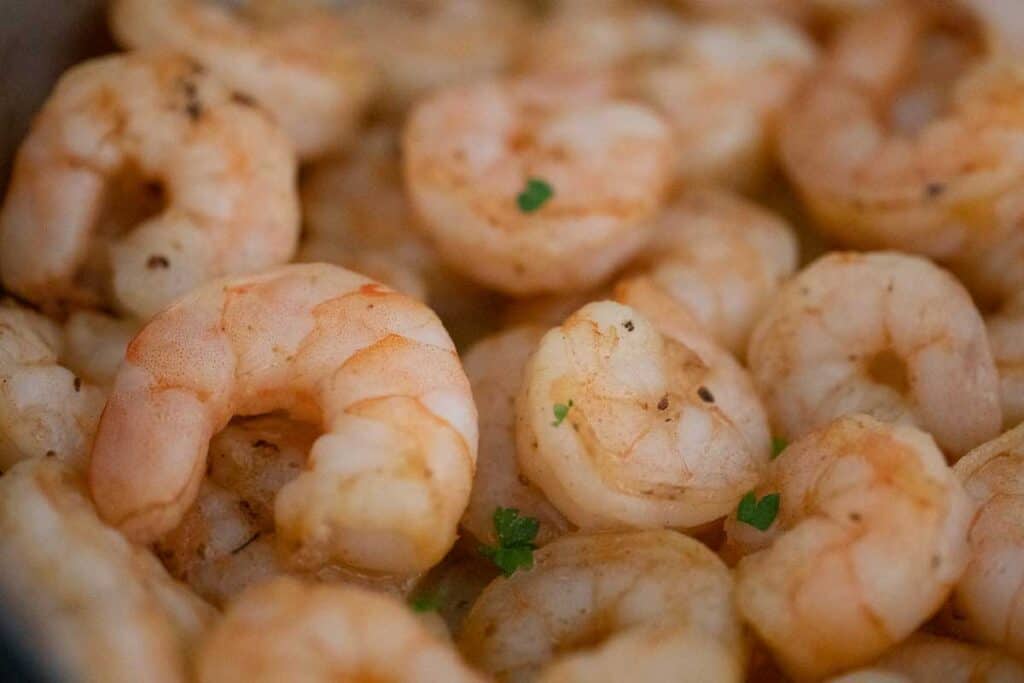 How to know when shrimp are done cooking
It is very easy to overcook shrimp. You can look at two things to determine when they are ready and prevent overcooking-the shape of the shrimp and the color.
Raw shrimp are grey and they turn pink as they cook. The tails (if they are tail-on shrimp) also get bright pink.
Raw shrimp are quite flexible and shaped like a "U." As they cook they firm up and take on a "C" shape. Once they are in the "C" shape they are done cooking and need to be removed from heat. Overcooked shrimp continue to contract and form a tight "O" shape.
Overcooked shrimp get rubbery so be sure to keep and eye on them as you cook and remember to remove them from the heat source once they are pink and form that "C" shape!
Serving suggestions
Serve these pan-fried shrimp over Caesar salad, with grits for Shrimp and Grits, with a Lowcountry Boil, with slow cooker rice and roasted vegetables, or chill and serve with cocktail sauce or remoulade sauce.
If you try this recipe please comment and rate it below, I love hearing from you!
Print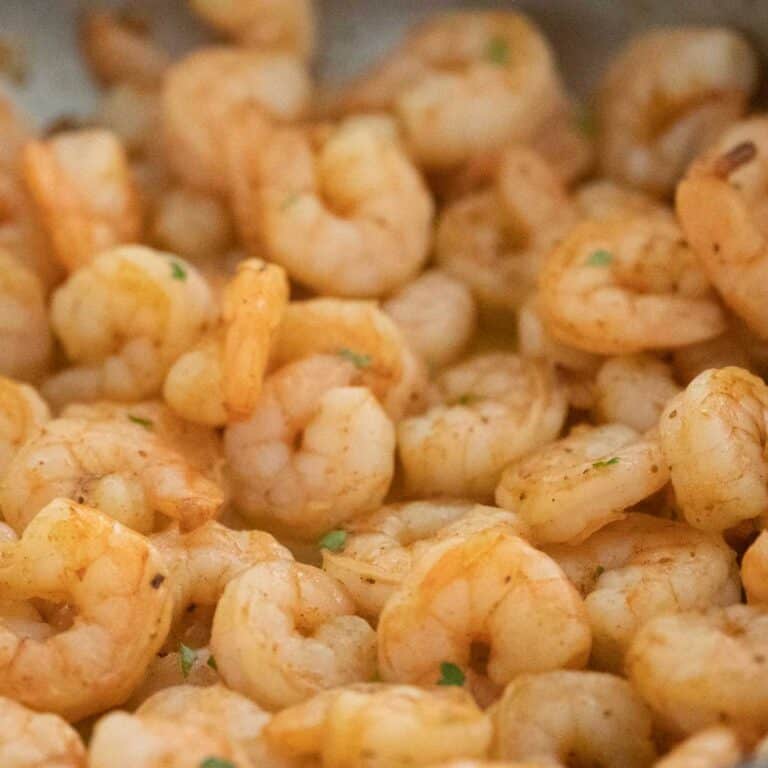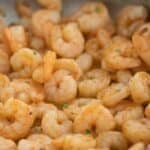 Pan Fried Shrimp
Author:

Melissa Riker

Prep Time:

5 minutes

Cook Time:

6 minutes

Total Time:

11 minutes

Yield:

4

1

x

Category:

main course

Method:

stovetop

Cuisine:

American
---
Description
It is so easy to pan-fry shrimp on the stovetop! This step-by-step recipe and tutorial will show you exactly how to get perfectly cooked shrimp every time.
---
1

pound

shrimp, defrosted and deveined

1 tablespoon

extra virgin olive oil or butter
seasoning of choice - Old Bay, Cajun seasoning, Italian seasoning, salt and pepper, etc
---
Instructions
Heat oil or butter in a large skillet over medium-high heat.
In a large bowl, toss shrimp and about 2 teaspoons of seasoning together to coat.
When skillet is hot, add the shrimp. Cook 2-3 minutes, then flip to the opposite side.
Cook an additional 2-3 minutes. Remove from heat and serve warm or chilled.
---
Notes
Shrimp are done when they are bright pink and shaped like a "C." Remove from heat once done cooking to prevent overcooking. Overcooked shrimp curl into a tight "O" shape and will be rubbery in texture.
Nutrition
Serving Size:
Calories:

126

Sugar:
Sodium:

134.9 mg

Fat:

4.1 g

Carbohydrates:

0 g

Fiber:
Protein:

22.8 g

Cholesterol:

182.5 mg