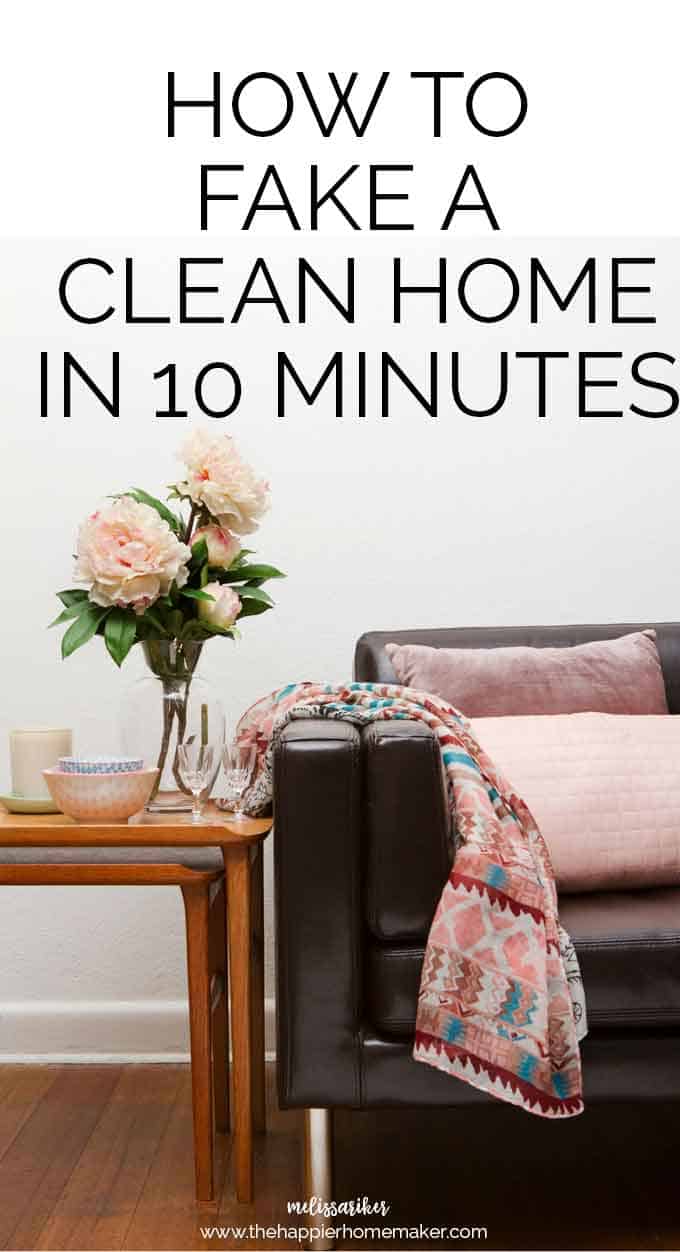 We've all been there-you get a phone call from someone who happens to "be in the neighborhood" and wants to stop by with just a few minutes notice. You panic as you look around your house and see it's a total wreck and wonder how you're going to avoid the embarrassment when your company arrives. Even the most organized of us get caught on bad days so today I want to share with you how to fake a clean house in just ten minutes. Remember these rules for the next time you need get your house ready for an unexpected guest!

Declutter
The first thing we're going to do to get the house in shape is to pick up the clutter. Grab a large basket or bin and take a quick walk through the living room, kitchen, and bathroom grabbing anything out of place and putting it in the bin. If you have an open floor plan go through all the immediately visible areas and do the same. We don't have time to organize here, just put it in the bin and tuck it into a bedroom or closet until after your guests leave!
Freshen Up!
Next light a scented candle (or if you love essential oils like me, start a diffuser.) If you have more than a few minutes you can also throw together a quick simmer pot on the stove like this one that makes your house smell amazing!
Bathroom Duty
This next step is one I have unfortunately learned from my own mistakes-grab some cleaning wipes and check out your guest bathroom. I once had a ladies night party and didn't realize until after all my guests had left that one of my young sons had left the toilet quite unpresentable. Very embarrassing! Check the potty and wipe down the surfaces quickly. Change the hand towel if necessary.
Hide the Dishes
Last step is the kitchen-clear the counter and if you have time, wash any dirty dishes or rinse and put in the dishwasher. At very worst just grab them and put them in the dishwasher in a stack until you can wash them after! We're in survival mode here!
If you have any time left you can give the house a quick vacuum but overall your home should look presentable after taking these quick steps.
Do you get unexpected guests often? What do you do if someone stops by with short notice?
(For tips on how to keep your home clean in 30 minutes a week see this post from my friend Angie at The Country Chic Cottage.)
You might also like these cleaning posts: