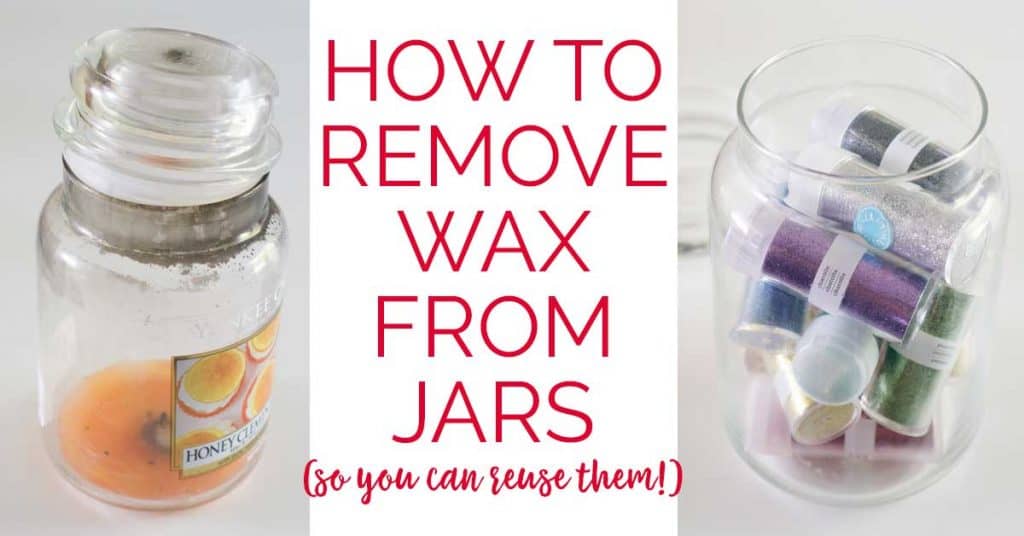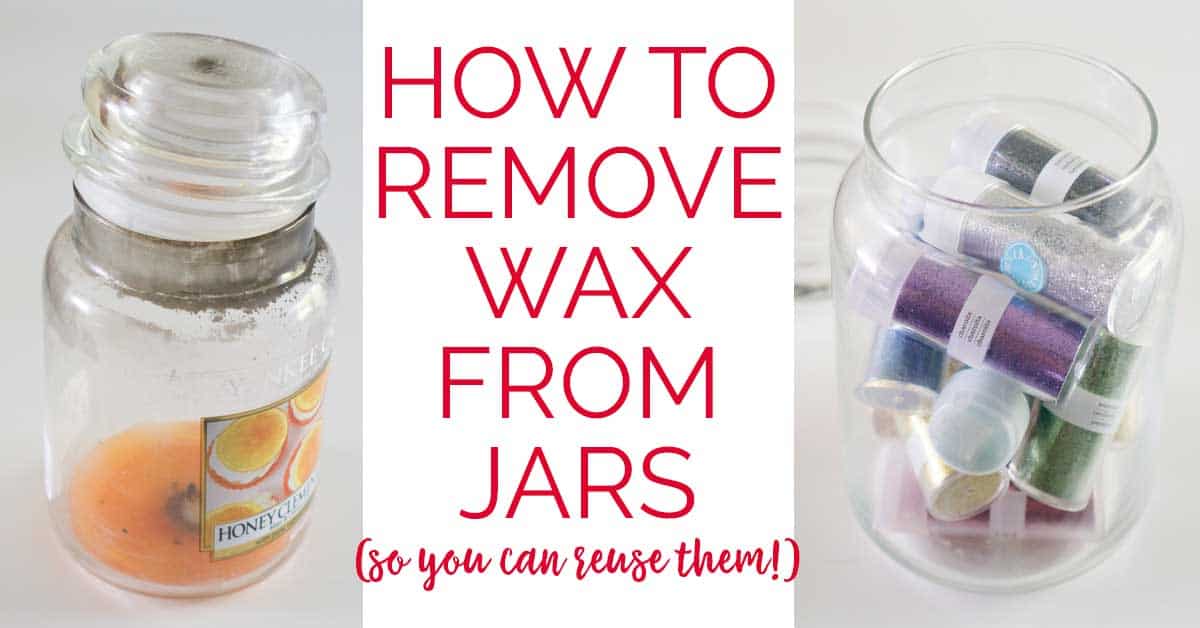 I love reusing candle jars for storage-especially in my craft room. They are perfect for holding everything from ribbon to glitter.
But how do you remove wax from old candle jars so you can reuse them?
I have a super easy tutorial to get those used candle jars sparkling clean for you today-it's easier and faster than you think!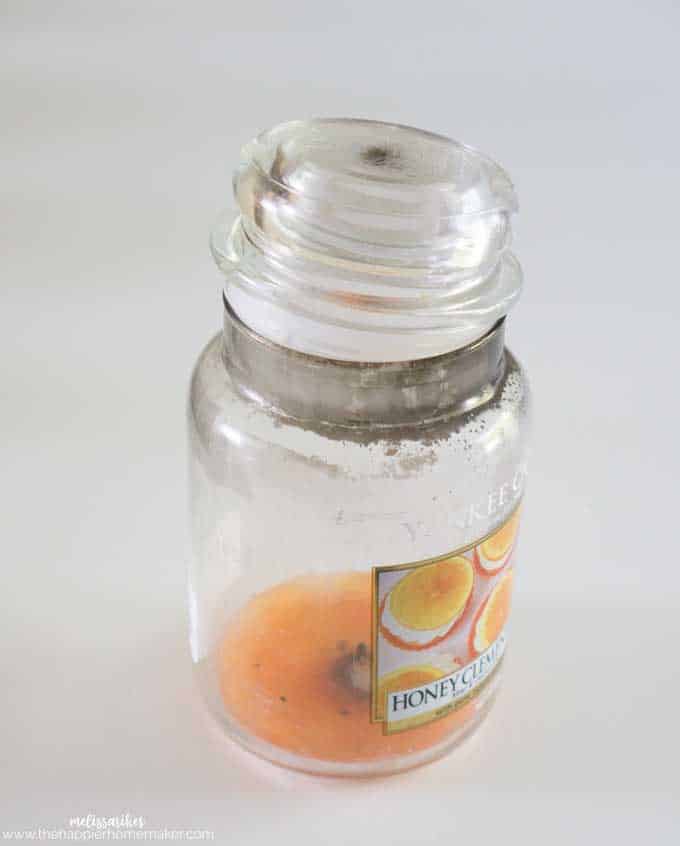 There are really three things we need to remedy so we can reuse old candle jars-the wax, any sooty buildup, and the labels. Luckily it's not hard to fix!
Supplies
butter knife (if you have a lot of wax left)
kettle or small sauce pan
dish detergent
sponge or paper towel
Step by step
Depending on how much wax is still on the bottom of the jar, first chip away at it with a butter knife to remove large chunks
Note: I didn't have to do this on this candle because not much wax is left-if you candle has a significant amount of wax and you skip this step you won't get good results, try to chip away the big portions the best you can.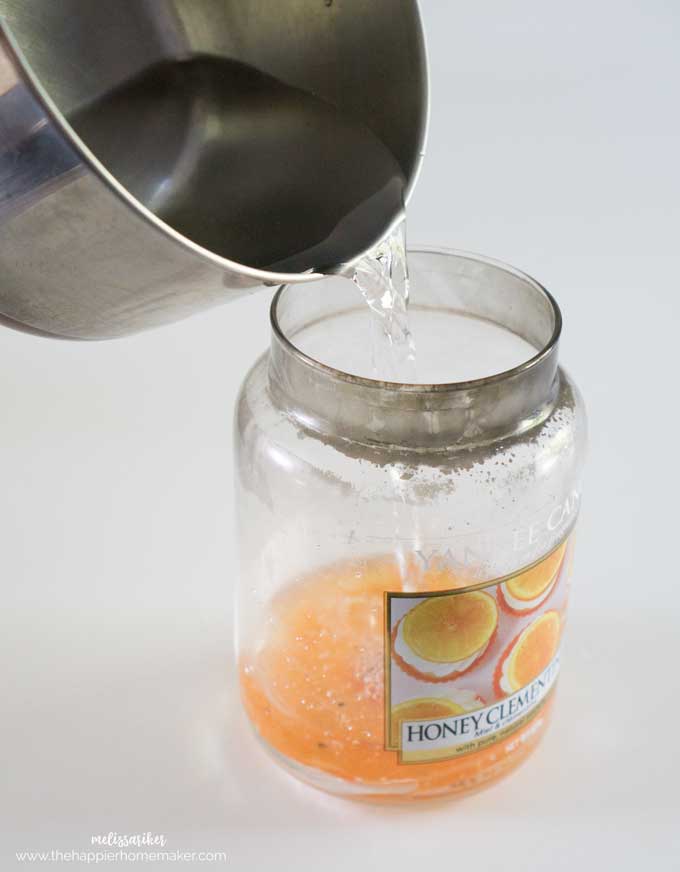 In a kettle or small sauce pan or pot bring about two cups of water to a boil on the stove(depending on the size of your jar.) CAREFULLY pour the boiling water into the jar and allow it to sit. The water will melt the wax and the wax will start to float to the top of the water surface.
Allow the water and wax to cool completely-you will end with a wax disc at the top of the water line.
Drain the water-if your jar is not tapered at the top the wax will come out easily, if your jar is tapered like my Yankee Candle jar you'll need to break the wax disc to remove it. The wick should be embedded in the wax disc or laying on the bottom of the jar.
Tip: pour the candle wax out over a strainer to ensure no small pieces of wax end up in your sink drain as it will clog it.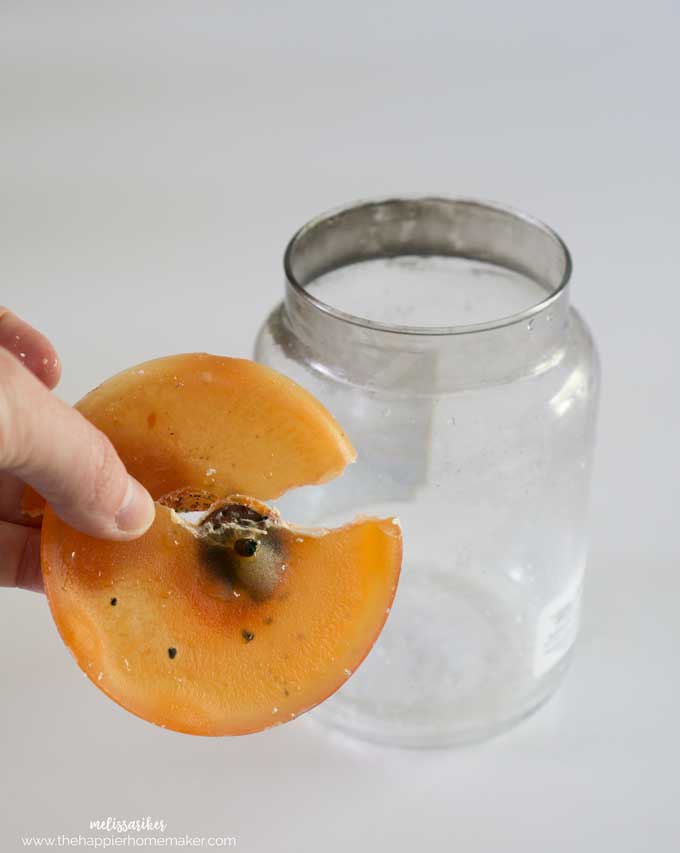 Too easy, right? Now for those labels and sooty buildup.
Fill a sink with very, very hot water and add in about a teaspoon of dish soap-I used Dawn brand.
Submerge your jar and allow to soak at least ten minutes.
Peel off labels and use a sponge or paper towel to remove the soot inside the jar-it should wipe off fairly easily. Any stubborn adhesive can be removed with store bought or Homemade Goo Gone.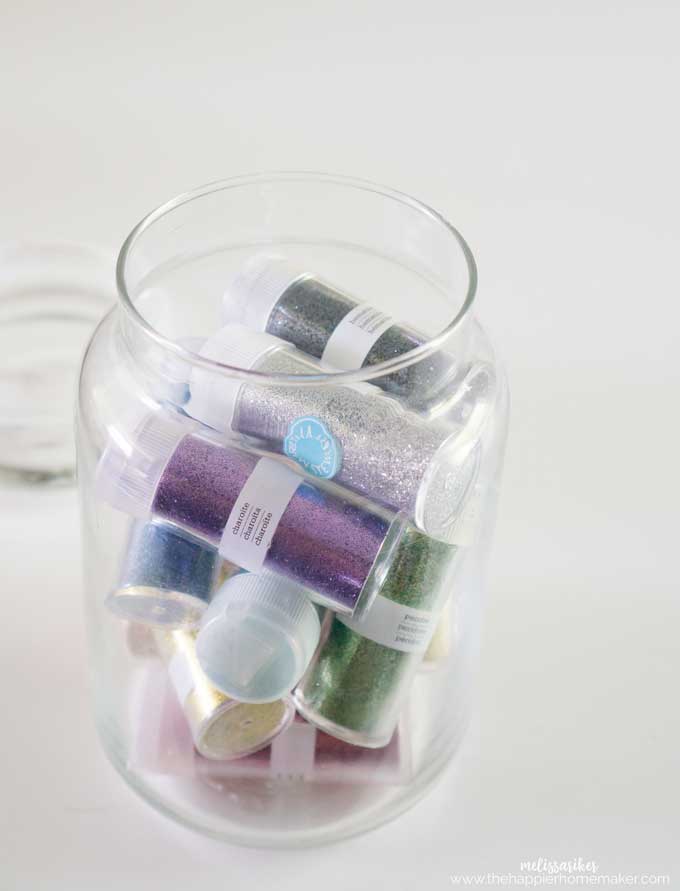 Other methods for removing wax from a jar
Freezer: Freeze the spent candle overnight and pop the wax out the next day-the wax shrinks in the freezer for easy removal. If it doesn't fall right out use a spoon or butter knife to push on one side to loosen it for removal.
Oven: For glass jars without decoration you can use your oven. Preheat to 200 degrees and line a baking sheet or baking pan with aluminum foil. Place candle jars upside down and place in the oven for 15 minutes or until the melted wax pools at the bottom. Remove candles from baking sheet to a heat-safe surface using an oven mitt and allow to cool completely before washing. The remaining wax can be thrown away with the foil. You can use this method with multiple candle jars at once.
Hair Dryer: Hold the candle jar with an oven mitt and use a hairdryer around the outside of the jar to melt the wax away from the edges of the candle until soft enough to pop out.
Heat Gun: Similar to the hair dryer method, you can use a heat gun to melt the edges of the candle wax away and allow you to remove the wax.
Rinse your jar and you're all done-wasn't it easier than you thought?
Ways to reuse empty candle jars
planters for succulents or other small plants
organizing office supplies or craft supplies
storing bath supplies like cotton balls or cotton swabs
vase for flowers
make new candles in your favorite scent like these cinnamon candles or these citronella candles
I hope you enjoyed this tip-click here for my entire collection of household tips and tricks!
Get Organized!
Sign up for my FREE 7 Day Organizing eCourse-exclusively for my subscribers!