This easy homemade Amish white bread recipe is simple enough for beginner bakers and tastes delicious! Serve this tasty from-scratch bread with Instant Pot Beef Stew, Broccoli Cheese Soup, or Slow Cooker Vegetable Soup for a complete meal.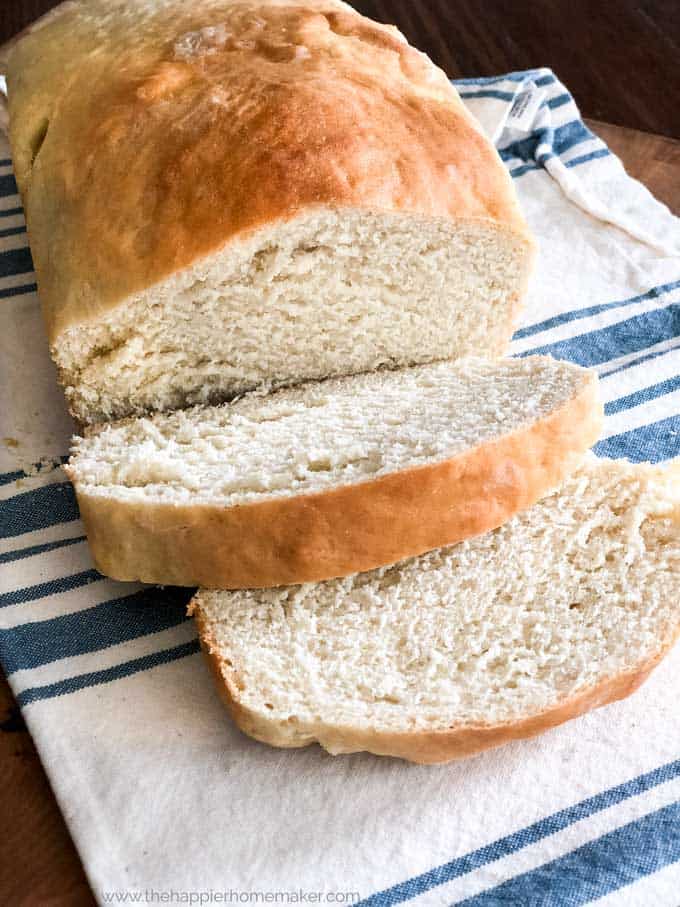 When we lived in England last year there was something about the food that I noticed that was quite different. In particular, no matter what kind of bread I bought there it would go moldy very quickly. (Produce too!)
I got in the habit of buying fresh bread at the bakery every two or three days rather than counting on a loaf lasting the week.
Why I bake my own white bread
When we moved back to the US I didn't think much of it until one day recently when I realized that we had the same packs of sandwich bread and hamburger buns on the kitchen counter for about three weeks and they never molded.
While that might sound like a good thing it made me seriously question what in the world was in that bread that kept it preserved for that long and whatever it was, did I really want to be feeding it to my kids?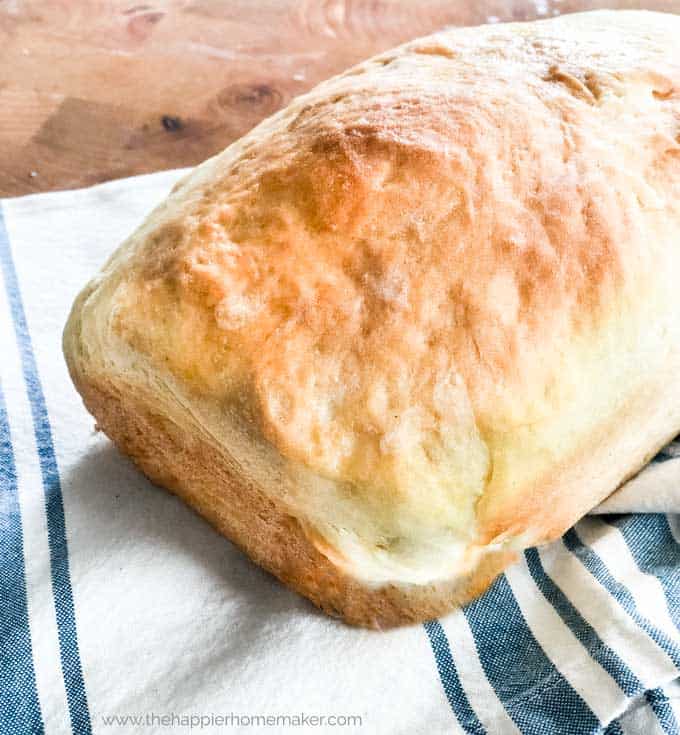 Right then and there I decided to make my own bread instead of buying it. I used to make bread all the time but as we added to our family and got busier I got away from it.
No longer!
Making bread sounds complicated to a lot of people but in reality, it's not hard at all. You do need to allow time for the dough to rise twice but the actual active prep time is less than 30 minutes.
This is one of my favorite easy homemade sandwich bread recipes. I've heard it called Amish bread, Amish Sweet bread, or Amish butter bread...I have no idea if it's an actual Amish recipe so please forgive my ignorance on its origin, I received the recipe from a friend when I was pregnant with my oldest son about 12 years ago and it's been a favorite ever since.
Why I love this recipe
This is a great beginner recipe for making your own bread. Yeast breads get a bad rap for being complicated but this homemade sandwich bread takes less than a half hour of mixing/kneading time and it is virtually fail-proof.
This recipe also makes two loaves so you can share them with a friend or freeze the extra loaf if you won't need it right away.
Ingredients
yeast
warm (not hot) water
sugar
salt
vegetable oil
flour
butter to coat the top (optional but recommended!)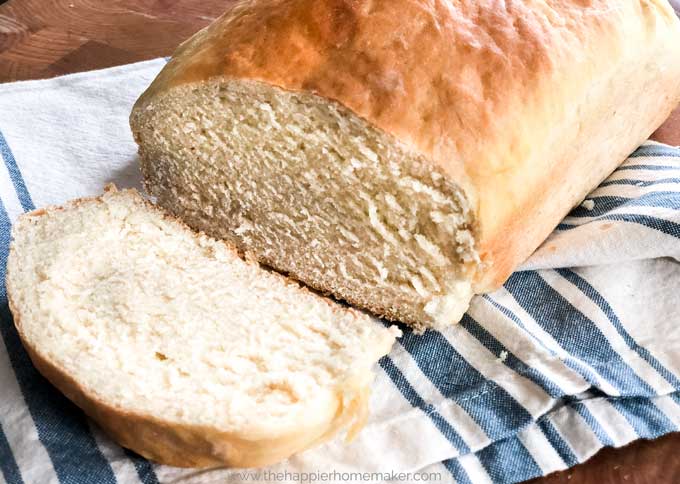 Step by step
It's so easy you can't go wrong, even my kids can make it with minimal supervision.
Spray a large bowl with nonstick spray, this is where your dough will rise.
Combine the warm water, sugar, and yeast and allow the yeast to do its work getting all frothy for about 15 minutes.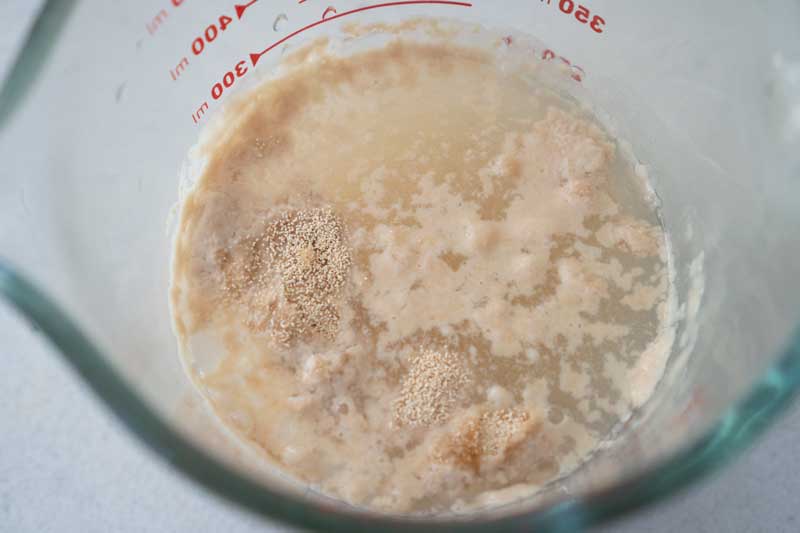 Next, we make dough! Attach a dough hook to your mixer and add the oil and salt. Start adding the flour a little at a time as you run the mixer.
When all the flour is added and the dough is pulling away from the side transfer it to a floured surface and knead it for 1-2 minutes.
Place the dough in the bowl you prepped and cover loosely with cling wrap and let it rise for an hour.
After an hour has passed, you'll see that the dough has about doubled in size. Give it a little punch to release the built-up air, then divide it in half.
Grease two loaf pans and put half of the dough in each one.
Cover again with plastic wrap and let it rise for another hour.
After the hour remove the cling wrap and bake for 30 minutes.
As soon as you remove it from the oven, brush the loaf with melted butter (optional but HIGHLY recommended!)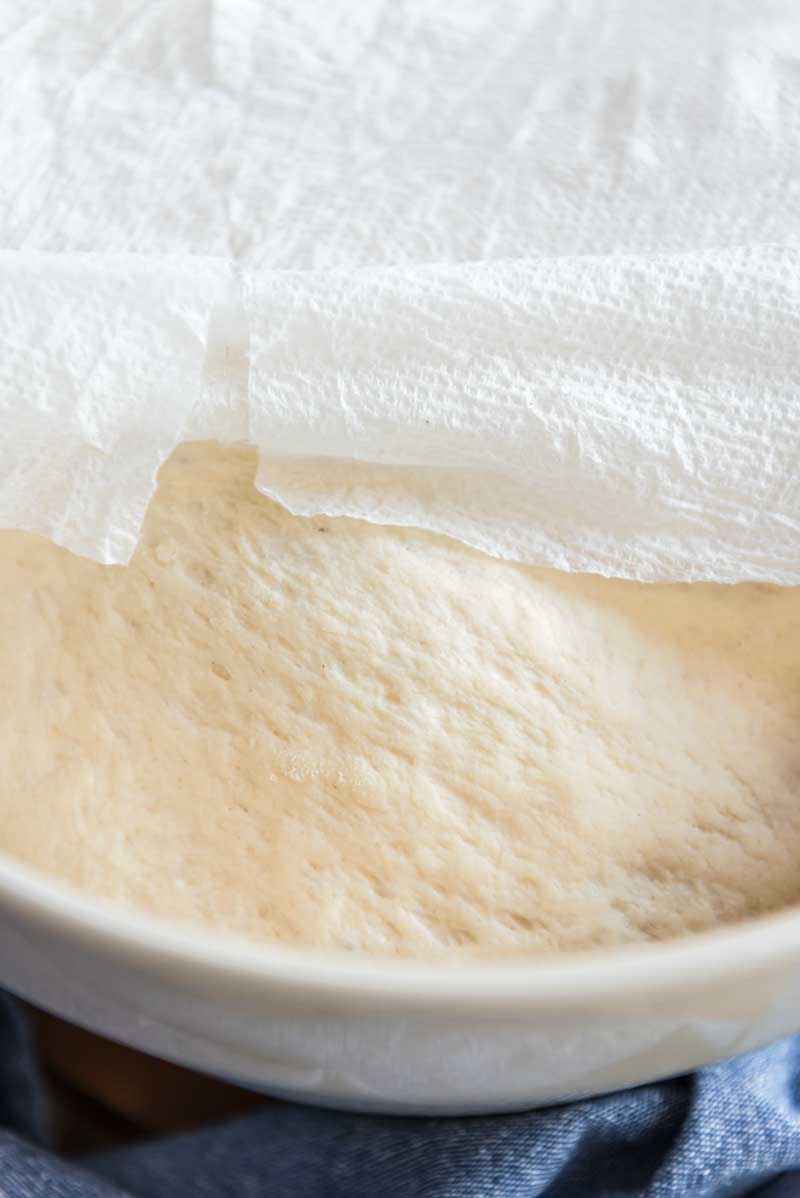 That's it! Fresh homemade white bread!
Tips for best results
If your yeast and warm water mixture does not get frothy then it is either old or your water was too hot and killed it. Check the expiration date, if the yeast is not expired try again with warm, not hot, water (about 110 degrees Fahrenheit.)
Yeast needs warmth to work its magic so make sure the bread is set in a warm spot during the rising time. If your house is very cold you can preheat the oven on its lowest setting for 10 minutes then turn it off and allow the bread to rise in the oven (don't forget about it!)
Serving suggestions
I like this bread sliced with homemade garlic butter or toasted up into Texas Toast with dinner. It's sweet, buttery, and dense...my mouth is already watering!
Storage
Wrap the loaves in a dish towel as they cool to help keep the moisture in the bread and keep the bread soft. Store in an airtight container for up to 3-4 days.
Freezing: This bread freezes well. Allow the loaf to cool completely then wrap in 2-3 layers of plastic wrap and place it in a freezer bag. Freeze for up to 3 months. thaw at room temperature overnight.
You might also like these other bread recipes like Amish Friendship Bread, Homemade Naan, Cheddar Zucchini Bread, or my favorite Apple Cinnamon Bread!
If you try this recipe please comment and rate it below, I love hearing from you!
Print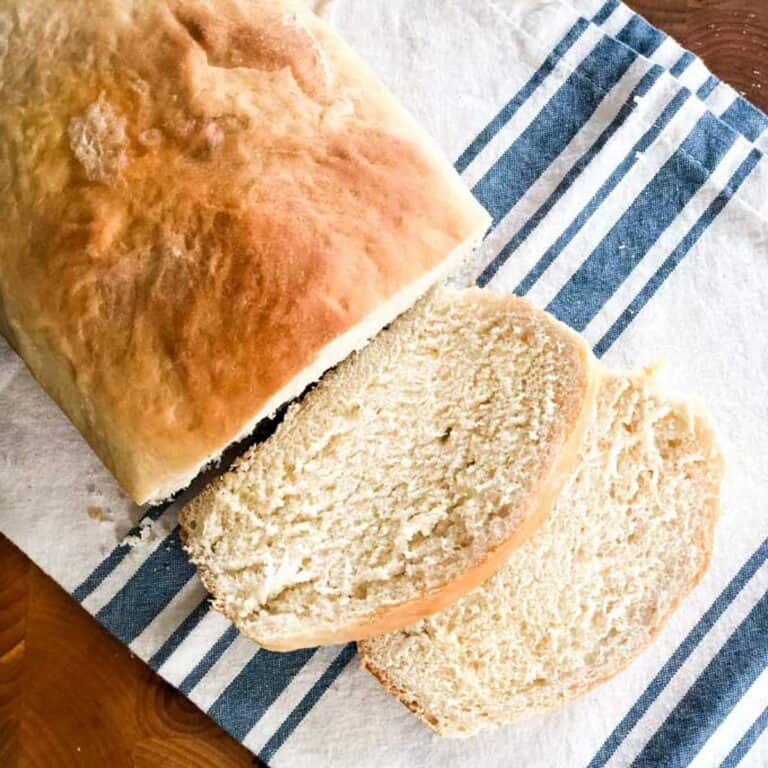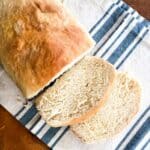 Easy Homemade White Bread
Author:

Melissa Riker

Prep Time:

2 hours 30 minutes

Cook Time:

30 minutes

Total Time:

3 hours

Yield:

1

0

1

x

Category:

bread

Method:

baking

Cuisine:

American
---
Description
This easy homemade white bread recipe is simple enough for beginner bakers and tastes delicious!
---
1 ½ tablespoon

yeast

2

cups

warm (not hot) water

⅔

cup

granulated sugar

1 ½ teaspoon

salt

¼

cup

vegetable oil

6

cups

flour

2 tablespoons

butter to coat top (optional but recommended!)
---
Instructions
Spray a large bowl generously with nonstick spray. Set aside.
In a large stand mixer (affiliate link) bowl combine water and sugar. Add yeast and allow to sit for 15minutess or until frothy.
Add oil and salt and set mixer on low speed with dough hook. Slowly add flour a cup at a time.
When all flour is added and dough is pulling away from the sides of the bowl transfer dough to a floured surface and knead lightly for 1-2 minutes.
Transfer dough to greased bowl and flip it over to coat lightly with nonstick spray. Cover loosely with cling wrap and let rise for one hour.
Punch dough to release air and divide in half.
Grease two loaf pans (I use these that are 9" by 5") and place half dough in each and again cover loosely with cling wrap for an additional hour.
Preheat oven to 350 degrees.
Remove cling wrap and bake bread for 30 minutes or until the top is golden brown.
Remove from oven and brush top with melted butter if desired. Let cool 15 minutes before removing to wire rack.
---
Notes
Keep dough away from drafts when allowing it to rise.
I store this bread in the refrigerator for up to a week to make it last longer. On the counter I keep it 2-3 days.
To freeze wrap in plastic wrap and store in a freezer bag. Freeze for up to 3 months. Thaw at room temperature overnight.
Nutrition
Serving Size:
Calories:

178

Sugar:

6.8 g

Sodium:

12.3 mg

Fat:

4.2 g

Trans Fat:
Carbohydrates:

32.7 g

Protein:

4.9 g

Cholesterol:

0 mg
Keywords: homemade white bread
Want more great recipes?
Join our community of over 20,000 everyday cooks and I'll send you an eCookbook with 13 of my favorite desserts as a welcome gift!