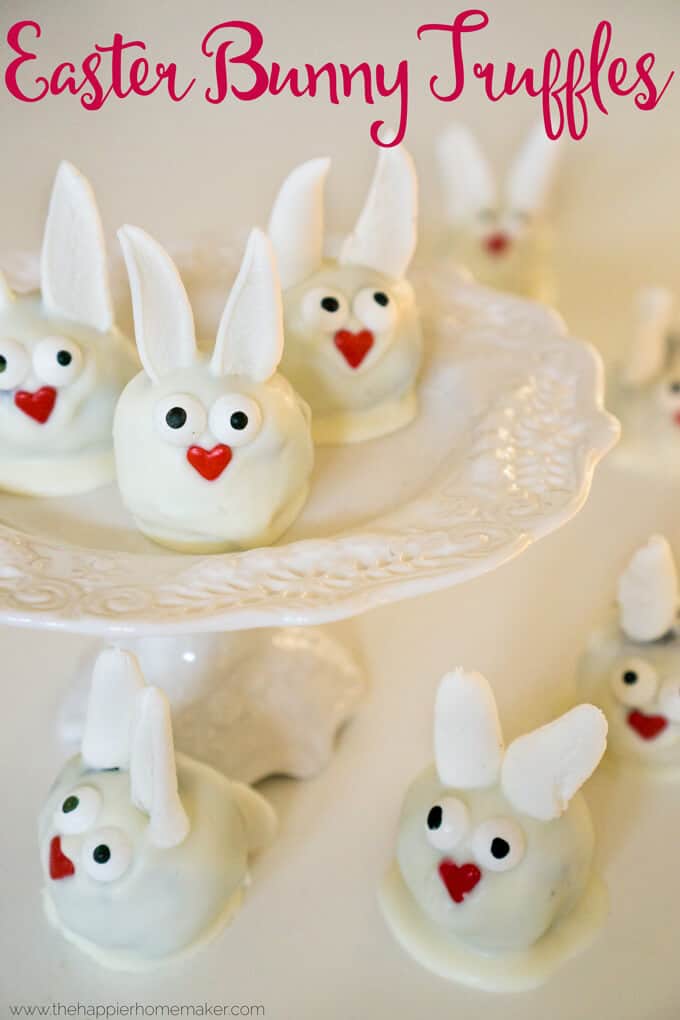 I couldn't let Easter pass by without sharing one more fun easter dessert! These cutie-patootie Easter Bunny Truffles are deceptively easy and I can guarantee they'll put a smile on anyone's face! (I was inspired by these truffles from One Sweet Appetite.) I even made you a little video showing how to make them:
Ingredients:
1 package OREO cookies
8 oz cream cheese, softened
large marshmallows
miniature marshmallows
Instructions:
In a food processor, pulse OREOs until finely crumbed. Mix cookie crumbs and softened cream cheese until uniform. Refrigerate mixture for 20 minutes. Roll cookie mixture into 1" balls and place on plate. Place in freezer for additional 20 minutes to harden. Prepare your decorations- gather eyes, heart (noses), mini marshmallow (tails), and use a knife to slice small wedges from the sides of large marshmallows to create the ears. Melt candy melts according to package instructions. Use a toothpick to dip truffles in melted candy to coat. Place on wax paper lined tray. Allow the candy to cool for just a moment then add decorations. Allow to completely harden before serving.
*Hint-the first few bunnies may be a little wonky as you get used to the process-it took me 3-4 to get good looking ones so consider them practice and enjoy chomping on them!*
Fun right? The biggest tip I had was to rotate your large marshmallows so that the wedges you cut for ears have the maximum amount of outer marshmallow "edge" to them so they aren't as sticky-it makes a huge difference in handling the ears and putting them on the truffle!
If you want more Easter Bunny projects, check out these felt Easter Bunnies, my DIY Pottery Barn-inspired Easter Bunny Banner, and these cute Easter Bunny Tail Gift Bags.
I hope you like this little idea, you might also like these other Easter ideas: