Deviled eggs are a classic party appetizer that never fails to please a hungry crowd, but when it comes to what to serve with deviled eggs, you might be left wondering. With their creamy centers and tangy flavors, deviled eggs are a go-to dish for a special occasion. As tasty as they are, it's always a good idea to have some other dishes to complement them.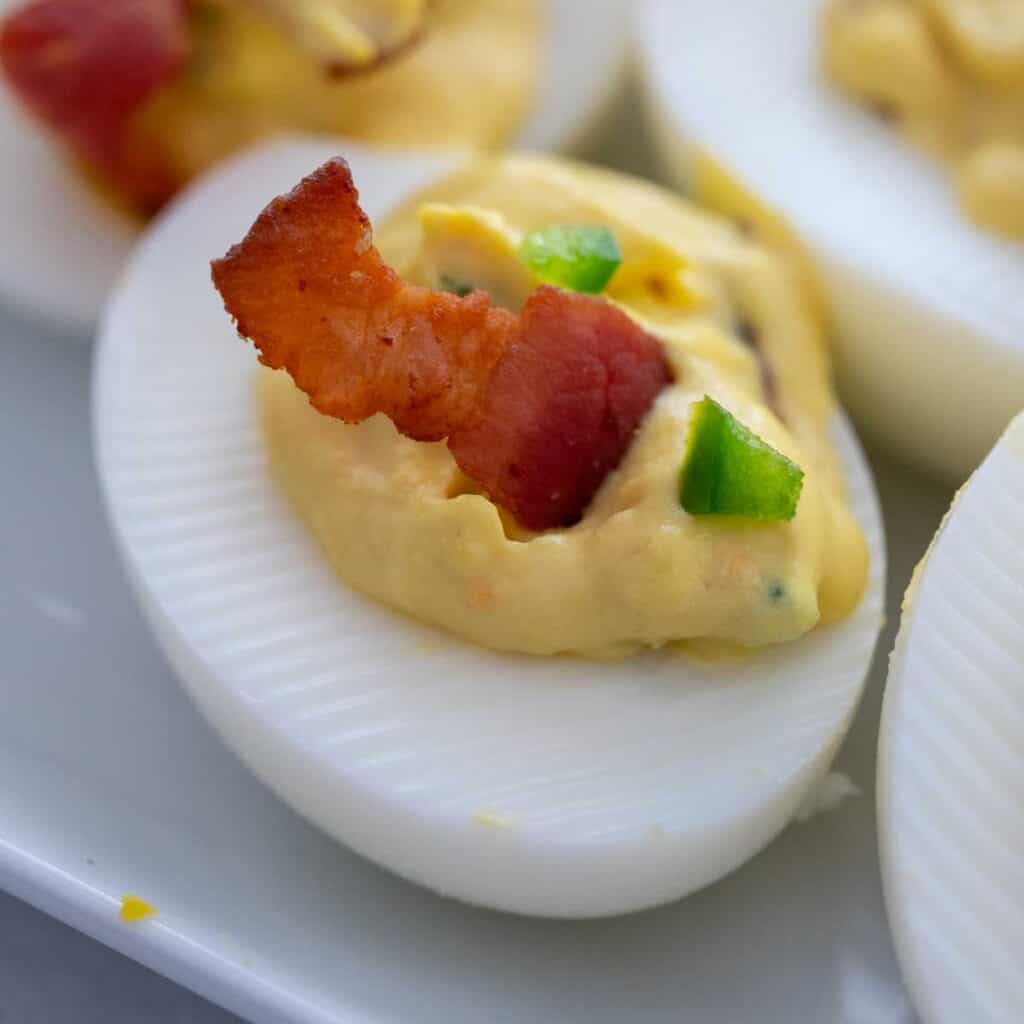 If you're wondering what to serve with this classic appetizer, look no further. We have some delicious and easy options to pair with your deviled eggs. From savory to sweet, you'll have a delicious spread planned in no time.
What are Deviled Eggs?
Creamy deviled eggs are a classic recipe that's made with simple ingredients and just a few easy steps! They're hard-boiled eggs that have been halved and the egg yolks removed. Then the egg whites are filled with a mixture of egg yolks, mayonnaise, mustard, and other seasonings, and can be garnished with herbs, spices, or other toppings. They are usually served cold, which makes them a refreshing and tasty choice for gatherings, parties, or as a light snack.
What to Serve With Deviled Eggs
Spicy jalapeno peppers filled with cream cheese, wrapped in crispy bacon, and baked until golden brown. These are a great choice if you want to have a mix of hot and cold dishes.
2. Caprese Salad Skewers with Cherry Tomatoes, Mozzarella, and Basil
Fresh mozzarella cheese, cherry tomatoes and fresh basil leaves skewered and drizzled with balsamic glaze. I think this is one of the best sides or appetizers for any occasion because they're so easy to make and so easy to eat with your hands. 
For a sweeter twist try blueberry caprese skewers as well.
Sweet and juicy cantaloupe wrapped in thin slices of prosciutto. Use toothpicks to make them easy to eat with your fingers.
For heartier appetizer options, these deliciously crispy crab cakes served with a tangy and spicy remoulade sauce will be a huge hit. They work for any occasion at any time of day, but they're great for a dinner party.
Marinated shrimp grilled to perfection and served on skewers with a zesty citrus flavor. This flavor is a perfect combination with the tangy flavor of the creamy eggs.
6. Bruschetta Topped with Diced Tomatoes and Fresh Herbs
Sliced baguette toasted and topped with a mixture of diced tomatoes, garlic, basil, and olive oil. Bruschetta is the perfect accompaniment for any appetizer spread.
Creamy and cheesy mac and cheese coated in crispy breadcrumbs and fried until golden and crispy. Make these for your next party and they'll be requested from now on!
8. Vegetable Crudités with Ranch Dip
Assorted raw vegetables such as carrots, celery, and bell peppers served with a creamy ranch dip. This is another one of my favorite appetizers because I like a balance or cooked dishes and raw dishes. It gives variety and also reduces the workload of prepping for a get-together.
Warm, gooey brie cheese topped with sweet fig jam, served with crackers for dipping. The flavor of this appetizer will be a nice contrast to your other appetizer flavors. This will be a really big hit!
Creamy and cheesy dip made with spinach, artichokes, and spices, served with crispy pita chips. This is a great appetizer whether you make it homemade or serve store-bought.
Grilled chicken skewers marinated in a tasty blend of spices and served with a rich and flavorful peanut sauce.
Juicy mushrooms stuffed with a flavorful mixture of sausage, cream cheese, and herbs.
Thinly sliced green tomatoes coated in a crispy batter and served with a spicy garlic aioli for dipping.
14. Cheese and Charcuterie Platter
A selection of cheeses, cured meats, crackers, and fruit, perfect for sharing and snacking on.
Fresh cucumber rounds topped with creamy dill cream cheese and thin slices of smoked salmon.
16. Potato Salad
A classic side dish made with boiled potatoes, mayonnaise, and herbs, perfect for a summer get-together. For the best of both worlds try this deviled egg potato salad.
Refreshing salad made with cooked pasta, vegetables, and a light dressing, great for a light appetizer or side dish.
Soft and fluffy rolls stuffed with cheese and baked until golden brown, a yummy addition to any appetizer spread.
19. Fresh Fruit
A colorful platter of fresh fruits such as strawberries, blueberries, and grapes, is perfect for balancing out savory appetizers and a great option to keep cooking time down a little bit.
Creamy and delicious salad made with boiled eggs, mayonnaise, and spices, served with crackers or as a mini finger sandwich filling.
Artichoke dip is a tasty appetizer perfect for serving alongside deviled eggs. Prep it beforehand and serve it up hot with tortilla chips or pita chips.