Need inspiration and ideas of what to eat with salsa verde? These 15 delicious recipes are the perfect creative ways to use salsa verde.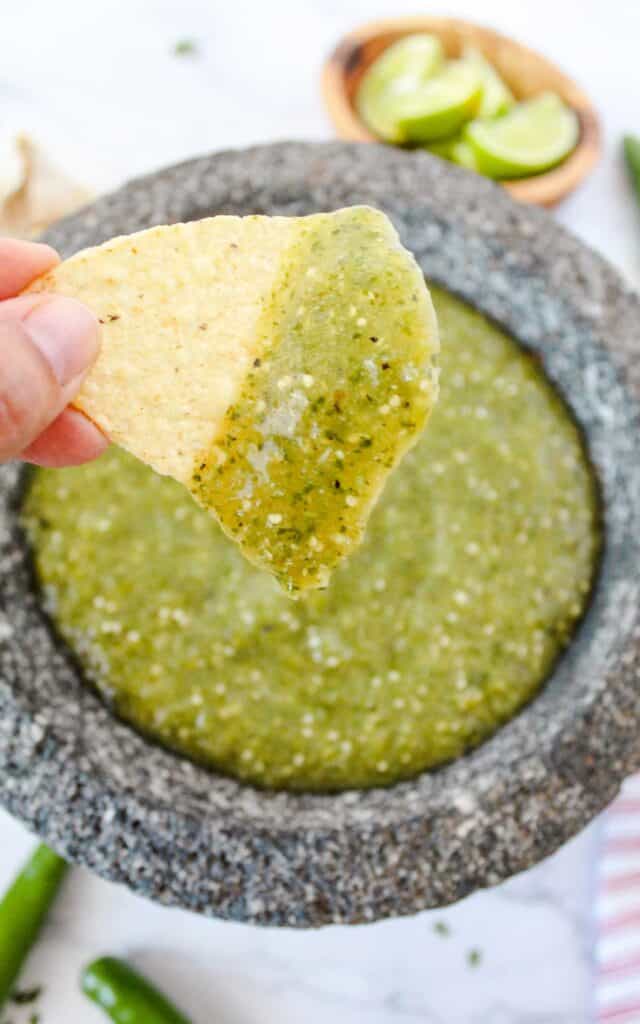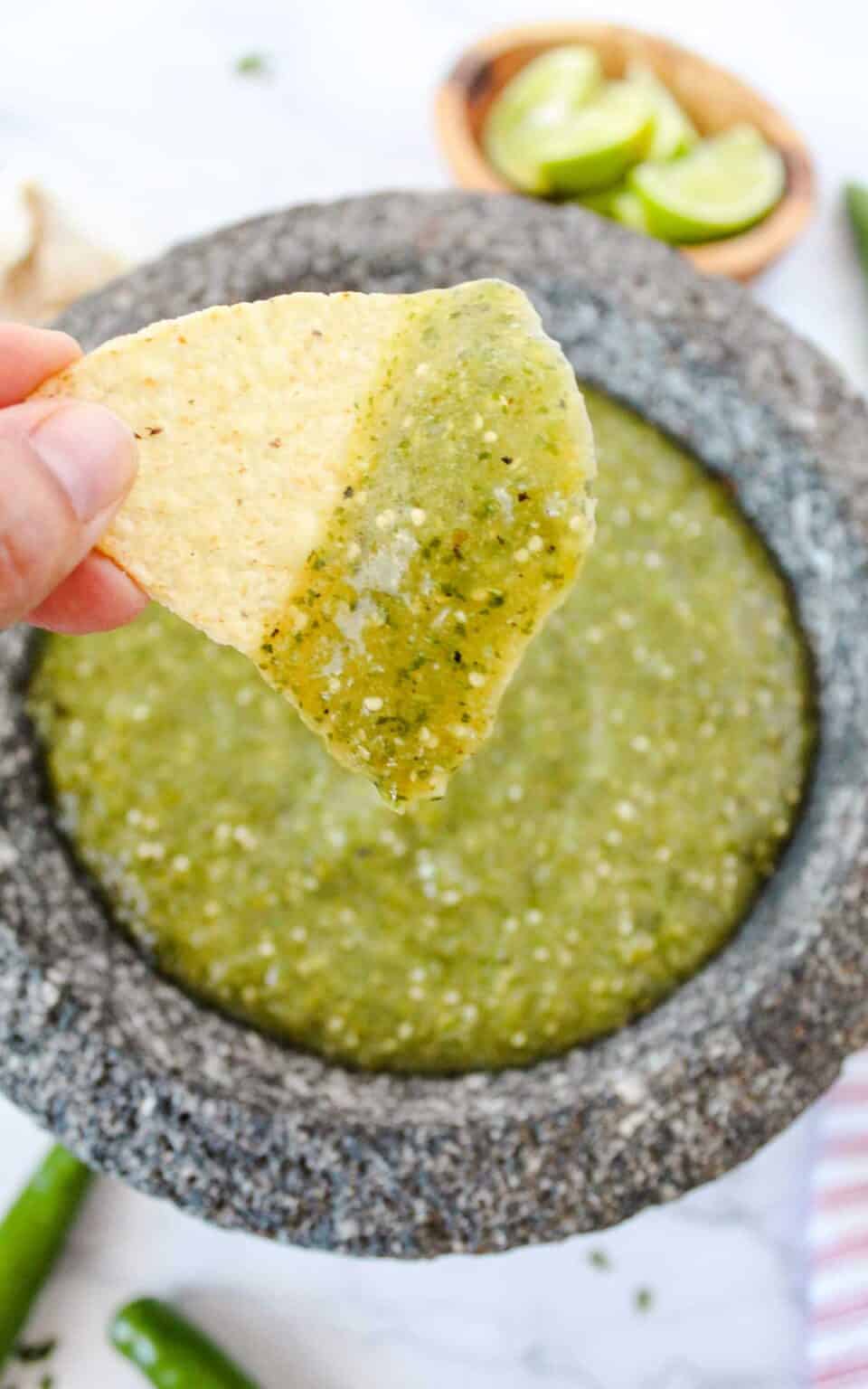 Salsa verde is a spicy and bold condiment that has become a staple of southwestern cuisine. This green salsa is made with tomatillos (small green tomatoes), jalapeño peppers, fresh herbs, and other flavorful components, which give it its unique and delicious flavor.
While fish tacos and tortilla chips are always great options, there are plenty of other tasty dishes to enjoy with this popular condiment. Here are some creative and delicious dishes that pair perfectly with salsa verde.
What to Eat With Salsa Verde
Whether you make a homemade salsa verde recipe or buy some at the store, there are plenty of ways to use this salsa.
This classic dish pairs perfectly with the spicy flavor of a green sauce like salsa verde for some extra, healthy flavor!
2. Baked Sweet Potato Fries
Crispy baked sweet potato fries are a great vehicle for scooping up some salsa verde made from tangy tomatillos for a delicious crunchy treat!
3. Grilled Fish Fillets
The citrusy flavors of salsa verde really bring out the delicate flavors of a grilled whitefish fillet. Just spoon the salsa right on top and pair will cilantro lime rice!
4. Burrito Bowls
Burrito bowls typically contain white rice, beans, lettuce, tomato, roasted bell peppers, pico de gallo, and other toppings. You can make these bowls in so many different ways, but Mexican salsa verde is a perfect addition to any burrito bowl!
5. Black Beans
A savory bowl of black beans can be ramped up with a drizzle of salsa verde adding some spice to the dish to give them a burst of flavor!
6. Roasted Sweet Corn
Salsa verde adds a tangy touch to roasted sweet corn making it an excellent side dish for any BBQ.
This is actually one of my favorite ways to use salsa verde. It's a great addition to a classic potato salad, adding a light and tangy flavor that helps bring out the potato's natural savoriness.
8. Fried Plantains
Lightly fried plantains are a perfect match with roasted tomatillo salsa, or salsa verde, the sweet and salty combination provides an irresistible flavor combination.
9. Grilled Veggies
Whether it is eggplant, peppers, or mushrooms, salsa verde pairs perfectly with grilled veggies making them an excellent snack on their own or paired with some tacos. This combo is very pleasing to the taste buds!
10. Roasted Carrots
Roasted carrots are a delicious accompaniment to salsa verde, the sweetness of the carrots pairs perfectly with the zesty salsa for an unforgettable flavor combination.
11. Black Bean Burgers
Whether bought pre-made or homemade, a black bean burger is elevated to new heights with the addition of some salsa verde to top it off.
12. Quinoa Salad
This superfood is even more delicious when paired with salsa verde, the combination of nutty quinoa and zesty salsa creates a dynamic flavor experience.
If you want a little bit of extra flavor with your grilled shrimp, this tangy salsa is the trick! The delicate and sweet flavor of grilled shrimp is enhanced by a zesty topping of salsa verde.
14. Empanadas
Whether filled with beef, chicken, or veggies, salsa verde is the perfect dipping sauce for any empanada, adding the tangy flavor of the tomatillo salsa verde to the savoriness of the filling.
Roasting cubes of potatoes until crispy and golden adds a welcome crunch to this classic dish, and adding some salsa verde helps to bring out the natural sweetness of the potatoes.