Dawn Dish Detergent is useful for so much more than washing dishes. Everything from killing weeds to cleaning jewelry! Check out these 10 surprising uses for Dawn Dish Detergent.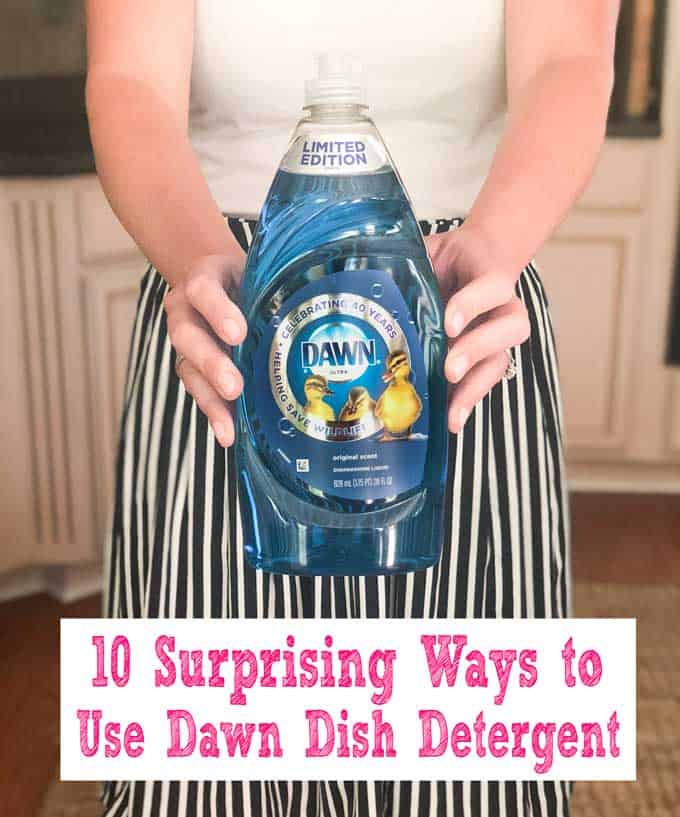 Uses for Dawn Dish Soap
We all know and love that familiar bottle of blue Dawn Dish Soap, don't we? It's a classic essential cleaning supply that shows up time and again in my cleaning tips.
We all know that it's great for cleaning dishes, pots, and pans, and glasses but this little blue bottle is capable of so much more. Here are my favorite uses for Dawn Dish Soap.
10 Surprising Uses for Dawn Dish Detergent
Making Bubbles
You can use Dawn dish soap to make your own bubble solution!With three kids we've gone through some bubbles over the years, which is why I started making my own. To make the perfect bubble solution simply combine 2 cups of warm water, 1/3 cup Dawn Dish Soap, and 1/4 cup light corn syrup or glycerin. It's super easy and affordable!
Helping Save Wildlife
For 40 years now Dawn has been the only brand trusted by wildlife experts to help give animals affected by oil pollution a chance to be released back into the wild.
Because Dawn is tough on grease but gentle on skin, it's been used to help over 75,000 birds and marine animals recover from oil disasters. Since 1978, Dawn has supported International Bird Rescue and The Marine Mammal Center in their efforts to rescue and rehabilitate wildlife affected by oil spills and environmental catastrophes.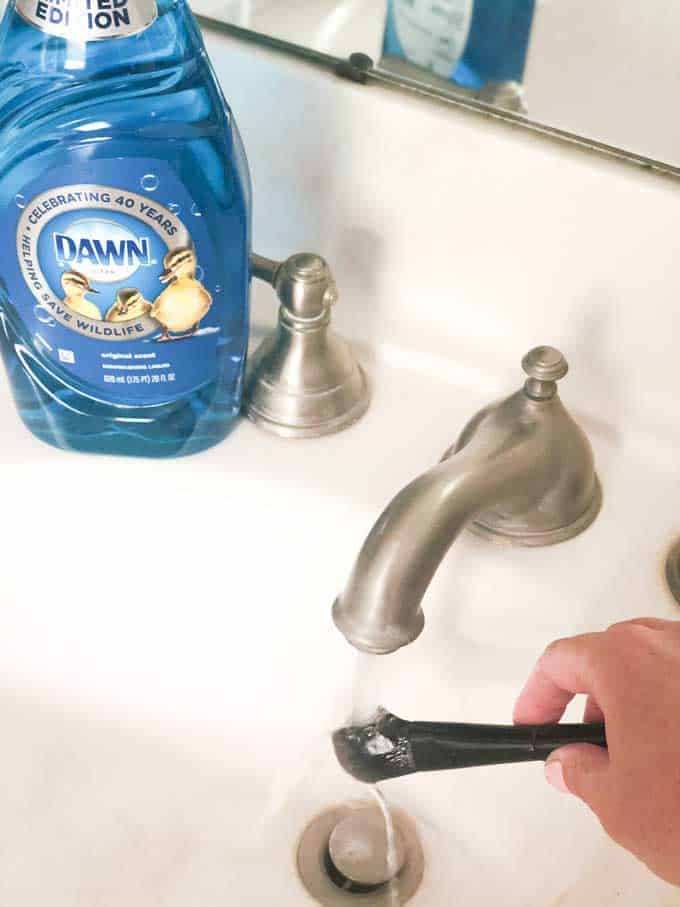 Cleaning Makeup Applicators
While maybe not as cute as that duckling, your makeup brushes and sponges need to be cleaned too! Cleaning makeup applicators in Dawn and warm water is key to preventing gunky buildup. Simply wet with warm water, add Dawn and work into a lather. Rinse until water runs clear, reshape and let air dry.
Tools & Tires
Tools and outdoor supplies can get super greasy, and Dawn cuts that grease like a champ! Everything from wrenches to tires to bike rims can be cleaned with a teaspoon of Dawn dish detergent in a gallon of hot water. Scrub with a sponge and rinse thoroughly, you'll be shocked how easily the grime is scrubbed away! Dry immediately after cleaning to prevent rusting.
Kitchen Grease
You'd be surprised how much grime can build up on your kitchen cabinets, counters, and appliances just from everyday cooking. Wet a sponge with a little Dawn and warm water and wipe away grime on your kitchen surfaces, no specialized cleaners required!
Windows & Stainless Steel
One of my favorite shiny surface cleaners for glass and stainless steel is to add 3 drops of Dawn to a gallon of water. Pour into a spray bottle and use as you would any other glass cleaner.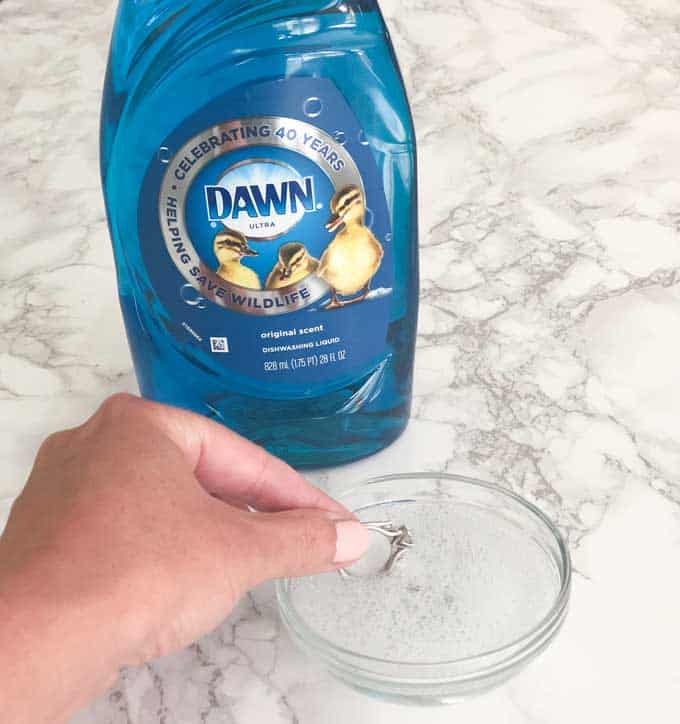 Cleaning Jewelry
Did you know that you can use Dawn dish soap to clean your jewelry too? Soak the jewelry for two minutes in a bowl of warm water with a few drops of Dawn dish detergent. Rinse well and dry immediately to keep your jewelry sparkling!
Remove Tomato Stains from Plastic
Yes! Those dreaded red stains on your plastic containers don't have to be there forever! Simply hand wash with Dawn dish detergent, dry, and place in a sunny window. Leave up to a few days and be amazed as the sun bleaches those stains away!
Treat Laundry
Have a stain? Apply a button size amount of Dawn to the stain and cover it completely (no more or your washing will get too sudsy!) Wash as normal and say bye-bye to stains!
Kill Weeds
I shared this homemade weed killer recipe recently and so many of you wrote in to thank me, it really works! Simply mix two cups of white vinegar with two tablespoons of Dawn dish soap and shake well in a spray bottle. Spray on the weeds preferably on a sunny day. Be careful to spray on the weeds only, don't get it on your good plants!
So there you have it. Dawn is the superhero of detergents, saving wildlife and helping you to keep your home sparkling.