The debate over no bake vs bake cheesecake is up in the air. Both types of cheesecake have their own unique flavor, texture, and appearance, but which one is the better choice? Take a look at the pros and cons of each of these delicious dessert options!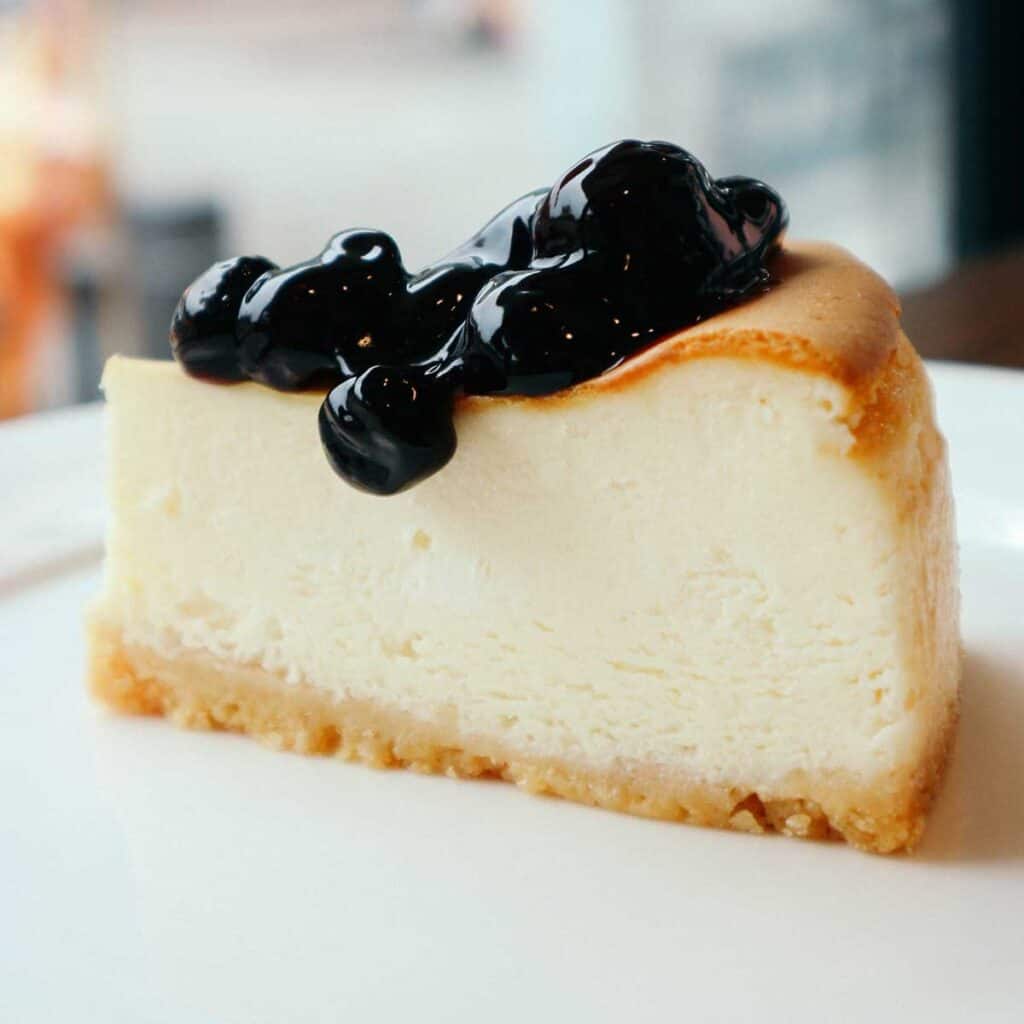 No Bake Cheesecake
The no bake version of cheesecake is a type of cheesecake that doesn't require baking (obviously!) Instead, it's made by combining a mixture of cream cheese, sugar, and other ingredients and then chilling it in the refrigerator until it sets.
Unbaked cheesecakes are typically lighter in texture than baked cheesecake, and it has a smoother, creamier flavor with a fluffy texture. It has almost a mousse-like appearance and is very soft.
Pros:
No bake cheesecake is quick and easy to make. It's perfect if you need a quick dessert that everyone will love, this is a great option.
It can be made with fewer ingredients than a baked cheesecake. It's also common to use a store-bought graham cracker crust in the bottom of the pan for even more ease. All you have to do is follow a few simple steps by mixing the creamy cheesecake filling, pouring it into the store-bought crust, and giving it the appropriate amount of chill time in the fridge to set up. Of course, you can always make a homemade crust with graham crackers if you want to.
No bake delicious cheesecake is still the perfect dessert with a light texture and smoother, creamier flavor than regular cheesecake.
Cons:
The texture of a no bake cheesecake isn't as firm as a baked cheesecake.
It can be difficult to get the right texture of the cream cheese filling with this no bake dessert if it's not chilled long enough.
Baked Cheesecake
Baked cheesecake is a type of cheesecake that is baked in the oven (again, obviously!) It's typically made with a mixture of cream cheese, eggs, sugar, and other ingredients and then baked until it is set.
Baked cheesecake is usually more firm than a no bake cheesecake and has a more pronounced, rich flavor. Baked cheesecake, like New York style cheesecake, is more dense than the no bake variety.
Pros:
Baked cheesecake has a more dense texture and a richer flavor, some would even say a more complex flavor. 
There are a lot of different styles of cheesecake that you can choose from to bake.
It's usually more stable, so it's easier to slice and serve.
Baked cheesecakes can be made with a variety of flavors and toppings.
Classic cheesecake, like New York cheesecake, is a great dessert for a special event.
Cons:
Baked cheesecakes take longer to make. Not only do you have to bake the cheesecake batter, but usually, you'll also make a homemade cheesecake crust out of graham cracker crumbs, but it's all about personal preferences.
It's easy to over-bake the cheesecake and make it dry.
Baked cheesecakes require more ingredients than no bake cheesecakes.
No Bake Vs Bake Cheesecake: Which to Choose
The main differences between these two is just ease and convenience. Both have simple ingredients that produce a decadent dessert with a creamy texture and a crowd-pleasing dessert.
These different types of cheesecakes can both be served with the same delicious toppings like cherry pie filling, fresh fruit, chocolate sauce, cool whip, whipped cream, chocolate wafer cookies, or whatever sweet topping you want to add. 
The type of cheesecake that you choose to make will depend on personal preference, the event you're making it for, and the amount of time you have to make it. No-bake cheesecakes are typically easier to make since they don't require baking time and can be made relatively quickly. Baked cheesecakes often have a richer, creamier texture and a firmer structure. Ultimately, the decision of which to choose is up to the individual.
Bottom line:
Baking a cheesecake might be more suitable for a special event like a wedding reception or a special birthday party. But doing it the easy way with a no bake pie crust and cream cheese mixture that can just set up in the fridge is a perfectly acceptable and very tasty way to do things!