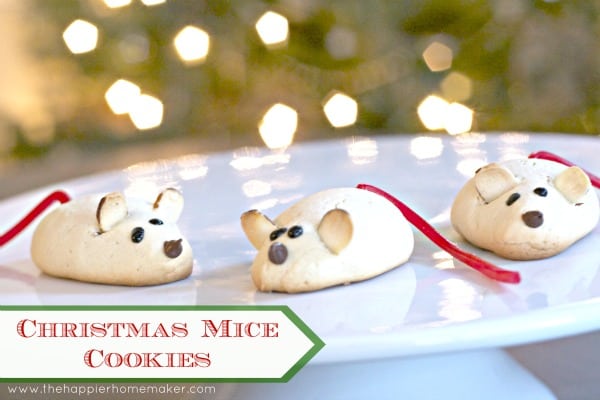 Years ago my mom instilled in me the love of baking homemade goodies for others at Christmas time. You see, she lived most of my college years on a sailboat. Living on a boat will teach you a few things, among them that you really don't need quite as much "stuff" as you thought you did. But you know what you always need?
Cookies.
Cute, almond-y cookies shaped like little mice.
So one year when I was home for Christmas from Clemson, my Mom and I first made these little Christmas Mice cookies and they've been a favorite ever since.
Ingredients
3 cups all-purpose flour
1/2 tsp salt
1 cup butter or margarine, softened
3/4 cup sugar
1 teaspoon almond extract
1 large egg
1/4 cup sliced almonds
pull apart twizzlers
mini chocolate chips
black frosting or melted chocolate for eyes
1. In electric mixer, add the butter and whip on high speed until fluffy. Add sugar slowly, then egg and almond extract and continue to mix an additional 2 minutes.
2. In a separate bowl mix flour and salt.
3. Slow mixer speed to low and slowly add flour mixture 1/3 at a time. Mix until uniform.
4. Wrap dough in plastic wrap and chill an hour.
5. Preheat over to 350 degrees. Roll dough into balls, tapering one end to form mouse shape.
6. Pinch tapered end to form mouse's head and insert almonds for ears.
7. Bake 20 minutes or until lightly browned.
8. Immediately upon removing from oven poke a hole in the bottom with a skewer or toothpick and insert twizzler "tail." Add mini chocolate chip for nose (it's important to do this when the mice are still very hot as the heat melts the chip to the cookie and adheres the tail as well.)
9. Cool on cookie rack. When cookie is completely cook add "eyes" from frosting or melted chocolate with fine tip tip.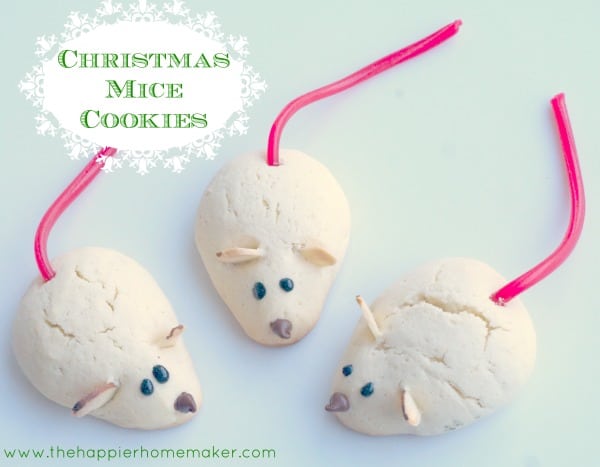 Have you ever made Christmas Mice cookies? Would you make them to give during the holidays? What is your favorite kind of cookie to gift?