Summertime just calls for different flavors, doesn't it? When I think of summer chicken crock pot recipes, I think BBQ, tropical fruits like pineapple and mango, light Mediterranean flavors, and fresh salsa!
Slow cooker recipes are so nice because you don't want to have to stand over a hot stove on hot summer days. You can leave the stove off and just toss everything into the crockpot and go enjoy your day while it cooks. 
I put together a list of slow cooker chicken recipes for you that are perfect for summer to give you some inspiration. Each easy recipe on this list will make you look like an excellent cook, even if you're a total amateur! Your whole family will love these recipes!
Summer Chicken Crock Pot Recipes
Next time you make a grocery list, add a few of these recipes' ingredients and make slow cooker meals so you can enjoy your summer more! You won't regret it!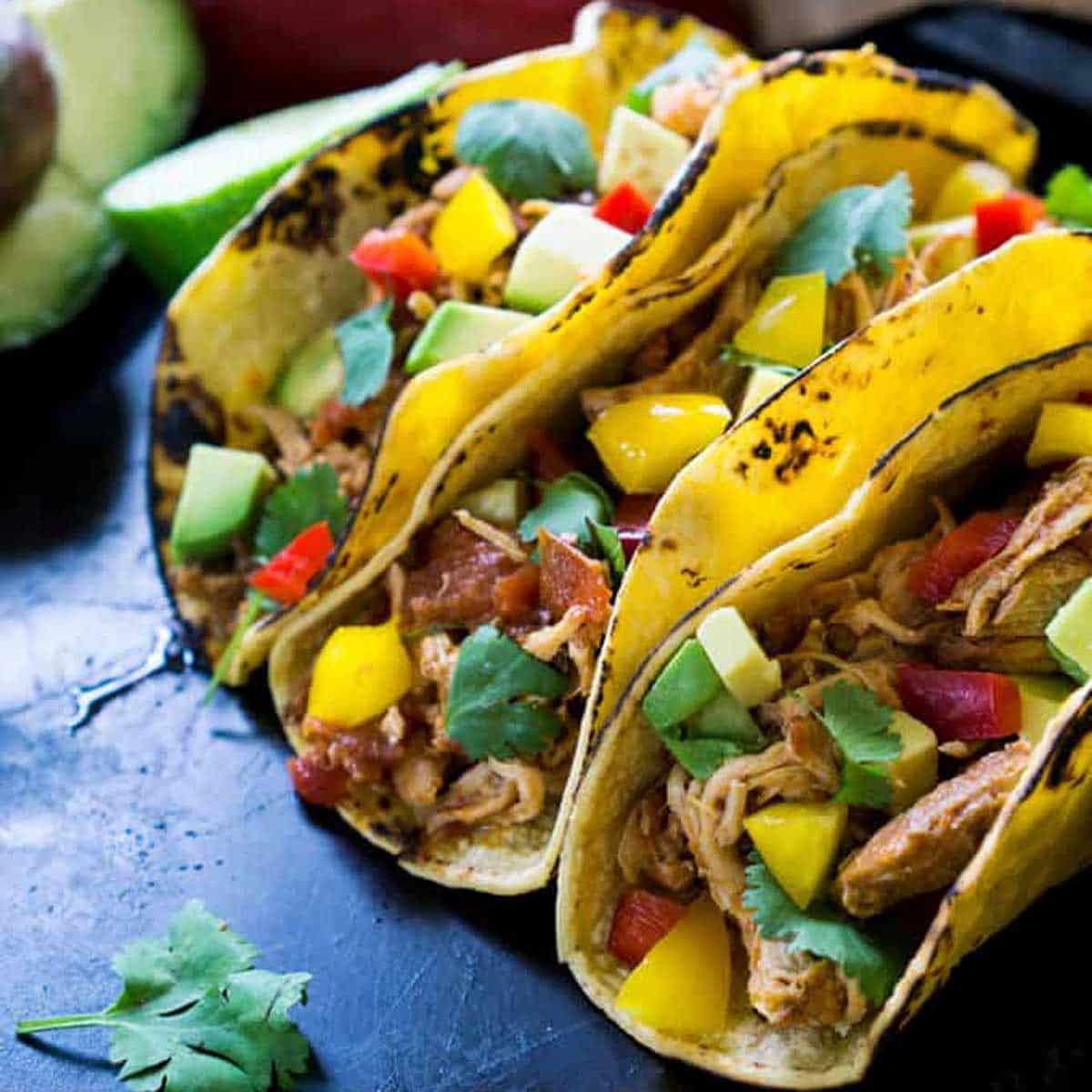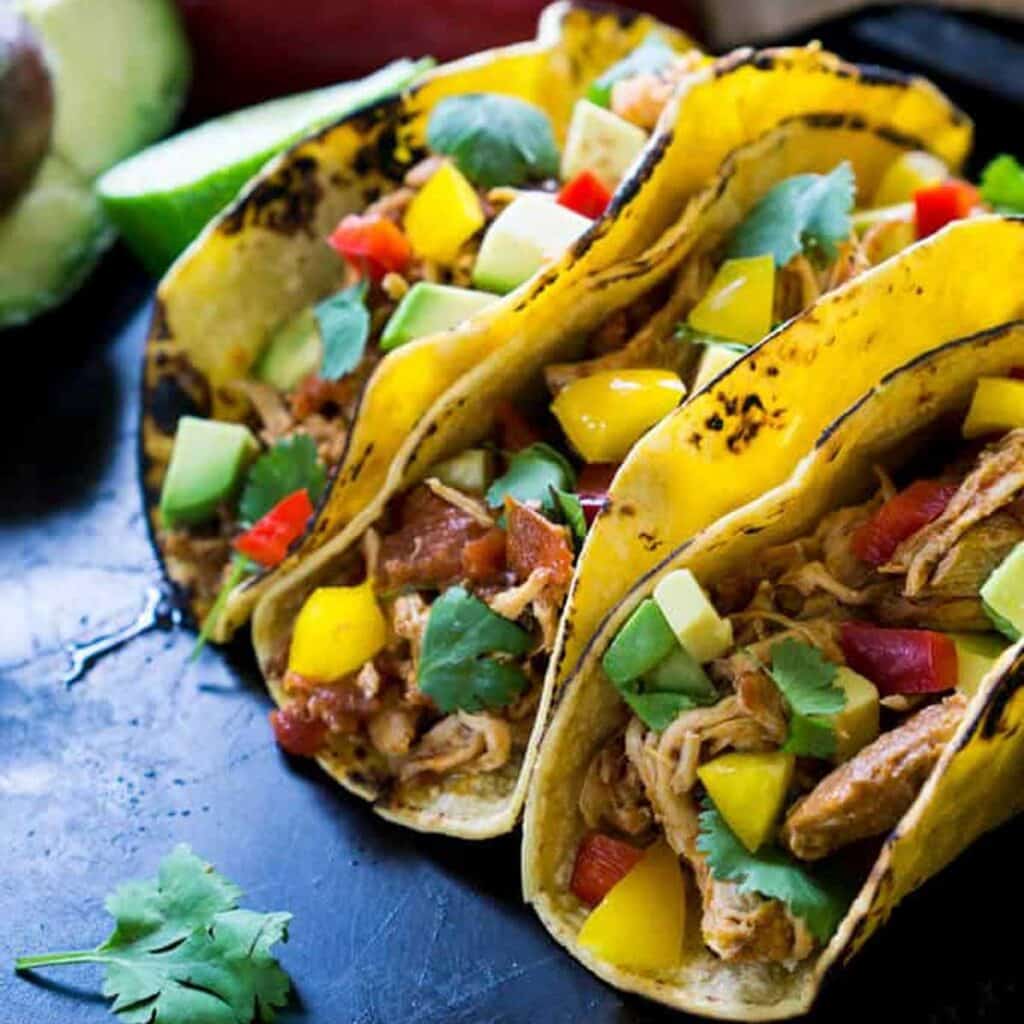 This is one of my favorite ways to use the crockpot! Pulled chicken tacos are so simple, and the best part is you can make extra meat for leftover tacos, or you can use the extra meat for a different meal the next day. 
Hawaiian BBQ, talk about combining two amazing summer flavors! This will be a little sweet, a little tangy, and maybe even a little spicy, depending on the BBQ sauce you use. You can even make this recipe into sandwiches.
Chicken thighs cooked in fresh, tangy balsamic paired with sweet honey and summer veggies sounds like an excellent summer meal to me! This delicious dinner could be made with any variety of vegetables you like! Or, if you don't like veggies, you can always leave them out.
Lettuce wraps make the perfect light and healthy meal for summer months when you don't want anything heavy and overly filling. Buffalo sauce gives this chicken a little kick! Drop a little sour cream and a little sprinkle of cheese on top, and you're set for a summer cookout or just a quiet evening having dinner on the back deck.
This hands-off recipe with Chicken drumsticks is one of the best summer cockpit recipes! Serve this with fresh, cold potato or macaroni salad for the perfect meal for warmer months.
This will feel like a slow cooker gourmet meal without all the hard work. Serve this with a side of fresh roasted green beans, and you've got a complete summer meal.
BBQ and pineapple are a perfect summer combo! White rice is the perfect base for this meal, and you can toss it in a rice cooker to avoid the high heat of the stovetop. This is the perfect way to make a filling and satisfying meal in the summer.
Taco salads are a great, light summer meal! The slow cooker does all the work on the chicken, you just have to toast up your taco salad shells real quick, toss some lettuce in the bottom and top your salad with seasoned black beans and your favorite salad toppings.
Teriyaki is a savory-sweet flavor that you'll love the first time you try it! If you're already a fan, this simple recipe over rice is perfect for tossing in the crockpot for a summer evening. You can add some green peppers to cook with your chicken, too. They go great with the teriyaki flavor.
Mediterranean chicken has a fresh and light taste that's perfect for a warm day. Pair that with orzo, a rice-shaped pasta, and it will soak up all those delicious Mediterranean flavors perfectly!
If you like peanut butter, you'll love peanut sauce! It's such a great flavor to add to chicken. It might sound strange, but this is one summer crock-pot recipe you won't want to overlook! You can even make your peanut sauce a little spicy with red pepper flakes if you're into that.
Summer means salsa, at least to me! I love fresh salsa, and salsa verde (the green one) is a great topping for chicken! Serve this with Mexican rice and beans!
This filling meal will be a big hit! The sauce is made with tomatoes, onions, mushrooms, herbs, and other vegetables and spices. Let the chicken cook in that all day, and then serve it all over rice or pasta with a side salad.