Diaper cakes are easy to make, especially this no-roll diaper cake! Create this easy diaper cake in just minutes with these tips and tricks.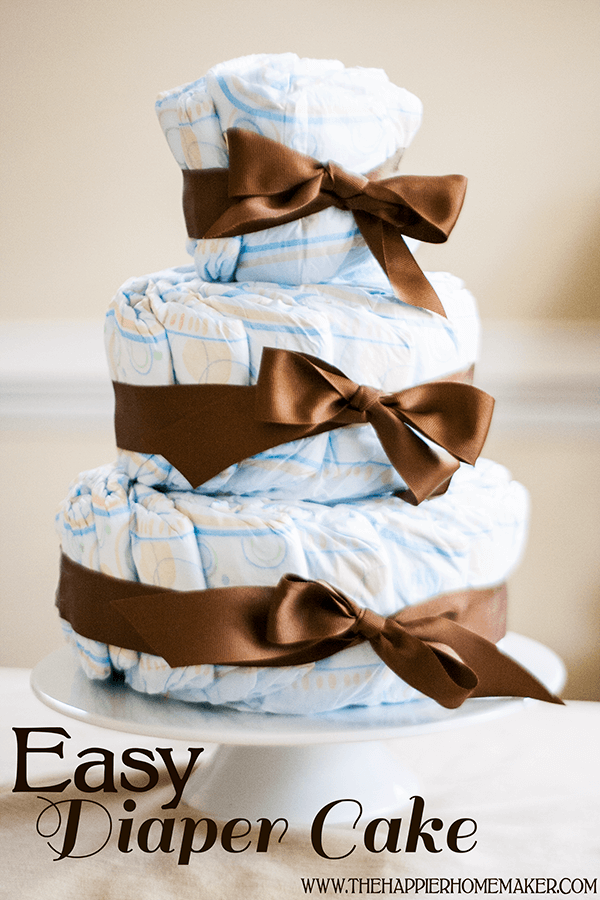 I like to give useful gifts when I go to baby showers, everyone loves buying newborn clothes but I'm a diaper girl-I give diapers because they are useful and something I know will get used. But I do like to dress them up a bit into a pretty little diaper cake, just because a gift is practical doesn't mean it can't be cute!
How to make a diaper cake without rolling
You'll need a base, diapers, large rubber bands, dowel, and various sizes of round dishes or bowls. Instead of rolling the diapers, we'll be created a swirled pattern using the dishes as a template.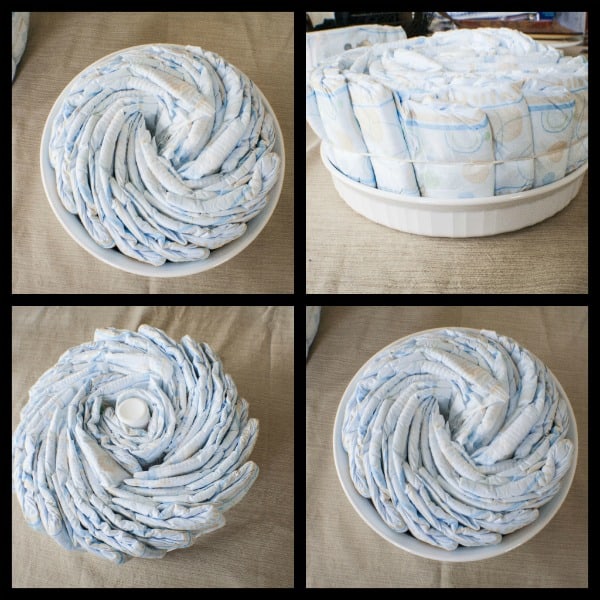 To create the largest of the swirled layers place a stack of diapers in the large pan and curve around the plate to let them form a circle. Adjust until the spacing is just right. Then use a rubber band around the outside to hold it together.
I like to place a little surprise in the middle of the bottom layer-here it is a tube of diaper cream. Repeat for the second layer. I formed the top layer in my hands before securing with a rubber band as I didn't have a small enough dish.
Stack the layers and insert a dowel down the middle to hold it up.
Tie ribbon around each layer to cover the rubber bands and decorate as you like. (I used roughly 50 diapers for this cake.)
Decorate as desired (see below for ideas)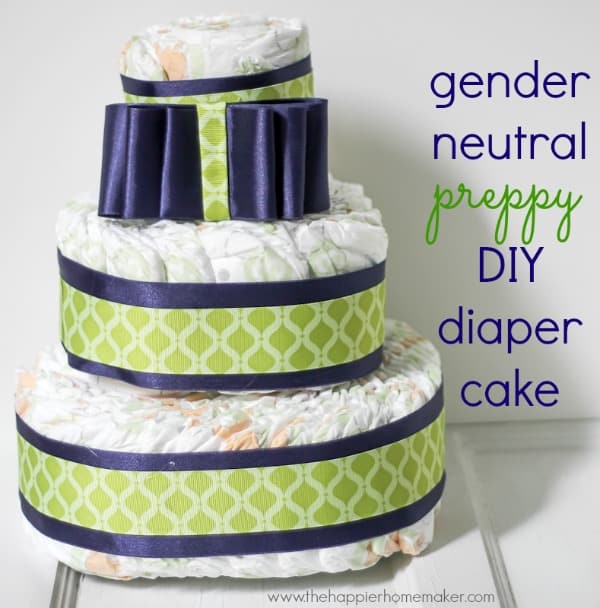 How to decorate a diaper cake
cake topper
silk flowers
scrapbooks paper flowers
curling ribbon
small toys
ribbon & bows
floral picks
baby booties
stuffed animals
rubber duckies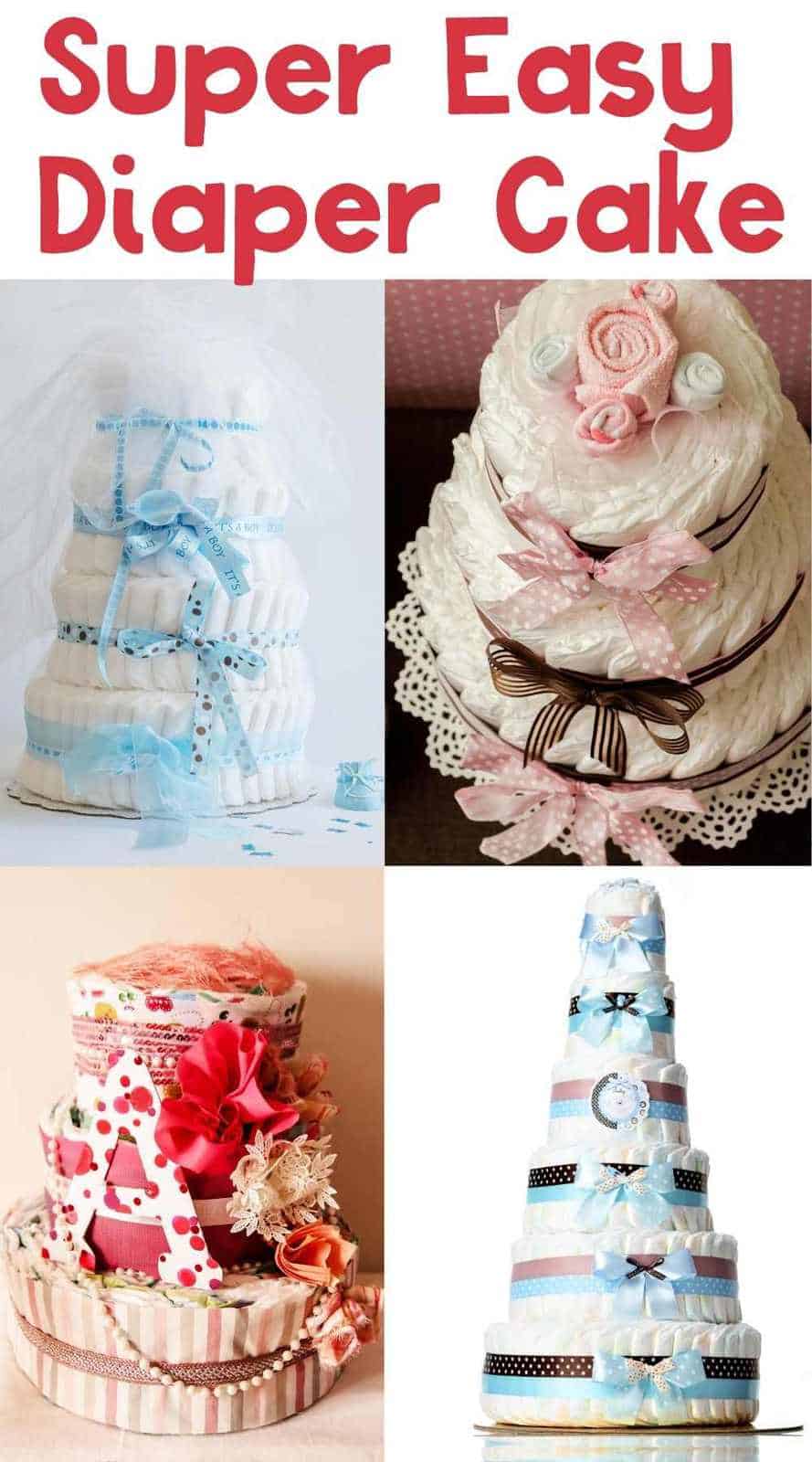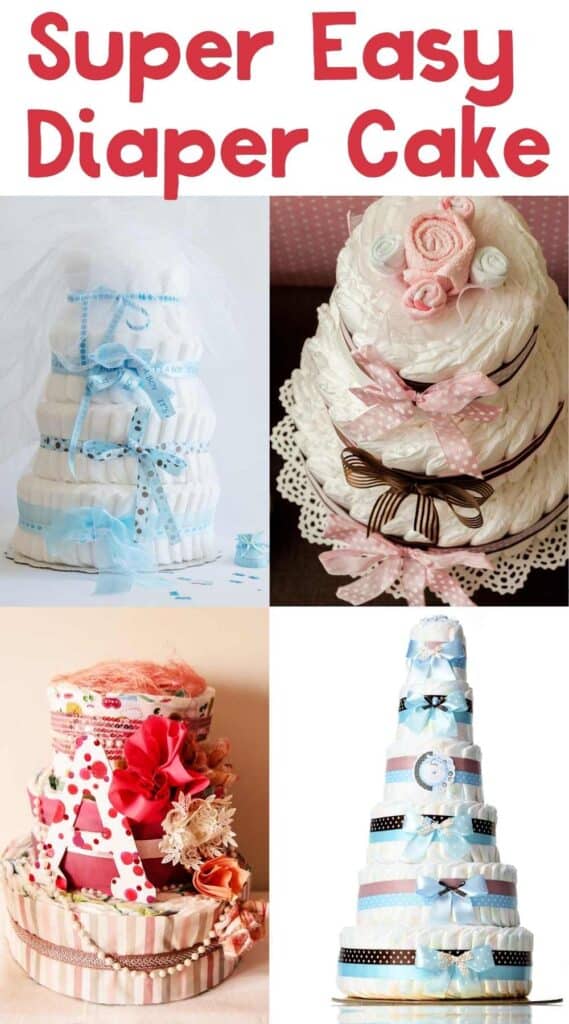 FAQs
What are the best diapers to use for a diaper cake?
I suggest finding plain or subtlety patterned diapers for your diaper cake. You can also choose diapers with a fun pattern that matches your decorating idea.
What size diapers should I use?
While any size diaper will work, I like to gift size 2 or 3 diapers so I use those in my diaper cakes. Babies grow quickly and many will outgrow newborn and size one diapers before they can use them all if they received many as gifts.
How many diapers do you need?
Depending on the size of your cake you'll need between 40-75 diapers for a three tiered diaper cake.
What do you use as the base?
The base can be a pizza pan (get one at the Dollar Tree inexpensively), cake board, charger, or even a piece of cardboard cut to size.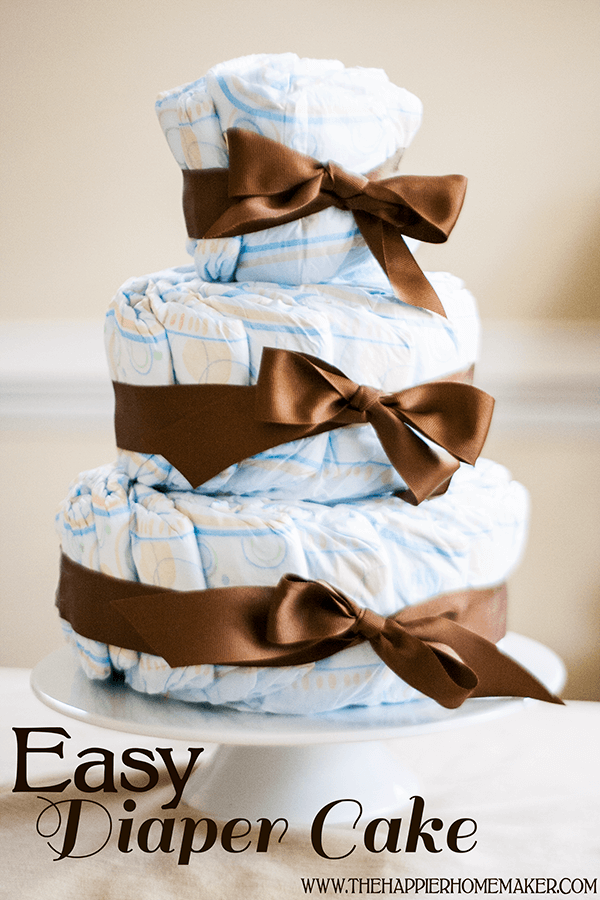 What else can I make with diapers?
To complement the diaper cake I made a little basket with the leftover diapers and ribbon. I also made a couple of cutey-patooty diaper babies. These guys are adorable and super cute.
Simply roll a diaper up and secure with a rubber band. Then using a baby washcloth, wrap the bottom ⅔ of the diaper up swaddle style. Roll a baby sock up and use as a hat. You can dot some eyes on with a sharpie like I did or glue on a couple of googly eyes.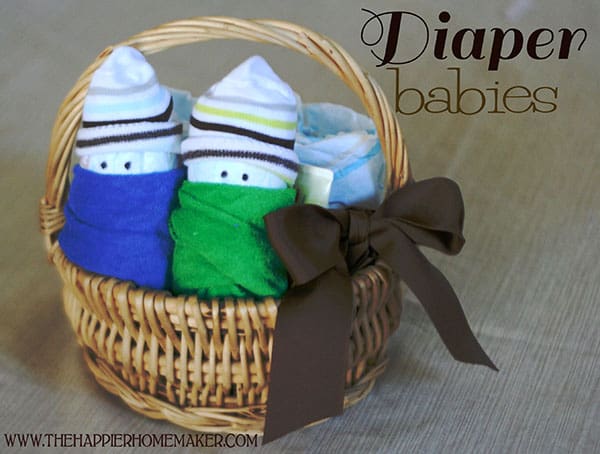 What do you like to give expecting parents at baby showers? Do you have any tried and true parenting advice to give new parents? Find more DIY Baby Shower Crafts here.