Wondering what to serve with Chicken Parmesan? This classic Italian dish is made even better with these 15 delicious side dish ideas!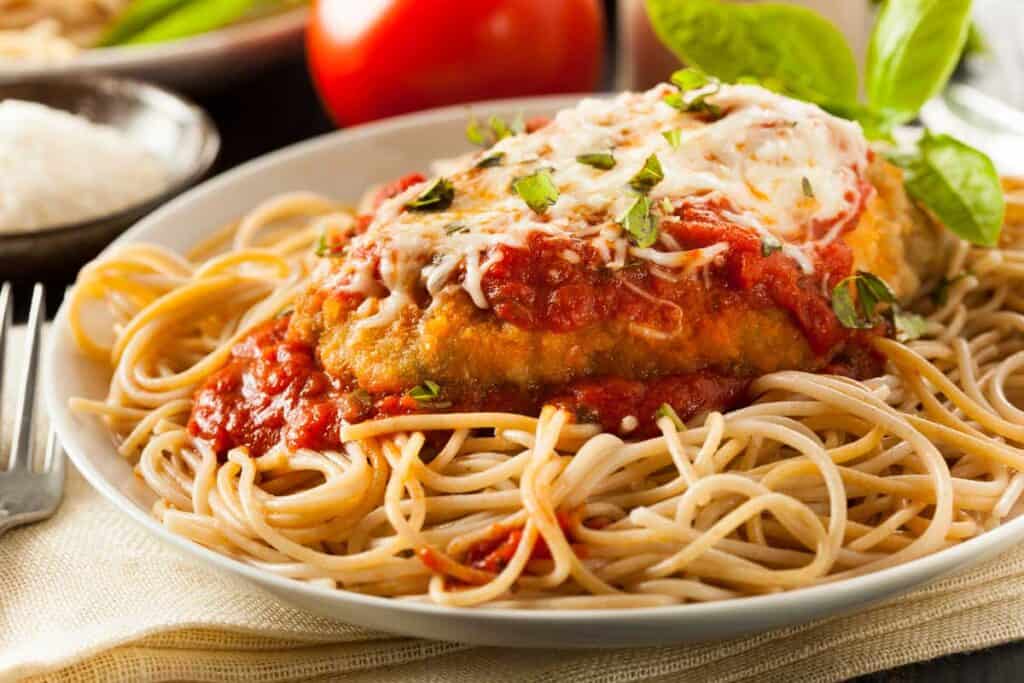 Chicken Parmesan is one of the most beloved Italian dishes out there. It's a classic comfort food that can be enjoyed in a variety of different ways. Wondering what to serve with chicken parm to make it truly special? I'm sharing some unbeatable pairings that will enhance the flavor of your Chicken Parmesan and make for a memorable meal.
[ez-toc]
What is Chicken Parmesan?
Chicken Parmesan is a dish consisting of breaded and fried chicken cutlets, topped with marinara sauce and melted cheese. It's a flavorful and satisfying Italian-American classic that combines tender chicken, rich tomato sauce, and gooey cheese.
Chicken Parmesan is a delicious and satisfying dish on its own, but adding the perfect side dish can take it to a whole new level. Whether you're looking for something light and refreshing or hearty and comforting, here are 15 sides that will complement the flavors of Chicken Parmesan and elevate your meal.
1. Classic Caesar Salad
A crisp and refreshing Caesar salad is the perfect side to balance out the richness of chicken parmesan. The combination of crunchy romaine lettuce, tangy Caesar dressing, and savory Parmesan cheese is a match made in culinary heaven and it is an easy recipe too.
These golden and crispy potatoes are a classic side dish that pairs beautifully with a chicken parmesan recipe. The garlic-infused flavor adds a wonderful depth to the meal and the crispy exterior contrasts nicely with the tender chicken.
3. Caprese Salad
This fresh and vibrant side is a delightful accompaniment to a rich recipe like chicken parmigiana. The combination of ripe tomatoes, creamy mozzarella, and fragrant basil brings a burst of flavor to the table.
As a fun alternative, try our blueberry caprese skewers instead!
Roasting vegetables brings out their natural sweetness and enhances their flavors. Choose a medley of colorful vegetables such as roasted bell peppers, zucchini, and eggplant for a nutritious and delicious side dish. Or you could opt for one vegetable like green beans or brussels sprouts.
Velvety and smooth, creamy polenta is a comforting side that pairs beautifully with Chicken Parmesan. The rich and buttery texture adds a luxurious element to the meal. This is a great option if you want to make your meal a little heavier and more filling.
Light and nutritious, sautéed spinach is a simple yet flavorful side dish. The wilted spinach adds a vibrant green color to the plate and provides a refreshing balance to the richness of the chicken parmesan. This is a nice healthy side dish that has lots of great flavor!
These are crispy, cheesy, and full of flavor! Covered with bread crumbs, fresh herbs, and fresh parmesan, they're an excellent choice that the whole family will love!
9. Garlic Breadsticks
What better way to mop up any leftover sauce than with warm and garlic bread? These soft and buttery breadsticks are the perfect complement to the flavors of this classic Italian dish.
You can also try homemade garlic bread or Texas toast to serve alongside the chicken parm.
10. Zucchini Noodles
Any type of pasta works well when it comes to chicken parmesan sides. But zucchini noodles, spaghetti squash, or any vegetable noodles are the perfect alternative to a side of pasta if you want to keep the calories lower or just make it a lighter meal.
Simply use a spiralizer to make your noodles then sauté with a little olive oil or avocado oil before serving.
The creamy texture of baked sweet potatoes with salt and butter and the mildly sweet flavor makes a delicious meal served with parmesan cheesy chicken breasts. You can also make slow cooker sweet potatoes with bacon for an even more savory side.
12. Brown Rice
If you need a heartier side for your chicken parmesan dish, brown or white rice work well! Rice isn't a typical side in Italian cuisine, but it still tastes great with the tomato sauce from the chicken parm!
You can make the rice in the slow cooker while you work on the chicken parmesan or for a more authentic Italian dish try a mushroom risotto instead.
This salad is a great way to get a healthy dose of greens and protein in one dish. The broccoli provides a crunchy and refreshing contrast to the chicken parmesan.
Crispy smashed baby potatoes are small potatoes that are boiled until tender, then gently flattened and roasted until golden and crisp. With their irresistibly crunchy exterior and tender interior, these potatoes offer a delightful texture and flavor that's hard to resist.
15. Creamy Gnocchi Soup
Chicken gnocchi soup is a hearty and comforting dish that features tender pieces of chicken and soft potato gnocchi in a flavorful broth with vegetables and herbs. This Olive Garden copycat soup is a satisfying combination of textures and tastes, making it a perfect for serving with chicken parmesan.