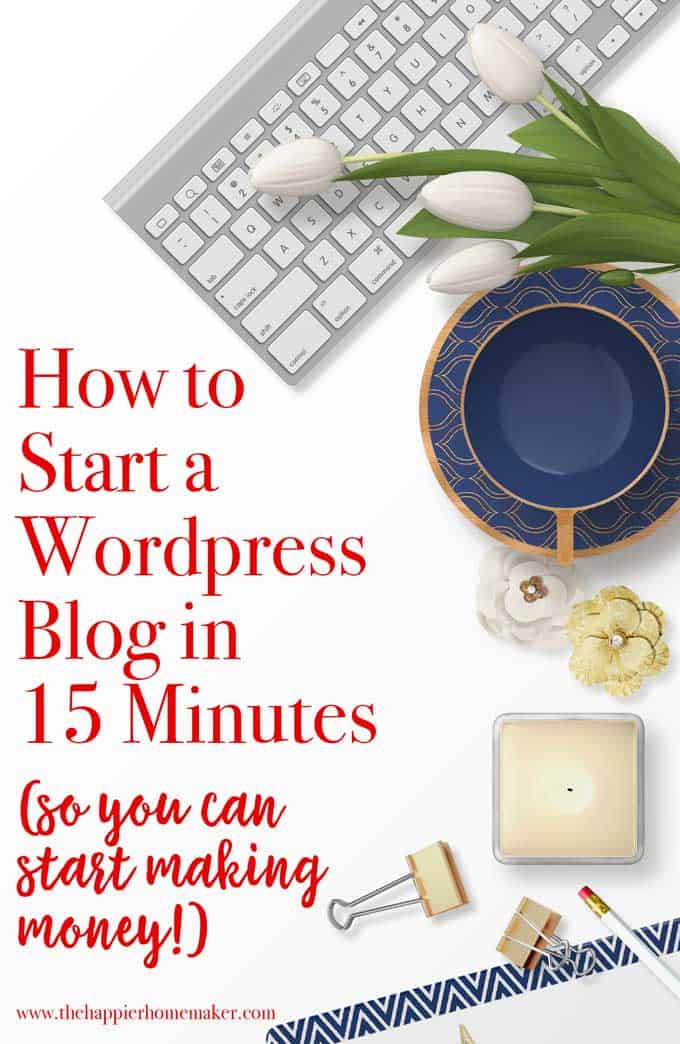 (Step by step video tutorial at the bottom of the blog post)
I never thought seven years ago when I first started The Happier Homemaker that my little creative outlet would turn into a full time job. I consistently make over $50,000 a year from my blog and have watched many of my blogging friends achieve the same level of success just by sharing what they love. It's amazing to earn a good income while being able to stay home with my children and move my career from place to place as the Army moves our family around-this year for instance, we've been stationed in England and I've been able to ratchet back my working hours to really take full advantage of this opportunity for travel while still enjoying the passive income blogging provides.
So-are you ready to start your own blog? I wanted to write this post to give you a detailed step-by-step tutorial to get you started and help you avoid some of the pitfalls I hit on my journey to blog for income. Let's get started!
(This post contains affiliate links for products I have personally used, see my disclosure here.)
Click here to start getting your blog set up.
My first advice is to start your blog on a WordPress platform-Wordpress is the gold standard in online business building. It's incredibly versatile, easy to learn, and unlike other platforms if you start a self-hosted WordPress blog you own your content and have complete control over your blog. I started my blog on the free Blogger platform and it was quite the headache to switch it over once I became serious about blogging and cost a lot of time and money-I recommend everyone start a self-hosted WordPress site and avoid the cost and complication of switching later.
It's also important to start on self-hosted if you want to monetize your blog with ads, affiliate links and other advertising-many free blogging platforms don't allow you to monetize your blog, and that's what you're here for, right?
Being self-hosted does mean that you pay for your hosting services but it's quite inexpensive with Bluehost when you click through my link, which is who I started with when I switched from Blogger to WordPress in 2012 and who hosted my blog the first 5 years (I switched to a more expensive hosting option in 2016 due the size and complicated technical needs of my blog.) They have plans starting at $3.95 a month and if you sign up for a year you can register your domain name for free too. They also automatically install WordPress for you so you don't have to hassle with it and a 30 day money-back guarantee. It's just the best bang for your buck as a new blogger.
Click here then continue the tutorial to get all set up.
1. Pick a Domain Name
Think on this one-pick a name that is relevant to what you'd like your blog to be about but be sure to not box yourself in-this is not an easy thing to change later so try to put some thought into it before you decide! I recommend registering your domain name for free with Bluehost when you sign up for hosting to make it easier and keeping your hosting, domain registering, etc all in one place. This is what I did for my husband and my best friend when I helped them start blogs after I had already learned all those lessons the hard way!
You have to sign up for at least a year of hosting to get the free domain hosting-this also reduces the monthly price and in all honesty if you plan on making money with your blog you are going to need 6-12 months of devotion to get it up and running and actually producing steady income. Commit to building your blog now-you CAN do this!! ( In case you're not convinced there are no contracts and you will be refunded should you decide to cancel. It's a full refund within 30 days and then pro-rated after that…but you really should be amped up and committed if you want to start and earn an income from your blog!!)
2. Buy Hosting for Your Blog
When you go to Bluehost with my link you will come to this screen-for a starter blog I recommend opting for the Basic Package, as you grow it is very easy to upgrade as your needs increase. Again, I do recommend paying for the full year upfront to get the free domain name included, lower price, and to make the commitment to putting in the time to get your blog up and running. If you purchase a 12 month plan, your total price is only $65 a year, which is a great price!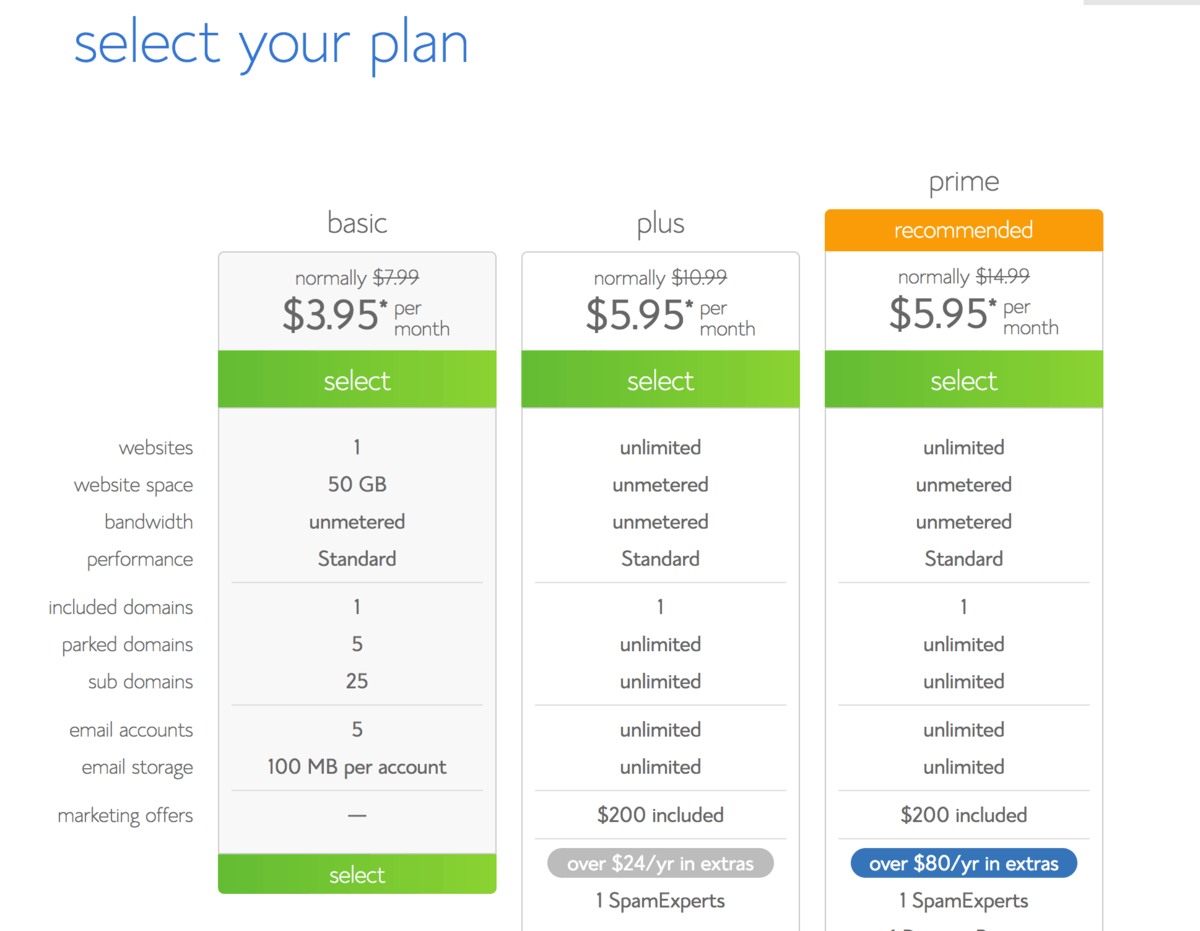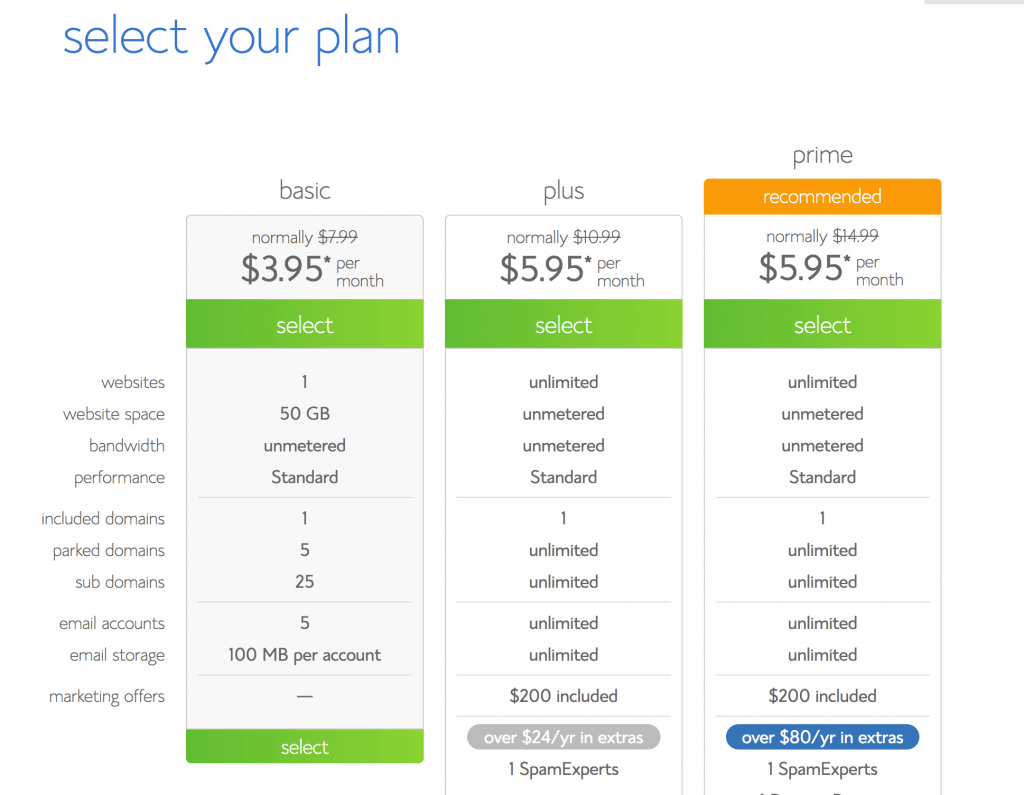 I also recommend adding the 99 cent domain privacy protection-it's very inexpensive and prevents people from accessing your home address and contact information when they look up your blog online-better safe than sorry! With the domain privacy and everything one year will run you just about $77 (as of early 2017)-it's less expensive if you do a longer contract going down to 50% of that price with their largest 5 year contract (again you can cancel at any time with a prorated refund.) I recommend at least one year because it takes at LEAST 6 months to get your blog income up to a decent amount from my experience-I don't want to give anyone unrealistic expectations about income the first month or anything! You can earn a great income blogging but you have to enjoy and commit to it-your website builds exponentially over time!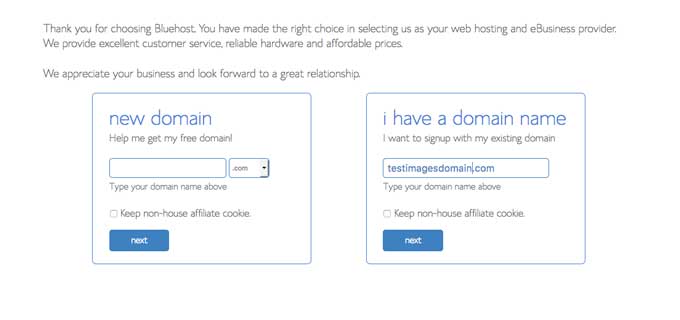 When you are ready to create your blog, follow the steps below to buy hosting for your blog.
Go to Bluehost and click the "Get Started Now" button.
Click on the package you are interested in, again for a new blog I think the Basic package is sufficient.
Sign up for a new domain name. (If you have a domain name already enter it here and we will connect it to the hosting in the next step.)
Enter your personal information and choose a plan. Bluehost doesn't offer month to month (hosts that do offer monthly payments are typically much more expensive. With Bluehost you can choose to pay 1, 2, 3, or 5 years upfront. The longer term you pay for, the lower the monthly cost works out to.
I also don't choose any of the add-ons EXCEPT the domain privacy if you are registering your domain at the same time, this is very important to keep your personal information from being easily discoverable, including your address!
5. Then you'll enter your billing information and pay for the term you selected. Easy-peasy!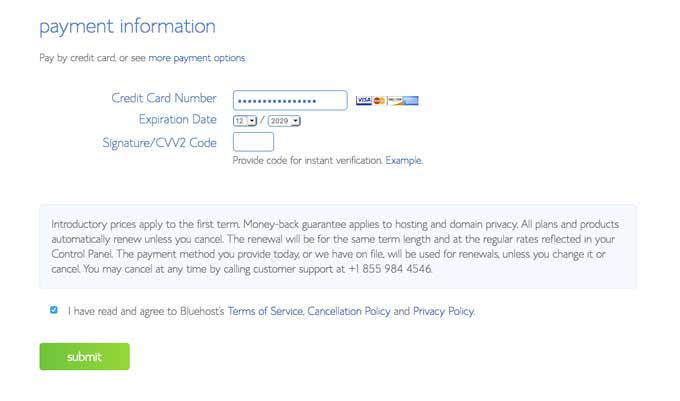 6. Finally, you will be asked to enter a password, be sure it's secure and private, that's so important for your blog's security!

3. Connect Your Domain
This step is only for those that did not purchase their domain name through Bluehost in the previous step. All others, skip ahead to the next step.
If you already had a domain name or purchased your domain through another service like GoDaddy you will need to connect your domain with your hosting service.
If you are with a company other than GoDaddy you will need to look at their support pages for exact info-this is the step by sstep for GoDaddy as it's the most common domain registrar. Depending on your account view your steps will vary slightly-if this isn't clear you can get detailed step by step at this link here.
Log into the GoDaddy.com Account Manager.
Select Manage Domains from the Domain Names drop-down menu or the Manage Your Account list.
Select the domain name you wish to modify using the checkboxes and then click Set Name Servers.
Enter your updated name server information in the spaces provided under the blue Name Servers heading on the right side of your page and click Save Changes at the bottom. Your entries should look like this: ns1.bluehost.com; ns2.bluehost.com.
Then go back to your Bluehost account and click on Domains and Assign and follow the directions to add your domain to your hosting account there-it's very simple.
4. Get Started with WordPress
Yay! Now the fun begins-actuallybuilding your blog! Bluehost makes this process so very easy thankfully because they automatically install WordPress for you!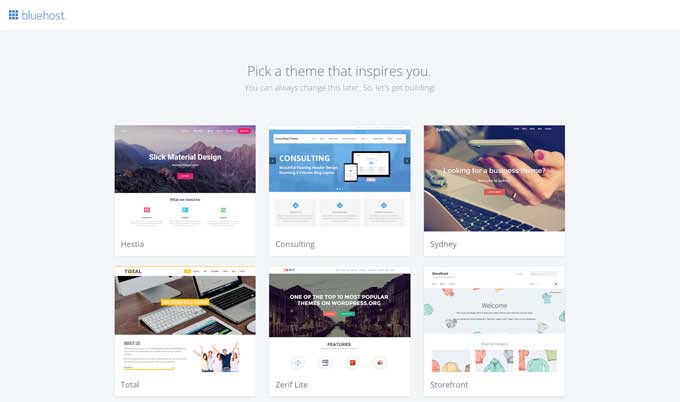 Bluehost gives you the option to pick a free theme immediately. Unless you are familiar with ones listed, I recommend you skip it by clicking "Skip this step" at the bottom of the screen. Why? Because many free themes are not kept updated. Outdated themes leave holes hackers can exploit and are not worth the risk.
The theme that comes pre-installed will work to get started or until you are ready to upgrade to a paid theme. You can switch to a different theme once you're set up and more familiar with WordPress.
Congrats rockstar-you're now officially a blogger!
Your site will show a temporary domain at first because it takes up to 24 hours for your chosen domain to become fully registered. Go ahead and start working on your site. When the real domain is ready, Bluehost will switch it for you automatically.

You shouldn't need to access Bluehost anymore so from this point forward you can access your blog through your website itself. Click the "Start Building" button to bring up your site.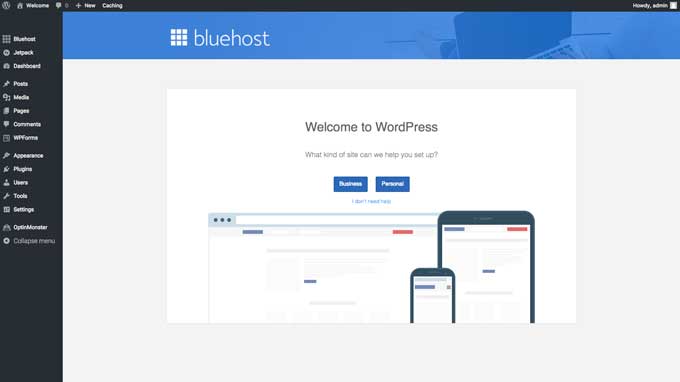 Now comes the fun part of getting your website set up the way you want it and actually writing your content. Click here for the next step- a tutorial on setting up your WordPress theme click here.