Dried apples and oranges make for a beautiful homemade garland for Christmas or any time of year! Learn how to make this easy orange and dried apple garland with this step by step tutorial.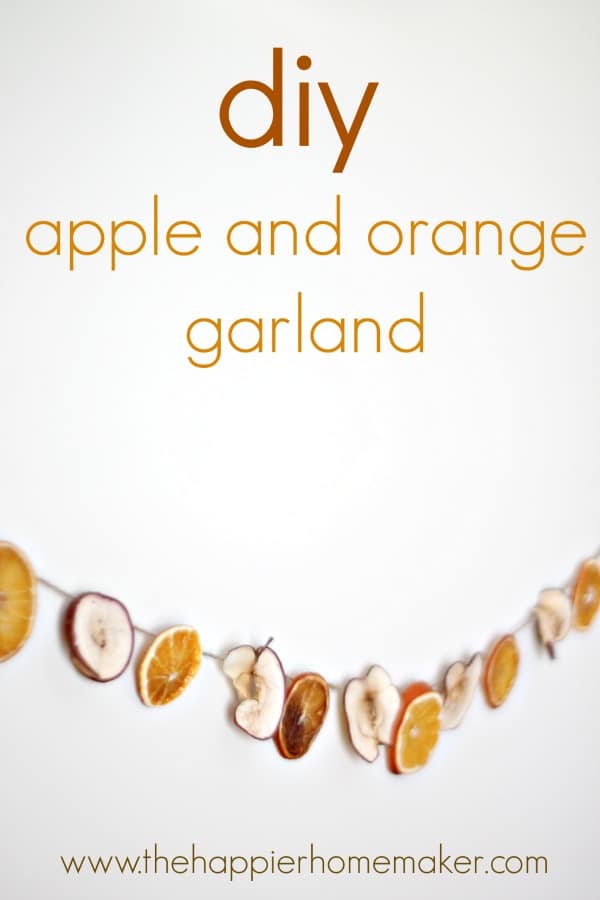 I love the look of dried apples and oranges slices.  Perfect for potpourri or in a cute DIY garland like this one-they are super easy to make and an inexpensive addition to your fall decor!  Here's how to make your own DIY dried apple and orange slice garland!
Want to dry fruit for snacking instead? Check out these homemade banana chips!
Supplies
Apple
Orange
Baking sheet
Jute Twine
Hot Glue
Instructions
Preheat oven to 200 degrees Fahrenheit (93 Celcius).
Slice your apples and oranges into ¼" thick slices.
Press oranges between paper towels to remove excess moisture and lay flat on baking sheet.  Slices can be next to each other but should not touch.
Bake in oven for 6-8 hours until dry, opening oven periodically to release moisture.
Allow to cool completely.
Lay apples and oranges on flat surface and use hot glue to adhere twine to fruit.
Allow glue to dry and hang as desired!
Tip for best results
The thinner you cut the fruit, the faster they will dry. Aim for a constistent thickness to ensure everything dries evenly, a mandoline slicer is good for this. (affiliate link)
FAQs
How long will a dried fruit garland last?
They will last 6-12 month if stored in a cool, dry place. You can also freeze them when not in use to extend the lifetime.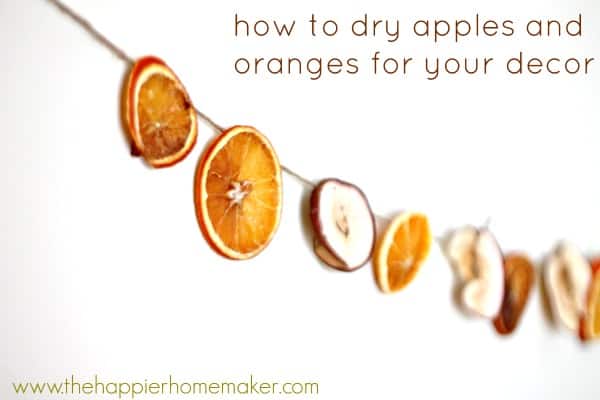 If you don't want to make them into a garland they look beautiful in a bowl with some cinnamon sticks as well!
Have you dried apples and oranges before? What do you use them for?