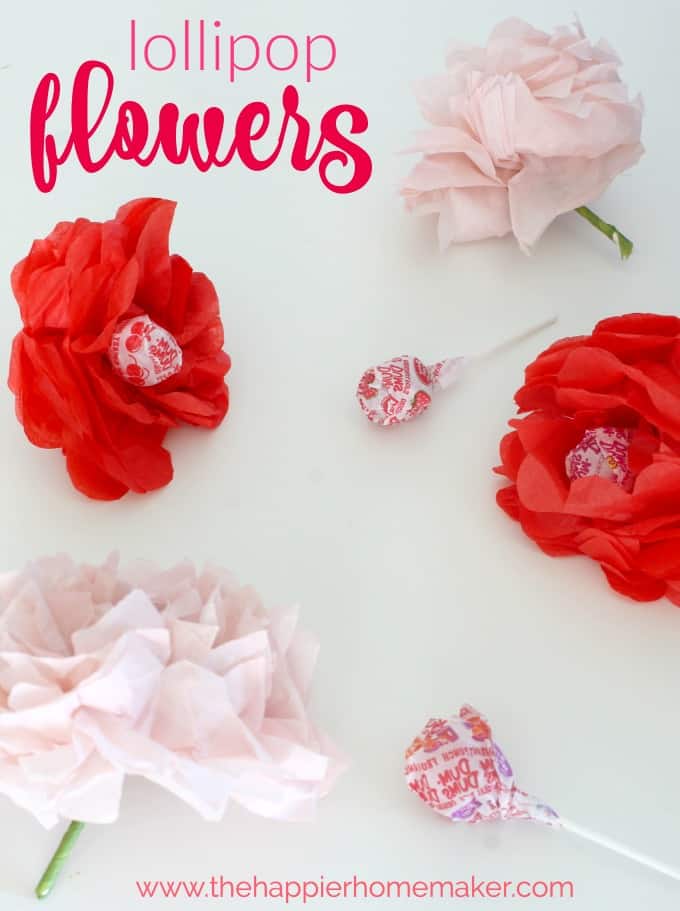 I mentioned the other day when I shared my Valentine's Day Hershey Kiss Mice that I'm coping with my post-Christmas blues by throwing myself into all things pink for Valentine's Day!
The same day I sat down to make the mice I also made these cute little Tissue Paper Flower Lollipops-aren't they such a pretty Valentine's Day craft? These follow the same premise as my Tissue Paper Flower Tutorial with a few special steps to incorporate a lollipop in the center!
Tissue Paper Flower Lollipop Supplies:
~7 layers of tissue paper cut into a 4 by 5" piece
scissors
hole punch
stapler
lollipops-I used dum-dums, you'll need to increase your tissue paper size for larger lollipops
floral tape
How to Make Lollipop Flowers
Fold the tissue paper accordion style, about ½" thick
Trim the ends of the folded paper in either a curve or point, depending on final look desired
Find a fold near the middle and punch a hole in the center for the lollipop stick
Insert the lollipop stick and staple the folded paper close to the base of the lollipop to secure folds
Begin carefully separating the layers of tissue paper to create your flower petals-be gentle so paper doesn't rip
Wrap lollipop stick in floral tape to finish off the stem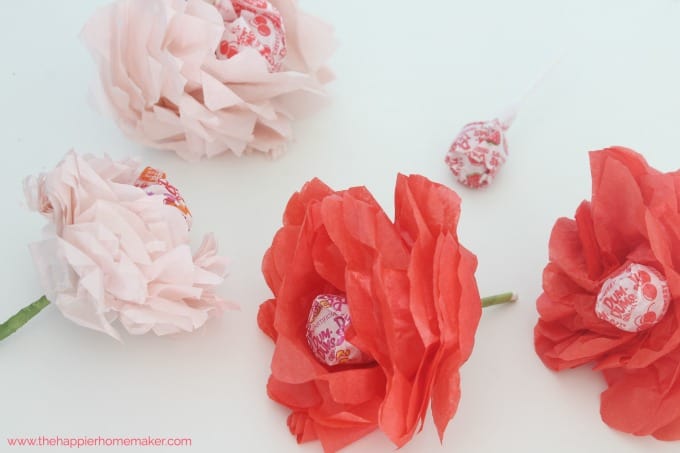 I think these are so pretty and they are easy enough for kids to make once you show them how. My three boys of course had no interest in making them but they gladly swiped lollipops off my table while I was shooting that video!
Who would you gift these to?
You might also like these Valentine's Day ideas:
Chocolate Covered Marshmallow Pops