Are you looking for sides for cilantro lime chicken? This vibrant and zesty dish is not only a healthy option but it is also a party for your taste buds. But why stop at the main course? Let's amp up your meal by pairing it with some flavorful side dishes. I've got 15 tasty suggestions to create a full-blown cilantro lime chicken fiesta!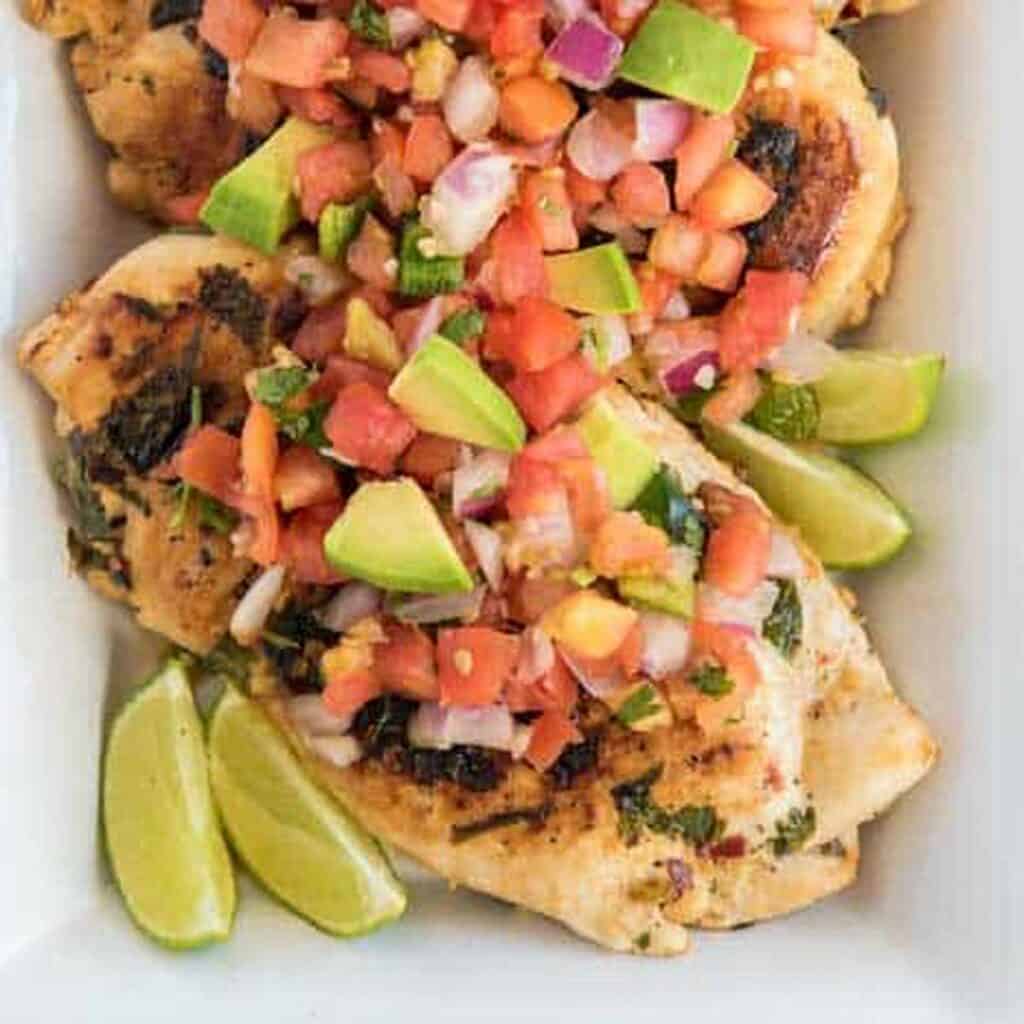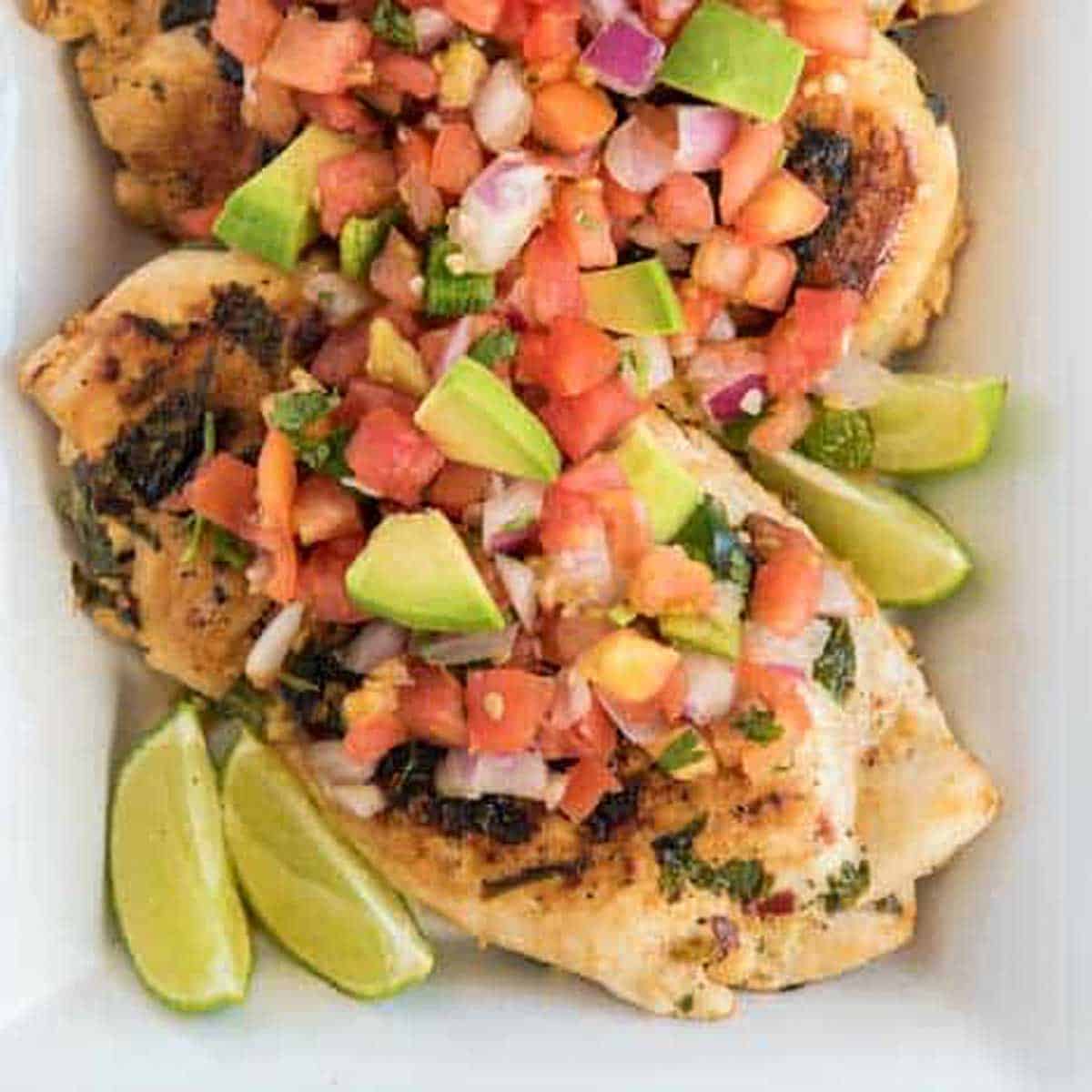 A cilantro lime chicken recipe isn't just a dish; it's a burst of vibrant flavors that bring joy to every bite. The chicken in flavored with a tasty cilantro lime marinade made with fresh cilantro, red pepper flakes, garlic, lime juice, and olive oil or avocado oil, then grilled or baked to perfection.
It's a regular on my dinner table due to the big flavor with minimal work. The right sides just make it even better and a variety of sides fit this dish perfectly! Keep reading to add a little extra pizzazz to your cilantro-lime chicken meal!
If you enjoy cilantro lime chicken you should also check out our sheet pan chicken fajitas with cilantro lime sauce!
A side of rice is always a good idea with a Spanish or Mexican dish! This is the delicious rice you get a your favorite Mexican restaurant! Spanish rice is aromatic, with a hint of tomatoes and spices. It's the perfect partner for your cilantro lime chicken.
Cilantro lime rice is another alternative that would be a great complement. You could even make this dish with cauliflower rice to keep the entire meal low-carb.
Fresh, colorful, and full of protein, black bean salad adds a hearty and zesty twist to your plate. The beans' earthy flavor complements the tanginess of your chicken.
3. Burrito Bowls
This is one of my favorite ways to enjoy leftover cilantro lime chicken. Toss it with jasmine rice, black beans or refried beans, fresh cilantro, bell peppers, tomatoes, red onions, sour cream, and whatever other toppings you like for a bowl full of bold flavors.
Creamy avocados, cucumbers, red onions, tomatoes, and feta cheese make a perfect combination of flavors that pair perfectly with the flavors of the chicken!
Keep the cilantro-lime party going with pineapple salsa! It's sweet and tropical flavors complement the zesty flavors of the chicken.
A colorful salad with a mix of kidney beans, black beans, and green beans, tossed with a zesty vinaigrette gives you a protein-packed, tangy side that pairs beautifully with cilantro lime chicken.
Ripe plantains fried to caramelized perfection with a sprinkle of salt give you a sweet and savory side, adding a touch of Caribbean flair to your meal.
8. Elotes (Mexican Street Corn)
Corn on the cob slathered in a mixture of mayonnaise, cheese, chili powder, and lime juice. It's a street food favorite that brings a burst of flavor to your meal. This is a great, easy side to make your complete meal!
Fluffy, fragrant rice cooked with coconut milk and a touch of shredded coconut. This tropical-inspired side dish adds a creamy and subtly sweet balance to the zesty chicken.
Quinoa, black beans, corn, and a zesty dressing combine for a hearty, protein-packed side dish with a Southwest flair. This is a filing and healthy side dish with simple ingredients!
This crisp and refreshing salad with a tangy vinaigrette gives you a cooling contrast to the zesty chicken. It's the perfect side dish for a cookout or if you're making dinner on the grill.
All the flavors of elote (Mexican street corn) in a casserole form. The delicious combination of creamy cheese, packed with corn and spices, is a comforting and slightly spicy side that pairs wonderfully with your cilantro lime chicken. If you like a little bit of heat, the unique flavor of this casserole will not disappoint!
Creamy mashed potatoes with the smoky flavor of a chipotle adds a kick of spiciness that plays well with the bright and citrusy chicken. The best part about mashed potatoes is that you can take a basic mashed potato recipe and dress it up to match the cuisine that's on the menu.
This refreshing salad is a surprising and seriously lovely combination of sweet watermelon and salty feta cheese, balanced by a touch of mint. The fresh flavors are mouth-watering! Add a little fresh lime juice for even more flavor!
This zesty coleslaw is crunchy, tangy, and the perfect partner for your cilantro lime chicken, adding a burst of fresh flavor.