The ultimate Thanksgiving planner printable – help keep your holiday organized and stress-free with this free printable countdown and schedule.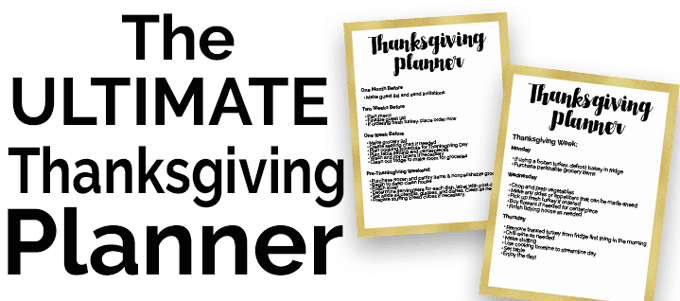 Thanksgiving is one of my favorite days of the year. I love hosting friends and family at our home but it can be a big job! Luckily with a little planning and organization you can make it manageable. Use my Thanksgiving countdown planner to keep your holiday prep under control!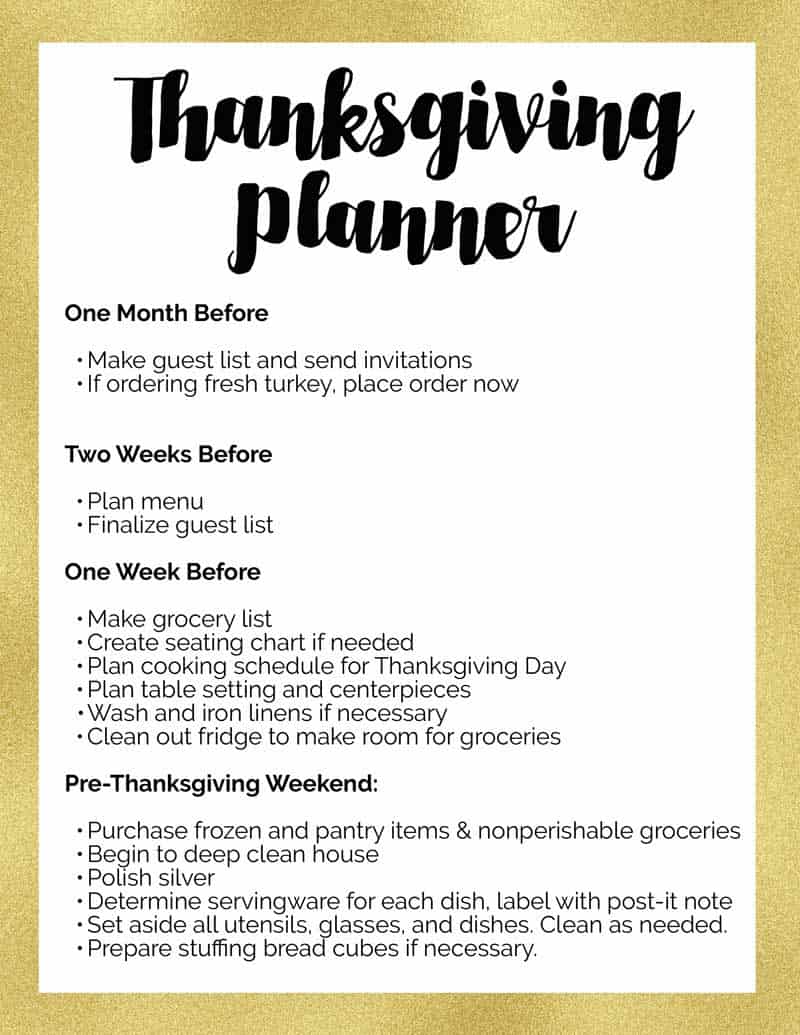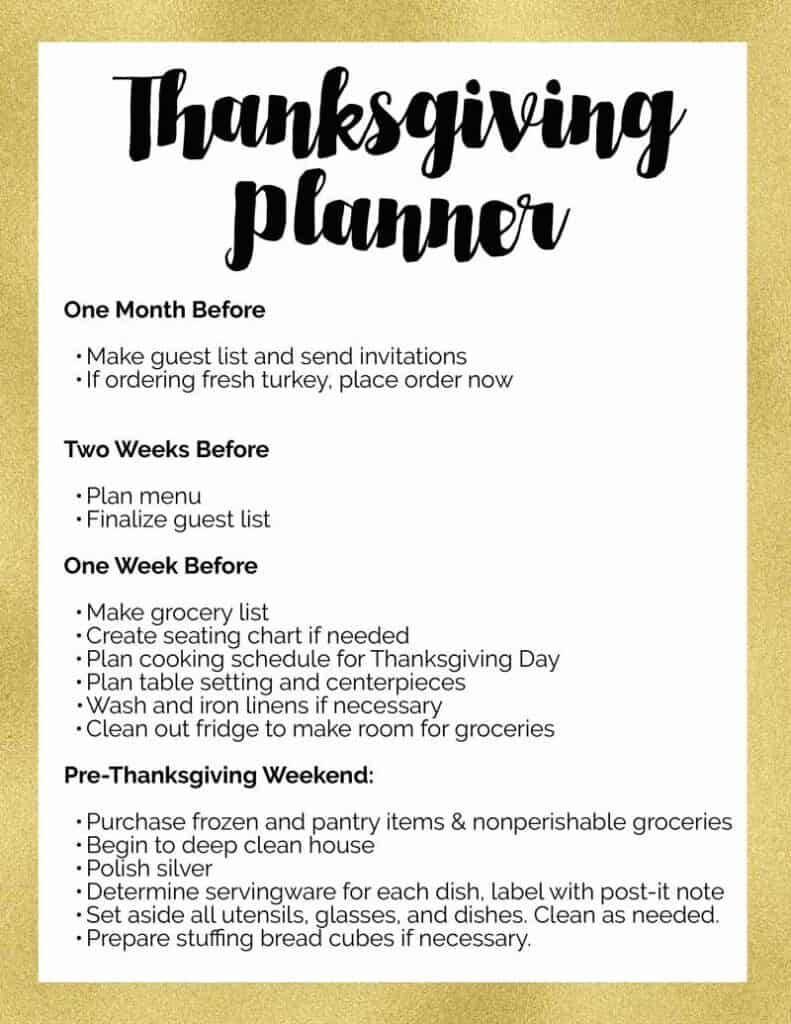 *These Thanksgiving Planner printables are for personal use only, please do not resell. Feel free to share with others by sharing the link to this blog post. Thank you!*
Click here to download the printable to print at home.
Here is the schedule if you don't want to print it off and just reference online:
What to do 1 month before Thanksgiving
Make a guest list
If ordering fresh turkey, place order now
What to do 2 weeks before Thanksgiving
What to do 1 week before Thanksgiving
Make grocery list
Create seating chart if needed
Plan cooking schedule for Thanksgiving Day
Plan table settings and centerpieces
Wash and iron linens if necessary
Clean out fridge to make room for groceries
What to do the weekend before Thanksgiving
Purchase frozen and nonperishable groceries
Begin to deep clean house
Polish silver
Determine servingware for each dish, label with post-it note
Set aside all utensils, glasses, and dishes. Clean as needed
Prepare stuffing bread cubes if necessary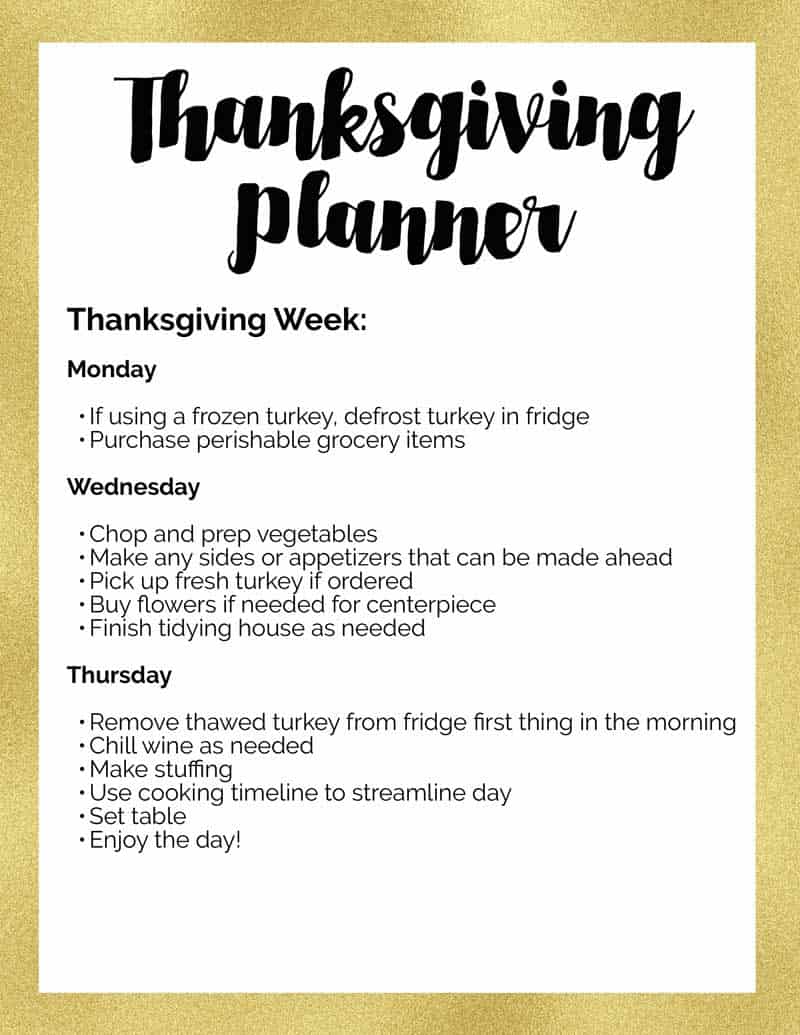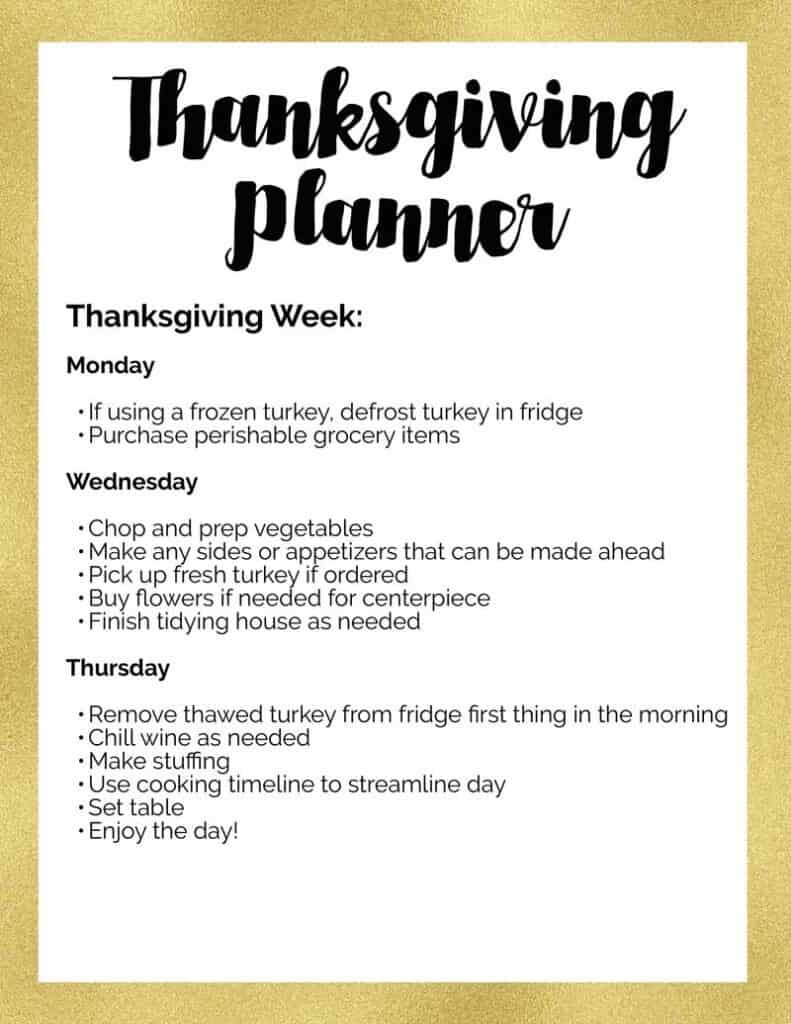 What to do the week of Thanksgiving:
Monday-Tuesday:
If using a frozen turkey defrost in refrigerator
Purchase perishable groceries
Wednesday:
Chop and prep vegetables, store in the refrigerator
Make desserts, sides, and appetizers that can be made ahead
If making homemade stuffing, lay bread out to dry
Pick up fresh turkey if ordered
Brine turkey if you like
Buy flowers if needed for centerpiece
Finish tidying house as needed
Thursday:
Remove thawed turkey from fridge first thing in the morning
Chill wine as needed
Make stufffing
Use cooking timeline to streamline day
Set table
Enjoy the day!
Thanksgiving Cooking Essentials
How do you like to organize when hosting Thanksgiving? What helps you keep the holiday stress free?