The ultimate Thanksgiving planner printable along with hacks to make the day run smoothly - help keep your holiday organized and stress-free with this free printable countdown and schedule.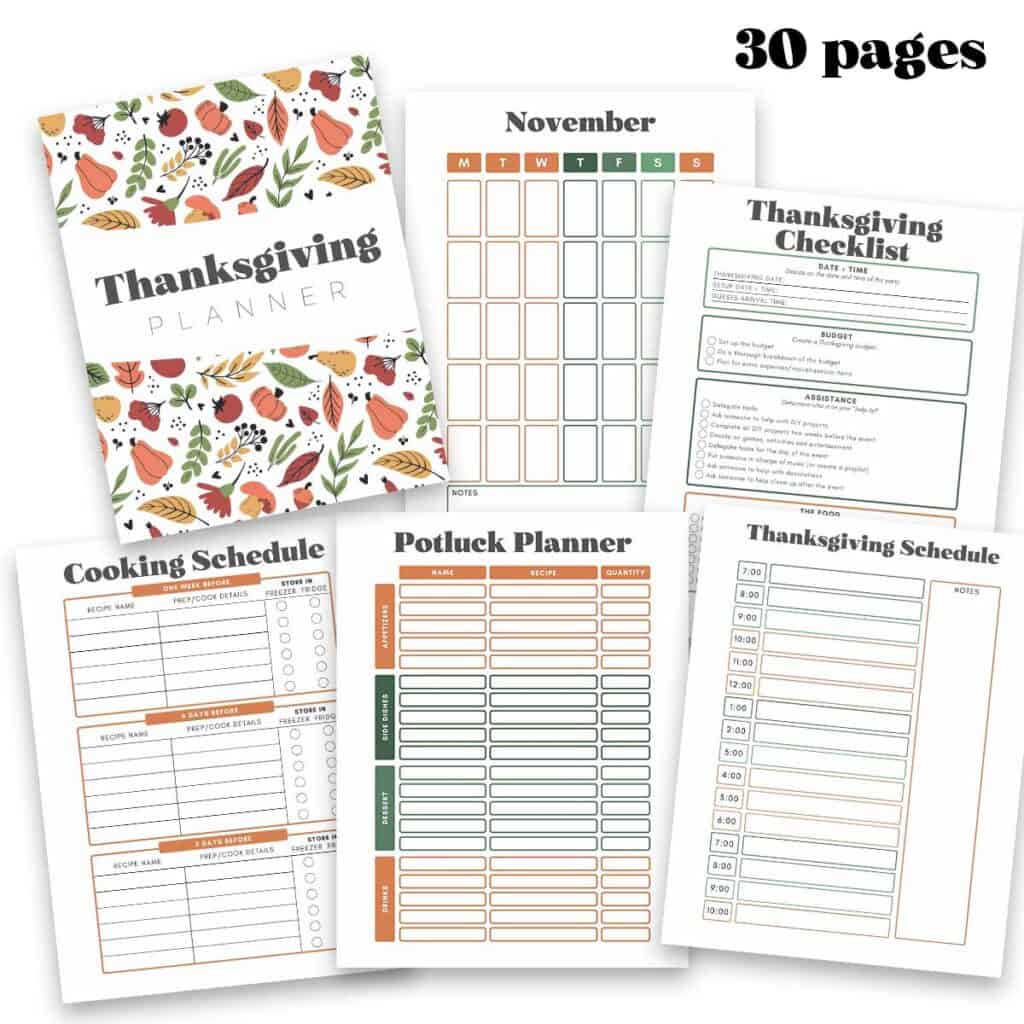 Thanksgiving is one of my favorite days of the year. I love hosting friends and family at our home but it can be a big job! Luckily with a little planning and organization you can make it manageable.
Use my Thanksgiving countdown planner to keep your holiday prep under control! (And check out some unique hacks to make your day run smoothly!)
*These Thanksgiving Planner printables are for personal use only, please do not resell. Feel free to share with others by sharing the link to this blog post. Thank you!*
Click here to download the printable to print at home.
What the planner includes:
blank November calendar
weekly checklist
Thanksgiving checklist with tasks to help you prepare
guest list
blank checklist
prep timeline worksheet
to do list
recipe list
menu brainstorming list
final menu worksheet
recipe sheets with ingredients, instructions, serving size, etc.
portion guide
shopping list
cooking schedule
baking schedule
drink planner
potluck planner
turkey prep planner
oven space planner
Thanksgiving day schedule
Here is the schedule if you don't want to print it off and just reference online, be sure to read to the bottom for tips and hacks to make Thanksgiving easier!
One month prior
Make a guest list
If ordering fresh turkey, place order now
Two weeks prior
One week prior
Make grocery list
Create seating chart if needed
Plan cooking schedule for Thanksgiving Day
Plan table settings and centerpieces
Wash and iron linens if necessary
Clean out fridge to make room for groceries
Weekend before Thanksgiving
Purchase frozen and nonperishable groceries
Begin to deep clean house
Polish silver
Determine servingware for each dish, label with post-it note
Set aside all utensils, glasses, and dishes. Clean as needed
Prepare stuffing bread cubes if necessary
Week of Thanksgiving:
Monday-Tuesday:
If using a frozen turkey defrost in refrigerator
Purchase perishable groceries
Wednesday:
Chop and prep vegetables, store in the refrigerator
Make desserts, sides, and appetizers that can be made ahead
If making homemade stuffing, lay bread out to dry
Pick up fresh turkey if ordered
Brine turkey if you like
Buy flowers if needed for centerpiece
Finish tidying house as needed
Thursday:
Remove thawed turkey from fridge first thing in the morning
Chill wine as needed
Make stufffing
Use cooking timeline to streamline day
Set table
Enjoy the day!
Thanksgiving Cooking Essentials
Tips to save your sanity!
Set the Table the Night Before-Who has time to worry about setting the table when you're juggling a giant turkey and multiple side dishes (not to mention dessert!) Set the table the night before to save yourself the trouble on the big day!
Tape Recipes to Cabinet for Easy Reference-Unless you have a ginormous kitchen, chances are you're going to be utilizing just about all of your counter space when preparing Thanksgiving dinner-save time (and your cookbooks) by taping copies of your recipes to your cabinet doors for easy reference.
Ice Turkey Breast Before Cooking-Place ice packs over the breast of your turkey for 15 minutes prior to placing in the oven-the breast meat will be slower to cook and come out moist rather than dry!
Grate Butter into Flour-When a recipe calls for cutting butter into flour, try grating your butter into the flour instead. The butter stays nice and cold, preserving those flaky bread but takes less time and muscle power!
Prep Veggies Ahead of Time-When your Thanksgiving meal calls for peeling, cutting, or dicing, prepare your vegetables the day before and store in the fridge. Assembling your recipes will be faster and easier and you'll thank yourself for thinking ahead!
Skip the Potato Peeling-Don't waste your time peeling potatoes-instead boil potatoes with the skin on, then "shock" them by dunking them in ice water and watch the skin peel right off!
Keep Sides Warm the Easy Way-There's nothing worse than carving the turkey and realizing that none of your side dishes are still hot! The key to keeping sides warm until serving is to store them smartly-wrap in foil and store in the microwave or an insulated cooler to help preserve heat. If you're lucky enough to have a double oven I mentioned earlier and you're not using both ovens you can set one to warm to store sides until mealtime. A crockpot set to warm or low can keep dishes like mashed potatoes hot until dinner is on the table and the gravy can easily be kept piping hot in a large Thermos!
Set Up a Drink Cart-Kitchens are busy on Thanksgiving Day and guests filtering in and out for beverages can disrupt the work flow-set up a beverage station outside of the kitchen with pitchers, and ice bucket, and glasses so guests can help themselves as needed and save the cook interruptions.
How do you like to organize when hosting Thanksgiving? What helps you keep the holiday stress free?