It is so easy to make your own 3 ingredient homemade natural weed killing spray with vinegar and Dawn dish detergent! In just minutes you can make a vinegar weed killer that gets rid of pesky weeds without dangerous chemicals!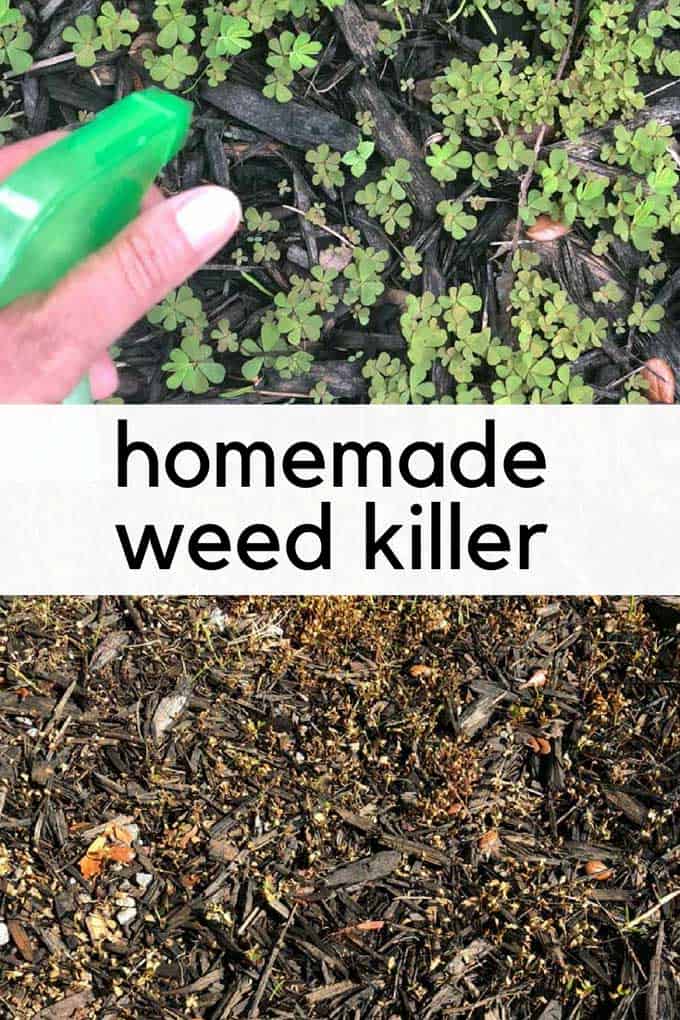 Despite our best efforts to mulch beds in the garden, sometimes you'll find yourself with weeds that need to be killed. Weeds lessen your curb appeal and can crowd your annuals and perennials in your flower beds.
While pulling weeds by hand is usually the best route, using a homemade weed killer can be the next best option!
This spray is also great for controlling crabgrass, dandelions, and other weeds that pop up in the cracks of your sidewalk, patio, walkways, or driveway.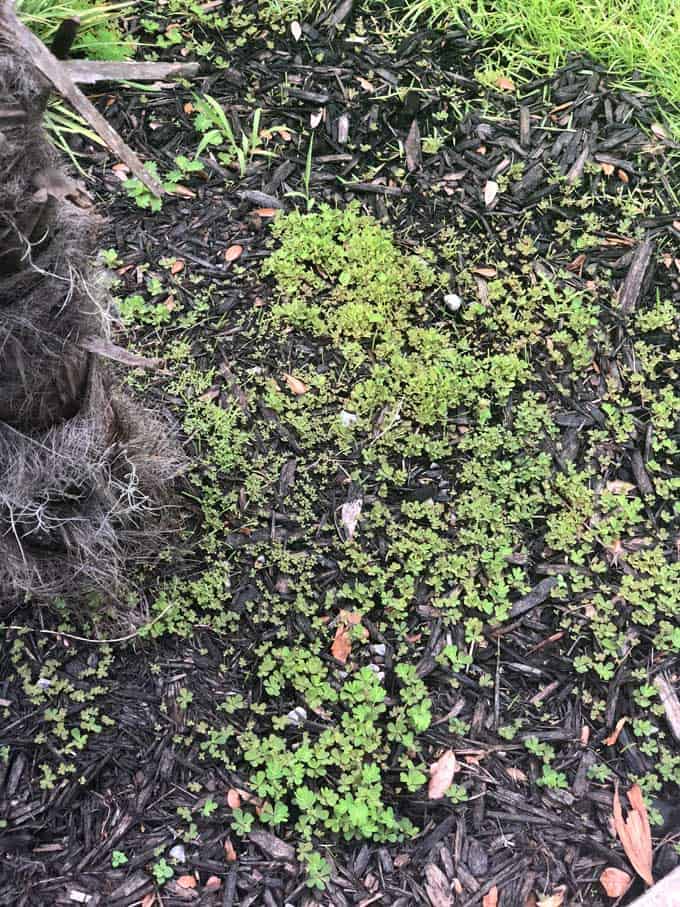 Why make your own weed killer?
Not only do many store-bought weed killers not work well, they also contain harmful chemicals that affect the environment as well as the health of both humans and animals.
According to this article, chemical herbicides can be harmful to water supplies, native animals and amphibians, as well as harm local bee, butterfly, and bird populations.
Ingredients
Vinegar - Ordinary white household vinegar contains acetic acid which draws moisture from weeds
Dawn Dish Detergent - acts as a surfactant, which reduces the surface tension of the mixture and lets it absorb into the plant rather than bead up on the surface
Salt - I do not recommend adding salt to the mixture unless you intend to never plant there again. Salt can build up in the soil and make it impossible to plant in the area permanently. If you use salt, do so with extreme caution.
You can also make Borax weed killer by substituting the salt in my recipe for Borax. This makes a strong homemade weed killer so use wisely!
You might also like these backyard posts:
Does this really work?
Yes!
It's simple but it will kill the weeds, and quickly. Some stubborn weeds may need a few applications but it's worth the trade-off to avoid those nasty chemicals.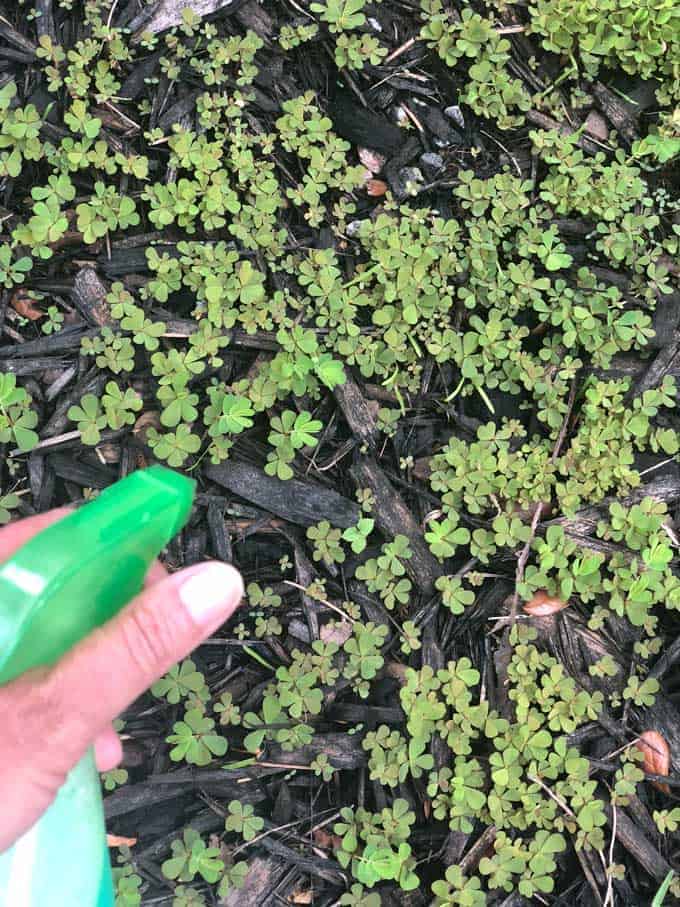 Check out the difference in this flower bed only one day after spraying the weed killer!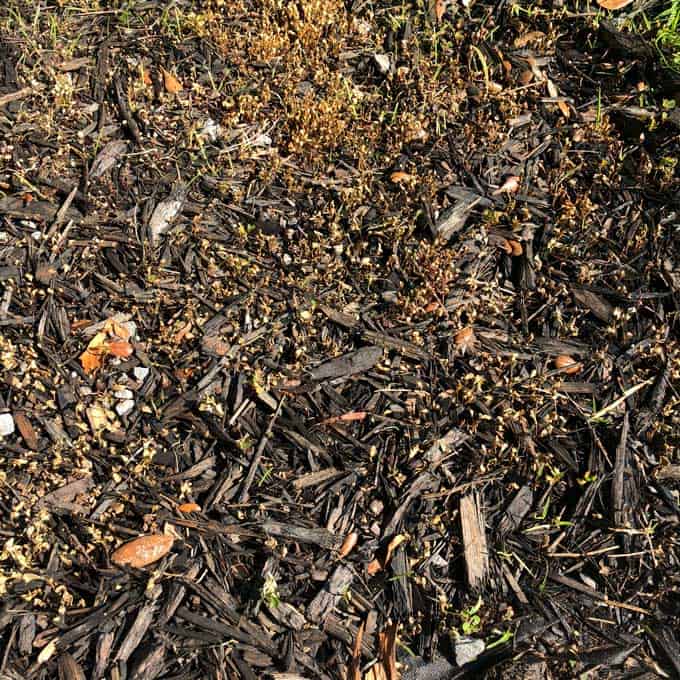 I also use this natural weed killer with salt or borax on weeds that pop up in the pavement cracks as well not only to kill the weeds but to prevent them from coming back. If you catch them early you hardly have to pull them at all.
Tips for best weed control results
Store in a cool, dark place and shake well before each use.
There is no need to restrict children or pets from the areas the weed killer is sprayed, it will not harm them.
Be sure not to spray any plants you want to keep, it is not a selective weed killer so spray carefully!
This weed killer works best applied to dry plants on a sunny, hot day. The warmer it is, the faster and more efficiently it will work.
Stubborn, well-established weeds may require multiple treatments to fully die.
If you try this homemade weed killer, please leave a star rating below!
Yield: 1
Homemade Natural Weed Killer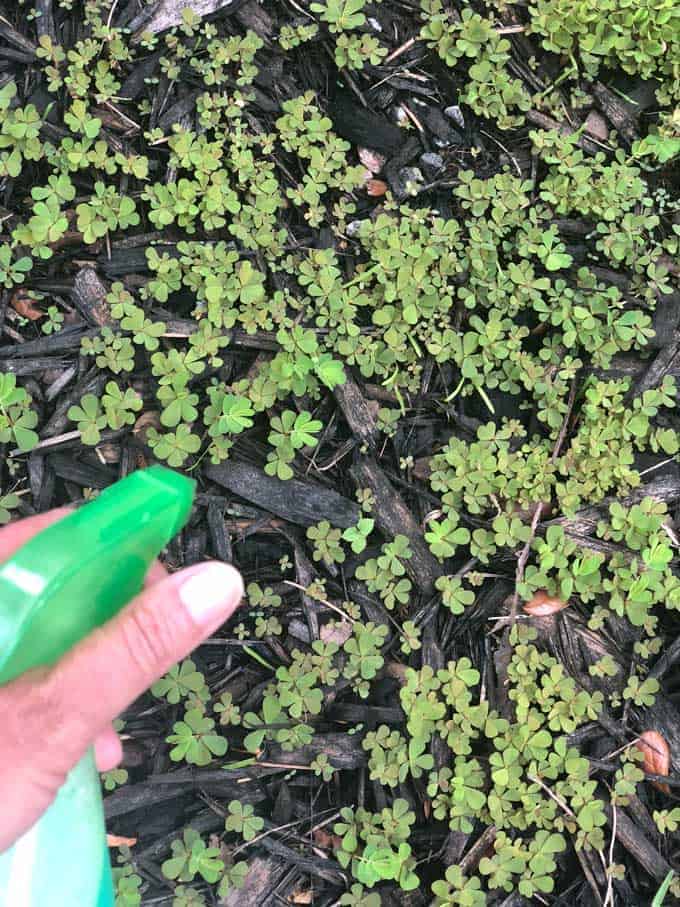 It is so easy to make your own homemade natural weed killer. With just two household ingredients you can make a vinegar weed killer that gets rid of pesky weeds without dangerous chemicals!
Materials
dish detergent
white vinegar
salt (optional)
Instructions
Mix 2 cups of vinegar with 2 tablespoons of dish detergent and shake to mix.
Spray mixture on weeds, ideally at the hottest/sunniest part of the day.
Notes
For a more permanent solution in an area you do not wish to plant in the future mix 1 gallon of vinegar with 1 cup of salt.
Mix until salt dissolves.
Add 2 tablespoons of dish soap and mix again.
Spray onto the plants at the hottest/sunniest part of the day.