Keep your spring tulips in a vase looking fresh longer with these easy tips and tricks to help you keep tulips from drooping!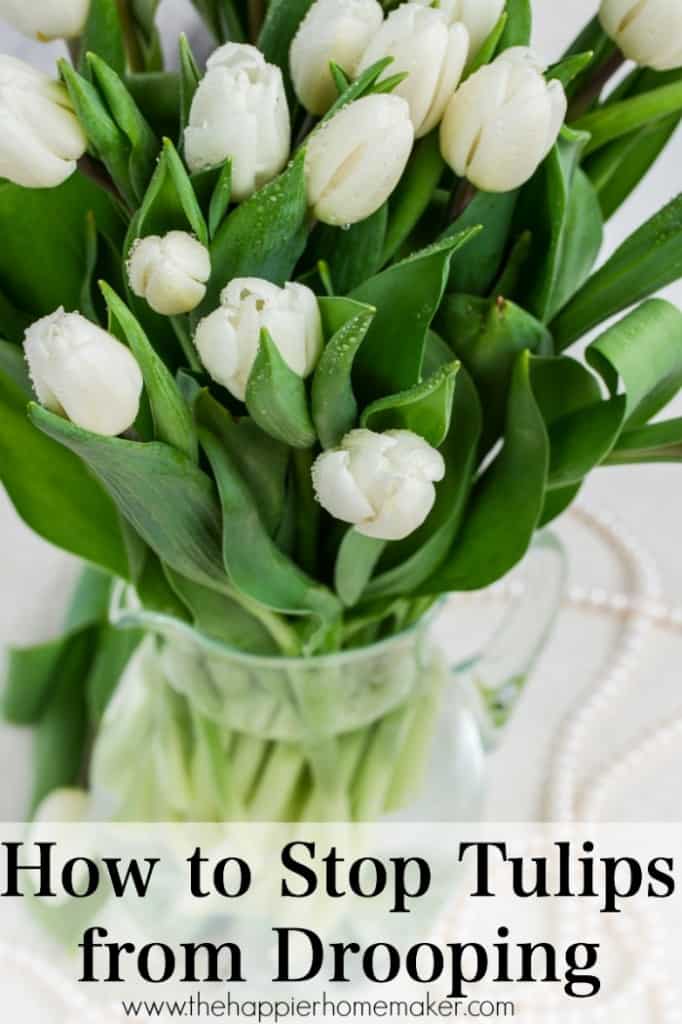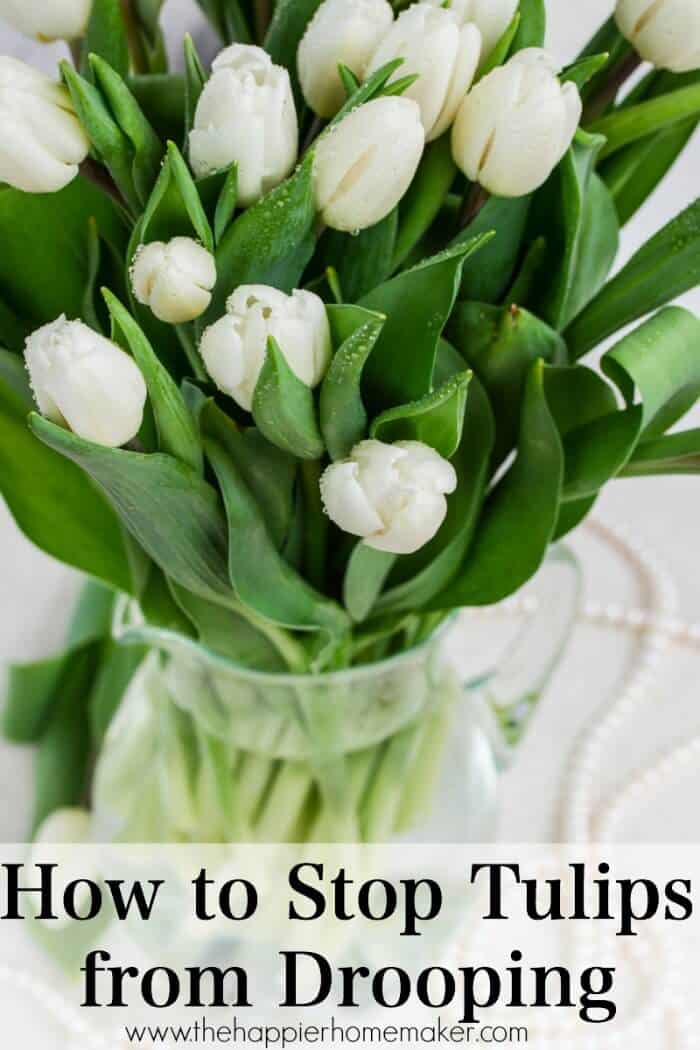 I love, love, love tulips and probably love them even more so this year because I'm so looking forward to Spring (we have 7" of snow and an ice storm happening as I write this!)
While I appreciate the charm of a drooping, swinging tulip I know many prefer their tulips not to droop (and in many arrangements, they look better standing tall) so I thought I'd share my tips to care for tulips in a vase, keep tulips from drooping, and make cut tulips last!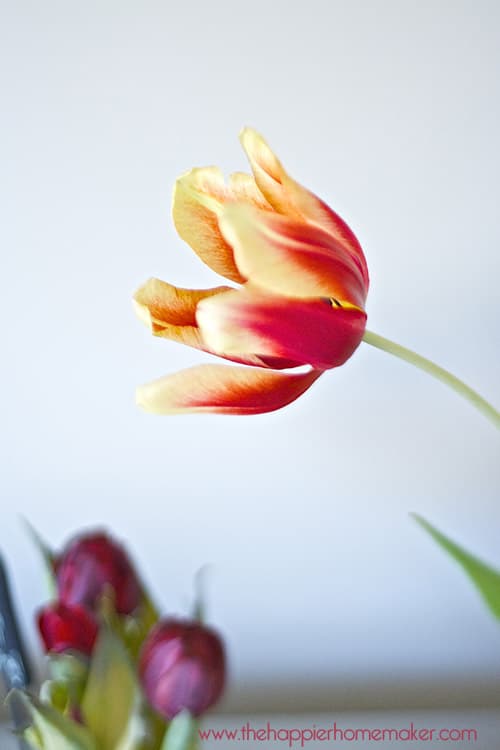 For more flower tips, see how to keep roses fresh, how to keep hydrangeas from wilting, how to keep cut flowers fresh, and how to arrange grocery store flowers!
How to Care for Tulips in a Vase
Start fresh
First and foremost start with fresh blooms that haven't fully opened yet. Fresh-cut tulips should have bright green stems that feel crisp to the touch. Nothing is going to help your tulips avoid drooping if you start with old flowers that have already taken a turn for the worse.
Choose the right vase
When displaying tulips in a vase, choosing the right vase can make a big difference in whether they will droop or not. Choose a vase that is tall enough to offer the tulip support, at least half the height of the tulip. You can switch to smaller vases as you trim the tulips. Avoid vases that curve outward at the top if you want your tulips to stay upright.
As you can see below, if you use a wide-topped vase the tulips will follow that arch. Fill your vase with clean cold water.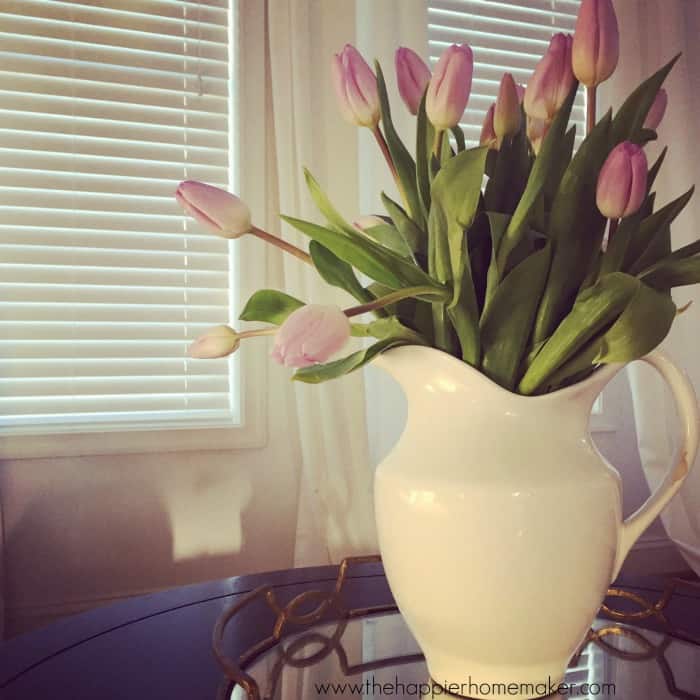 Try one of these florist tips
It's often said that dropping a penny made prior to 1981 into the vase will help keep the stems upright due to the copper in the water...(I can't say for sure that it will work but I do it out of habit just in case!)
I have also been told by a florist to add a few teaspoons of vodka to the water to help keep it sterile!
Make a tiny slit at the top of the throat where the stem joins the base of the tulip. Use the tip of a small knife to slice into the petal and continue to the base of the "throat," this stunts the growth of tulips. Tulips will open at a much slower, pace.
Condition the stems before arranging
Allow your tulips to remain in the vase, wrapped, for 5 hours or overnight.  Conditioning the stems in this way allows them to fill with water while maintaining that upright position and making it more likely they will stand upright longer. If your blooms were loose, gently wrap them in plastic wrap to keep them upright.
How to Keep Tulips from Drooping
Choose the right location
Place your vase of tulips in indirect sunlight. Avoid areas of intense sun and heat or drafts like in front of an air conditioner vent.
Recut the stems
Recut the stems at a 45-degree angle at least an inch from the previous cut while holding them underwater.  Remove all leaves that will be under the waterline before putting them in your vase.
Change the water
Change the water in your vase every other day. If the vase itself looks discolored, wash and rinse thoroughly before returning the flowers to the vase.
Keep them chilled
It works at the florist, so why not at home? If you have room, place your tulips in a refrigerator overnight to keep them fresh longer.
If all else fails...
If all else fails you have the option of threading floral wire up through the stem to the base of the flower (carefully!!)  Coil the excess at the bottom of the stem into a spiral for stability.  Gently bend the flower where you want it and it should hold its shape.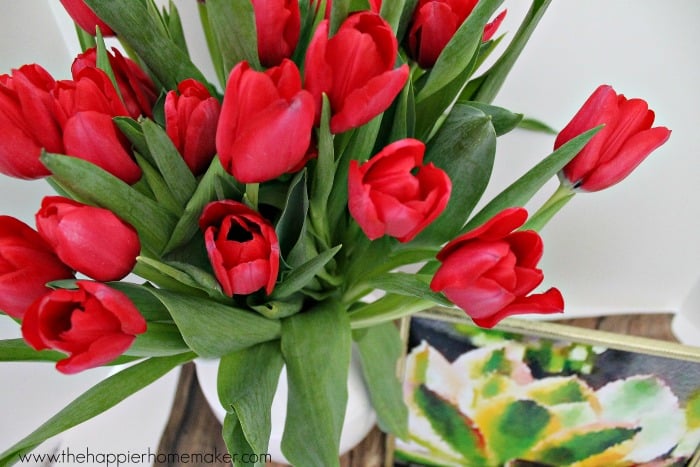 How to Make Cut Tulips Last
Maintain the Arrangement
Keep your tulips out of direct sunlight (they will turn towards the sun!) and change the water daily. 
Snip the stems about ½ inch every 3 days to help them continue to keep fresh.
Have you gotten your first bouquet of tulips yet this year? Isn't it amazing just how many different colors they come in? What's your favorite?